2023 The Most Fashion Grey Marble Interior Designs For Real Estate Sales Center
This year, grey marble flooring tiles has taken the lead in interior decoration. Whether it is home decoration, residential buildings or commercial real estate, the application of gray marble is widely developed with different aesthetic feelings. Gray marble gives people a strong visual impact, with a strong sense of luxury, high grade, and quiet. This is the personal feeling that grey marble flooring tiles and other white, gray and beige marble cannot bring. It is also the reason why gray marble sells well. Next, we will introduce a decoration case of the real estate sales center. The whole sales center purchases gray marble, which is natural marble from the floor and the wall.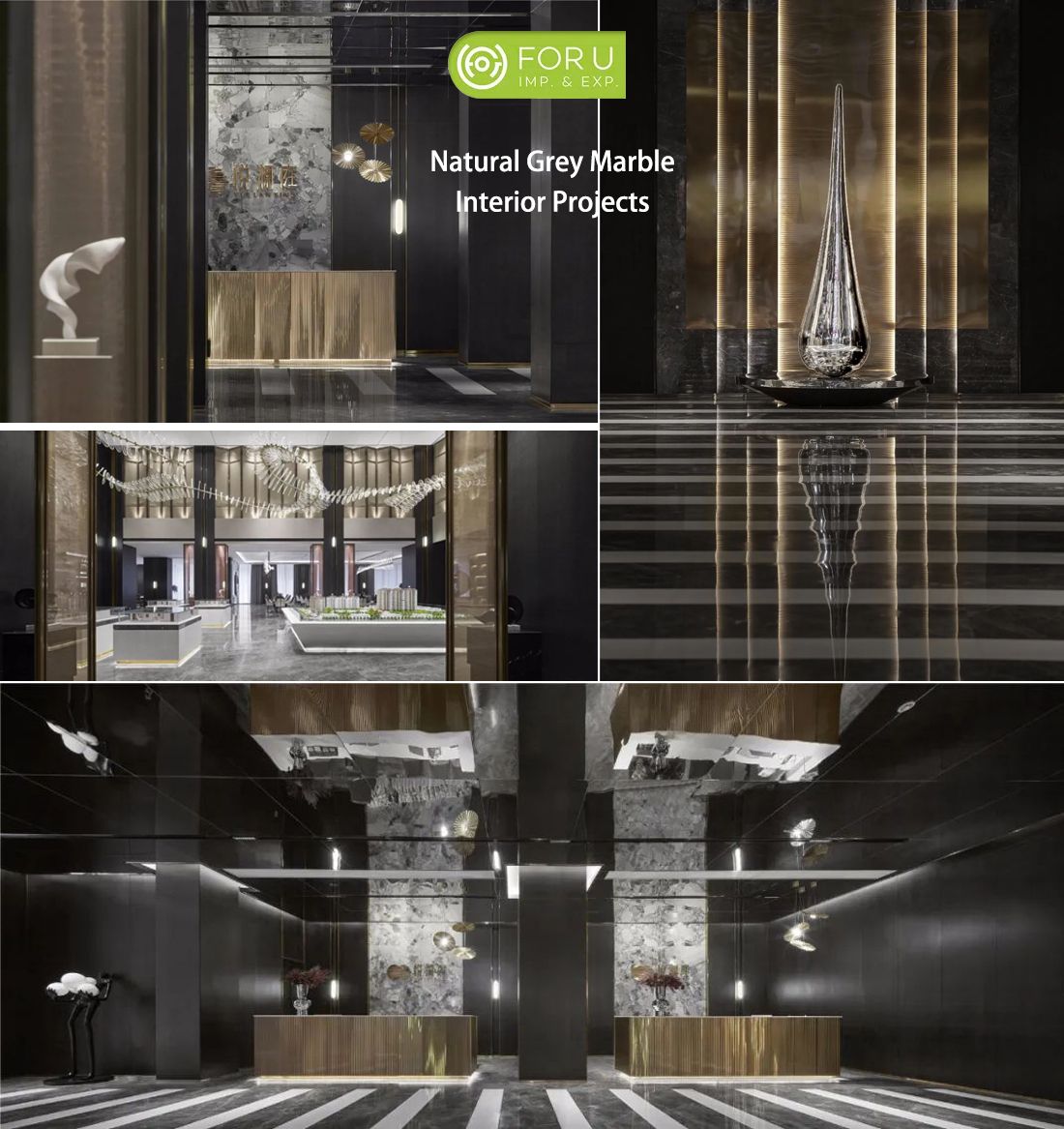 -Then Entrances of Sales Center Installed the Ceppo Di Gre Marble(Wall Background), and Obama Grey Marble(Floor Covering)
The whole sales center mainly uses two kinds of grey marble flooring tiles, with a small amount of white marble, to give a soft feeling to the interior space. With other bright decorative accessories, the whole space will not be depressed first, showing a little dynamic or lively.
As the transition between the internal sand table area and the outside, the reception lobby pursues the spiritual core and diversity of design, and at the same time creates a new understanding with the consideration of customer groups and markets.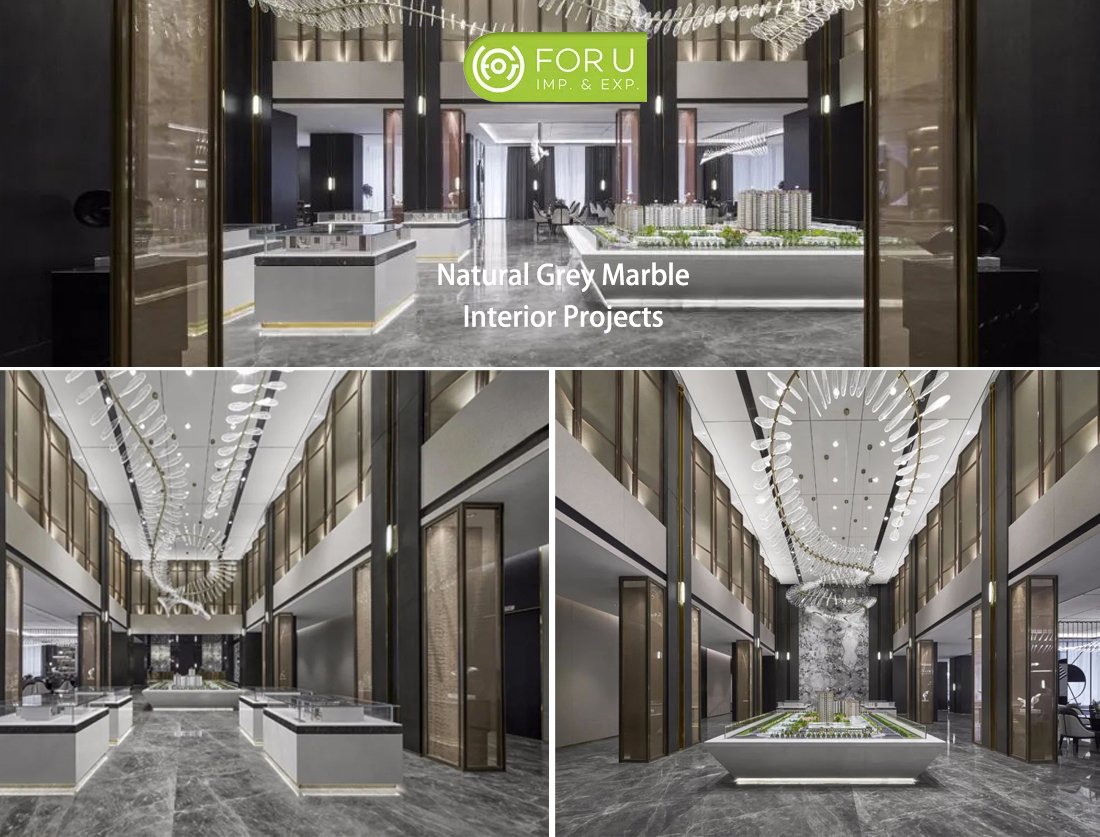 -Grey Marble Flooring Tiles in Sand Table of Sales Center
The designer perfectly combines the elements of line, surface and block with modern style, using mirror and metal lines as the media, interspersed with the aesthetic thinking of modern art, to make the space level more diversified. The axisymmetric reception desk unfolds a calm and atmospheric space sequence, and the dual-channel entry mode full of art museum temperament adds a sense of ceremony to waiting for visitors.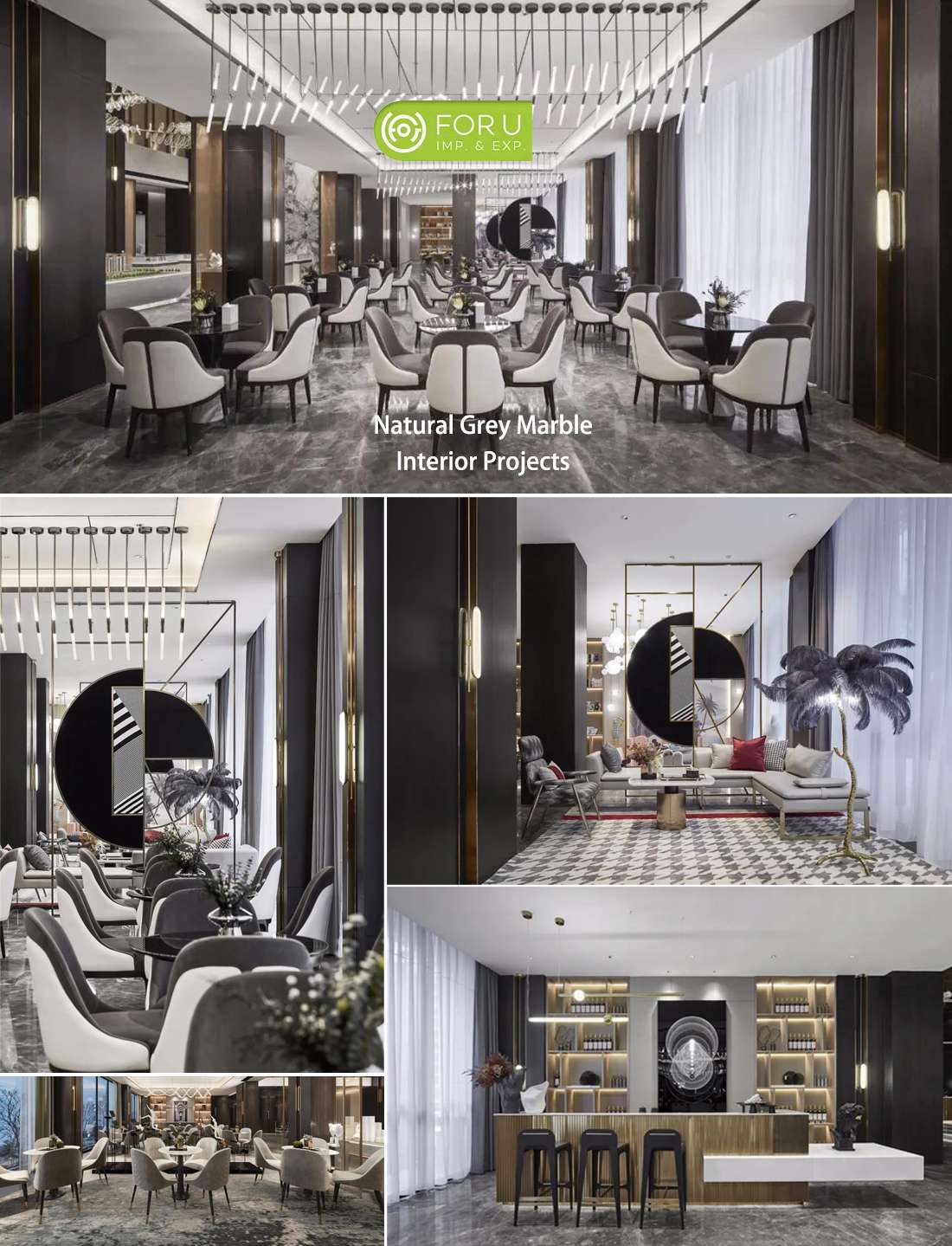 -Merchants Area with Natural Grey Marble Flooring Tiles
The negotiation area is designed with an orderly array pattern that emphasizes human experience and comfort. Various installation works of art are displayed in the space using modern expression techniques and materials, conveying the concise and exquisite aesthetic feeling of details in modern style, and revealing the unique style and artistic feelings. The open floor-to-ceiling window gives the building a transparent sense of mass, which not only harmonizes and unifies the interior, the building, and the surrounding environment, but also creates a visual contrast between reality and reality through the alternation of the four seasons of outdoor natural light, adding infinite charm to the interior space.
Project Item: Riverside Mansion Sales Center | Cheng Du City
Project area: 1000 ㎡
Project cost: 4.2 million(RMB)
Marble Introduction of Ceppo Di Gre
Gray Copico Marble Tiles & Slabs: A variety of gray copico marble tiles with low prices and high quality products such as tiles, slabs, and patterns are available.
Furthermore, because Ceppo marble tiles and slabs are natural stones, each marble slab is unique, even from the same quarry slab. This is one of the reasons why grey marble flooring tiles are so appealing. If you are using stone for countertops or marble backsplash in other residential structures, your special slab is. You can learn about things that are unique to the world.
Grey marble, with its sophisticated appearance, has an innate ability to draw attention. The natural stone's appealing finish is what makes it a must-have in your space. If you want to avoid white but still enjoy the subtlety of a light color, go for grey marble flooring tiles. Grey marble is used for bathroom countertops, table tops, interior flooring, and wall cladding. grey marble flooring tiles is known to add luxe and sophistication to your spaces.

Related Products