The Art of Eramosa Marble in Luxury Pavilion Residence Design | Sales Center
Eramosa Brown Marble, sourced from Canadian quarries, holds a significant place in the world of architectural design. Its striking wooden vein pattern, emulating the aesthetic of finely polished wood grain, is a naturally occurring phenomenon, making it one of nature's true works of art. What differentiates Eramosa Marble from other natural stones is its unique texture and colour. Its deep brown tone, often referred to as Tobacco Brown, bestows an air of sophistication and warmth to any interior it graces.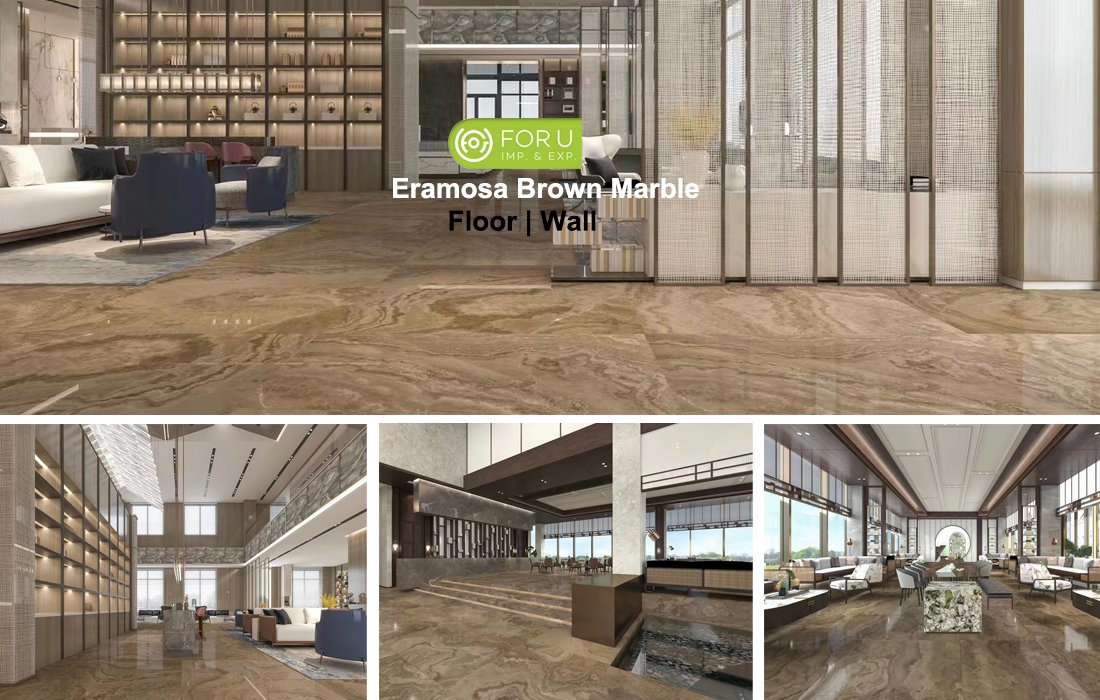 -Eramosa Marble: An Embodiment of Natural Opulence
Project Name: Chinese Pavilion Residences Sales Center

Location: The West Center City in China

Marble Material: Eramosa Brown Marble, Tobacco Brown Marble, Cross Cut Eramosa Wooden Marble

Quantity: 3000 SQM

Size: 600x600x16mm, 800x800x16mm, 600x1200x16 mm and other customzied sizes

Surface: High Polished, with Crystallized Treatments.
Using the technique of cross cutting, Eramosa Marble tiles capture the essence of nature's design. When cut against the vein, the tiles reveal parallel horizontal lines, adding visual depth and texture to the floor surface. This creates an uneven, unique pattern on each tile, making every Eramosa marble floor truly one-of-a-kind. The Eramosa cross cut marble tiles are perfect for adding an opulent touch to your home.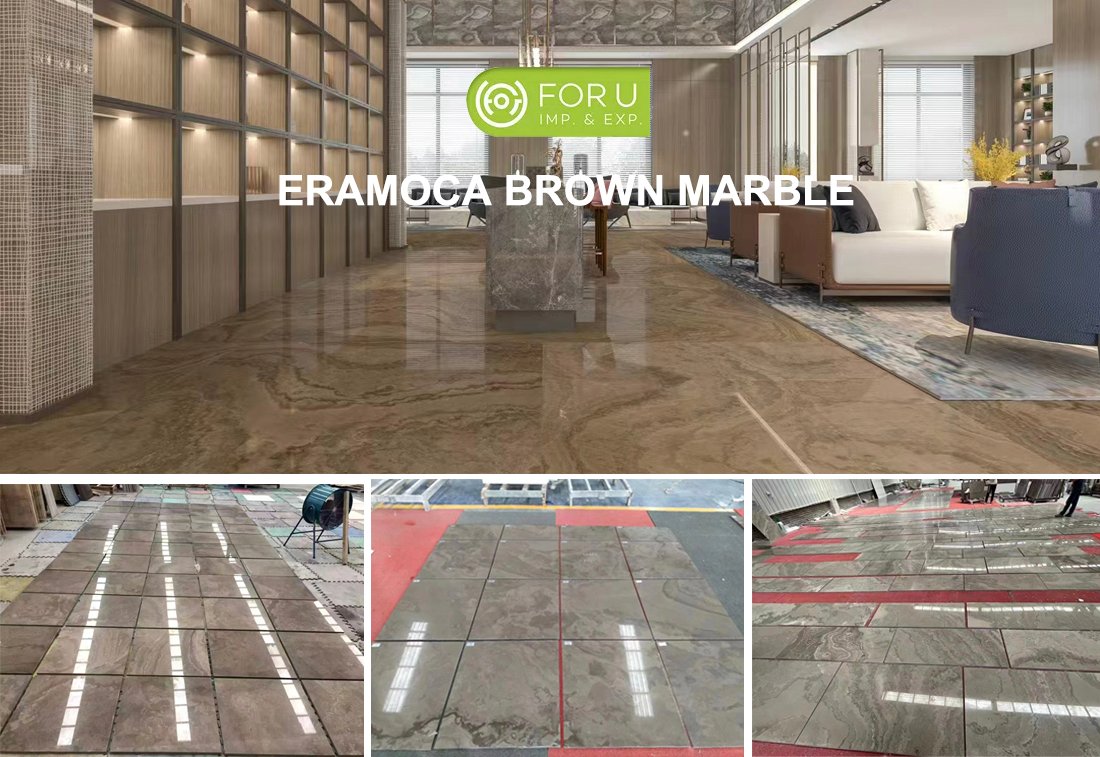 -Eramosa Marble Cross Cut Tiles: A Timeless Touch | Negotiation Area
Vein Matched, or Vein Flow Designs of Cross Cut Eramosa Brown Marble Tiles make the whole sales center lobby unique and have a cozy feeling.
Eramosa Brown Marble tiles are suitable for a wide range of applications, from private residences, luxury villas, to upscale hotel lobbies and spas. Known for its durability, Eramosa Marble is ideal for high-traffic areas such as entryways and living rooms. In bathrooms and kitchens, it elevates the design aesthetic, transforming them into luxurious spaces. Its rich brown tones seamlessly blend with other design elements, creating an atmosphere of grandeur and opulence.
FOR U STONE, a leading stone manufacturer and supplier in China, is proud to offer a broad range of Eramosa marble products. From cross-cut tiles perfect for flooring to slabs ideal for countertops, FOR U STONE ensures the highest quality in every piece. We understand the elegance Eramosa can bring into your space, and with our expertise, we help you unlock this potential.
Eramosa brown marble tiles offer a harmonious blend of nature's beauty and the finesse of architectural design. They provide an elegant solution for those seeking to infuse their spaces with a sense of luxury and tranquillity. By choosing FOR U STONE's Eramosa cross cut marble tiles, you are choosing not only a product of outstanding quality but also a piece of nature's artistry. Explore the world of Eramosa Marble with FOR U STONE today, and step into a realm of luxury. Want to know more about our great products marble granite price and agate slabs countertops?

Related Products