2023 Top Classic and Luxurious Black Marble Interior Designs-Sahara Noir Marble
Black marble is a rare gem in the world of natural stone, distinguished by its strikingly deep and mysterious tone. Compared to the multitude of options available in white and beige marbles, the selection of black marble is relatively limited, making it all the more precious. Despite its scarcity, black marble has found its place in the world of high-end interior design, where it offers a dramatic and unforgettable presence. Among the most esteemed black marbles are Chinese Nero Marquina Marble, French Grand Antique Marble, and Italian Nero Portoro Marble. The rarity and beauty of black marble are such that it is often either quite expensive or surprisingly affordable.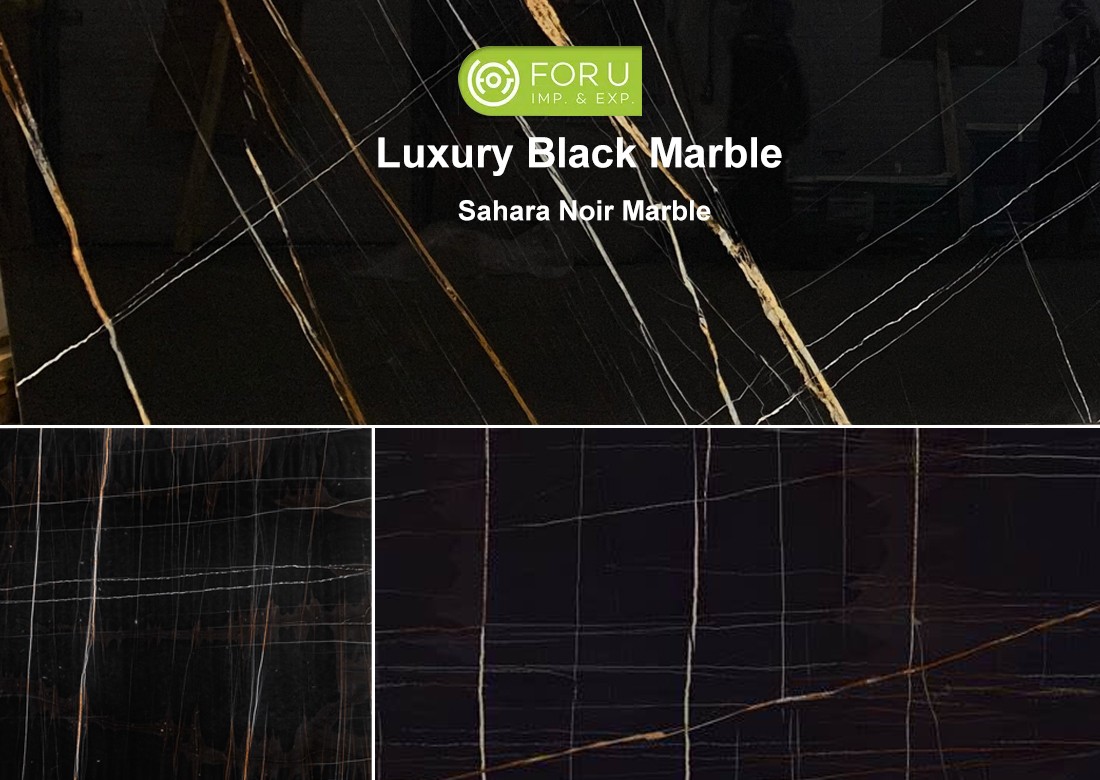 -Deep Black Backdrop with Gold, White Lines cross the whole slab surface. Sahara Noir Marble is one of the most classic and premium natural marble for any interior decoration projects.
The exquisite Sahara Noir Marble is a testament to the remarkable aesthetics of black marble. With minimalist black, white, and gold veins artfully distributed over a deep black background, this top-of-the-line black marble captures the eye and captivates the mind, making it a perfect choice for the most sophisticated and luxurious interior spaces.
Basic Information of Black And Gold Marble
The combination of black and gold is a timeless classic that has been used for centuries to create opulent and luxurious spaces. Lauren Black Gold takes this combination to the next level with its unique patterning and striking beauty. The gold and silver threads that are scattered throughout the stone create a stunning contrast against the rich black background, reminiscent of the stars in a clear night sky.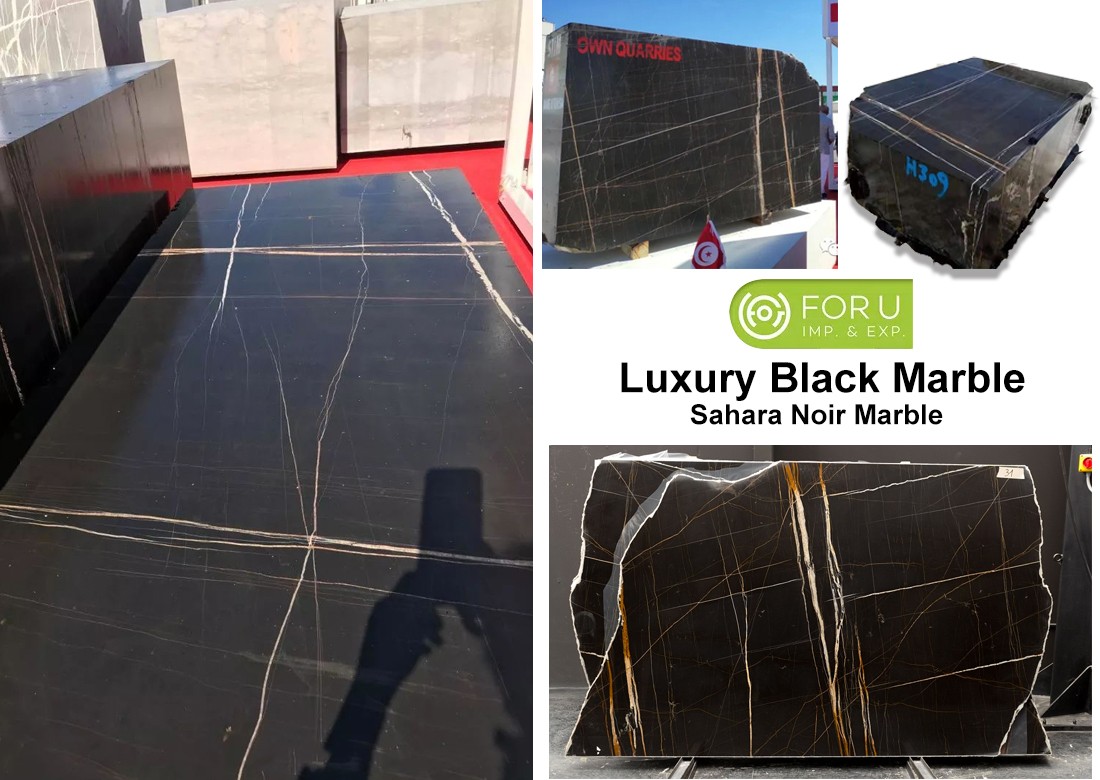 -FOR U STONE cooperates with quarry owners, and purchases high raw blocks, and processing into 18mm-30mm Sahara Noir Marble Slab for any interior designs.
When it comes to elevating the look of our architectural spaces, few materials can compare to the beauty and sophistication of this stunning black marble stone. Known by several names, such as Nero Dorato, Sahara Noir, Marmo Negro Aziza, Noir Gris Aziza, Black Sahara, Black Noir, Marmo Nero Sahara, Nero Tunisi Marble, Black Aziza, and Marmo Negro Aziza Marble, this material is highly sought after for its unique aesthetic qualities. With a color palette ranging from deep, inky blacks to earthy, warm browns and golds, this black and gold marble material offers endless design possibilities. Its bold, dramatic veining patterns add a sense of depth and movement to any space, making it an excellent choice for statement pieces such as fireplace surrounds, feature walls, and entryways. With its timeless elegance and versatility, it's no wonder that this stone continues to be a popular choice for high-end interior design projects.
Project Cases of Sahara Noir Marble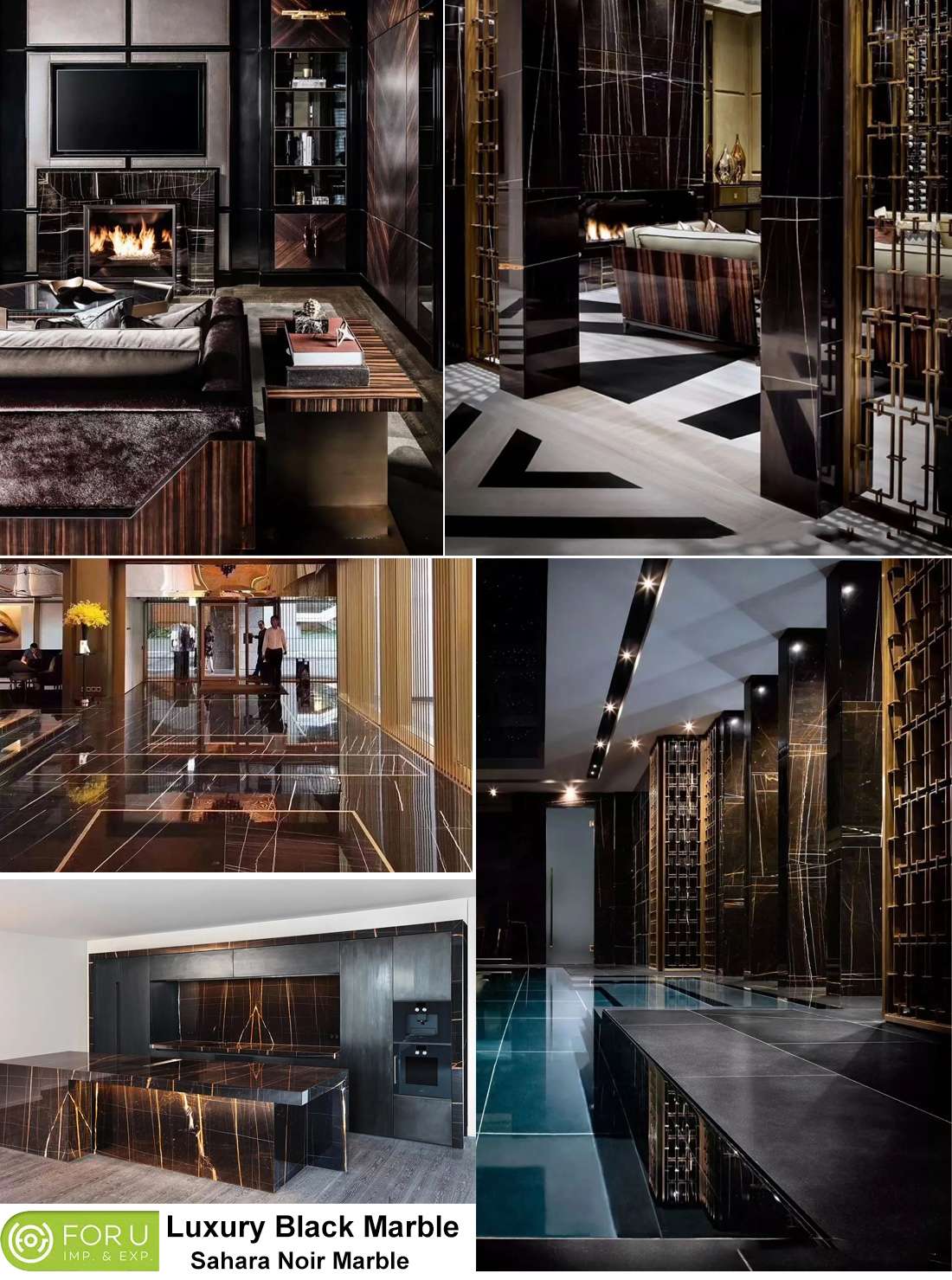 -Top Luxurious Deco Art with Sahara Noir Black Marble Tiles, From Floors, Walls, Fireplace, Countertops, you can use this mystic black and gold marble to update your interior high-end senes. Whether it is luxury hotels, villas, mansions, private clubs, high-end restaurants, Sahara Noir Black marble can instantly refresh the sense of luxury in the interior space.
Saint Laurent Black Gold's ability to create a sense of drama and opulence in any space is one of its most impressive features. This marble commands a commanding presence when used in large format slabs or tiles. It makes a bold statement in entryways, living rooms, and other areas where a luxurious and unforgettable atmosphere is desired.
Saint Laurent Marble is known for its durability and longevity, in addition to its beauty. This natural stone is extremely strong and durable, making it an excellent choice for high-traffic areas in both residential and commercial settings.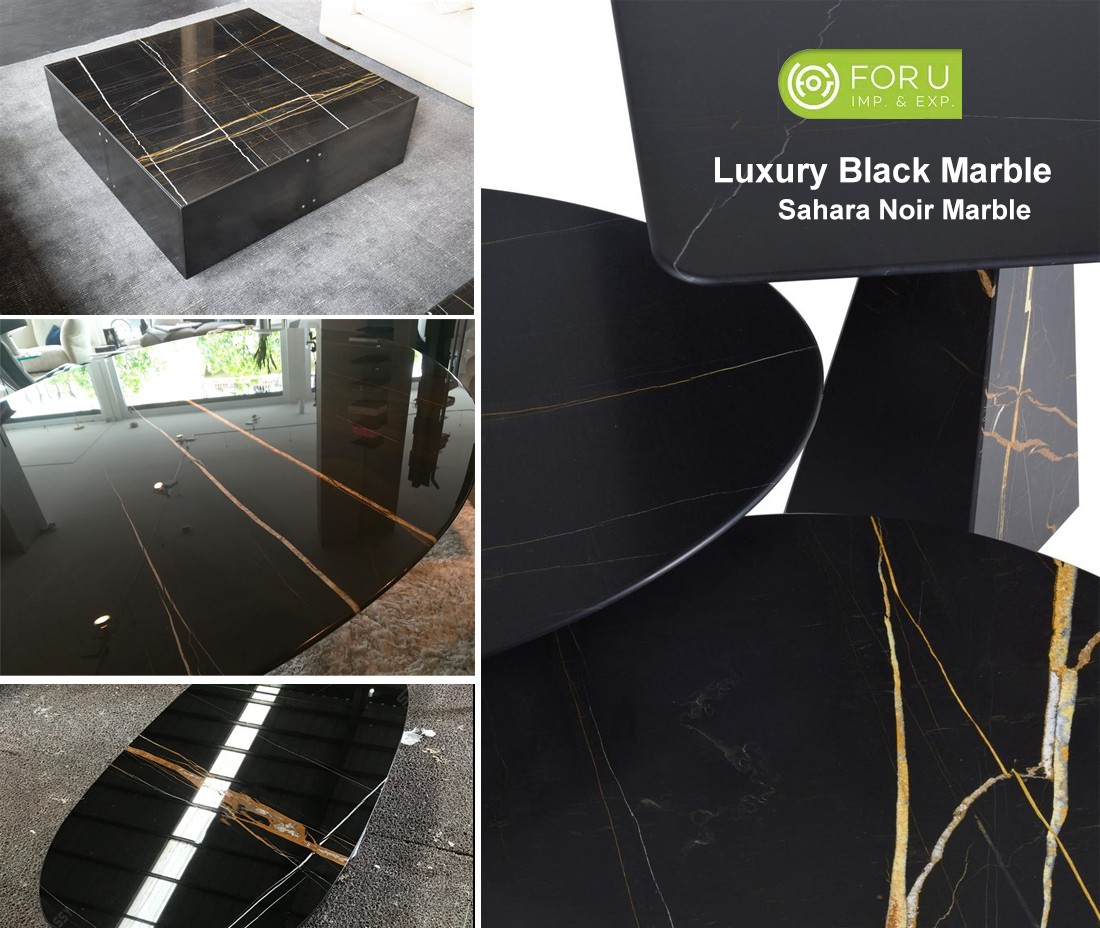 With people's pursuit of high-quality and luxurious interiors, Marble Noir Sahara is not only used in walls, floors, and sinks, but also expanded to other furniture industries, such as dining tables, coffee tables, and side tables. Tables and other household applications are also very popular in the market.
Searching for high quality Sahara Noir Marble Slabs, Flooring Tiles, Wall Panels, Countertops for any residential and commercial building projects, connect FOR U STONE today for more prices, stock information, and delivery time.

Related Products