Eternal Elegance: Crafting Luxury Indoor Spaces with Italian Calacatta Marble
Italian marble has been an image of luxury for centuries, and the Calacatta White Marble is no exception. With its origins inside the heart of Italy, the pristine white base of this marble is embellished with warm jade-gray streaks that capture the essence of opulence like no other. The complex styles on the marble are a testament to nature's artistry and are paying homage to the ebb and drift of life. Every slab of this natural surprise is a masterpiece in its own proper, making it a pinnacle choice for connoisseurs of artwork and architecture.
The rarity of Calacatta Italian Marble simplest adds to its allure. Given its non-renewable nature, this marble is turning increasingly harder to gather, leading to an upward surge in its demand and price. As a result, it's by far now considered a collector's object and a standing symbol within the world of luxurious home decor. The splendor of this Italian White marble isn't simply confined to its look, but also in its durability and sturdiness. As soon as mounted, it can face up to wear and tear for years without dropping its attraction and beauty.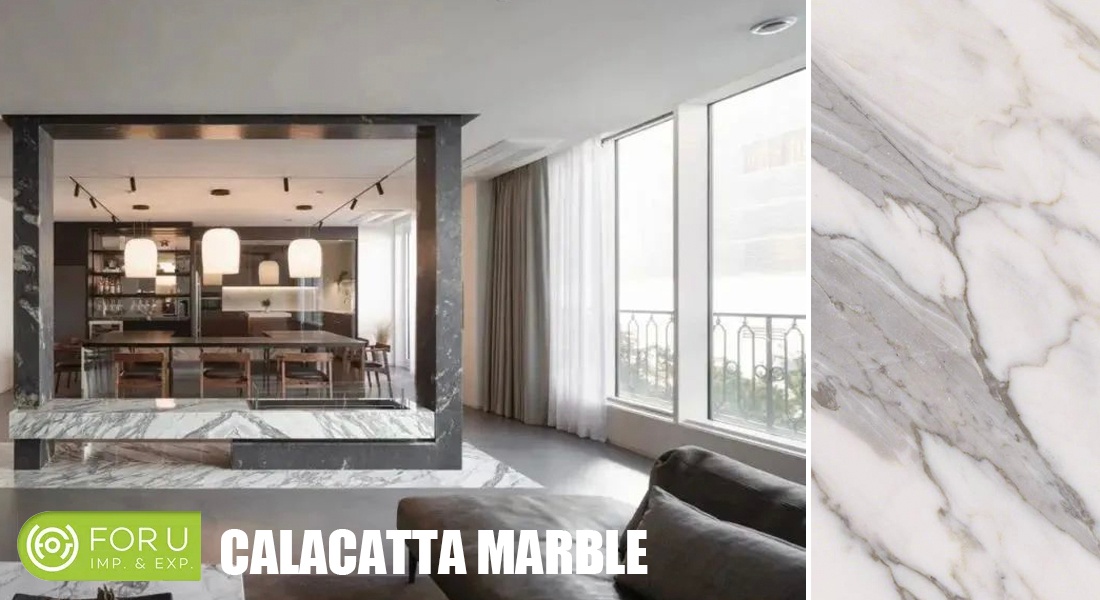 -Projects: Private Villa

-Material: Natural Marble: Calacatta Marble Tiles, Dark Grey Marble, Granite

-Quantity: 300 SQM of Natural Stone products from FOR U STONE

-Application: Floor, Wall, Bathroom Countertops
The use of Calacatta White Marble isn't always restricted to simply countertops and flooring. It's also used for creating beautiful sculptures, and problematic designs on partitions and ceilings, and even for making wonderful furniture. Its versatility and timeless enchantment make it a top preference for architects, designers, and owners alike.
In the end, Italian marble has continually been synonymous with luxury, and White Calacatta Marble is the epitome of opulence. Its beauty is exceptional, and its rarity best provides for its allure. With its versatility and sturdiness, it is a smart investment for those looking to add a hint of beauty to their houses.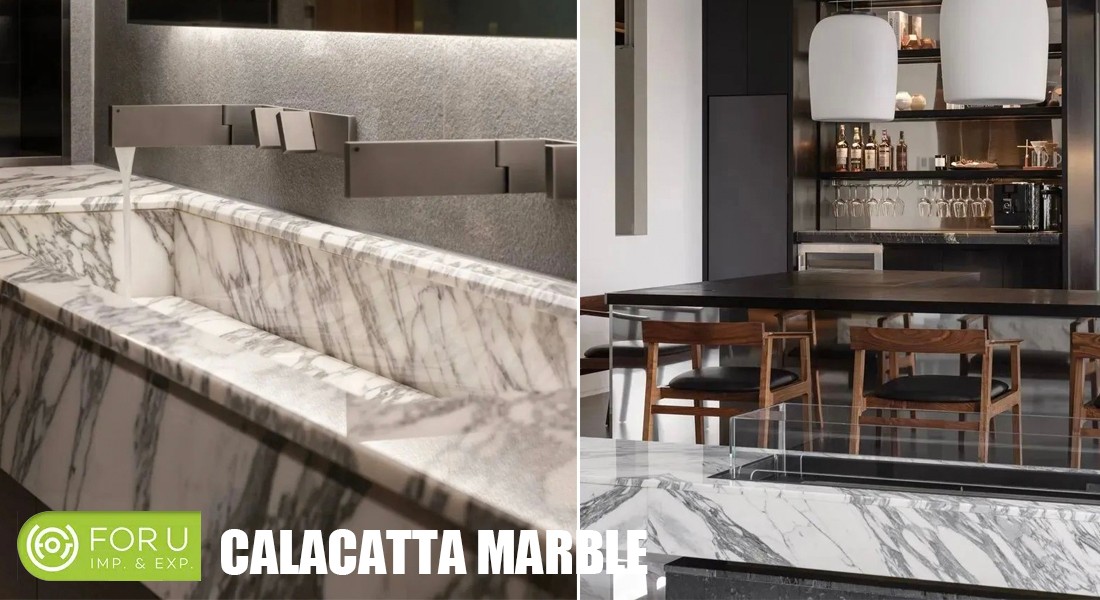 A Villa's Dance with Light and Material:
When designers have surpassed the mission of crafting urban villas, they're now not just developing homes; they're curating stories. Drawing proposals from oriental sensibilities and the essence of minimalism, the present-day villas' purpose is to blend openness with intimacy. And on the coronary heart of this layout philosophy lies Calacatta marble.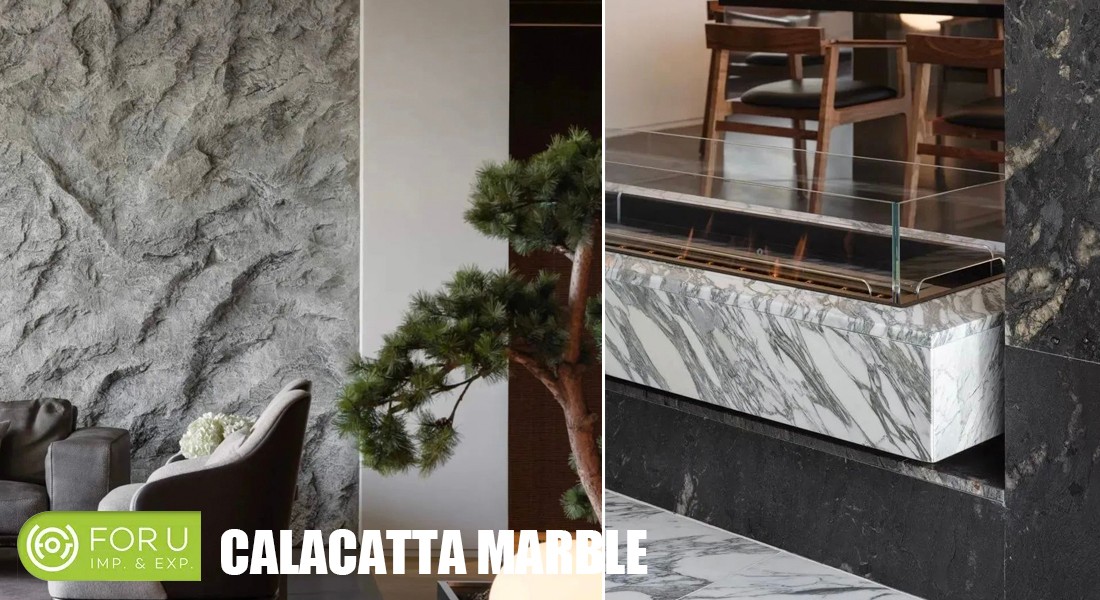 The interiors of those villas strike a harmonious stability with a muted palette of cement gray and brown timber. This color scheme conjures up a sense of tranquility, a mild include for the soul. However, what simply accentuates those spaces is the masterful integration of Calacatta marble. Its presence is felt in the sprawling flooring, the textured walls, and the intricately crafted countertops.
Not like the ornate ceilings of yore, contemporary villas favor simplicity. Flat, unembellished ceilings allow the marble to take center level, its herbal styles weaving memories of luxury. The juxtaposition of the stone's texture towards the ground or in opposition to timber creates a satisfying play of contrasts. it is this dance of materials, curated with meticulous precision, that brings intensity to the interiors, teasing the eye with elements of surprise.
However, the design isn't pretty much about substance; it is also about how they interact with mild. Sunlight, while solid upon the Calacatta marble, transforms it. The sunlight, filtering via expansive windows, caresses the marble, making its styles come alive. It is a dynamic canvas that shifts with the sun's arc, reflecting the ever-converting colors of the day. This interplay not most effectively adds a different measurement to the gap but also poignantly marks the passage of time.
The allure of a modern-day city villa isn't solely based on its grandiose areas or its modern facilities. The real essence of luxury is determined in the details, within the stories behind the substances, and the reminiscences they help create. Calacatta White Marble, with its rich and widespread history and exceptional splendor, has become the cornerstone of this new generation of layouts. It's far more than just a stone; it is a symbol of timeless beauty.
Calacatta White Marble is a natural stone that comes from the Carrara location in Italy, wherein it has been quarried for centuries. It is renowned for its unique veining styles that vary from slab to slab, making every piece one-of-a-kind. This marble's pure white heritage, mixed with its grey and gold veins, creates a stunning visual effect. This is each sophisticated and undying.
The usage of Calacatta White Marble in modern-day urban villas is a testament to its versatility. It's often used for countertops, floors, and as a statement piece in a hearth or accessory wall. Marble's durability and resistance to warmth and scratches make it a realistic desire for excessive-visitors areas, at the same time as its splendor adds an air of luxury to any area.
beyond its sensible makes use, Calacatta White Marble is likewise wealthy in records and cultural importance. The natural white marble was changed into used by the ancient Romans to create some of the most iconic structures in history, consisting of the Pantheon and the Colosseum. Its use in modern design is a nod to this wealthy background and a way to hook up with the past while embracing destiny.
In the end, the luxury of a modern city villa is not pretty much the dimensions or facilities, but the finer info. Calacatta White Marble is an excellent instance of this because it embodies both the splendor and records that make a space truly steeply-priced. Its use in design is a way to honor the past even as developing a space that is both sensible and visually beautiful.
Searching For High quality and reasonable Italian Calacatta marble floor tiles, Calacatta marble Countertops in China, Contact FOR U STONE within 24Hrs.

Related Products