The Most Deluxe Hotel Emirates Palace With Delicate Crema Marfil Marble
Delicate crema marfil marble's background is beige, with a small amount of fine red line, and good brightness/high polished effects. Crema Marfil Polished marble has always been loved by the court nobles. Its surface is exquisite and smooth, which conforms to the luxurious and gorgeous style at that time, and becomes the symbol of noble stones. Spanish beige, warm, soft and warm. Its texture changes under the beige tone, so that it will not have the dull feeling of other beige stones.

-This polished Crema Marfil classic marble tile is constructed from durable, impervious marble material, comes in a smooth, unglazed finish, and is suitable for installation on floors, walls, and countertops in commercial and residential spaces such as bathrooms and kitchens.
This special version of delicate crema marfil marble flooring paver slab is especially popular for small decoration projects and small use of houses. The unique beige color can be matched with various decorative styles, which is why Crema Marfil Spainish Marble is very popular.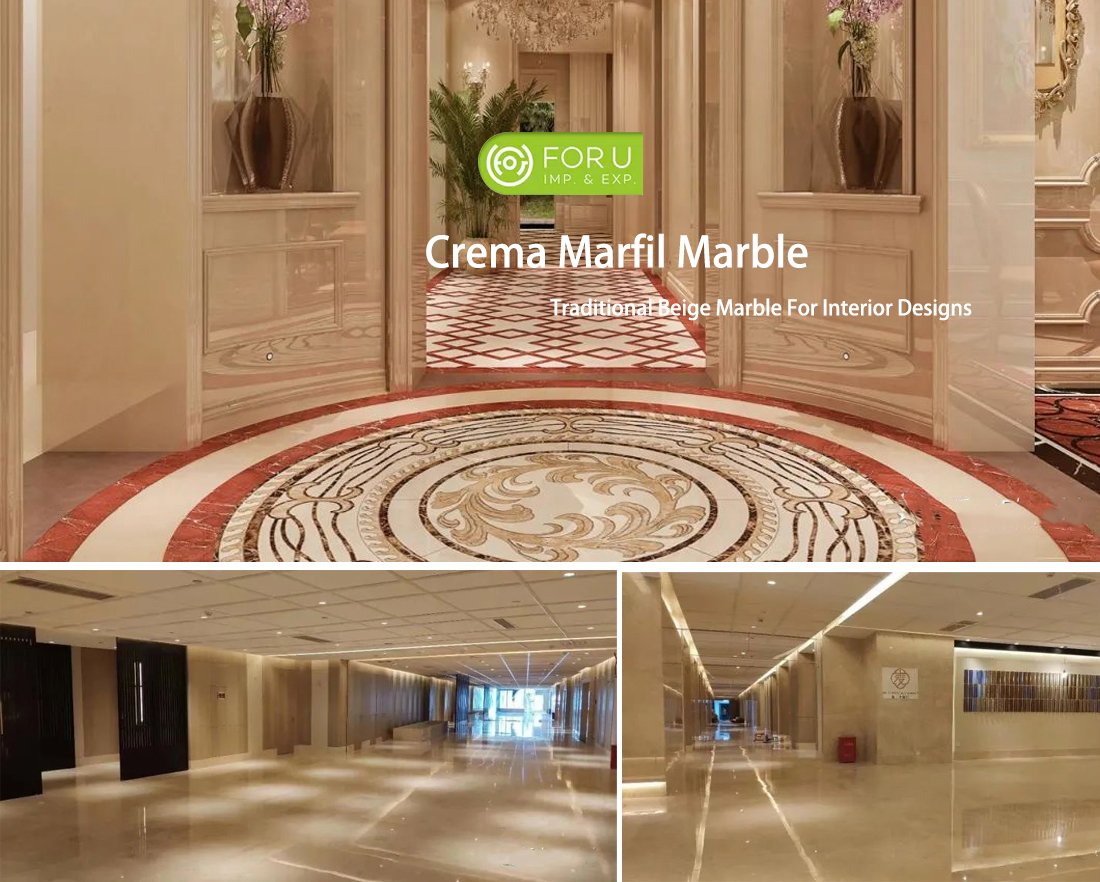 -Flooring Paver and Wall Cladding Covering in Residental and Commercial Building Projects by using Delicate Crema Marfile Marble | FOR U STONE
Beige marble has always been the most commonly used and the warmest stone in interior decoration design. There are countless beige stones in the market, but only Spanish beige marble has been used in interior decoration, whether it is the luxury houses of private enterprise owners, luxury resort hotels, and commercial office buildings.
Many commercial spaces choose Spanish beige as the main element because of its elegant and beautiful color, smooth and rich texture, which makes the space show high-end and atmospheric extraordinary bearing, and the price is affordable, which is very suitable for the decoration of commercial space.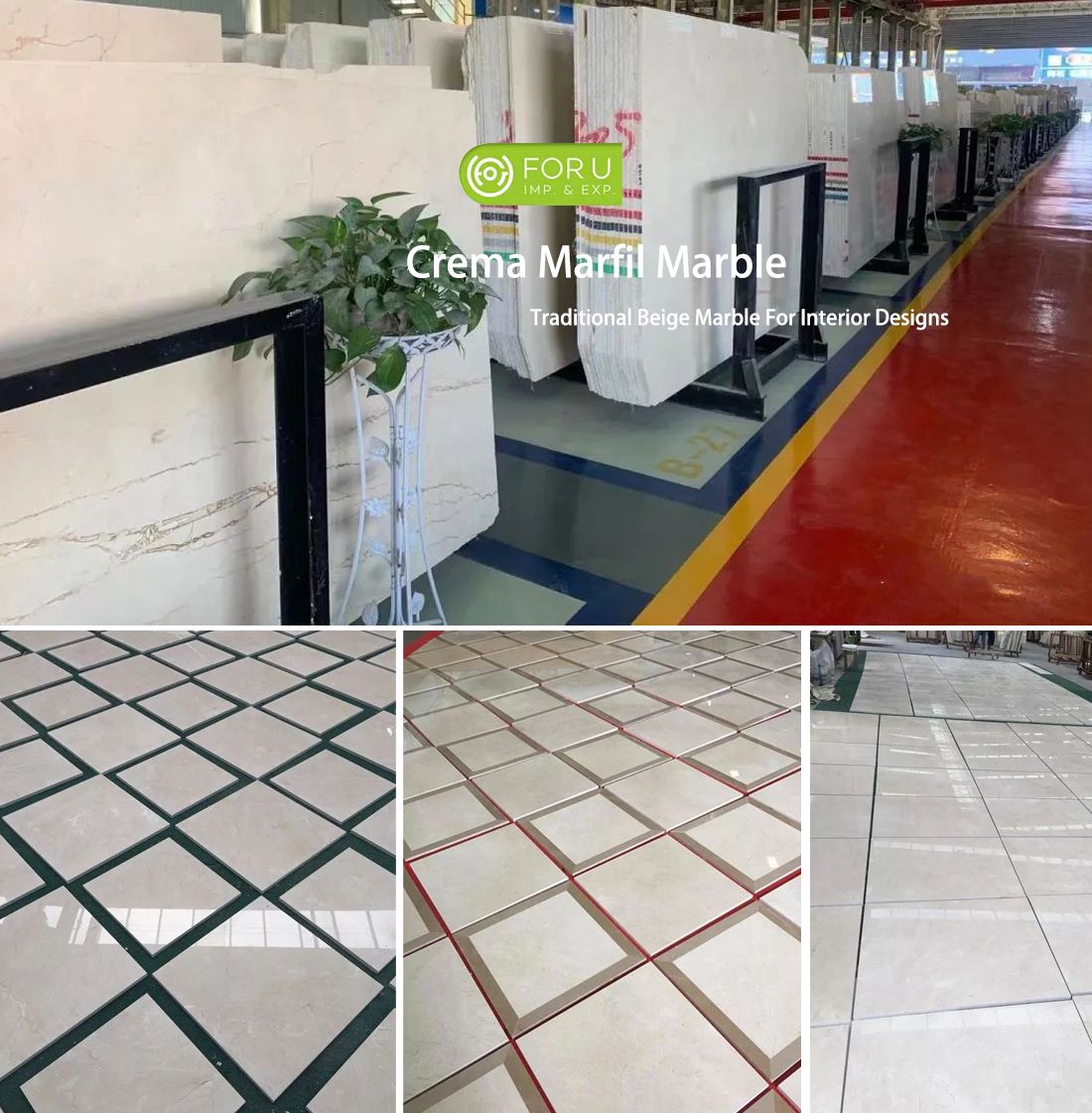 -For U Stone provides Polished Delicate Crema Marfil Marble Tiles for large residences and hotel projects. Besides Beige Marble Cut-to-Size Tiles, we also provide Jumbo Slabs for our retail sales partners.
In addition, there are many application scenarios of Spanish beige marble-Crema Marfil, including star hotels, entertainment clubs and cultural systems. Interior wall and floor decoration of commercial real estate, residential real estate, green medical treatment, financial system, luxury home decoration and other buildings.
Crema Marfil Beige Marble in Emirates Palace Dexlux Hotel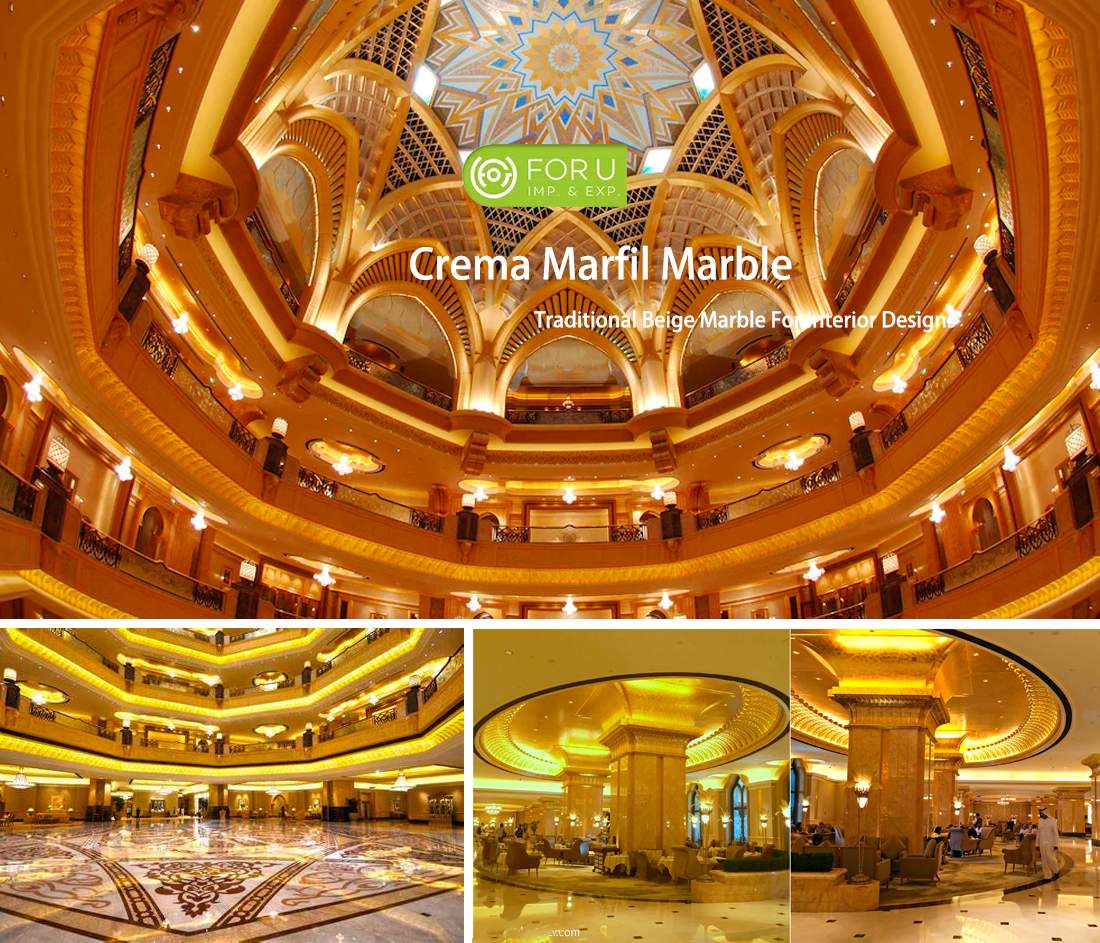 -Deluxe Hotel Lobby Interior Designs with Delicate Crema Marfil Marble
The traditional and timeless Cream Marfil, which was launched by the FOR U Stone, highly restores the unique texture and color of natural marble. The texture is natural and smooth, the texture is dense and solid, the sense of layering is rich, and the color is smooth and exquisite. Different surface textures show various style effects. Our Spanish beige delicate crema marfil marble has stable performance and strong compression and impact resistance. The Spanish beige marble is unique in terms of touch, color, polishing and strength consistency.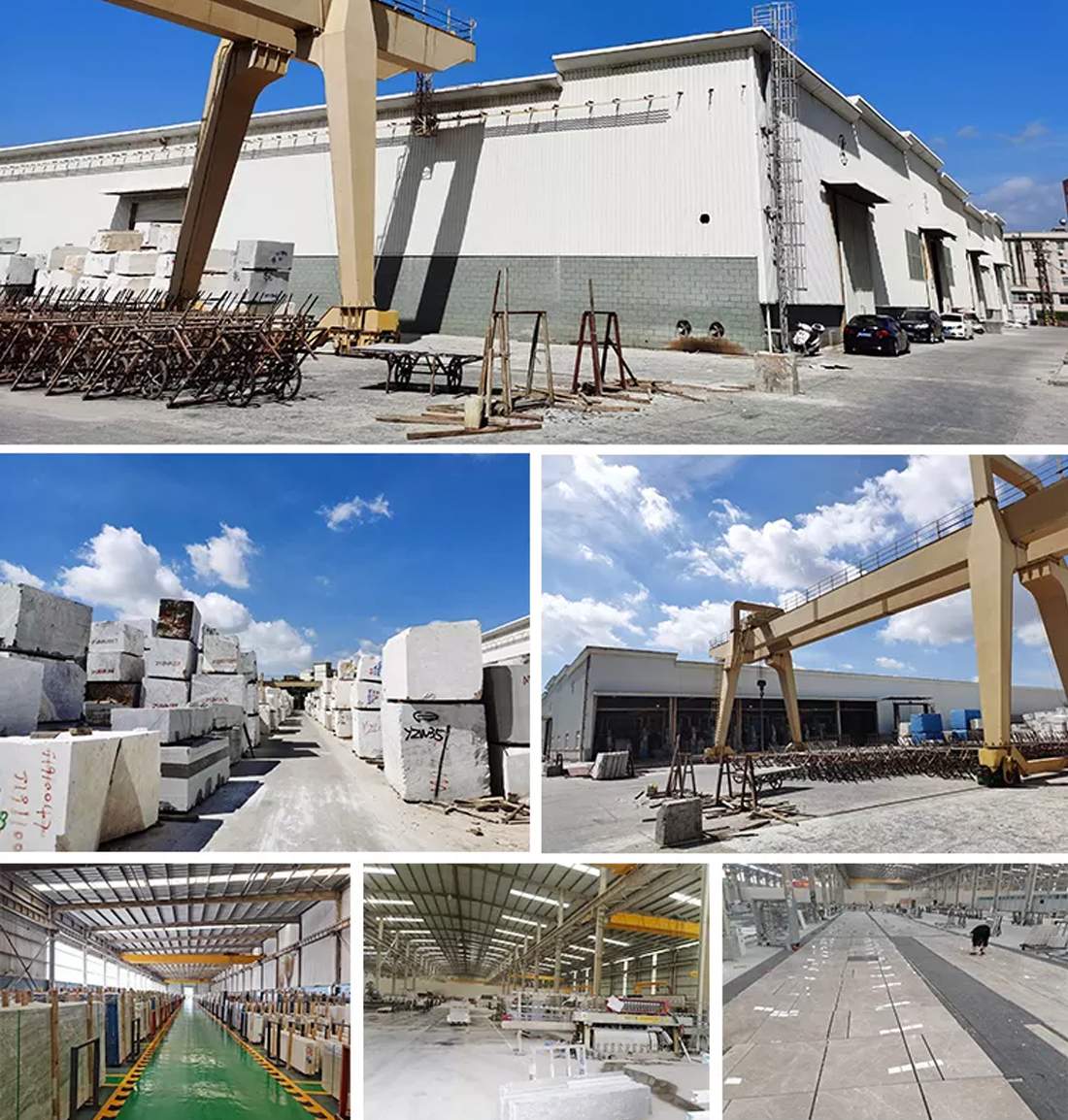 -For U Stone focuses on natural marble slabs, floor, wall, stairs tiles, columns, and bathroom countertops for any projects.
Crema Marfil marble tiles have a clear appearance and texture, a warm and moist color, and layers that are rich and three-dimensional. Following careful examination, the surface texture is lifelike, just like the cut section of marble, which has a strong decorative effect. It is bright and crystal clear due to the natural stone's perfect properties. It perfectly integrates natural stone's natural color and marble's noble quality, allowing you to enjoy the dignified experience of precious stone.
Beige marble can be perfectly grasped whether natural marble Crema Marfil Polished Tile is used as the background wall, the paving of the wall, the ground, or the countertop.

Although it is not particularly noticeable, it silently exudes the elegant flavor of nobility. One of Spain's most famous natural marbles is Spanish beige marble-Crema Marfil. The base color is beige, and the texture is sandwiched between two fine red lines. The natural warm beige color marble has good luminosity and is appropriate for a variety of public and residential spaces.
You can find comparative prices and high quality Crema Marfil Spanish Marble from FOR U STONE Marble Factory.
Related Products