Noir Grand Luxury Black and White Marble: The Epitome of Silent Elegance
Explore the captivating charisma of Noir Grand Black Marble, an opulent marble variant from the heart of France. With its intricate monochromatic tapestry, Noir Grand Marble imparts a rich artistic texture to any room it graces. It's not about being abundantly present, but about the strategic placement that makes each corner it adorns uniquely expressive. The fascinating interplay of black and white, quiet yet intense, gives every space a luxurious and refined charm, especially in elite single-family residences.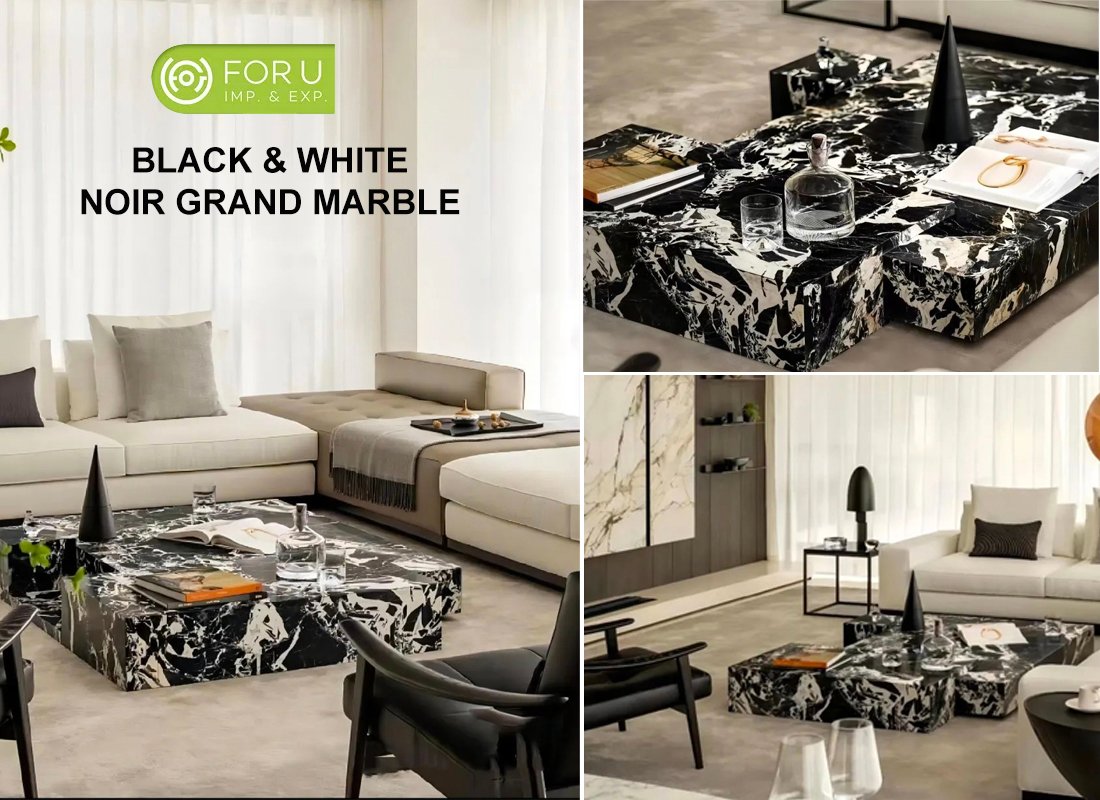 Effortless Allure: Integrating Grand Antique Black Marble Tables | End Tables in a Villa's Living Room
Experience the majestic Noir Grand Marble Tables in action within the comforting confines of a villa's living room. Tastefully complemented by a warm, creamy-yellow color scheme, the Noir Grand Black Marble captures attention without overwhelming the senses. Witness the transformation of a simple marble square low polygon coffee table, crafted from an entire piece of waste marble, into a statement piece that seamlessly blends with the living room's design.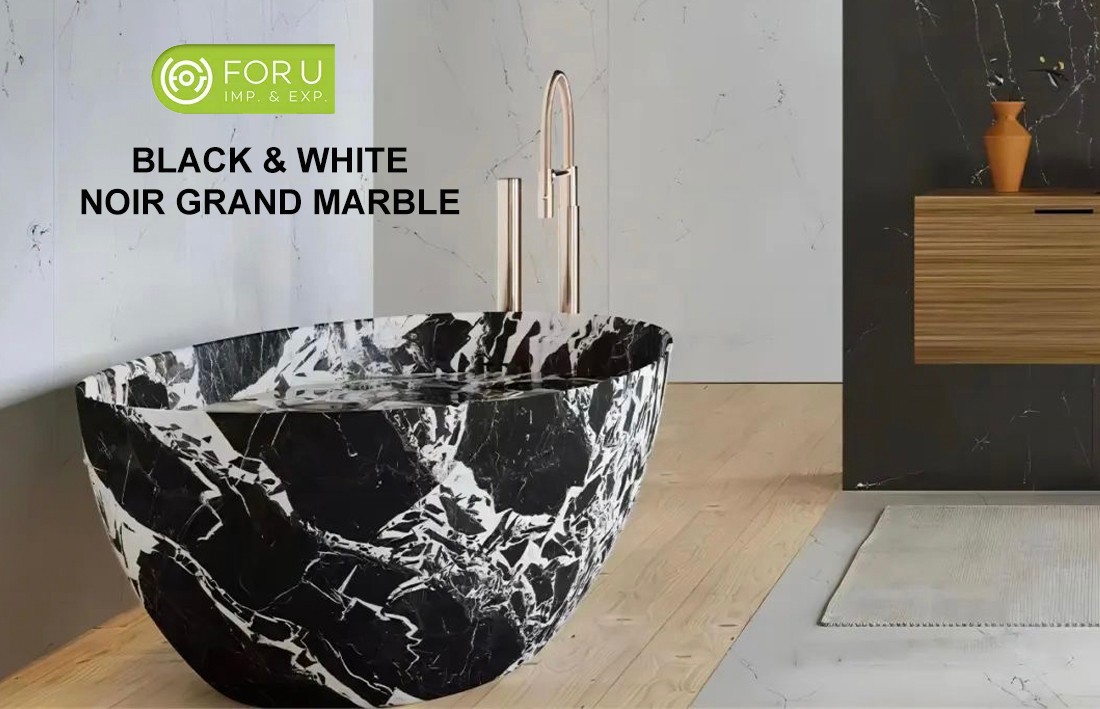 The Bathing Nirvana: Grand Antique Marble's Opulence in the Bathroom
Indulge in the extravagant magnificence of Noir Grand Marble Bathtub as it adorns an oversized bathroom, making it an oasis of luxury. Admire the stunning spectacle of a freestanding Grand Antique oval bathtub, carved from this very marble, exuding an aura of sleek sophistication. The harmonious pairing with rose gold faucet hardware enhances the opulence, making the simple act of bathing a sheer pleasure.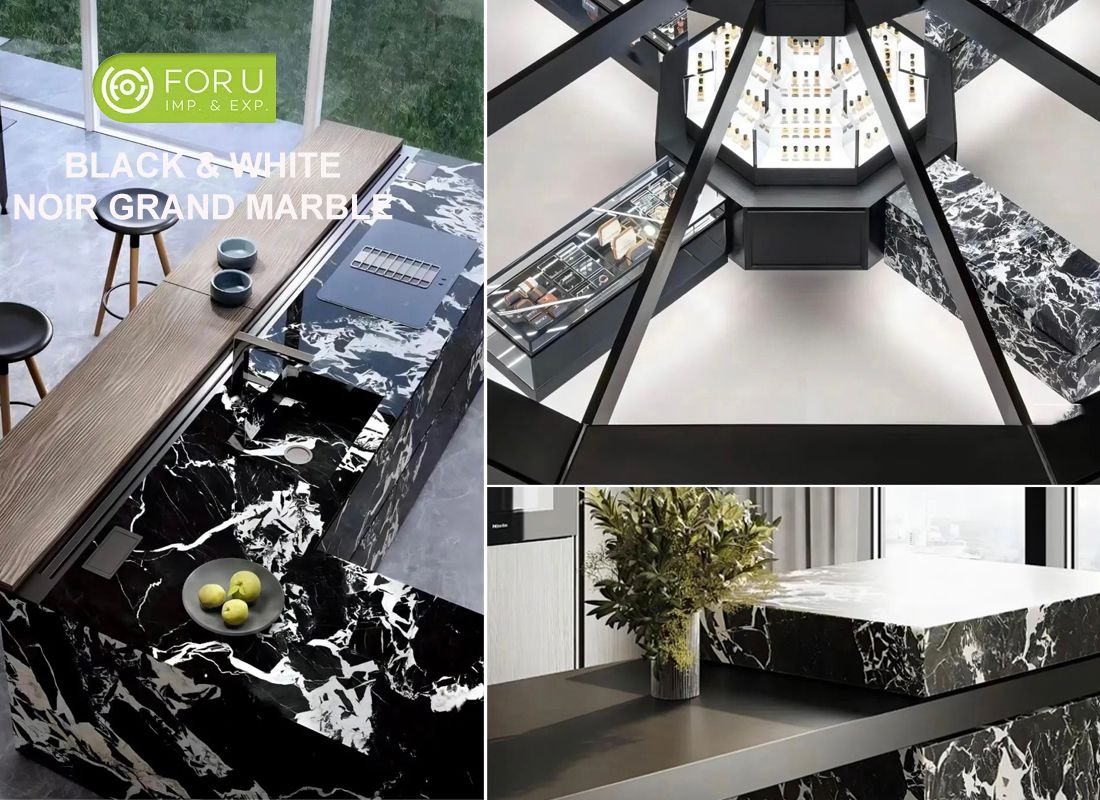 Unforgettable Elegance of Marble Countertops: The Unique Charm of Grand Antique Black Marble
Behold the grandeur of Grand Antique Black Marble with its balanced black and white symphony. Its simple and clean features, devoid of color chaos, echo with luxury and minimalism. A single glance at this marble is enough to etch its image into your memory. The black and white contrasting shades, reminiscent of waves on a dark beach or a lightning storm at night, add to its enigmatic allure. It's a perfect blend of modern and classic, sophisticated yet understated.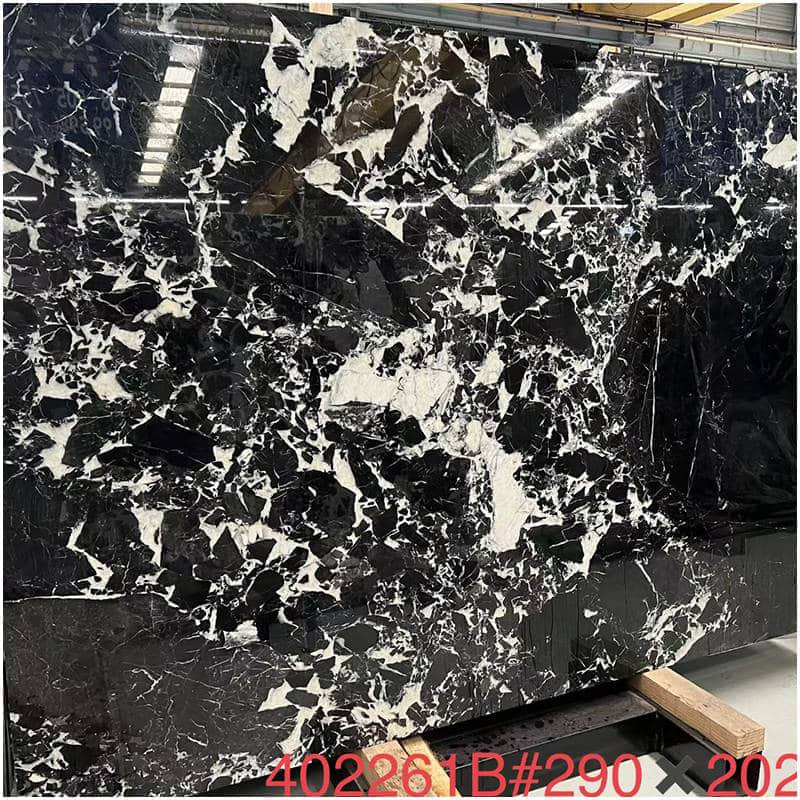 You can get high quality Noir Grand Black Marble Slabs, Tiles, Countertops, Luxury Tables Series from FOR U STONE
Noir Grand Marble offers more than a touch of luxury; it provides an experience of timeless elegance. With its distinct style and charisma, it redefines luxury in villa projects, creating memorable spaces with an undying charm. Dive into the mesmerizing world of Noir Grand and let its grandeur captivate your senses.

Related Products