Definition of Travertine
Travertine is a type of limestone that is crystallized after limestone is dissolved by water. Travertine is lighter and more porous than limestone.
Characteristics of travertine (travertine)
1. Travertine has good processability, sound insulation and heat insulation, and can be used in deep processing. It is an excellent building decoration material.
2. The lithology of the travertine is uniform, the texture is soft and hard, it is very easy to mine and process, the specific gravity (density) is light, and it is easy to transport. It is a kind of building stone with a wide range of uses.
3. Travertine has a fine texture, high processing adaptability, low hardness, and is easy to carve. It is suitable for carving materials and special-shaped materials.
4. Travertine is rich in color, unique in art and science, and has a special pore structure, which has good decorative performance. At the same time, due to the natural pore characteristics and beautiful texture of travertine, it is also a good material for garden stones such as bonsai and rockery.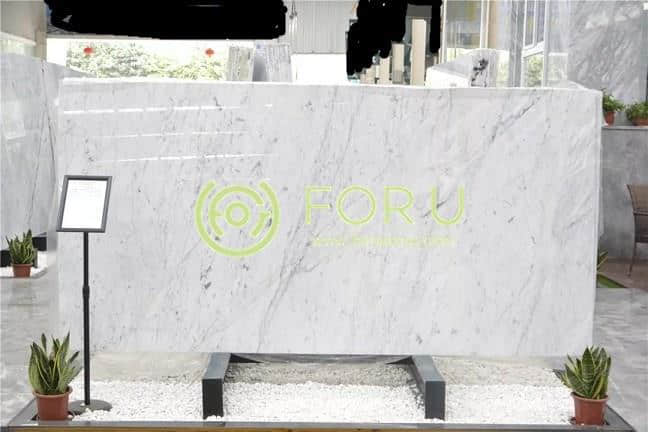 Travertine Slabs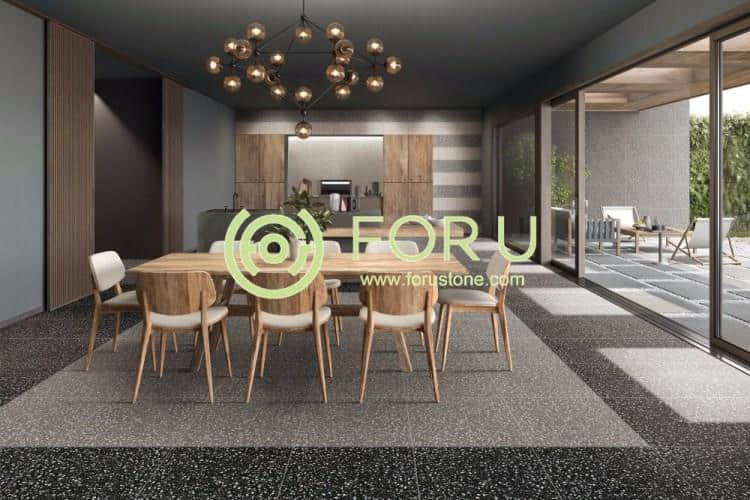 Travertine Application
Travertine cleaning precautions
Travertine is easy to clean, but it's important to know how. Once you learn more about travertine's qualities and properties, cleaning it with the simple methods described in this article will keep travertine looking beautiful for longer.
The points and tips presented here also apply to travertine floor tiles.
First, travertine is mild in texture and beautiful in shape, with a unique pattern and color character that can complement any design. But in a way, it's fragile. Travertine is a stone, sure, but it's not as dense and hard as granite. Travertine is durable and long-lasting, but it is porous and sensitive to acid stains, so it can easily stain or corrode, even when sealed.
Therefore, travertine is generally not used on kitchen countertops or frequently used bathrooms. However, travertine floor tiles are perfect for any room.
Travertine is best used for tabletops, bathtub surrounds, shower areas, floor tiles and stone fireplace surrounds.
Following the do's and don'ts below will help you avoid bad habits and establish proper and safe cleaning methods.
"Do" and "Don't"
"To": Seal once a year
The job is simple. The time and expense involved is nothing compared to the attractive look that the travertine countertops, floors, etc. will provide.
Be careful to choose a high-quality sealant.
Do: Wipe up spills promptly
Travertine is more sensitive to acids than granite. Alcohol, coffee, juice, ketchup, cola, cosmetics and cleaning products can corrode the finish or stain it.
"To": Clean the surface with a sponge or soft cloth.
Regular cleaning requires only hot water and a specially tailored stone cleaner/sealer. Wipe away any moisture with a cotton cloth or a soft-wipe chamois. Use a mild soap occasionally (3-4 times a year), as long-term use can darken the surface.
"To": place mats under glass, bottles, jars, etc.
Bottles, jars, glass, and even water, can leave round water spots, and some everyday foods and drinks contain acids that can corrode polished surfaces or damage surfaces.
Therefore, travertine should be easy to clean, avoid expensive polishing and restoration, and clean like a good wooden home. Keep using the mat no matter what the situation.
"To": The cosmetics in the bathroom should be put in a box.
The decorative box looks great while protecting the travertine surface from harmful chemicals found in cosmetics.
"Do": Clean travertine floors regularly.
Use a clean, dry, unprocessed mop. Be careful when using a vacuum cleaner. Grit on the wheels of wearing parts can scratch the surface. In addition, regularly use a special stone cleaner for cleaning.
Important: Travertine floor tile finishes can become slippery, so use it with other types of finishes. Travertine has a warm texture and doesn't look dirty.
In addition, travertine's unique spaces and pores are easy to fill, preventing dirt from building up before installation.
"To": put door mats inside and outside the door.
Shoes carry grit, dirt, and sand that are abrasive and will wear and scratch travertine floors.
"Don't": Generic, any store-sold cleaner.
Products sold in stores contain acids, alkalis, and other chemical ingredients that can corrode or wear away the surface of the countertop or cause the sealant to peel off and cause staining.
In the long run, using cheap all-purpose surface cleaners will only cost you more time and money, they will damage the travertine, costly repairs and restorations will make you regret it, start now, don't let This kind of thing happens.
"Don't": Clean travertine with vinegar, ammonia, lemons, or oranges.
As mentioned above, regular cleaning requires only a sponge and hot water, plus stone cleaner/sealer.
"Don't": Use bathroom, bathtub, tile or grout cleaners.
Powders and even soft creams contain abrasives that can scratch or dull the finish.
"Don't": Sit or stand on a countertop.
Travertine countertops are not as flexible as laminated countertops, and they are not supported by plywood, which can crack if they are too heavy.
"Don't": Place cosmetics directly on the counter surface. Shampoo products, toothpaste, perfume, nail polish, creams, lotions, etc. can stain or damage the surface, and may also corrode the polished surface and leave rings. It is recommended that you put these products in a decorative box, which also adds to the aesthetics.
Related Products