Penthouse interior designs with Italy carrara white marble
The analysis of the entire space is done in a contemporary and restrained way, the space being cut into dynamic and pure proportions through the technique of 'overlapping cuts of volumes'. The three-dimensional space is extended by layered plastic changes, wall divisions, and rearrangements. Space is arranged vertically and horizontally between points, lines, surfaces, and volumes, using a division of proportions to give a calming sense of freedom. The Natural Italian Carrara White Marble enhances the atmosphere of the room.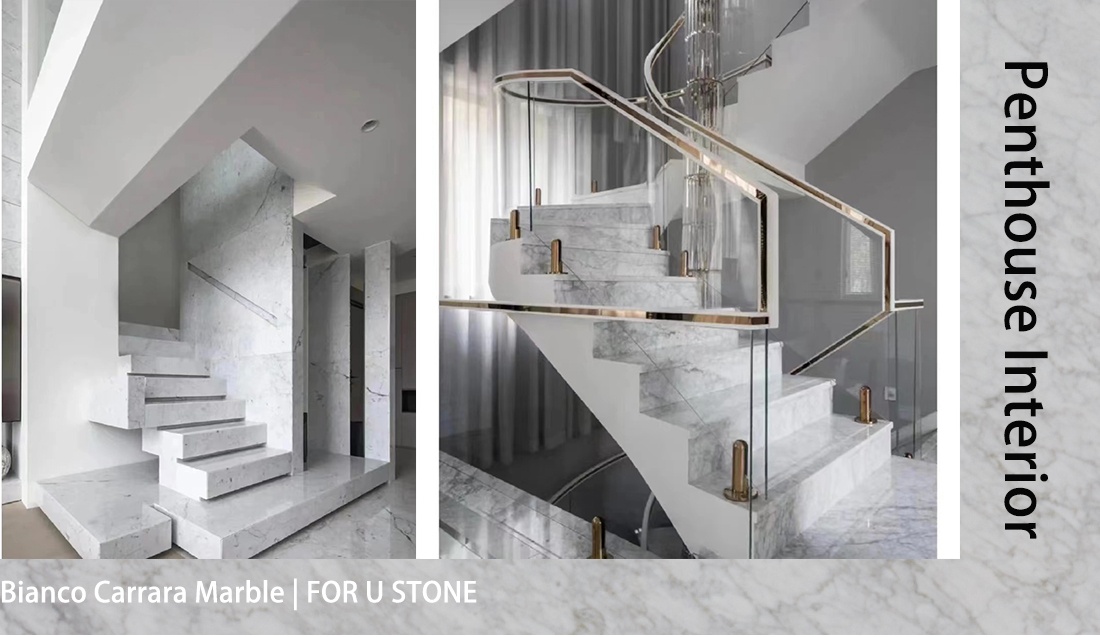 -Carrara Italy carrara white marble stair tiles | penthouse interior styles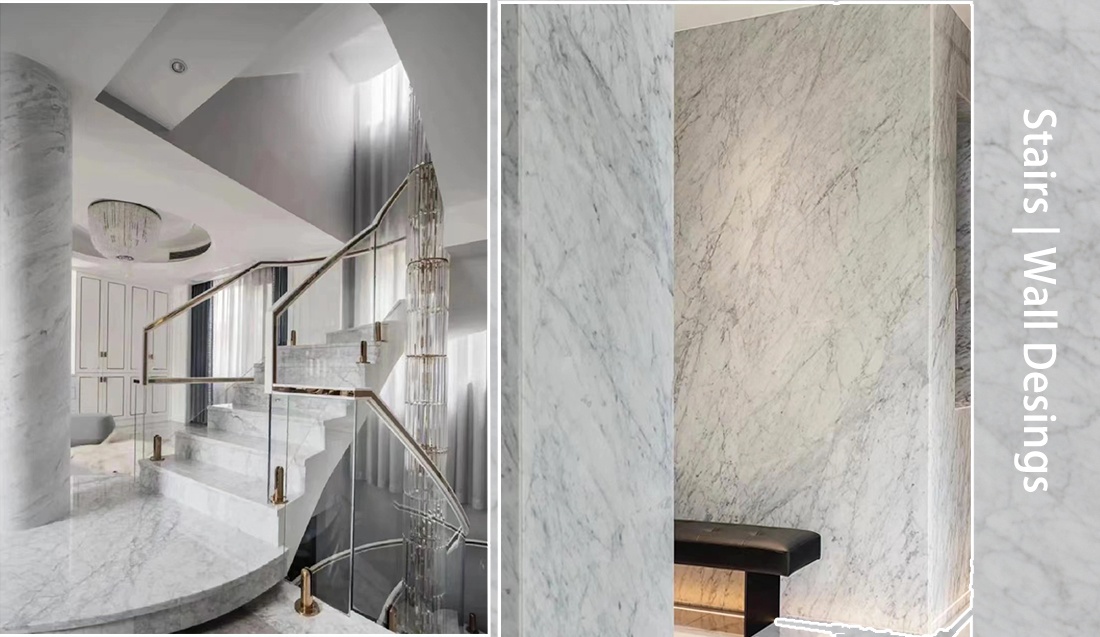 -Penthouse Lobby Space, from Floor and Wall Using Italy carrara white marble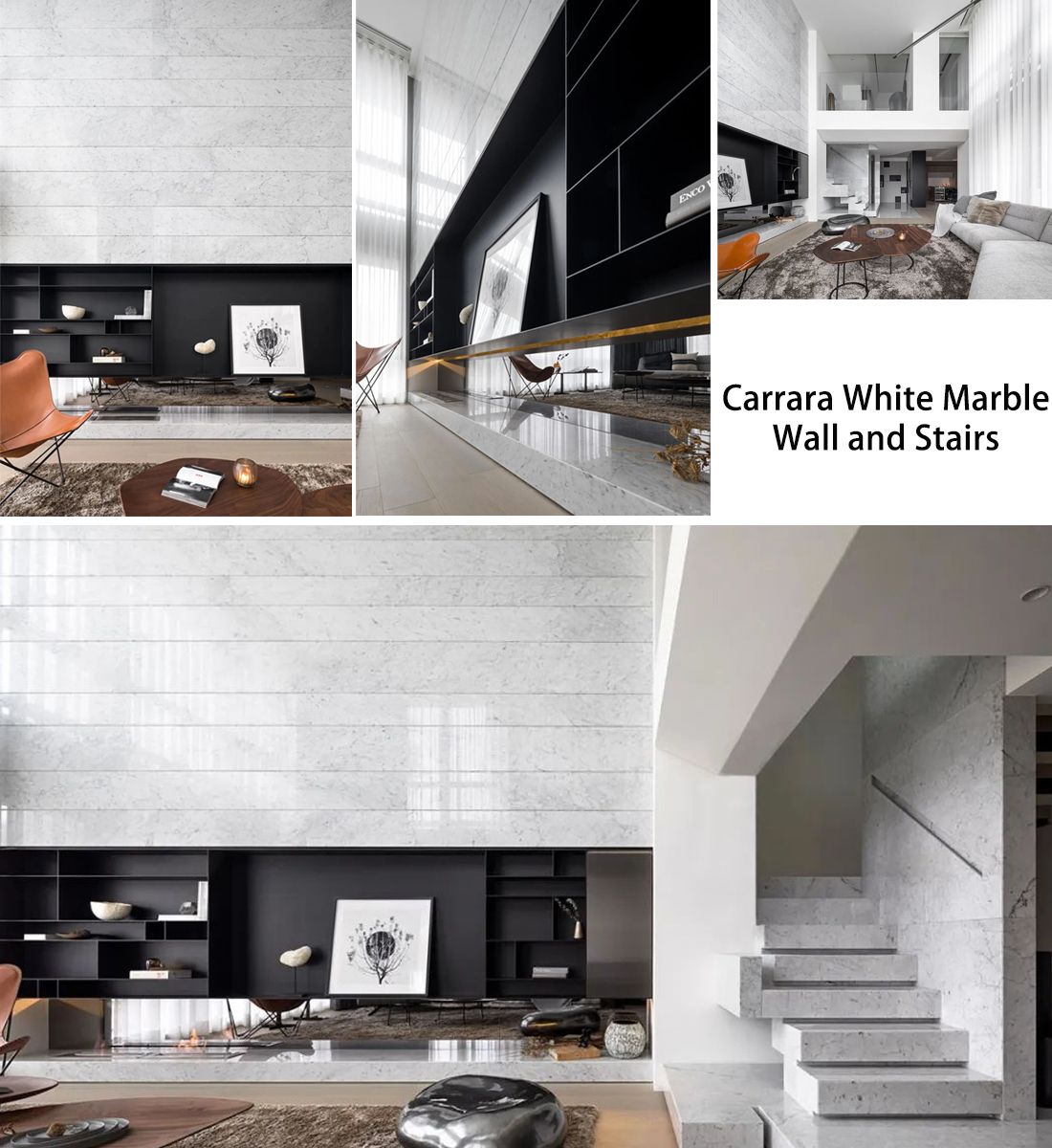 -Italy carrara white marble for Penthouse Lobby Wall
An empty indoor hall continues the spatial vision by layering volumes. Designers take advantage of the natural conditions provided by nature to scatter sunlight over a large area into every nook and cranny. Italy carrara white marble Tile carries a continuation of natural light.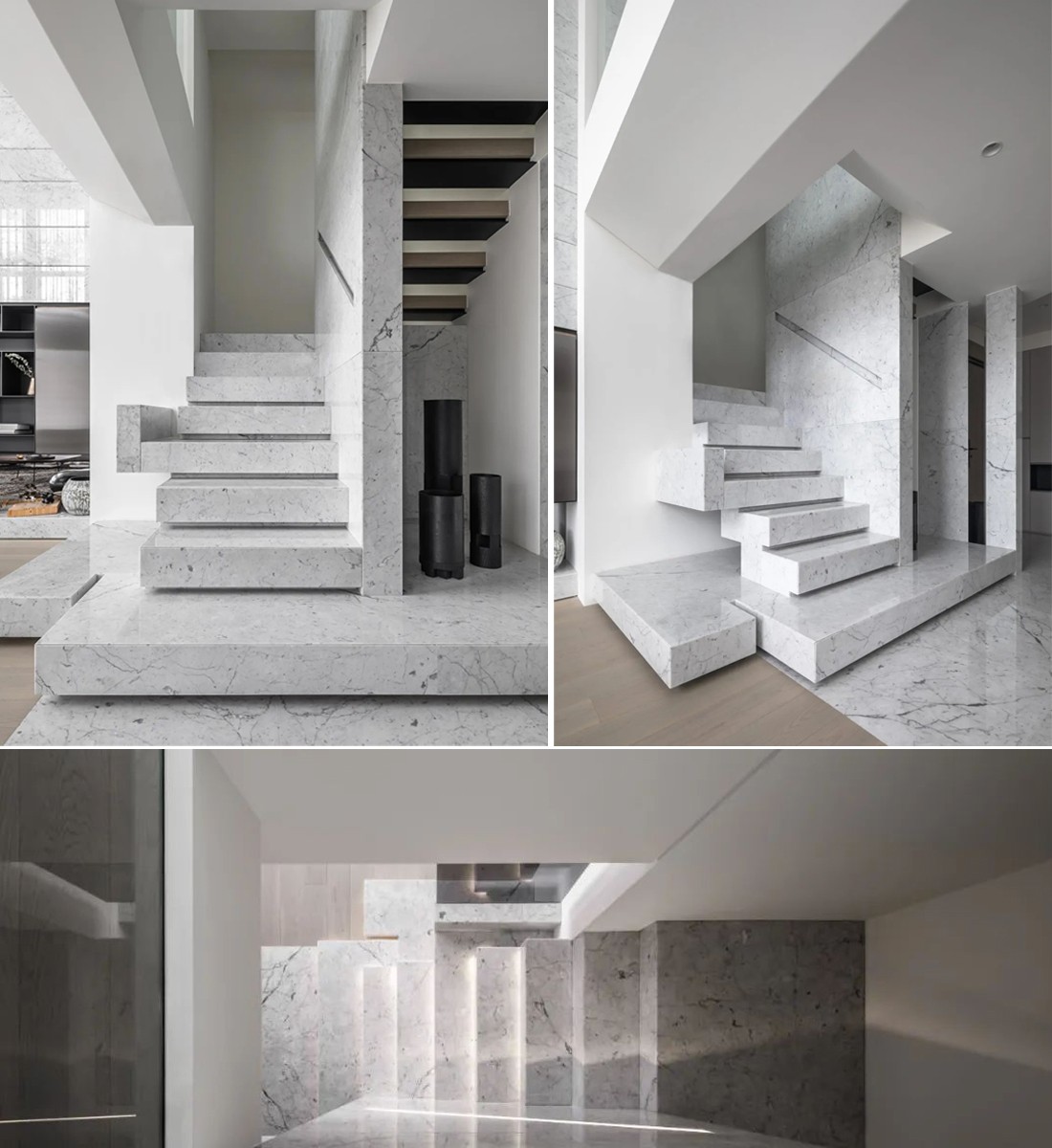 -Carrara Marble Stairs | FOR U STONE
The Italy carrara white marble stair treads are quiet and harmonious in the space.
Various elements are used to delimit spaces. On the one hand, the Bianco Carrara White Marble staircase is conceived as a sculptural element that enables the use of the space, with the kitchen as a piece of furniture. This Penthouse uses a large number of Italian Carrara white marble in the public area, which makes the entire interior space appear larger. The visual effect will not produce a depressive or unpleasant feeling because of the limitations of the space. The use of white marble can take this interior design taste to another height. Reasonable use of white marble can add color to other supporting furniture or decorative elements.
Italy carrara white marbl is a stone that belongs to the white marble category. It is a classic pure, light white marble with light veining on its smooth surface. It is recommended to use it for both exterior and interior purposes. It can be used for wall coverings, floor applications, sculpture making, bathroom, and kitchen countertops, mosaic and fountain making, pool capping, and many other special design projects and purposes.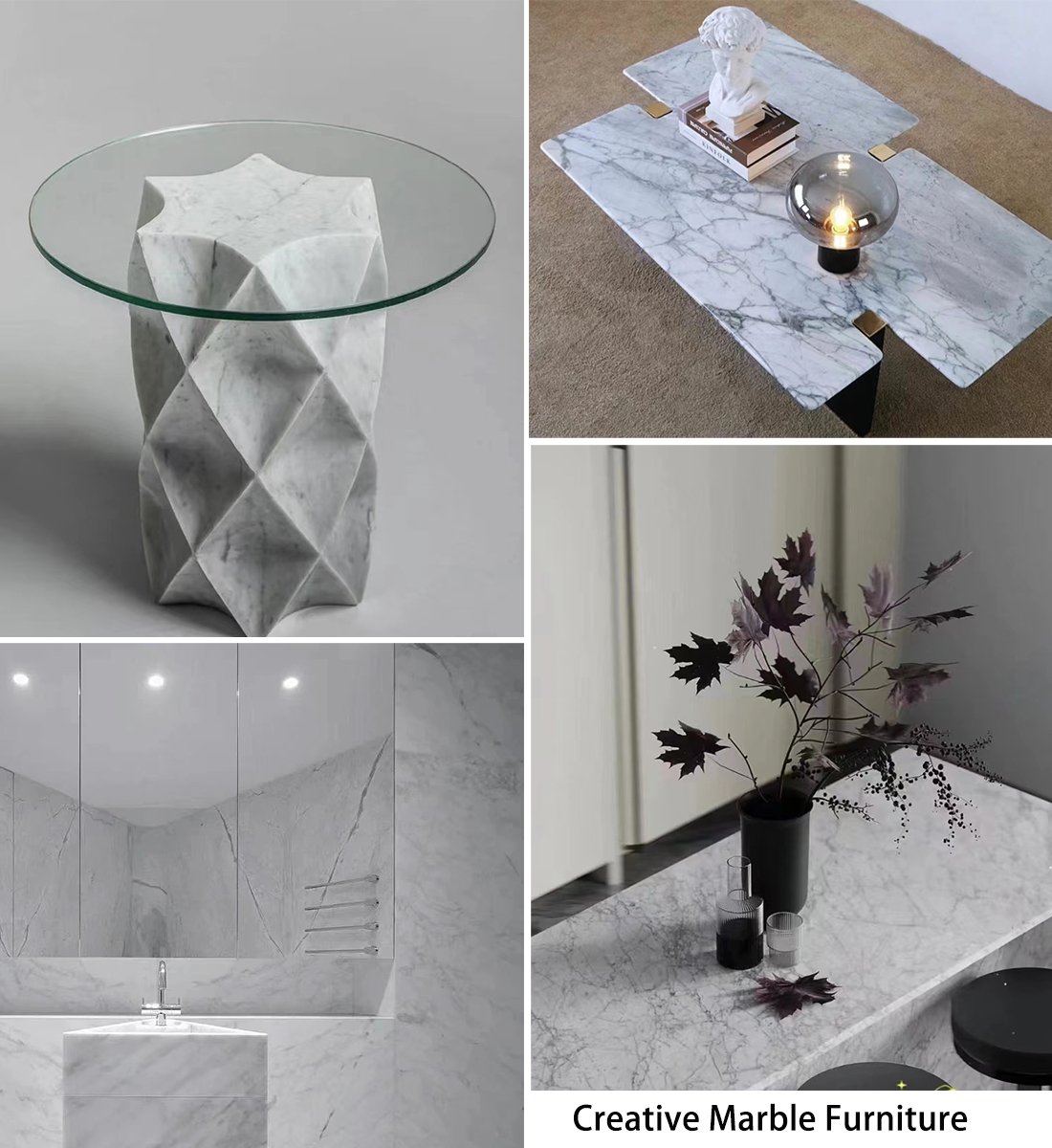 -Carrara Marble Furniture Designs, Tables, Coffee Tables, and Wash basin designs.
In addition to the simple design of white marble floor, wall, column, and tabletop. Italy carrara white marbl can also shine on furniture. For example, it is a good choice to use pure natural marble and geometric metal base to make dinner tables, bar tops, or end tables. If you need this marble, please feel free to contact us.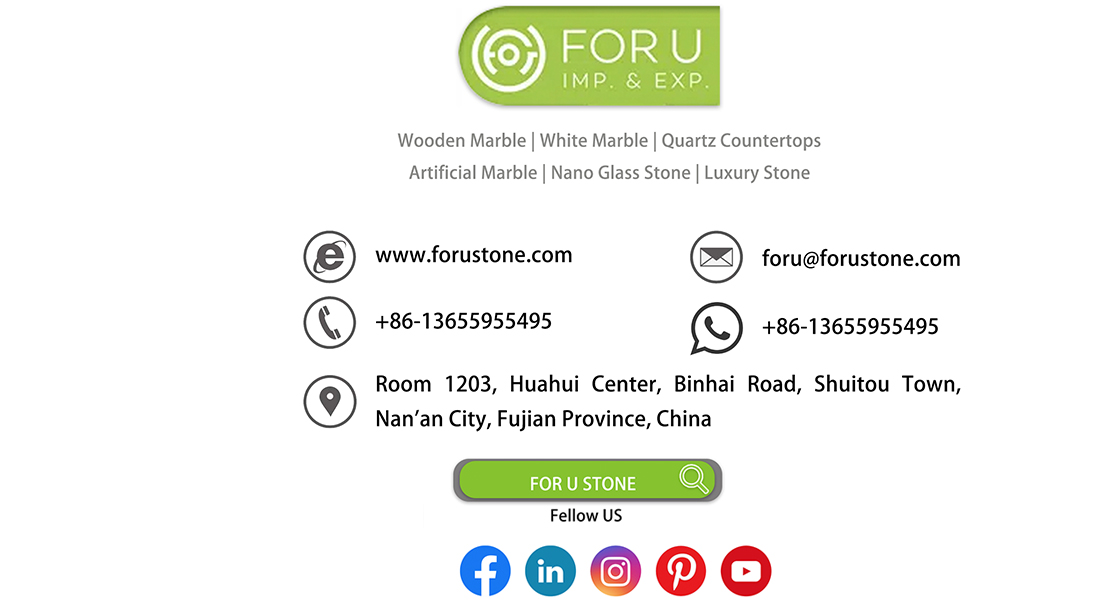 Related Products
Related Products