Commercial Office Building Internal Facade | Italian Silver Travertine Cladding Panels
100% Natural Italian Imported Stone-Silver Travertine's rough texture, delicate texture, clear hierarchy, hardness, and softness are combined. The Polished or Honed Surface of Silver Travertine with holes filled or unfilled is full of the beauty of simplicity, simplicity, and vicissitudes of life, with a low-key luxury aesthetic feeling.

-Imported from Italy Quarries, For U Stone stocks over 1000 pcs 20mm or 30mm Silver Travertine Random Slabs in Shuitou Warehouse, and ready for clients to choose from for their future wall facade project in homes or commercial buildings.
Office Building Project with Italian silver travertine
Living and working in buildings that reflect one's image requires the use of façade materials with dynamic architectural self-expression.
Therefore, the decision to cover the facade with stone is an absolute way to make the building prestigious and unique. The project is located in China and is a 5A-grade office building interior project. The stone of the Italian silver travertine wall tile occupies an essential position in the whole space. From the pillar of the lobby to the wall of each floor, this Italian silver travertine Facade engineering Panel is installed. Adding holes to the polished surface makes the interior space more bright.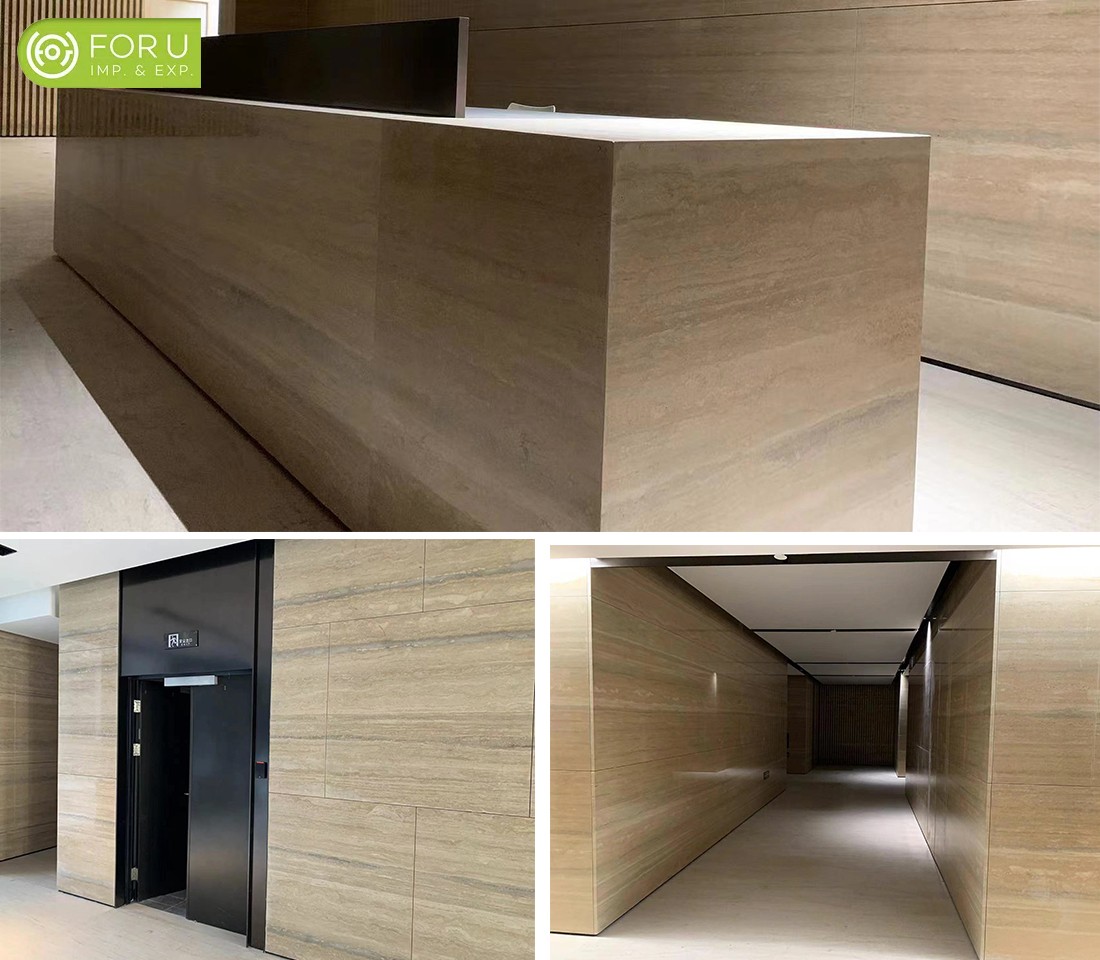 -Italian Silver Travertine Facade Panels with Vein Matched Designs in Building Lobbies.
From the reception desk in the lobby of the building to the lobby corridor, high-quality Italian silver travertine tiles are used. The effect of parallel installation makes the space more textured.
Elevator Hallway Wall Designs with Italian Silver Travertine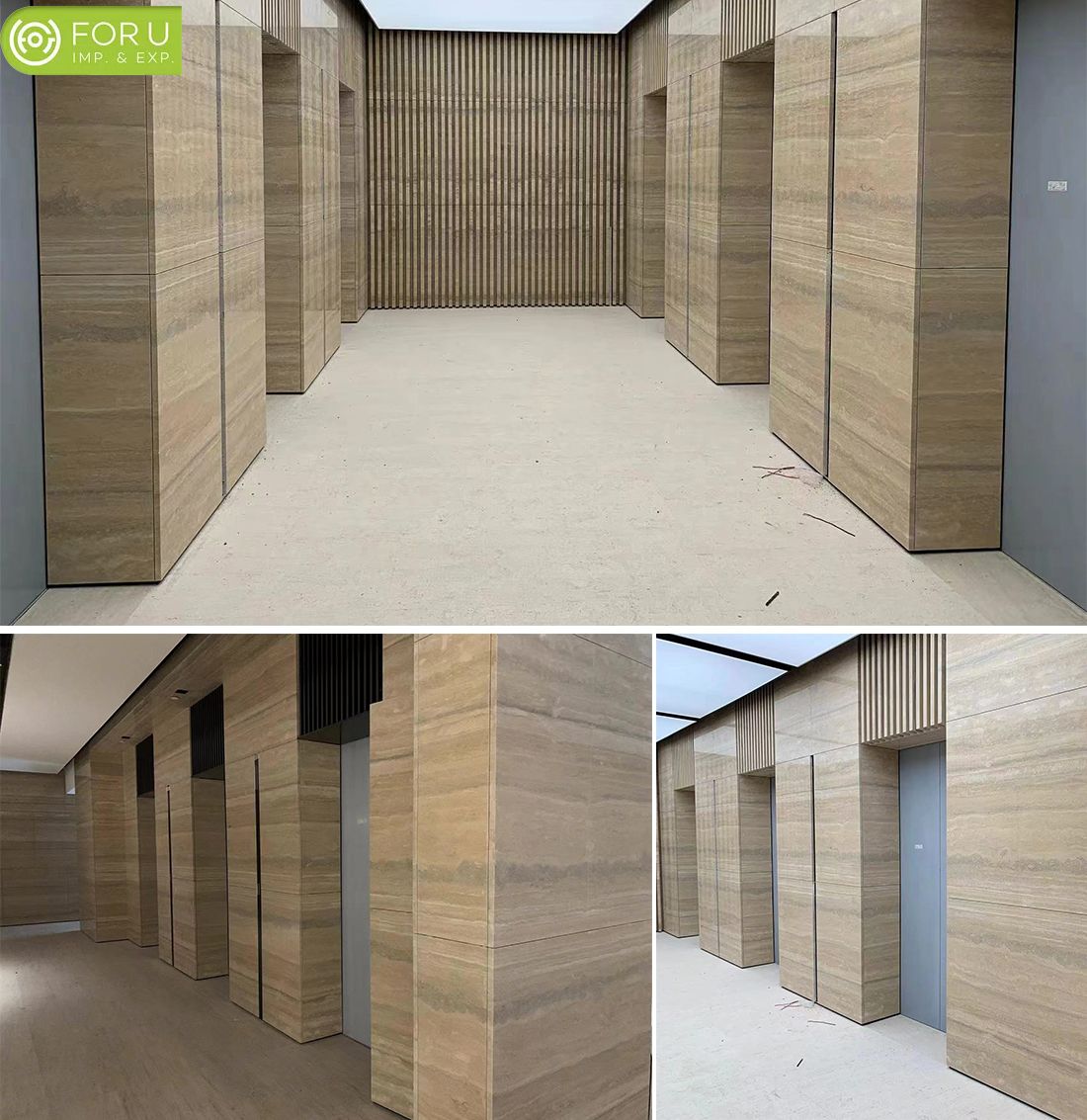 The whole building is equipped with 6 high-speed elevators. The walls of the entire elevator corridor are Italian silver travertine, and the ground is paved with cream marble or ceramic tiles. Under the LED ceiling lamp, the real color of the silver travertine tiles is eye-catching.
In addition to increasing the significance and beauty of the building as a whole, the decision to cover all or part of the facade with Silver Italian Grey Travertine also provides enhanced protection from decay and wear and tear compared to simple rendering.
Italian Silver Travertine offers designers endless aesthetic and stylistic solutions. The Blue-grey pattern of this travertine wall facade tiles creates different shades of a given color that can create overlapping effects and the impression of depth. Or, if you want to make a real "statement," you can opt for a bold look with highlights and shadows contrasted with different textures.
About Silver Travertine | FOR U STONE Factory
Italian silver travertine is the most elegant shade of the travertine family and is a type of limestone deposited by mineral springs. Add a sparkle of silver to your room and make it sparkle. This silvery natural travertine marble stone has a porous structure and is widely used in construction as a building material for houses, offices, hospitals, temples, shrines, swimming pools, and baths. Use Italian silver travertine for an understated and sophisticated look
Our Travertine Marble is available in various customer-specific thicknesses (16/18/20 mm) and Gangsaw sizes (length 200-300 cm, height 120-200 cm). All Travertine grades are available in Honed, Polished, Leather, Waterjet, Rapotro, Surface, and a variety of beautiful finishes and shapes depending on your requirements.