Ultra-environmental and Non-polluting Terrazzo Campus Design Project | FOR U STONE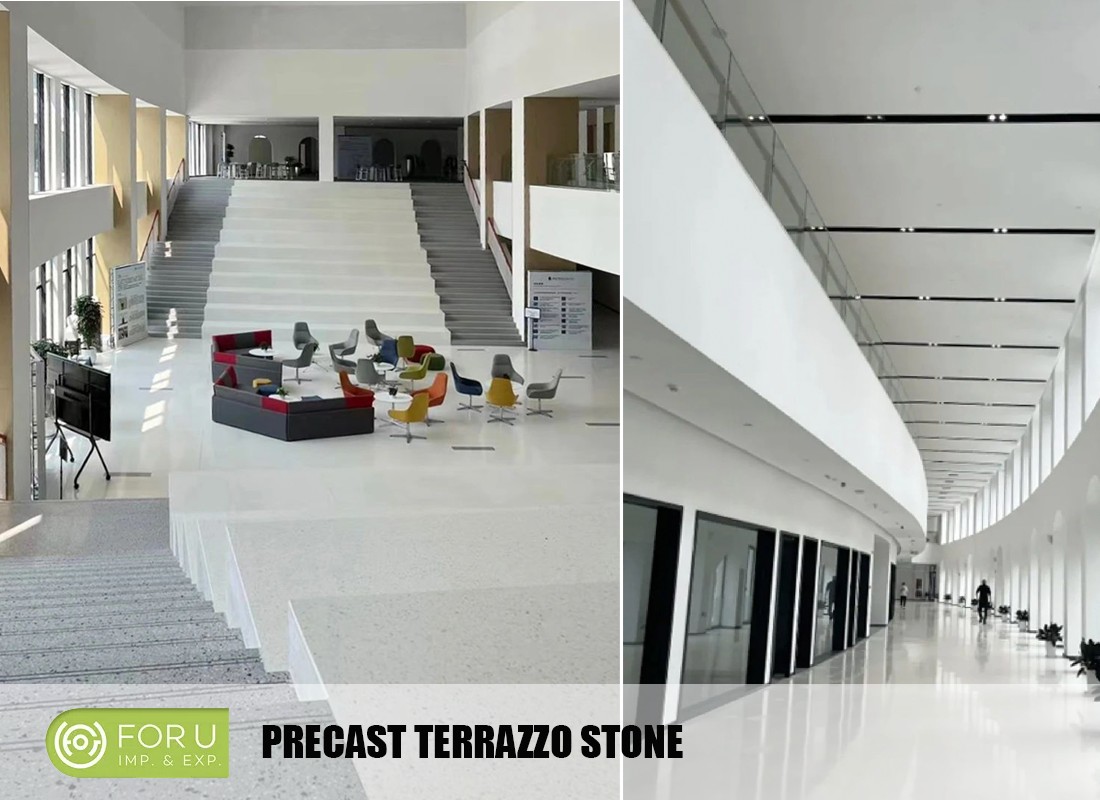 Safe and reliable, with no formaldehyde and other harmful substances of inorganic terrazzo, with a spatial perspective, design no learning, green building materials, and other benchmarking advantages for leading the modern education environment aesthetics hard power.
01-

External art and aesthetics
Nourish inner science and logic
An excellent educational space is like building a forest, where the external art and aesthetics nourish the internal science and logic. Walking into the public foyer of Hangzhou School, Affiliated with Shanghai Foreign Language Institute, the open lobby space uses inorganic Terrazzo Stone to create a large staircase, connecting multiple functional areas and stimulating the exploration and extension of knowledge, creativity, and art.
In addition to the installed staircase, the white terrazzo learning corridor is visually transparent and rich in extension. The dynamic and open learning area is a concrete embodiment of the campus culture and learning atmosphere and a perfect demonstration of the campus refinement space.
The aesthetics of the campus space are shaped to incorporate the essential aesthetic qualities into the space-shaping program system, and the area is used to illustrate the aesthetic concept of education.
02 Skin-friendly materials and soft colors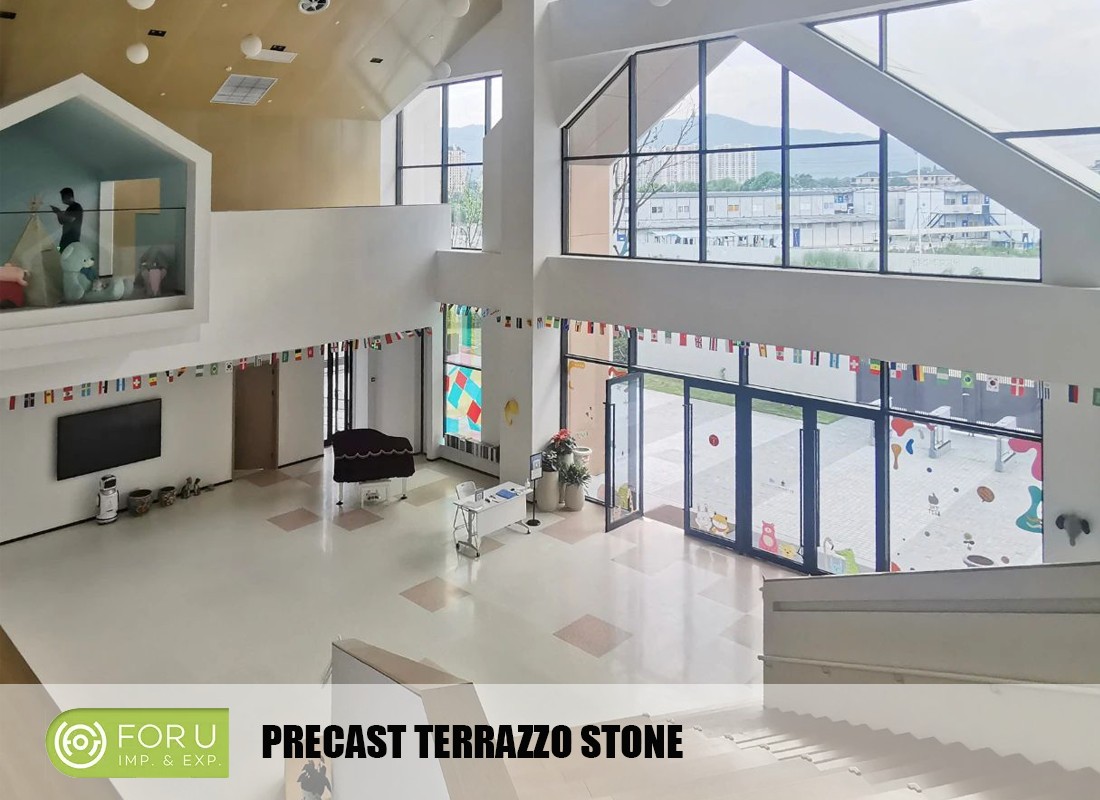 Create a safe and warm atmosphere like home.
Hangzhou School, Affiliated with SISU, attaches great importance to the selection of materials inside and outside the art of aesthetics and performance of environmentally sustainable multiple factors and considerations.
Compared with the brightly colored kindergarten design, the Hangzhou School Affiliated kindergarten section with SISU is customized with less saturated, antibacterial, skin-friendly inorganic terrazzo. Neutral, soft, and closer to natural colors create a quiet and comfortable space, creating a safe and warm atmosphere like home.
From the children's physical and mental point of view, green building materials nourish the body and mind; sustainable applications significantly extend the concept of growth and education. At the same time, the material texture and color application can encourage children to stimulate their potential.
03 Green New Material – Inorganic Terrazzo
Extended significance of practicing environment and education
The construction of a green campus is the primary embodiment of environmental protection and process performance while reducing the consumption of natural resources. The inorganic terrazzo environmental performance, process performance, and color can be customized according to designers and campus demand for custom patterns and shaped decorations.
In the era of green intellectual empowerment, inorganic terrazzo has been widely used in many large hubs, municipal public buildings, and commercial spaces with a brand new attitude. It is also well recognized in education space, commonly used in campus public areas (foyer/staircase/corridor/restroom), classrooms in teaching buildings, libraries, gymnasiums, and dormitory buildings.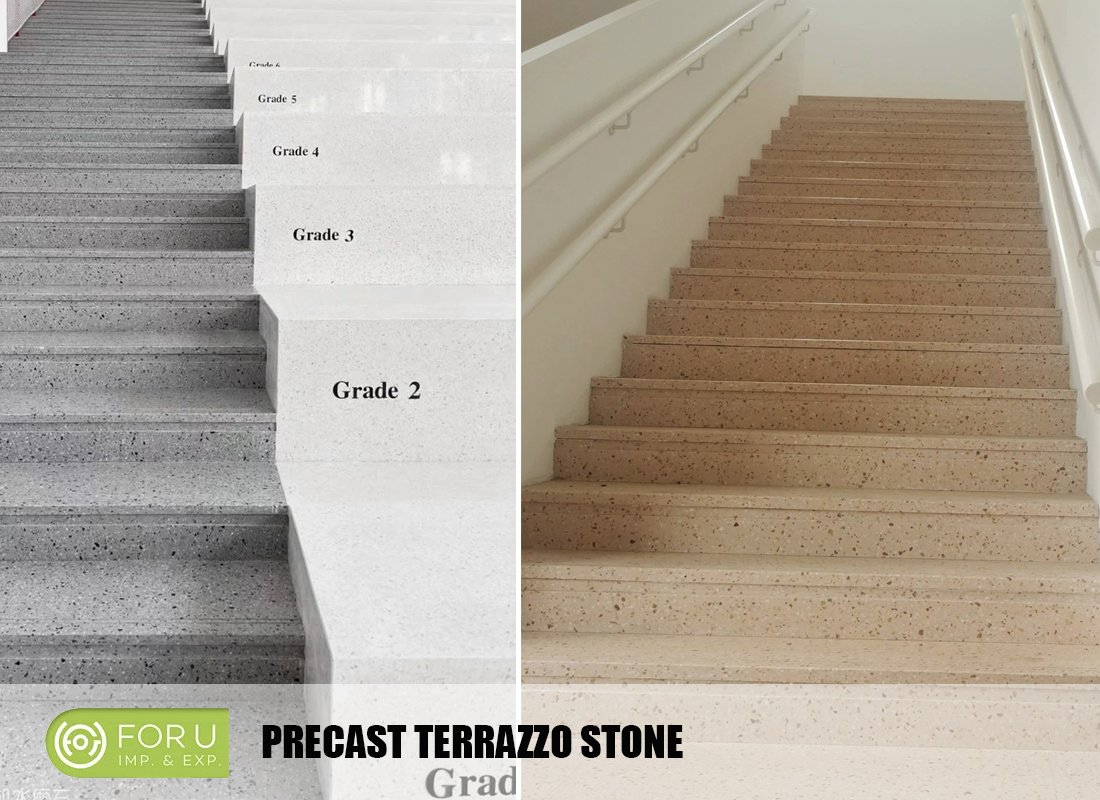 Inorganic terrazzo fire retardant, dust, and wear-resistant anti-slip, no odor and no pollution; recycling of raw materials, recycling intelligence, under the premise of sustainable development, the green new material performance is excellent, natural skin-friendly, is the best choice for educational space.
The inorganic terrazzo is committed to serving the modern environmental protection green space, exploring new technologies, new techniques, research, and developing new practical materials suitable for constructing a green campus. With the concept, performance, color, and other artistic aesthetic value to help create a healthy environment and aesthetic space.

Related Products