Product Details
Pure White Nano Crystal Glass Stone Countertop
China factory supply polished White Nano Crystallized Stone Slabs for kitchen countertops,building construction decoration,nano stone tile.
1.high density,no crack.
2.strong resistance to acid,alka and other corrosions.
3.zero water absorption
4.multipurpose use.
Big Slab size:3060x1640mm 3060x1540mm 2860x1640mmStandard slab size:600x600mm 800×800 1000x1000mm 1200x1200mm & Customized sizeThickness: 15mm, 18mm, 20mm,30mm
Properties of non holed Nano crystallized glass stone
1、better properties than natural stones
nano crystallized has uniform structure, high density, strength, compressive strength, banding strength and impact toughness would be better than natural stones. Wearing resisted,no easy to be damaged, and would not have slight cracking lines on the surface like natural stones.
2、Exquisite structure and sparkling shinning surface
nano crystallized not only have the special crystal composition, but also have the special glass composition. Its exquisite structure and sparkling shinning surface would cause diffuse reflection to the entering light. It would let you feeling harmonious.
3、Different colors to be used on extensive usage
The production technique of crystallized can be changed depending on different usage to make the products with different colors. (such as white, beige, and black.)。
4、Superior acid, alkali and weather resisting
its resistance to the acid and alkali, provided it a superior resistance to those corrosive stuffs. Perhaps, its properties would be better than the natural stones. Especially its resistance to the weather, this product would not have color change even putting under sunlight permanently and would not affect its strength either.
5、Superior resistance to the pollutants and convenient to be cleaned
nano crystallized have a low water adsorption, which is nearly zero. Most of the filthy mud, painting solutions would not stain into the material. Therefore the dirt on the surface would be very easy to be cleaned. That would be extremely convenience to those constructing detergents to maintain the material tidy.
6、Can be tempered and process to be banding tiles
nano crystallized can be tempered which is similar to the normal glass and reformed to be different shapes such as columns
7、Do not have radioactivity, harmless to human body
all the materials which have radiations were removed during production. Therefore nano crystallized glass does not have any radioactivity like the natural stones do. It is a modern, save and environment-friendly product.
8、the molecular structure of nano crystallized, high plasticity
its molecular structure has reached the nano level and formed fibered shape structure. Close packing of the particles, high impact resistance to satisfy the cutting, drilling, carving and polishing procedures.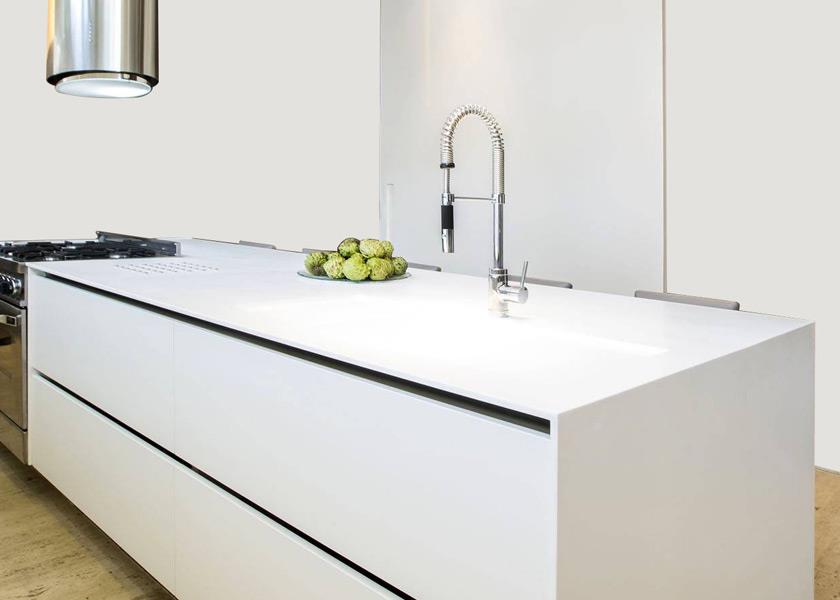 pure white nano 3 glass for stair and step
CALACATTA CRYSTALIZED GLASS PANEL FOR WALL AND KITCHEN TOPS
CALACATTA CRYSTALIZED GLASS PANEL FOR TABLE TOPS
calacatta white crystalized glass for kitchen tops
Main Products:Nano Crystallise Stone, White Nano Panel, Nano Stone, Nano Crystal Stone, Marmo Stone, Nano 3
If you're interested in our pure white nano crystal glass stone countertop, welcome to buy the quality products at an affordable price with us. As one of the leading Nano Glass manufacturers and suppliers in China, we also support wholesale service. For more info, contact us now.