Product Details
All Sides Picked/Pineapple Black Basalt,Six Sides Rough-Picked,Black Basalt Pillar

G685, Cheap Zhangpu Black Stone Split Palisade for Garden, Stone Basalt Palisade,Garden Palisade,Stone Fence Stone Pillar
Black Basalt : Basalt is a common extrusive igneous (volcanic) rock formed from the rapid cooling of basaltic lava exposed at or very near the surface of a planet or moon. Flood basalt describes the formation in a series of lava basalt flows.
Black Basalt and Detail Information
Black Basalt : basalt is an aphanitic (fine-grained) igneous rock with generally 45-55% silica (SiO2) and less than 10% feldspathoid by volume, and where at least 65% of the rock is feldspar in the form of plagioclase. It is the most common volcanic rock type on Earth, being a key component of oceanic crust as well as the principal volcanic rock in many mid-oceanic islands, including Iceland, the Faroe Islands, Réunion and the islands of Hawaii. Basalt commonly features a very fine-grained or glassy matrix interspersed with visible mineral grains. The average density is 3.0 gm/cm3.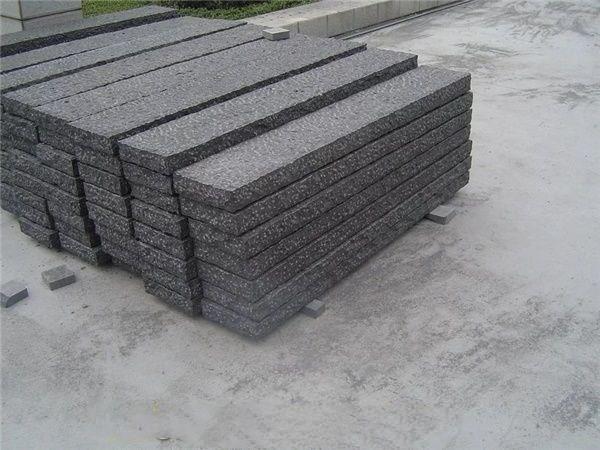 Name: Zhangpu Black Basalt

Catalog:Basalt

Color: Black

Country: China ( Zhangpu, Fujian province )

Recommended Usage: Exterior – Interior wall and floor applications, monuments, countertops, mosaic, fountains, pool and wall capping, stairs, window sills, etc

Finishing Surface: Polished, Sawn Cut, Sanded, Rockfaced, Sandblasted, Tumbled

Additional Names: Basalt Zangpu,Basalte de Zangpu,Dark Green,Dark Green of Zhangpu,Frog Green,G612,Ocean Green,Zangpu Basalt,Zhangpu Black,Zhangpu Green,Zhangpu Qing,in China stone market:漳浦黑(Zhāng pǔ hēi)

Testing

Water Absorption:0.13 %

Compressive Strength: 1391 kg/cm2

Density:2810 kg/m3

Flexural Strength: 358 kg/cm2
Products Specification
Material

100% natural basalt stone

Color

black, grey

Finished

Polished, Honed, Flamed, Sandblasted, Antique, Water jet, Chiseled, Split, Tumble,Pineapple,Mushroom, Bush-hammered,ect.

Edge

Eased, Beveled, Bull nose, Ogee, Slant, Chiselled and etc.

Stone form

Cut to size, Tile, Slab, paving stone,Kerb stone, Cube stone, Irregular shape stone

Basalt Tile

30 x 30 x1/2/3 cm

60 x 30 x1/2/3 cm

40 x 40 x1/2/3 cm

40 x 60 x1/2/3 cm

60 x 60 x1/2/3 cm

Customize size

Basalt Slab stone

100 x 60 x 2/3 cm

100 x 70 x 2/3cm

100 x 90 x 2/3 cm

120 x 180 x 2/3 cm

120 x 240 x 2/3 cm

Customize size

Basalt Kerbstone

100 x 80 x 20 cm

100 x 80 x 25 cm

100 x 30 x 10 cm

100 x 30 x 20 cm

100 x 12 x 25 cm

Customize size

Basalt Cubes

8 x 8 x 8 cm

9 x 9 x 9 cm

10 x 10 x 5 cm

10 x 10 x 10 cm

15 x 15 x 5 cm

Customize size

Round Basalt Paver

Dia35~45cmx H5cm, customize size

Usage

Interior and Exterior etc. Granite Countertop, Vanity top, Paving Stone, Stair, Cut-to-Size, or any stone products as your requirements.

Quality Control

1.Polished:For black slabs/tiles: polishing +95 degree

For colored slabs/tiles: polishing +85 degree

2.Flamed: Flaming will be uniform throughout the slabs or tiles and Brush evenly on slabs after flaming.

3.Thickness:≥1cm
This building material grey basalt is traditionally used in sculpture and architecture,suitable as a building stone or ornamental stone.The durablility and attraction of basalt stone as the natural stone is just unmatchable.The basalt stone is the beautiful ecomomic and practicalbuilding material for both flooring and walls in wet and dry areas of your home or garden.
Produce and delivery and loading of the basalt stone
The treatment of the black basalt
Where is is from ? basalt quarry .
Where to used black basalt by our client .
Quality Control
Quality Grade
We classify it as 3 grades:
Grade A: few pink hair lines & 1-3 crystal lines with width less than 2mm per piece;
Grade B: a few pink hair lines & 1-3 crystal lines with width between 2-5mm per piece;
Grade C: a few pink hair lines & some crystal lines with all different widths.
So the qualities will be like these:
1st choice … All grade A pieces, some pieces may not have pink hair lines but normally have crystal lines;
commercial choice … with both grade A & grade B;
Low quality … with different qualities mainly for Mid-East market, certainly will have some bad pieces not accepted.
Delivery,Shipping And Service
Packing and Loading about Chrysanthemum Green granite
Package

(1) Slab: Seaworthy wooden bundles;
(2) Tile: Styrofoam boxes and seaworthy wooden pallets;
(3) Vanity tops: Seaworthy strong wooden crates;
(4) Available in Customized packing requirements;
All the above package will be fumigated stamped for export order ;
2cm slabs: 15-18 pcs / 75 sqm / 4100kgs per bundle
3cm slbs: 10-13 pcs / 50 sqm / 4100kgs per bundle

FAQ
1, What are your payment terms?
We accept 30% T/T in advance, 70% in the period of shipment.
2, What is the location of your company?
Our company is located in Nanan, China. If you would like to have a visit, you are much welcome.
3, What are your main products?
Our main products are counter tops, tiles, stairs, window sill coping, pool coping stone, paving stone, curbstone, stone sinks, tombstone, and so on. And also we offer OEM services.
4, How about the samples?
We could send you the samples but the freight are charged. After the order is confirmed, we would pay back the express fee. Please be rest assured of that.
Related Products
| | | | | |
| --- | --- | --- | --- | --- |
| terrazzo | | Turquoise Quartzite Granite | | Carrara Marble Slabs Price |
| | | | | |
| --- | --- | --- | --- | --- |
| Yunan Wood Sandstone | | Swan Blue Granite Slab | | Flower Marble Mosaic Shape |