China Grey Volcanic Lava Stone Honed Surface Wall Cladding Lava Stone
Born from the fiery belly of the earth, the Grey Volcanic Tiles are a testament to nature's incredible transformative powers. These stones carry a story, a journey from molten magma to a stunning, functional material that finds its place in some of the most elegant spaces around the globe. Honed Lava Stone Tiles, with their unique texture and colour palette, offer a design that is at once primal yet sophisticated.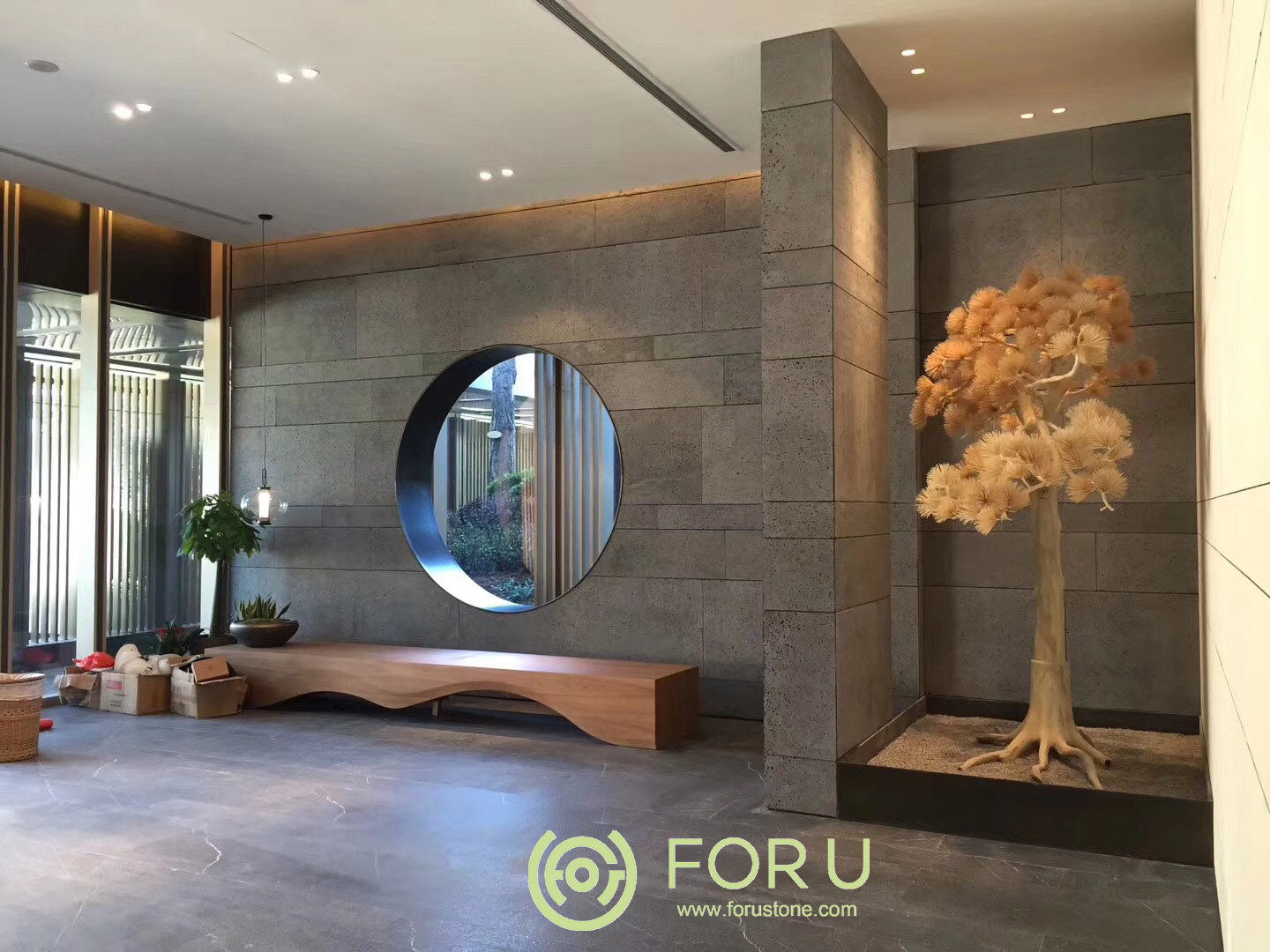 Grey Lava Stone Tiles come in three distinct variations: solid lava stone devoid of holes, lava stone with large holes, and lava stone with micro-holes. Each variant offers its unique aesthetic appeal and functional benefits. The stone's porous nature is a standout feature – these
tiny holes allow air to permeate, making the stone an excellent choice for warm climates as it doesn't absorb heat.
The colour transformation of the Grey Lava Stone is another marvel of this natural stone. When wet, the stone darkens to a deep, mysterious black, and as it dries, it transforms back into its original, graceful grey. This chameleon-like quality adds a dynamic element to spaces where these tiles are installed, such as swimming pools and water features.
Lava basalt, basalt lava stone
Hot Sales Good Price Natural Basalt Stone Lava Stone
Lava stone for wall cladding
There are three types of lava stones.
1: none holes lava stone
2: big holes of lava stone
3: micro holes lava stone
Historically, the robustness of Lava Stone Floor Tiles has been proven beyond doubt, with ancient structures like the Borobudur Temple standing as a testament to the stone's strength and durability. These attributes make Grey Basalt Tiles a favoured choice for high-traffic areas like floors, walls, staircases, and even outdoor areas like pool decks and patios.
Grey Lava Stone Wall Tiles, with their striking texture and colour, can dramatically enhance the visual appeal of any space. Their ability to maintain a cool surface, despite direct sunlight, makes them a superb choice for wall cladding, particularly in warmer climates.
For a bespoke touch in your space, consider Grey Lava Stone Paving Slabs. These slabs can be custom-crafted to suit your specifications, offering a truly unique design element. Whether used as flooring tiles or feature pieces like dinner tables and coffee tables, the stone's natural elegance is bound to make a statement.
Sizes of Lava Stone
China Grey Volcanic Lava Stone Mushroom Wall Cladding Lava Stone
Name

Grey Volcanic Lava Stone

Material

Natural Volcanic Stone

Color

Grey

Application

Interior & Exterior Decoration

Normal Size

300x300x10/12mm, 400x400x10/12mm, 300x600x10/12mm

600x600x20/30mm, 800x800x20/30mm, 1000x1000x20/30mm

2000upx1200upx20/30mm

Cut-to-size

Customized Size

Finished

Customized Finishing

Quality Control

All goods have been checked by an experienced QC before packing and loading.
Lavastone Tiles Projects
The adaptability of the Grey Volcanic Tiles is truly remarkable. These versatile tiles lend themselves well to a range of applications, from interior projects like countertops and columns to exterior installations like facades. In addition, their low maintenance and high durability make them an ideal choice for commercial buildings, hotels, and luxurious mansions.
French Pattern Lavastone Tiles
Grey Lavastone Tiles
Incorporating Grey Lava Stone Wall Tiles into your design projects can leave a lasting impression on your guests. They add an aura of sophistication to any space while ensuring maximum longevity. Their low maintenance requirements further enhance their appeal, making them a practical choice for busy commercial areas and households alike.
Our Grey Lava Stone Paving Slabs have been carefully sourced and crafted, ensuring you receive top-quality, reliable, and aesthetically pleasing products for your projects. They are available in various sizes and finishes, allowing for complete customization to match your specific design requirements.
Originating from the earth's core, Grey Lava Stone Tiles are a remarkable manifestation of Mother Nature's beauty and endurance. These tiles, formed through the rapid cooling and solidification of volcanic magma, hold the power of the earth, bestowing any design project with unparalleled durability and charm.
When it comes to texture and color, the Grey Lava Stone Tiles stand out from the crowd. They exhibit a beautiful grey hue, turning into a deep black when wet – a play of colors that can add an extraordinary depth to any design concept. These tiles carry a honed surface, which means they have been ground to a smooth, flat, and consistent surface. The honing process also brings out the richness of the stone's color and reveals its unique character.
Grey Lava Stone Tiles are known for their three distinctive types: none-holes, big-holes, and micro-holes lava stones. The none-holes lava stone presents a smooth, refined finish, making it an excellent choice for contemporary and minimalist designs. In contrast, the big-holes and micro-holes variants flaunt a more textured appearance that can create fascinating patterns and depth in any space.
Honed Lava Stone Tiles are as versatile as they are attractive. As floor tiles, they can significantly enhance the look of homes, hotels, mansions, or commercial buildings while ensuring excellent durability and slip-resistance. Their natural thermal insulation properties keep your spaces cool even in the scorching summer heat.
Apart from flooring, these lava stone tiles can also be used for a variety of applications, including wall claddings, staircases, and columns. They can act as an exquisite backdrop for your interior spaces or a robust, weather-resistant façade for your exterior architecture. Furthermore, their scratch-resistant quality makes them an ideal choice for countertops in kitchens and commercial spaces.
Products Description
Grey Lava Stone Tiles embody the exquisite balance of elegance and endurance. With their honed finish and captivating grey hue, they can effortlessly transform any ordinary space into a timeless and stylish design. Their strength and versatility make them an ideal choice for various interior and exterior projects, promising to deliver not just beauty, but lasting quality.
Discover the true potential of these magnificent Grey Basalt Tiles and infuse your design projects with the allure and durability of Grey Volcanic Tiles. Whether it's for your dining tables, coffee tables, flooring tiles, columns, stairs, or countertops, these lava stone tiles promise to deliver unmatched quality and style.
If you're interested in our china grey volcanic lava stone honed surface wall cladding lava stone, welcome to buy the quality products at an affordable price with us. As one of the leading Basalt Tiles manufacturers and suppliers in China, we also support wholesale service. For more info, contact us now.