Product Details
Products Specification
Granite is beautiful, durable, and very hard. In ancient times, with perfect mining and processing equipment and technology, it would certainly have been more popular than marble.
Granite is often colored with other minerals, such as hornblende and mica, including brown, green, red, and the common black. Because of its slow crystallization process, its crystals are intertwined one by one like a Rubik's cube.
Therefore, it is very hard. It is as durable as a house, does not fall off the chip, is not easy to scratch, not afraid of high temperature. No matter the color or brightness, as long as there is some common sense of care, it will not fade or darken. He is almost unpolluted, and the surface gloss is high after polishing, and impurities brought by various kinds of weather can hardly adhere.
Quarrying granite is generally done by the wire rope sawing method. The emergence of new processes such as an intensive row of eyes method and flame spraying method. Flame-throwing method of mining the stone cut neatly, no dark injury, high production efficiency. Quarried stone block after roughing called barren, and then by manual drilling or machine sewing, the required size of the block, plate; with a milling machine or rotary bed processing, become cylindrical or arc-shaped body; finally artificial chopping coarse, fine rock-like grain, or machine grinding, polishing, so that the surface is crystal bright. Granite does not pollute the environment. Synthetic materials are often accompanied by bad or even toxic by-products that need to be replaced several times during the life of the building (each time there will be handling problems). Granite does not need to be replaced because it is very durable.
In addition, granite is very practical and can be made into a variety of surfaces – polished, matte, finely ground, flamed, waterjet treated, and sandblasted. Since granite often contains radioactive materials, when using granite you need to measure its radiation level and then confirm the occasion of its use.
Basic Info
| | |
| --- | --- |
| Warranty:3 years | Surface Finishing: Polished |
| After-sale Service: Online technical support, Onsite Installation, Onsite Training, Onsite Inspection, Return, and Replacement | StoStone Name: Granite Countertops |
| Project Solution Capability: graphic design, 3D model design, total solution for projects | Size:2400×600/2400×700/600×600 |
| Application: Apartment | Thickness:15mm/20mm/30mm |
| Design Style: Modern | Material: Granite |
| Brand Name: FORU STONE | Surface: Polished/Honed/Flamed |
| Model Number: Granite | Delivery Time: around 20 days |
| Granite Density (kg / m³):2750 | Packing: Wooden Crating |
| Usage:Countertop/ Vanity Top/Tile | Thickness Tolerance:1/-1mm |
Product Details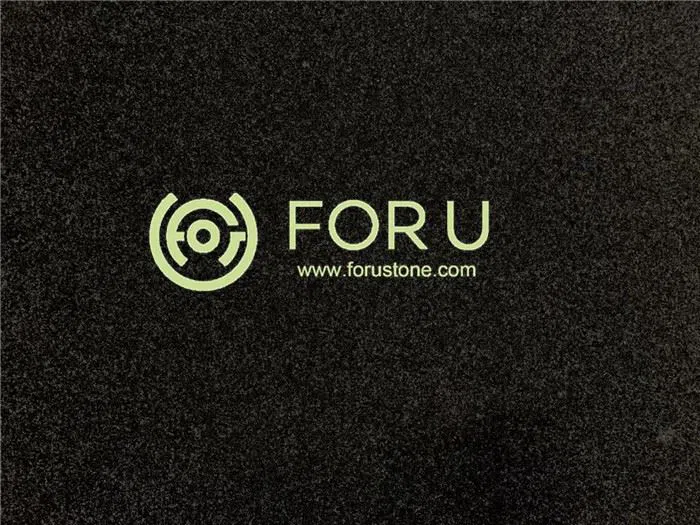 Quality Control
We are committed to being positive & aggressive in our attitude towards quality and customer service. We will not allow quality to take second place behind cost or schedule as this is our basic strategy for growth.
* Inclusions:
No more than two (2) pits, inclusions, contaminants, voids, or bubbles at a maximum diameter of 1.5 mm are allowed on a 1220mm X 2440mm sheet.
* All sheets are to be covered with protective masking.
* Surface:
No more than two (2) scratches, scuffs, streaks, irregularity, or texture flaws at a maximum length of 3 mm are allowed on a 1220mm X 2440mm sheet. Surface damage will be evidenced by damages in protective masking.
* Top material surface is to be planed and smooth with no evidence of machine lines.
* Bottom material surface is permitted to be course with machine patterns.
* Aesthetics:
Bubbles or white spots:
Must be limited to 50mm in diameter to any single area on a sheet
Only two (2) bubble or white spot areas are permitted per sheet.
No single color within a shipped order may contain more than 10% of sheets with bubbles or white spots – even if the above specifications per sheet are maintained.
* Flatness: No more than 3 mm of bowing from the center of the panel to any exterior edge.
* Chips/Cracks: No chips or cracks on the corners or edges of the panel are tolerable.
Packing and Loading about Granite and Marble Near Me
Strong wooden crates with fumigation worthy to sea freight.
The wooden crate is 2.3cm in thickness, with foam and plastic for water resistance
Within 2- 6 weeks after the orders confirmed
Delivery port: Xiamen, China
1). Tiles are packed in cartons, then put into wooden crates.
2). Cut to size by the crate.
3). Slabs by the wooden bundle.
4). We accept customized packing.
FAQ
How about sample and charge?
The sample is free, but freight costs. After the order is confirmed, we would pay back the express cost.
Sample delivery
Samples are usually for free, but the freight would be charged. After the order is confirmed, we would pay back the express cost.
What is your MOQ?
Our MOQ is usually 50 square meters, depends on different types.
How long is the lead time?
The time of delivery is about 10~30 after the deposit arrival, also depending on quantity. union, Moneygram.
What about the payment?
30% deposit in advance, 70% balance before shipping
What are your main products?
Our main products are Granite Slabs, countertop, and vanity tops, marble Tiles, quartz countertop, slate culture stone, basalt stone, paving stone, etc, And also offer OEM services.
Are you a manufacturer?
Yes, we have our own factories located in Fujian and Hubei.
How can we get a detailed price list?
Please office us detailed information of the product such as size(length, width, thickness), color, specific packaging requirements, and purchasing quantity.
If you're interested in our granite countertops, welcome to buy the quality products at an affordable price with us. As one of the leading Granite Tiles manufacturers and suppliers in China, we also support wholesale service. For more info, contact us now.