Atlantic Lavastone Grey Granite Slabs For Countertops and Project Tiles
In the world of elite architecture and high-end interior design, the quest for materials that blend durability, beauty, and practicality often leads to the bountiful heart of nature. Among the treasures unearthed, Galaxy Grey Lava Stone and Atlantic Sky Blue Granite are jewels that captivate with their breathtaking aesthetics and unmatched resilience.
Adorned with a blend of grey-blue hues reminiscent of the cosmos, Galaxy Grey Lava Stone serves as a canvas where nature sketches an enigma of mystique and sophistication. With higher super hardness than granite, this stone manifests both strength and delicacy. Its soft texture complemented by its tough makeup echoes the harmonious interplay of yin and yang. The silvery star dots hidden within its fabric weave an intricate pattern that extends throughout the stone, creating a sensation of wandering through an enchanting galaxy.
-Cosmic Elegance: Galaxy Grey and Atlantic Sky Blue Granites – Embellishing Spaces with Timeless Opulence
The Atlantic Sky Blue Granite is an equal contender in the luxury arena. This mesmerizing quartzite from China elegantly dances between the lines of contemporary and classic aesthetics. Dotted with black grains and white streaks, with occasional amber inclusions, it paints a picture of a serene night sky. Atlantic Lava Stone elevates the luxury quotient of kitchen countertops, vanities, showers, fire mantels, and tables, thereby amplifying the charm of any décor.
Basic Info
| | | | |
| --- | --- | --- | --- |
| Model Number: | Sky Blue Granite, Atlantic Grey Granite | Brand Name: | Xiamen For U Stone Imp. & Exp. Co., Ltd. |
| Granite Density (kg / m³): | 2.9 | Atlantic Grey Granite Thickness: | 18mm, 20mm, 30mm etc |
| Surface Finishing: | Polished Atlantic Grey Granite | Stone Form: | Big Slab |
| Place of Origin: | Fujian, China | Stone Name: | Grey quarry granite |
| Material: | Hot sale cheap Chinese white marble or granite tiles price Philippines | Atlantic Grey Granite Size: | 2800mmx1600mm Or Custom Size |
| Polish Degree: | >90 degrees | Thickness tolerate: | +/-1mm |
| Atlantic Grey Granite Finished: | Polished, Honed, Flamed, etc | Atlantic Grey Granite Usage: | Kitchen Countertop, Bathromm Vanity etc |
| Density: | 2.9g/cm3 | Service: | OEM/ ODM accepted |
| Application: | Construction & Multi-Family, Hospitality, Real Estate etc | | |
Atlantic Stone, Sky Blue Granite, Sky Blue Granite Slabs Polishing, Star Grey Granite, New Polished Grey Granite from China, the Details Include Pictures, Sizes, Color, Material and Origin. You Can Contact the Supplier – Xiamen forustone.
Standard Sizes of Grey Lava Stone
Popular standard size:

(we can cut different sizes according to customer's requirement.)
1) slab: 250upx130up, 240upx60,70,80,90cm
2) floor & wall cladding: 60×60(24″x24″), 30.5×30.5(12″x12″), 45.7×45.7(18″x18″)
3) stairs step & riser: 150x33x3 & 150x15x2cm
4) kitchen countertop & vanity top: 96″x26″x2 & 49″x22″x2cm
Atlantic Grey Granite Tile

Atlantic Grey Granite Slab

Kitchen Countertop

Vanity Top

12″x12″

(305X305 or 300X300)

1000(up)*600(up)

96″x36″

25″x22″

24″X12″

(610X305 or 600X300)

1000(up)*700(up)

96″x25 1/2″

31″x19″/22″

24″x24″

(610X610 or 600X600)

1000(up)*900(up)

96″x16″

37″x19″/22″

18″X18″

(457X457)

1800(up)*1200(up)

78″x36″

49″x19″/22″

400*400

2400(up)*1200(up)

78″x25 1/2″

61″x19″/22″

800*800

According to
Your request

72″x36″

73″x19″/22″

According to your request

As per your drawing

Thickness: 10mm; 12mm; 15mm; 18mm; 20mm; 25mm; 30mm; 35mm; 40mm; 45mm; 50mm; etc.
High Quality Lavastone Polished Slabs
Atlantic Grey Lavastone Slabs
Galaxy Grey Granite Slabs
Lavastone Leathered Slabs
From Lavastone Flooring Tiles to Atlantic Grey Granite Slabs and Atlantic Grey Quartzite Slabs, these stones are more than just materials. They are the embodiment of elegance and refinement that leave a lasting impression. Their inherent resistance to water, moisture, and wear makes them perfect for various applications, from floor tiles and wall cladding panels to countertops.
When used in spaces like private homes or exclusive clubs, the grey lavastone tiles imbue the environment with an air of quiet, restrained elegance. In a spa or resort setting, they contribute to the creation of a tranquil ambiance, their naturally cool surfaces soothing to the touch. Within a bustling mall, their distinctive presence serves as an island of calm amid the hustle and bustle.
The physical properties of Atlantic Lavastone Slab and Tiles – water absorption rate, glossiness, Mohs hardness, bulk density, and drying compression and bending strength – all contribute to their desirability. But it is their aesthetic allure that truly sets them apart. Their sophisticated appearance and inherent durability make them the darling of architects and interior designers worldwide.
Atlantic Grey Lavastone, with its distinctive aesthetic appeal and durable physical properties, is an optimal choice for a multitude of applications including countertops, external flooring, and wall cladding.
Countertops: As one of the hardest substances on the planet, Atlantic Grey Granite Slab is an excellent choice for countertops. It's incredibly resistant to scratches, heat, and everyday wear and tear. Its density ensures low porosity, making it resistant to stains, a crucial factor for surfaces that frequently encounter food, drinks, and various household items. Additionally, the grey tones of this lavastone provide a sophisticated look, which suits a broad range of interior styles, from modern minimalist to rustic chic.
Title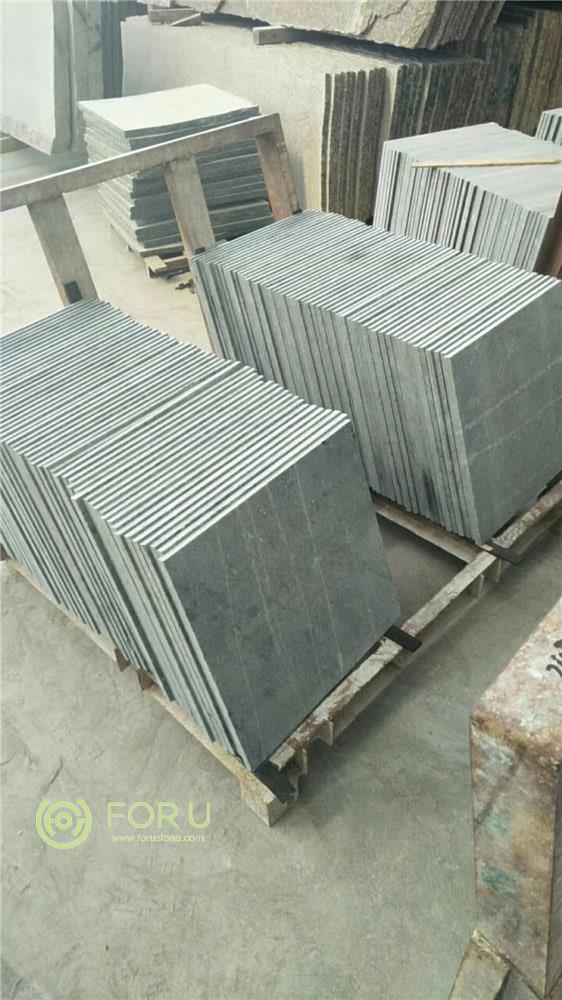 Title
Title
Title
External Flooring: Atlantic Grey Lavastone's high hardness and strength make it an excellent choice for external flooring. It can withstand heavy foot traffic and harsh weather conditions without losing its visual appeal. Its natural texture offers good slip resistance, an essential characteristic for outdoor surfaces that can become wet due to rain or cleaning. Moreover, its cool grey hue can seamlessly blend with various architectural styles, making it a versatile choice for exterior design.
Wall Cladding: Atlantic Grey Lavastone is also popular for wall applications. Its ability to withstand extreme temperatures, as well as its resistance to UV rays, prevents it from fading or discoloring over time, even when exposed to direct sunlight. This makes it ideal for external wall cladding. Besides, its natural grey tones and intriguing texture can add depth and visual interest to any wall, creating an appealing feature that enhances the overall design.
When you choose Galaxy Grey Lava Stone or Atlantic Sky Blue Granite, you're not just selecting a material. You're opting for timeless elegance, resilience, and an undeniable charm that reflects your refined taste. These stones are a testament to nature's ability to produce the extraordinary, a symphony of sophistication that harmonises perfectly with any setting. Elevate your space and experience the transformative power of these remarkable elements of nature.
Lavastone Granite Countertops and Tiles Factory
Quality Control
1, Quality Control: Check One by One Slab, Accept quality full inspection from customer side.
2, Quality Checking: Free Samples Provide & Welcome Visiting Factory, Showroom
3, Quality Approved: CE & SGS & ISO9001 Certificates
Delivery, Shipping And Service
Packing and Loading about Sky Blue Granite Atlantic Grey Granite
Packing:

Seaworthy wooden packages with fuminigated stamps

(A)Big slabs:

20mm: 10-12 pcs (about 50-60m2) per bundle

30mm: 7-8 pcs (about 35-40m2) per bundle

(B)others:

Cut-to-size, tile, tops are packed accordingly to their size.

Loading quantity in one 20' container (27 tons)

1)20mm big slabs: 435-450m2

2)30mm big slabs: 285-300m2

3)cut-to-size: 450-480m2 in 20mm, 300-320m2 in 30mm
FAQ
Q1: Do you also make customized designs?
Yes. We can do as per client's requirements.

Q2: May I ask for some samples?
The samples are free. You just need to pay for the samples' courier cost.
Q3: What is your MOQ?
Usually one full container. Welcome to discuss with us! Trial order is available.

Q4: When can you deliver the goods?
Depending on the order quantity, usually one container needs about 10 days.
Q5: What's your payment term?
T/T 30% advance and the balance pay against B/L Copy or L/C at sight,
For other terms, welcome to discuss with us.
Q6: Where is your factory located? How can I visit you?
Our factory is located in Shuitou Town, one of the biggest stone markets in China.
You can fly to XIAMEN airport. We will pick you up there. Welcome to visit us!
Atlantic Grey Lavastone's popularity in these applications stems from its blend of aesthetic versatility and physical durability. It offers designers and homeowners an opportunity to incorporate a piece of nature's artistry into their spaces while ensuring the functionality and longevity of their design elements.