Product Details
Pebble Stone for Garden Villa
Product Specifications
Pebbles (goose egg shaped stone)
Pebble [1], is the yellow sand mining fuchanpin, because the shape Eluan like the name. Pebbles as a kind of natural stone, from experienced crustal movement after millions of years ago by the ancient riverbed uplift of sand mountains, experiencing the impact of flash floods, water transport in the process of continuous extrusion, friction.
The evolution in the tens of thousands of years of vicissitudes, pebbles tormented waves flush movement by gravel collision friction lost irregular edges, and sediment was buried deep underground in silence for millions of years.
Name English name Cobblestone Chinese pebbles yellow objects yellow translucent for silica gel chalcedony main chemical composition of the main chemical composition is silica color black, white, yellow, red, green, blue and other types of machine-made cobblestone, river pebbles, pebbles and pebbles in the main producing area of Hebei Taihang Mountain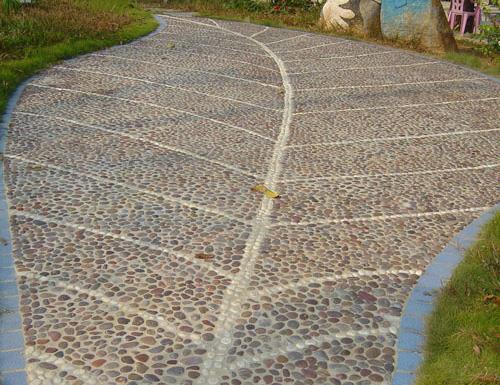 Brief introduction
Cobblestone [1]
The main chemical composition is silica, followed by a small amount of iron oxide and trace manganese, copper, aluminum, magnesium and other elements and compounds. They have different colors, such as red iron, blue for copper, purple for manganese, yellow for silica gel stone, jade color with green mineral and so on; because the type and content of these pigment ions into the silica hydrothermal different, thus showing the depth of shade, the changing color, make pebbles show black and white, yellow, red, green, green color.
Category
Cobble [1] products: mechanism of pebbles, natural color stone, gravel, dry sticky stone, spray brush stone, landscape stone, wood fossil, culture stone, natural color and fine building decoration material and interior decoration with the advanced dyeing sand, non-toxic, tasteless, no decolorization. The quality is hard, the color is bright and simple. It has the characteristics of compression, wear and corrosion resistance of natural stone, and is an ideal green building material.
Application
Architecture
Pebble [1] is widely used in public buildings, villas, garden buildings, pavement (park built the cobblestone road long walk has the effect of longevity), Park rockery, bonsai filler material, garden art and other senior superstructure. It can carry forward the ancient oriental culture, but also reflects the western classical, elegant style, recover the original simplicity.
Garden function
Cobblestone [1] also provides good quality for water purification, sewage treatment, power, garden and other projects
Material Science。 It also provides raw and auxiliary materials for ceramics, precision casting, paper making, spray grinding, chemical industry, monocrystalline silicon, national defense and so on.
parameter
Hebei Taihang Mountain cobblestone [1] physical parameters: Material: more than 96% of silicon dioxide (SiO2)
The physical parameters of Nanjing Yuhua Stone: Material: more than 95% of silica (SiO2)
Performance parameters: surface finish is 98%, compressive strength is above 600 Kg/M2.
If you're interested in our pebble stone for garden villa decoration, welcome to buy the quality products at an affordable price with us. As one of the leading Pebble Stone manufacturers and suppliers in China, we also support wholesale service. For more info, contact us now.