Dover White Exotic Quartzite Slabs For Floor and Countertops Projects
The true charm of Dover White Quartzite lies in its versatility. It shines as a sleek countertop in a modern kitchen, a grand staircase in a hotel lobby, an elegant floor in a high-end retail store, or a statement wall in a chic spa. Its heat, stain, and scratch-resistant properties make it a practical choice for high-traffic areas, ensuring it retains its pristine beauty for years to come.
Dover White Quartzite Slabs, Cut-to-Size Tiles, or Kitchen and Bathroom Countertops are not just a building material; it's a sustainable choice that promotes job opportunities and contributes to the regional economy. It's a metamorphic rock that's incredibly durable and harder than traditional marble, making it an ideal choice for a variety of applications. The sparkle that its crystalline structure adds is just the cherry on top of its many desirable qualities.
The ethereal beauty of Dover White Quartzite is not just skin-deep; it's a durable, robust material that brings together the perfect blend of aesthetics and functionality.
FOR U STONE's Dover White Exotic Quartzite is a global sensation, resonating with its unique appeal and elegance in markets both domestic and international. This stunning marble, known for its luxurious blend of milky white and gray hues, has become a sought-after choice for wall cladding, eliciting a symbol of opulence and a refined lifestyle.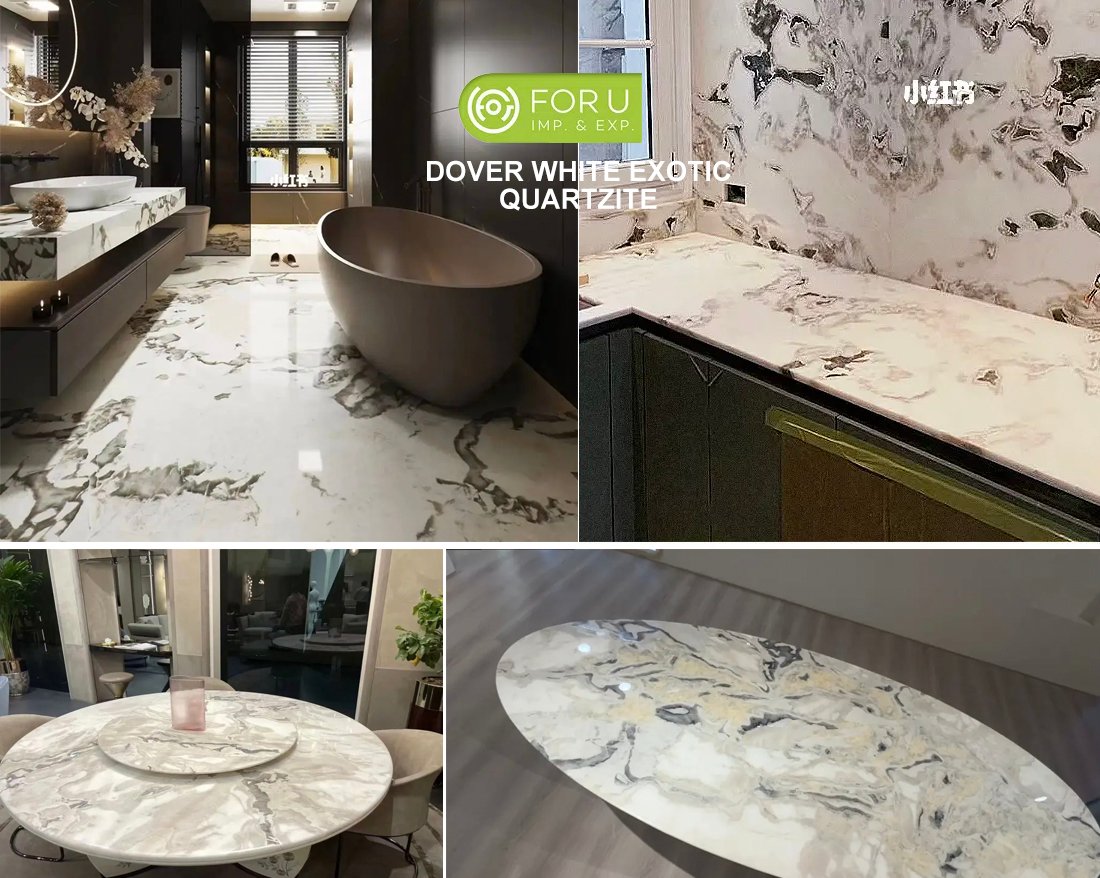 -Dover White Marble is a luxurious decoration building stone for any interior floor and wall, or even tables furniture designs.
The world wild interior decoration market, in particular, has shown a notable predilection for this exquisite exotic white quartzite. Its demand is fueled by the stone's superior quality, durability, and strength – attributes that make it a worthwhile investment. Currently, this jewel of a marble is exclusively available in India through import, further enhancing its allure and exclusivity.
This exclusivity, coupled with the high demand, speaks volumes about Dover White Exotic Quartzite's popularity, not just as a marble, but as a lifestyle statement.
Specicial Sizes of Dover Quartzite
Luxury Dover White Quartzite Slabs, Dover White Marble Slabs

Polished, honed or customized

1800upx600mm; 1800upx650mm; 1800upx700mm etc 2400upx600mm; 2400upx650mm; 2400upx700mm etc

12″x12″(305X305 or 300X300); 24″X12″(610X305 or 600X300); 24″x24″(610X610 or 600X600); 18″X18″

(457X457); 400*400;800*800; customized

10mm; 12mm; 15mm; 18mm; 20mm; 25mm; 30mm; 35mm; 40mm; 45mm; 50mm; customized

For building decoration, like interior floor, stair railing, service counter, window sill, and wall, etc.
Luxury Exotic White Quartzite Slabs in Warehouses
Each slab of Dover White Quartzite:
With dimensions ranging from 2500x1500mm to 3200x1950mm, is a unique piece of art painted by nature. Its finishes, from the glossy polished to the textured leather, offer diverse options to meet the demands of any design project. Whether it's a luxurious residential setting or a bustling commercial space, Dover White Quartzite lends an aura of sophistication and timeless charm to any environment.
Quartzite Floor and Wall Tiles Sizes
When it comes to tiles, Dover White Quartzite provides a plethora of choices, from the compact 300x300x20mm and 305x305x20mm to the expansive 600x400x20mm, 600x600x10mm, and 600x600x20mm. These bespoke panels can be tailored to suit a variety of architectural and interior design needs.
Dover White Marble or Dover White Quartzite has recently surged in popularity in high-end interior design projects due to a variety of reasons. These stones blend the timeless elegance and durability of natural stone with a modern, appealing color palette, making them ideal for contemporary interiors. Here are some of the reasons why designers prefer to choose Dover White:
Luxurious Aesthetic: Dover Exotic Quartzite boasts a sophisticated mix of white and grey hues. This combination lends itself to a modern, luxurious aesthetic that can elevate any space. The subtle veins and swirls present in the stone add a unique textural element, enhancing the visual appeal.

Versatility: The neutral color palette of Dover White Marble Tile makes it incredibly versatile. It can seamlessly integrate with a wide range of interior styles, from minimalist and modern to traditional and rustic. It's suitable for various applications, including countertops, flooring, wall cladding, and decorative accents.

Durability: Dover White Quartzite, being a metamorphic rock, is exceptionally durable. It's more resistant to heat, scratches, and stains than many other natural stones, making it an excellent choice for high-traffic areas and functional spaces like kitchens and bathrooms.

Exclusivity: Given that Dover White Quartzite Slabs are only available through select suppliers, they bring a sense of exclusivity to a design project. This exclusivity is appealing in high-end design, where uniqueness and individuality are highly valued.

Light Reflection: The inherent brightness of Quartzite Dover White can significantly enhance the light in a space, making rooms appear larger and more open. This quality is particularly valuable in urban apartments and other spaces where natural light may be limited.

Sustainability: As natural materials, This South Arfica Luxury White Quartzite Slabs are environmentally friendly options. This aligns with the growing trend towards sustainable design and construction.
Dover White Quartzite Extra Sizes Slabs
Large Dover White Marble Slabs
Dover White Quartzite Polished Slabs
The rising popularity of Dover White Quartzite Stone From Flooring Tiles, Wall Cladding Panels, Coffee Tables and Kitchen or bathroom countertop designs in high-end interior decoration projects can be attributed to their unique aesthetic, versatility, durability, and exclusivity. These qualities make them a top choice for discerning designers and homeowners alike.
Exotic Quartzite Tiles and Countertops Factory
About FOR U STONE:
FOR U STONE is an industry-leading manufacturer specializing in high-quality stone products. Our extensive product range includes marble slabs & tiles, marble mosaic tiles, water jet mosaic tiles, marble inlays, countertops, vanity tops, table tops, sinks, and diverse stone artworks. These premium products are suitable for flooring, wall decoration, hard landscaping, and construction projects.
We take pride in our global reach, with our products gracing more than 80 countries across America, Europe, Southeast Asia, the Middle East, Australia, and Africa. Our clientele is as diverse as our product range, including customers, builders, designers, fabricators, architects, contractors, and retailers from all corners of the globe.
Dover White Quartzite is more than just a stone; it's a lifestyle choice that exudes luxury, durability, and timeless elegance. Its ability to adapt and enhance any space makes it a preferred choice for architects, interior designers, and homeowners worldwide. Whether you're designing a dream home or a luxurious commercial space, Dover White Quartzite offers you a canvas to create your masterpiece.