Product Details
Brazil Patagonia Quartzite Stone Oval Tables
The natural beauty and translucency of the Patagonia Quartzite Table give a lot of character to this beautiful and unique apartment. Patagonia is a white quartzite from Brazil with translucent crystalline areas, a great choice for a table.
The Patagonia Quartzite Table enhances any environment, from the kitchen to the living room, with design decorations that make it a quality product. Sa makes an elegant environment and is easy to clean, as well as making everything original and personalized.
Patagonia Table Tops are unquestionably the greatest choice for dining room furniture. They are great for those who seek something timeless, one-of-a-kind, simple to clean, and, most of all, timeless.
Patagonia Quartzite Oval Table can have a metal base or a marble pedestal (legs) with one or two columns to make the chairs less bulky. It can also be built with a marble pedestal (leg) and a glass top, which increases the transparency of the pedestals themselves. These are one-of-a-kind and functional works that will survive for a long period with no wear or upkeep.
1: The Quartzite Table's Specification by ForU Stone
Quartzite Table Top
Table Base
Material
Brazil Patagonia Quartzite Stone
Brushed stainless steel
Color/Finishing
White or Yellow
Plated antique brass
Packing
Wooden box
Pearl velvet
Feature

1. Natural texture of Quartzite

2. Possess the high-quality characteristics of sintered stone
2: Quartzite Tables Photos From Factory
| | |
| --- | --- |
| Weight | 124kg |
| Table size | 200×100 cm, 240×100 cm (10 people), 270×140 cm (12 people) |
| Table shape | Oval |
| Table materials | Natural Brazil Quartzite |
| Table edge type | 1/2 round, 1/4 round, 1/4 round inverted, Straight polished |
| Top finish | Honed (matte appearance), Polished (shiny appearance) |
| type of feet | "T" |
| Leg materials | Steel, Stainless Steel, Brass |
| Table thickness | 2cm, 3cm |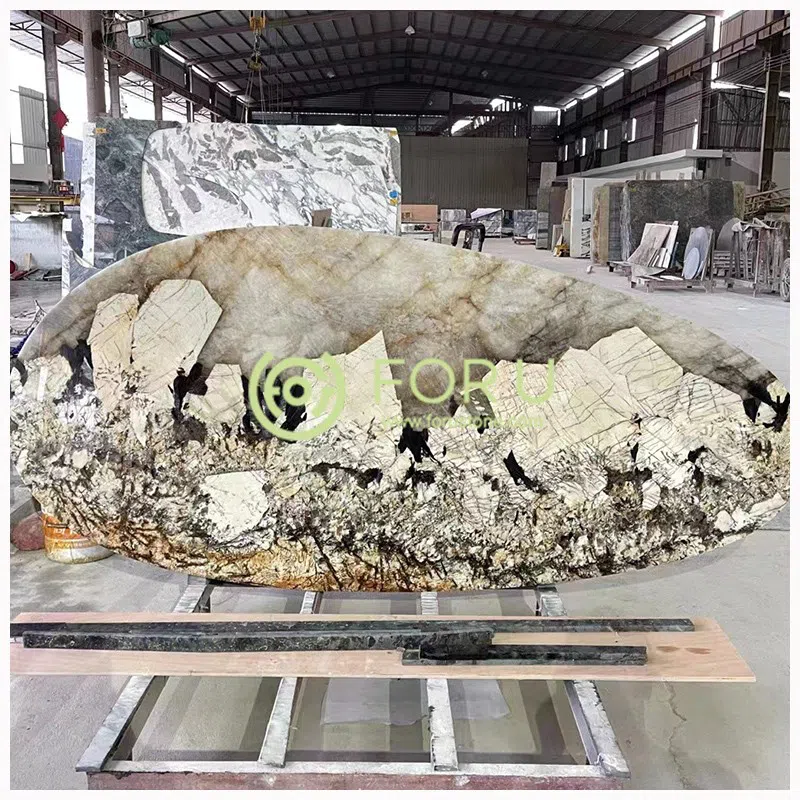 3: Maintenance of Natural Stone products
Marble, onyx, granite, and natural stone are all strong and long-lasting materials. Unlike other materials, they retain their properties for life, but care is critical.
It is not, by definition, as tough and frequent as some suggest.
Above all, avoid allowing any acid product (vinegar, lemon juice, or harsh cleaning agents) to come into touch with the surface of your marble.
If, despite all measures, one of these products comes into contact with the marble, wipe it down with a dry, soft cloth before cleaning with warm water and a soft cloth or a non-abrasive sponge.
Allow no water or liquid to stand in general to avoid staining the stone.
If you're interested in our patagonia quartzite table, welcome to buy the quality products at an affordable price with us. As one of the leading Luxury Stone Quartzite manufacturers and suppliers in China, we also support wholesale service. For more info, contact us now.