Brazilian Luxury Scandalous White Quartzite Slabs For Wall and Countertops
Emanating from the rich soils of Brazil, Scandalous White Quartzite is an embodiment of luxury and sophistication. The quartzite is characterized by its unique mix of calciferous rocks and quartz, adding a remarkable sparkle that distinguishes this stone from others. Its dramatic black veins, accompanied by occasional light gray quartz deposits, imbue it with a unique sense of character, offering a hint of the exotic Brazilian landscape it originates from.
Widely known for its robustness, the Scandalous Quartzite makes a perfect choice for high-end interior projects. Not only does it add a touch of opulence, but its durability also makes it suitable for areas of high usage. It is ideal for spaces that require a sturdy surface, such as kitchens, where it can withstand the rigors of cutting, chopping, and grating. Its resilience extends to the bathrooms as well, where it gracefully stands up against moisture and humidity, making it an excellent choice for sinks and shower surrounds.
One of the remarkable features of Scandalous Marble Slabs(the same material-Panda Quartzite) is their ability to complement modern designs and stainless steel appliances, thus accentuating the overall aesthetics of a space. The black-on-white theme of Scandalous Exotic Quartzite makes it a favored choice in the minimalist kitchen, blending seamlessly with the surroundings while simultaneously serving as a standout element. Not just limited to residential spaces, Scandalous White Quartzite Slabs have also made their presence felt in commercial setups. They have been featured extensively in luxury hotels, plush private houses, villas, mansions, and state-of-the-art office buildings. The allure of Black and White Quartzite Slabs is such that they have adorned the countertops of several renowned building developments, adding a touch of elegance and drama wherever installed.
Standard Sizes of Exotic Quartzite
Scandalous Brazilian Quartzite, Brazilian Exotic Panda Quartzite

Tiles available

305 x 305mm or 12" x 12"

400 x 400mm or 16" x 16"

457 x 457mm or 18" x 18"

600 x 600mm or 24" x 24", etc

Normal exported 18mm thickness, 10-50mm are available.

For internal and external decoration and construction.

Wall panel, floor tile, stairs, paving, wall cladding, countertop, vanity are available.

1) Tiles & cut to size in fumigated wooden crates. Inside will cover

By foamed plastics (polystyrene).

2) Slabs in fumigated wooden bundle with L brackets.

During the whole production process, from material choosing, fabrication to package,

our quality assurance people will strictly control each single and every process.

to ensure quality standards and punctual delivery.
Unique and Luxurious Quartzite Slabs on Sales
Scandalous White Quartzite and Chinese Panda Marble are both natural stones renowned for their striking aesthetics, but they have some significant differences stemming from their geological composition and physical properties.
What Differences of Scandalous Quartzite and Chinese Panda Marble:
Scandalous White Quartzite, also known as Brazilian Panda Quartzite, is characterized by its distinctive mix of calciferous rocks and quartz, which lend it a unique sparkle and robustness. Originating from Brazil, this stone is known for its dramatic black veining on a white background. Its inherent hardness makes it an ideal choice for high-traffic areas like kitchens and bathrooms, capable of withstanding rigorous use and humidity. Its natural strength and resilience, coupled with its stunning aesthetics, make it a favorite for luxury interior projects.

On the other hand, Chinese Panda Marble, often just referred to as Panda Marble, comes exclusively from China. Featuring a white background with large, distinctive black stripes, Panda Marble offers a bold look within home interiors. However, unlike quartzite, marble is a calcite-based stone. Calcite makes marble more susceptible to acid etching and scratching, which could affect its appearance over time and requires more careful maintenance. The supply of Panda Marble is also limited due to its specific geographical origin.

In terms of composition, marble, including Panda Marble, is a metamorphic rock made up of recrystallized carbonate minerals, most commonly calcite or dolomite. Marble is typically more porous and softer than quartzite, which means it may stain or scratch more easily.

Quartzite, on the other hand, is a non-foliated metamorphic rock that originated as sandstone. Through a process of high heating and pressurization, sandstone is transformed into Quartzite, an extremely strong and durable natural stone. Quartzite is harder than granite, so it is quite durable and withstands heat very well. Scandalous White Quartzite, like other forms of quartzite, has these properties.
While both Scandalous White Quartzite and Chinese Panda Marble offer striking aesthetics, they differ in their origin, durability, and maintenance needs. Your choice between the two would likely depend on your specific design vision, durability requirements, and willingness to maintain the stone.
Panda Quartzite Slabs
Scandalous Marble Slabs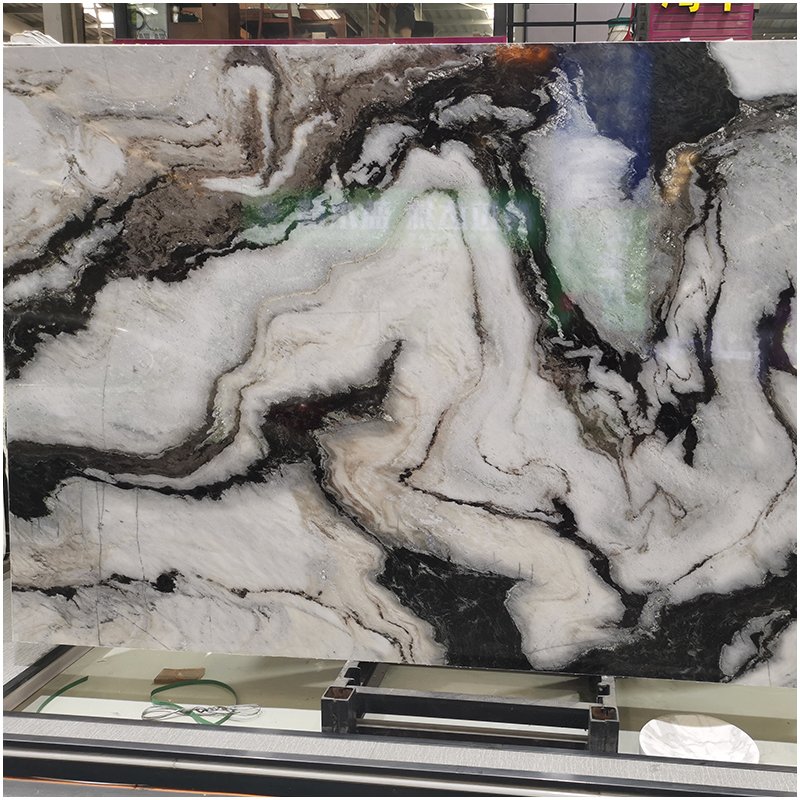 Scandalous Brazilian Exotic Quartzite
Luxurious Quartzite Slabs and Countertops Factory
About FOR U STONE | Leading Stone Manaufactuer in China
With over 15 years of unwavering commitment to top-notch quality and customer service, FOR U STONE stands proud as a premier supplier in the stone industry. Our fundamental principles revolve around providing a comprehensive, one-stop service, prompt delivery, and unsurpassed quality in our products.
We understand that the journey to excellence begins at the source, and thus, we have spent years forging strong, reliable alliances with an array of domestic quarry owners. These relationships allow us to ensure the impeccable quality of our products right from the outset.
Our pursuit of perfection doesn't stop there. We are constantly striving to augment our processing technology and management skills, thereby facilitating eco-friendly and precise cuttings in our state-of-the-art factory. Spanning an impressive 6000 m2, our facility stands as a testament to our dedication to environmental stewardship and precision.
At FOR U STONE, our sales team is more than just a group of colleagues – we are a family. This close-knit bond fosters a collaborative environment, where we work hand-in-hand to provide not only competitive prices but also tailor-made solutions that cater specifically to our clients' needs. With us, you can be assured of a professional partner who is dedicated to bringing your vision to life in the most efficient and cost-effective way possible.
Luxury Quartzite Slabs, such as Scandalous Quartzite, extend beyond mere functionality. They are an expression of style and a testament to timeless beauty. For those looking to infuse their spaces with an air of sophistication and class, Scandalous Quartzite is a fitting choice. Its unique aesthetics, robustness, and versatility make it a coveted choice for high-end interior projects, making every space it adorns a spectacle of elegance and grandeur.