Ariston White Natural Marble Slab for Floor Tiles
Ariston Marble Slab is a pure white stone from Northern Greece. What you will notice straight away is that it does occasionally have some flaws. Still, it does deliver an excellent aesthetic and outstanding visuals, which push the boundaries and make it stand out like never before. It's a popular form of marble because it's unique and entertaining. Furthermore, Ariston Marble Slab is highly flexible to your needs and instigating, particularly if you like to paint your floors or walls completely white.
The Ariston White Marble Slabs have been used for monuments for a very long time. You can also use Greece Ariston Natural Marble for window sills, stairs, fountains, mosaics, countertops, floors, and indoor walls, but also pools as well. All these things show the true value and versatility provided by this type of marble. You will appreciate the great attention to detail and the fact that you have multiple finishes to opt for.
Features: Greek origin, with twill and dot flowers.
Physical properties:
Bulk density: 2.63g/cm3
Compressive resistance 130Mpa
Bending resistance 11.12Mpa
Water absorption 0.18%
In terms of space application, because of its complex and delicate texture, White Ariston Marble is suitable for modern style, and because of its quiet, elegance, soft, and simple decoration style, it is deeply loved by modern young people. A modern and simple style reveals a low-key luxury beauty. The natural, unique patterns of Ariston White Greek Marble, along with fine surface elaboration, elaborated by an efficient manufacturer, may, even more, highlight the stone's beauty and add elegance & luxury to the areas that are applied.
The Dolomite Ariston White is rarer when compared to other types of marble, but its unique coloring and high-standard look make it stand out. You do want to check it out and give it a try, especially if you're looking to create large stairs, structures, or even monuments for your home.
Basic Information | Natural Ariston Marble | ForU Stone
| | |
| --- | --- |
| Warranty: 3 years | Name: Ariston Marble |
| After-sale Service: Online technical support | Stone Form: Marble Slabs and Cut-to-Size Project Tiles |
| Project Solution Capability: total solution for projects | Marble Name: Ariston White Marble |
| Application: Floor, Wall, Countertops, Stairs, Columns | Surface processing: Polished |
| Design Style: Modern | Grade: Grade AAA |
| Place of Origin: Greece | Usage: Villas, Private Houses, Hotels, and Office |
| Brand Name: FORU STONE | Size: Customised Size |
| Marble Floor Thickness: 10, 12, 16, 18, and 20 mm | Material: Greece Ariston Marble |
| Marble Type: White Marble Slabs, Ariston White Marble | Marble Tiles Size: To Be Advised |
Ariston White Marble | Inventory | ForU Stone
Standard Sizes of Ariston Marble Jombo Slabs and Tiles
More details of natural marble tile/slab/stairs
Material
100% natural white marble stone
Color
Grey, White, Cream, Beige, Green, Pink, Red, Black, Dark Grey, Yellow, etc.
Surface Finish
Polished, Honed, Flamed, Flamed+Brushed, Bush Hammered, Acid, Leathered, Sand Blasted, Natural, etc.
Marble Size
Marble Tile Size:
300x300mm
300x600mm
600x600mm
305x305mm
305x610mm, etc
Marble Slab Size:
1800-2700x600mm
1800-2700x700mm, etc
Marble Stair and Riser size:
1000/1100/1200-1700X300/320/330mm, etc.
1000/1100/1200-1700X140/150/160mm, etc.
Other Customized Sizes are Available
Thickness
10mm, 12mm, 15mm, 18mm, 20mm, 25mm, 30mm, etc
Application
Interior & Exterior Decoration
Quality Control
All Products Inspected by Experienced QC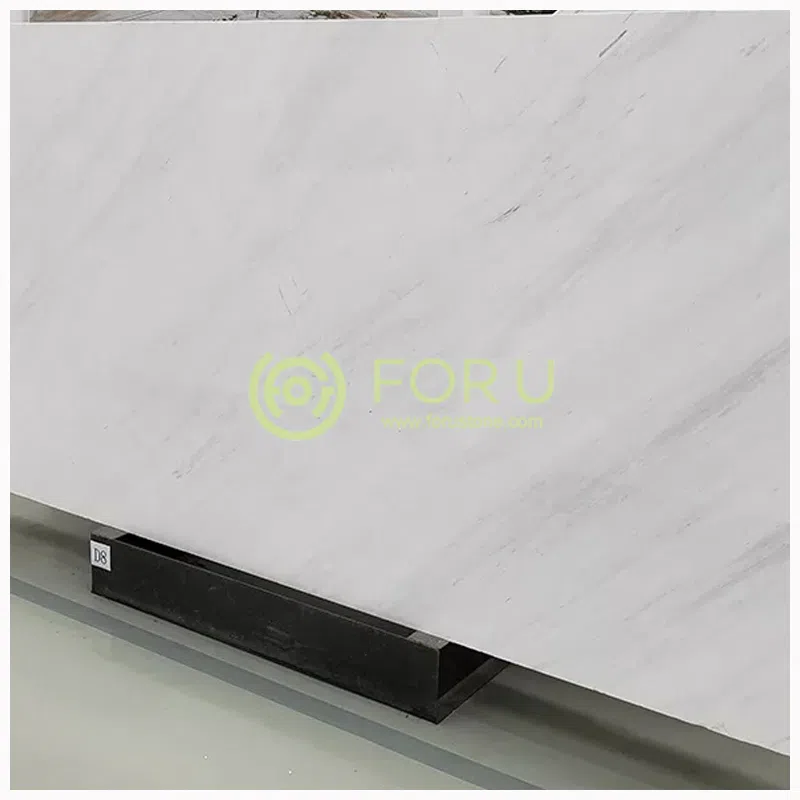 Ariston Marble Polished Slab is a fine-grained white color marble that is considered to be a precious variety. It has very delicate veins on the white surface, and it is appreciated to make notable interior walls and floors, and countertops.
Commercial Floor Project Tiles with Ariston Marble
-High Polished Ariston Marble Paving Slabs For Commercial Building Floor projects.
Natural Marble invites further applications on wall caps of the exteriors, on pools, on window sills, on stone monuments, and fountains. Make nice mosaic formats with Arstione White Marble Tiles, which is considered to be a high-end white variety.
Commercial Interior Floor Wall Project | Ariston Marble | ForU Stone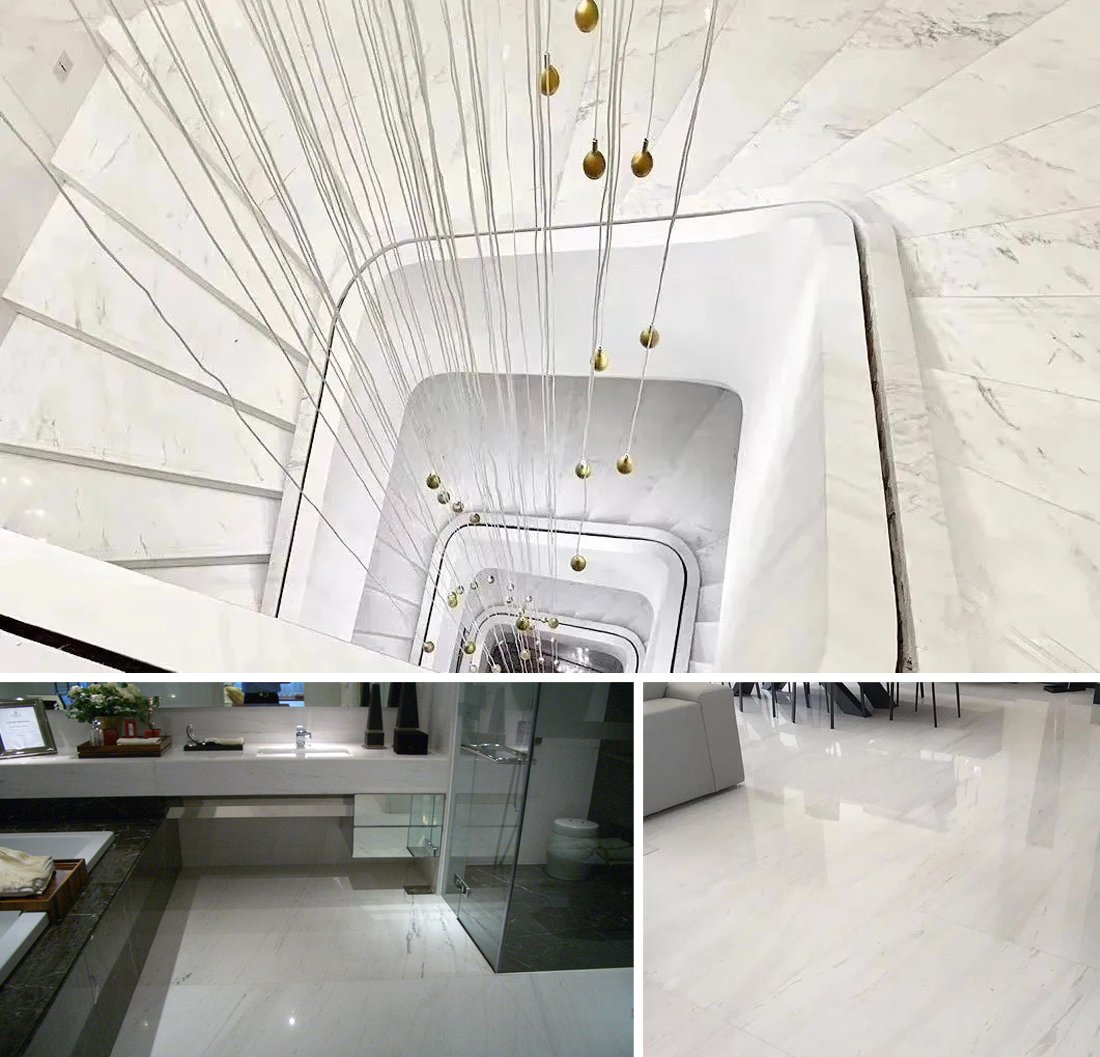 -Ariston Marble is perfect for indoor spaces, like floors, stairs, and even bathroom countertops.
The Advantages of Ariston Marble
The advantages of Ariston white marble mainly include beautiful texture, bright luster, and good texture, so it is beautiful and elegant.
1, Appearance
White color, beautiful texture, good luster, and texture. It is a kind of precious stone with few grains and an elegant appearance. The elegant white marble has the characteristics of elegance, softness, and simplicity.
2、 Material
Good rigidity, strong wear resistance, high compressive strength, and good performance. It is not afraid of acid and alkali corrosion, does not rust, does not need to be oiled, and is not easy to stick to dust. It is easy to maintain and has a long service life.
3、 Not susceptible to external influences
It will not scratch, will not be prevented by constant temperature conditions, and will maintain its original physical properties under normal temperature conditions. It is not magnetized and can move smoothly during measurement without being affected by humidity.
Natural Marble Factory | White Marble Slabs and Tiles | ForU Stone
Quality Control
1) Surface polished 90° up by the auto-polishing machine.
2) Thickness tolerance: -1/+1mm or -2/+2mm.
Package: Fumigated wooden crates.
An experienced QC will inspect all products before the package.
1. Are you a trading company or factory?
We're a trading company with a factory. We manufacture products ourselves and we source from other collaborative factories too, which guarantees a competitive price and product variety.
2. How do I know your quality?
High-solution detailed photos and free samples will be able to verify our quality.
3. I'm a homeowner and need a small quantity. What do I do?
Please, check with our sales team if it's in stock or if we have a distributor locally.
4. Can I get door-to-door service? Or can I get the tiles delivered to my door?
Yes, we offer delivery to your door service, which makes your work easy.
5. Can I get a sample first? And how does it charge?
Yes, a free sample is available with freight collected or prepaid.
6. What if the tiles are broken during transition?
All our products are insurance, our after-sales will sort out the reasons and will sure you'll be properly compensated.
If you're interested in our Ariston marble slab, welcome to buy quality products at an affordable price with us. As one of China's leading Marble Slabs manufacturers and suppliers, we also support wholesale service. For more info, contact us now.