Luxurious Calacatta Gold Marble Tiles For Floor and Wall Cladding Projects
Immerse your interior spaces in the lavishness of calacatta gold polished and calacatta gold honed marble, a testament to the time-honored charm of natural stone. Having graced the most prestigious structures across the globe, the Calacatta Gold Italian Marble serves as a statement of opulence, carving out spaces that stand out with their own unique charisma.
From the charm of Calacatta Gold White Marble Tiles to the exotic allure of Calacatta Gold Borghini Marble, our collection presents an array of marble variations to cater to diverse aesthetic tastes. Whether you're revamping your kitchen or looking to amplify the elegance of your bathroom, our Calacatta Golden Marble Tiles offer unmatched aesthetic versatility. These Calacatta Gold Marble Floor Tile blend seamlessly with various décor styles, allowing you to craft interiors that exude an unmatchable elegance.
For those seeking a softer, silkier appearance, Calacatta Gold Honed Marble provides a less reflective surface while retaining the exquisite charm of marble. On the other hand, if you desire a radiant sheen that reflects the room's beauty, our Calacatta Gold Polished Marble Tiles bring out a gleaming surface that enhances the ambiance.
Beyond mere aesthetics, the Calacatta Golden Marble Flooring Tiles are favored for their practicality. Known for their impressive durability, these tiles offer an ideal solution for high-traffic areas, combining beauty with longevity. Similarly, Calacatta Gold Marble Wall Tiles not only transform the vertical surfaces into stunning visual features but also offer easy maintenance.
Basic Info of Calacatta Marble Tiles
Calacatta Gold Marble Paving Tiles are welcome in Hotel, Villa, Restaurant, Commercial Building Floor and Wall Application.
Name:

Marble Tile

Size:

Cut-To-Size, All sizes can be customized

Thickness:

10-30 mm

Material:

Calaratta Gold

Surface Finishing:

Polished / Honed

Color:

White with gold veins

OEM&ODM:

Accepted, different designs can be customized

Usage:

Interior & exterior commercial and residential

Decoration, Kitchen, Floor, Wall, etc.

Packing:

Carton + Wooden Crate
Luxurious Italian Calacatta Marble Floor and Wall Tiles
Adorned with rich gold veins against a pristine white backdrop, our Calacatta Gold Italian Marble presents a wide variety of sizes to cater to any interior decoration project. The collection encompasses marble slabs and cut-to-size tiles, including larger slabs for expansive spaces and smaller tiles for intricate designs. Ranging from thicknesses of 10-30mm, our collection ensures you find the perfect fit for your design needs.
Calacatta Gold Marble from FOR U STONE is not confined to residential spaces. Its universal appeal extends to various commercial and public settings such as hotels, villas, offices, hospitals, schools, malls, sports venues, and leisure facilities. It's an ideal choice for various applications such as wall panels, floor tiles, stairs, paving, wall cladding, countertops, and vanities.
Maintenance is straightforward with these marble tiles. Regular wiping with a soap solution and a clean cloth is sufficient to maintain their lustre, ensuring they look impeccable for years to come.
Calacatta Golden Marble Tiles bear a unique allure that stems from their prestigious heritage, aesthetic appeal, and versatility in design. This marble variety, found exclusively in a small region in Italy, is appreciated for its distinctive visual characteristics and high quality, making it an emblem of opulence and refinement in interior design projects.
Prestigious Heritage: Calacatta Gold Italian Marble boasts a time-honored legacy. It has been used in the construction of historic monuments and palaces around the globe, symbolizing wealth and power. Its use in modern interior projects extends this heritage, conferring a sense of prestige to the space.

Distinctive Visual Characteristics: Calacatta Gold White Marble Tiles are recognizable by their warm white background contrasted with bold gray and gold veins. Each slab is like a unique piece of art, boasting patterns that are never the same. This quality makes every project using these tiles one-of-a-kind.

Versatility: Despite their opulent appearance, Calacatta Gold Marble Wall Tiles offer remarkable versatility. They can be applied to various surfaces such as floors, walls, countertops, and vanities, seamlessly blending with different design styles, from the classic elegance to modern minimalism.

Surface Finishes: Calacatta Gold Polished Marble Tiles offer an unrivaled glow that adds depth and dimension to any room. On the other hand, Calacatta Gold Honed Marble exudes a softer, more understated luxury with its matte finish. This variety in surface finishes gives designers the freedom to create different moods within a space.

Luxurious Aesthetics: Few materials can compare to the luxurious aesthetics that Calacatta Gold Borghini Marble offers. The golden veins provide a striking accent against the white backdrop, infusing a radiant warmth into the overall ambiance. When used in interior projects, it elevates the space's aesthetic quotient while adding a touch of sophistication.
In essence, the unique and luxurious appeal of Calacatta Golden Marble Tiles lies in their rich heritage, unique visual appeal, design versatility, varied surface finishes, and the unrivaled luxury they bring to any space.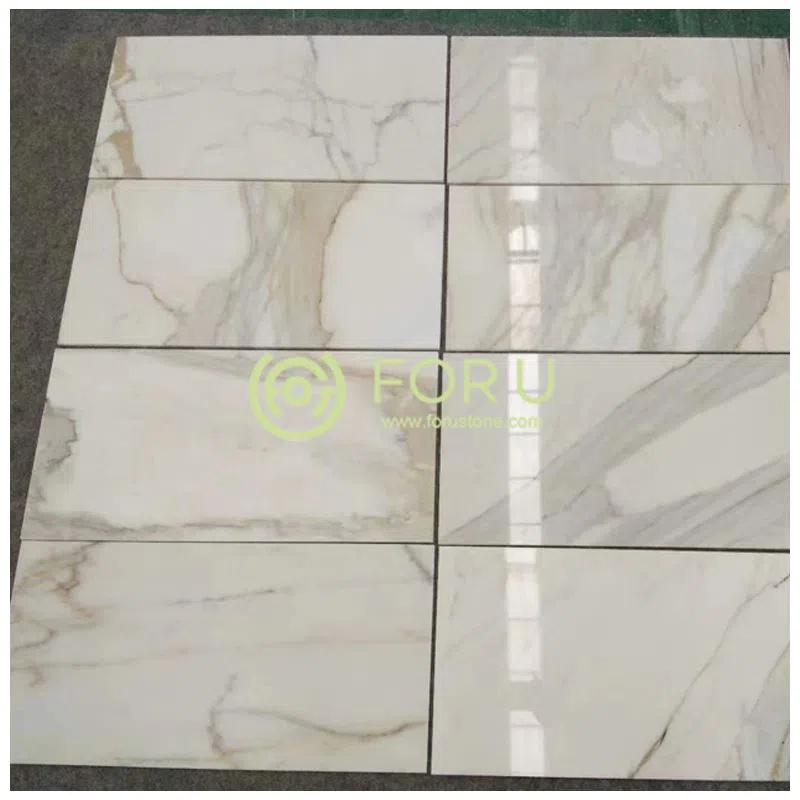 Luxury Marble Floor and Wall Tiles Factory
Marble Floor Cleaning Tips
The marble should be wiped down with soap solution. After you have made your solution, wipe the marble down with a clean cloth. Make sure to push the debris toward the end of the marble. "Make sure you don't leave any suds or debris on the marble."
Use a damp cloth to remove soap. Take a wet cloth and wipe the marble down again after you have wiped it down. The soap will be removed from the marble surface.
FAQ
1, What is your time making samples?
Usually we will take 3~10 days to make the samples.
2, What is your delivery time?
The time of delivery is 30-35 days after manufacturing begins.
3, What are your payment terms?
We accept a 30% deposit, after the shipment within 10 days.
4, What is the location of your company?
Shuitou town, Nanan City, Fujian Province.
Our collection of Calacatta Gold Marble redefines luxury, intertwining timeless appeal with modern elegance. Whether you seek the soft radiance of a honed surface or the reflective grandeur of a polished finish, the Calacatta Gold Marble collection from FOR U STONE holds the key to creating interiors that speak volumes of sophistication and style. Invest in the enduring elegance of our marble collection and transform your spaces into a stunning testament to luxury and style.
If you're interested in our calacatta gold marble floor tile, welcome to buy the quality products at an affordable price with us. As one of the leading Marble Tiles manufacturers and suppliers in China, we also support wholesale service. For more info, contact us now.