Chinese Silver Wave Back Wood Grain Marble Polished Slabs
Chinese Wooden Antique Silver Wave Marble Slabs With Gold Veins feature a light to dark grey background with dramatic ripples and waves in similar shades of grey. It's swirling, liquid black, and golden patterns create dimension and movement. Due to its stunning looks and durability, Silver Wave Marble Slab is recommended for interior and exterior uses, in residential and commercial properties, including landscaping, walls, floors, countertops, and backsplashes.
-Silver Wave Marble/Ancient Wooden Black Marble/Black Forest Wooden Marble–from FOR U STONE
FOR U stone provides 2 different Silver Wave Marble Colors for the world's wild markets. One is standard black wave marble, the other has golden strips or gold wave colors. You can find these 2 different colors in the above close-up photo.
Silver Wave Golden Black Marble is a high-contrast material, composed entirely of black, gold, and white tones. This stone's distinctive veining creates a fluid and dynamic pattern, reminiscent of the layered rings of an ancient tree.
The Gold Vein Silver wave slab is stunning in the same look. Shades of gray and brown marry together to mimic a stunning, wooden texture.
Silver Wave Golden Marble is a type of marble with broad, thick streaks of gray, black, Golden Wave, and white that randomly forms a wonderful pattern on the surface. The colors of Crystal Marbles are mostly light and bright, so dark-colored Crystal Marbles, especially black ones, are technically rare and unique.
For this reason, Silver Wave Black Marble is considered an exceptional and unparalleled product worldwide, with its crystalline texture and striking analysis that gives it a beautiful, lustrous and sophisticated appearance.
The production of the Silver Wave Marble slab form doubles its beauty with surface streaks and patterns. It can also be made in the very common form of book match and four match slabs. The FOR U STONE Marble Factory uses the veins and patterns of marble as a guide for manufacturing.
Silver Wave is a kind of grey wooden vein marble quarried in China only. Strong layered veining of black, grey, and white flow harmoniously throughout the Silver Wave marble. Thus, the fluid movement and consistent patterning of this stone make for a dramatic statement.
Basic Size information of Chinese Wooden Black Marble
Material:

Wooden antique silver wave

Color:

Green

Finished:

polished, honed, antique, sandblasted, etc.

Available sizes:

slab:

2400up x 1200up x 15mm, 2400up x 1200up x 20mm, 2400up x 1200up x 30mm etc.

tile:

305 x 305 x 10mm, 305 x 610 x 10mm, 610 x 610 x 10mm etc.

cut-to-size:

457 x 457 x 10mm, 300 x 300 x 20mm, 300 x 600 x 20mm, 600 x 600 x 20mm etc.

stair:

1100-1500 x 300-330 x 20/30mm, 1100-1500 x 140-160 x 20mm etc.

countertop:

96″ x 36″, 96″ x 25-1/2″, 78″ x 25-1/2″, 78″ x 36″, 72″ x 36″, 96″ x 16″ etc.

sink:

500 x 410 x 190mm, 430 x 350 x 195mm etc.

mosaic:

300 x 300 x 8mm, 457 x 457 x 8mm, 610 x 610 x 10mm etc.

Packing:

slab:

plastic inside + strong seaworthy wooden bundle outside

tile:

the foam inside + strong seaworthy wooden crates with reinforced straps outside

countertop:

the foam inside + strong seaworthy wooden crates with reinforced straps outside

sink/ mosaic/ cut-to-size:

foam & carton box inside + strong seaworthy wooden crates with reinforced straps outside
One of the most common usages of this exquisite Silver Wave Wooden Marble is to be used for flooring, especially for those in shapes of book match and four matches.
Wooden Black Marble Slab Inventory | FOR U STONE
A Full Products Ranges of Silver Wave Marble | FOR U STONE
-Silver Wave Marble Wall Tiles -Silver Wave Marble Kitchen Countertops -Silver Wave Marble Round Tables
Today, Silver Wave Marble Tiles have become an integral part of every home design. Contemporary tiles open up new possibilities for home renovation. Available in a wide range of textures and finishes, our black wooden marble tiles are perfect for creating a sophisticated look, providing a contrasting effect, or blending in with a room's existing color palette and decor environment.
Whether it's natural black marble stone tiles, floor slabs, or commercial cuts, we can easily meet your every need. In particular, we offer a wide range of Silver Wave Marble and offer custom designs for all our customers. An intense, dark marble with interesting details. Marble Silver Wave is a durable choice for kitchen countertops, kitchen islands, bars, mantle surrounds, powder rooms, bathroom countertops, showers, bathtub surrounds, wall applications, matching book veins, and many other interior applications.
Interior Spaces Designs with Silver Wave Marble Cut-to-Size Tiles
Project Nature | Estate Sales Center, Design area | 2000 ㎡, Application: Flooring with Vein matched Designs | Factory: FOR U STONE
Using Silver Wave Marble Flooring Tiles in modern and super modern projects has been very common nowadays, and has become a symbol of luxury and modernity in projects.
Marble Silver Wave is a well-known black wood grain marble in China, while FOR U STONE also provides other natural wooden pattern marble for any residential and estate indoor and outdoor floor and wall cladding projects. Below are the top 3 most welcome wooden marbles in our factory.
Wooden Marble Series-Wooden White Marble
-Wooden White Marble Tiles For Floor and Wall Tiles -Wooden White Marble Honed Slabs
It is a symbol of elegance and has a very smooth texture that makes it hard to believe that it is a natural stone as if someone specially created this unique color balance Delicate veins and white colors combine with iridescent grays to create a spectacular show in any type of space in Wooden White
Wood Polished Marble. Thin parallel veins combined with a very special touch give the decoration project a simple and at the same time strong atmosphere.
Living rooms, offices of large companies, kitchens, bathrooms, restaurants, and hotel lobbies are just a few examples of interiors that can benefit from natural white wood grain marble stone with such charm. For exterior projects, White Wood Polished Marble can also be used to decorate covered patios and windows and doors. This Woodgrain marble is extremely versatile and pairs perfectly with the classic, industrial and shabby chic (women will love the color), but also with Scandinavian minimalism and European urban contemporary Athens White Wood Polished Marble impresses with its unique combination of luxury and simplicity in any decorating project, public or private space.
Wooden Marble Series-Athens Wooden Marble
The Athens wooden Marble Slab is a high finishing material, which is mainly used for buildings with high architectural decoration requirements, such as the decorative materials used for the interior walls, columns, floors, stair steps, and other places of memorial buildings, hotels, exhibition halls, cinemas, shopping malls, libraries, airports, stations, and other large public buildings, and also can be used for stair railings, service desks, door faces, dados, window sill plates, skirting boards, etc.
The grain of wood grain stone (wood grain marble) is fine and regular, similar to wood, and its color is also very similar to wood. However, the hardness, glossiness, texture, and durability of wood grain stone are incomparable to any wood, but they have the high-end elegance of wood materials and are suitable for decoration of various large-scale projects and home decoration projects.
Wooden Marble Series-Eramosa Brown Wooden Marble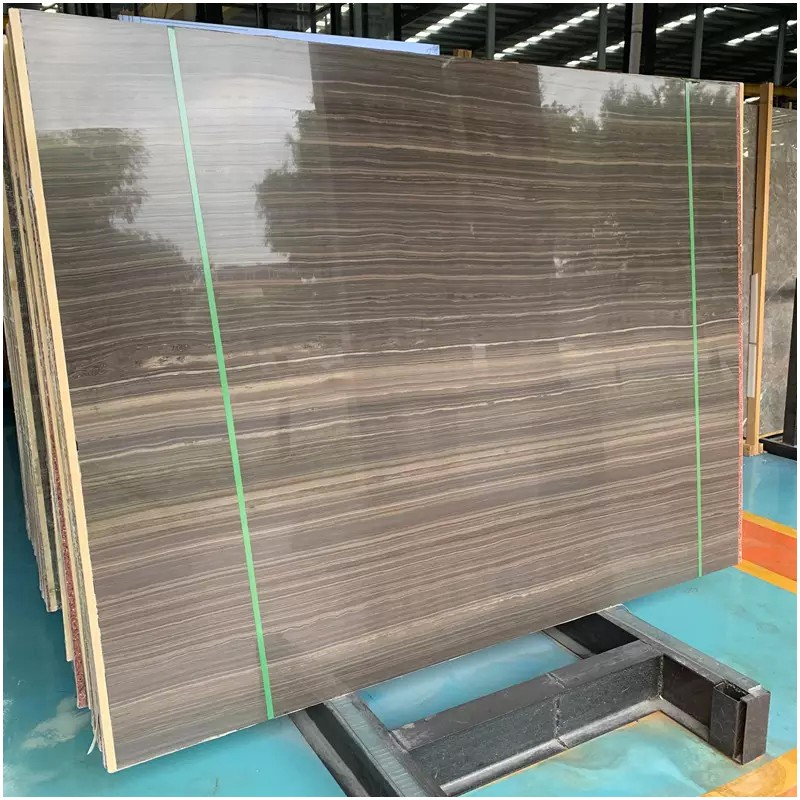 Eramosa Wooden Marble is a Brown Marble from Canada. The vein-cut Eramosa Brown Marble is commonly used in countertops, interiors, exteriors, and so on. It is also known as coffee brown or tobacco brown marble, Obama wood marble, Antique Brown Marble, Brown Wooden Marble, Wood Brown Marble, Serpeggiante Brown Marble, and Brown Wood Vein Marble.
FORU STONE Wooden Marble Factory in China provides special cut-to-size projects, completed in our factories overseas for commercial and residential use.
Wooden Marble Slabs and Project Tiles in China | FOR U STONE
Natural Marble stone retains its timeless beauty. Popular materials from all over the world make the room special and create a grand and stylish atmosphere. Here you will find a full range of natural stone collections of marble, granite, onyx, travertine, and limestone, elegantly decorated in bright or soft colors and harmonious tones. The value of versatility enriches the room with unique treatments with innovative technology for stylish decoration and eye-catching effects.
Suppose you're interested in our Chinese wooden antique silver wave marble slabs with gold veins, welcome to buy quality products at an affordable price with us. As one of China's leading Wood Marble manufacturers and suppliers, we also support wholesale service. For more info, contact us now.