Crema Marfil Spanish Beige Marble Tiles For Commercial Building Floors and Wall
Crema Marfil Marble Tile is a Spanish work of art, which is well-known for penetrating the world marble interior decoration market as a preferred stone. The Crema Marfil Marble Tile is in high demand for residential and commercial projects due to its cream colors and veining. This stone's toughness and beauty make it an excellent all-arounder.
With Crema Marfil Polished Marble Tiles, you can easily make your kitchen, bathroom, or any other space look immaculate and fabulous. Polished Crema Marfil Tiles is a time-tested material that has been utilized for ages in buildings in the world's most renowned sites. By bringing rich textures, patterns, and countless aesthetic possibilities, marble tiles give luxury and exclusivity to any home. The Crema Marfil Marble Flooring Tiles' polished surface makes it simple to generate attractive reflections. You will not find the elegance of Beige Marble tile for your home anywhere else.
The Crema Marfil marble floor tiles have become extremely rare and sought after due to their beautiful appearance. Light Cream base with yellow and sometimes red veining. A classic, timeless look. The appearance and texture of Crema Marfil marble tiles are clear, the color is warm and moist, and the layers are rich and three-dimensional. After careful observation, the texture of the surface is lifelike, just like the cut section of marble, which has a strong decorative effect. With the perfect properties of natural stone, it is bright and crystal clear. It perfectly integrates the natural color of natural stone and the noble quality of marble, allowing you to enjoy the dignified experience of precious stone.
Whether natural marble Crema Marfil Polished Tile is used as the background wall, as the paving of the wall, as the ground, or as the countertop, beige marble can be perfectly grasped. Although it may not be very conspicuous, it silently emits the elegant flavor of nobility. Spanish beige marble-Crema Marfil is one of the most famous natural marbles in Spain. Its base color is beige, and the texture is sandwiched with a small amount of fine red lines. The natural warm beige color marble has good luminosity and is suitable for various public and home spaces.
Basic Information | Crema Marfil Marble | ForU Stone
| | |
| --- | --- |
| Warranty: 3 years | Name: Crema Marfil Marble Indoor Floor Tiles |
| After-sale Service: Online technical support | Stone Form: Cut-to-Size Project Tiles |
| Project Solution Capability: total solution for projects | Marble Name: Crema Marfil Marble |
| Application: Floor, Wall, Countertops, Stairs, Columns | Surface processing: Polished |
| Design Style: Modern | Grade: Grade AAA |
| Place of Origin: Spain | Usage: Villas, Private Houses, Hotels, and Office |
| Brand Name: FORU STONE | Size: Customised Size |
| Marble Floor Thickness: 10, 12, 16, 18, and 20 mm | Material: 100% Natural Marble |
| Marble Type: Beige Marble, Marble Tiles, Marble Flooring | Marble Tiles Size: To Be Advised |
Since the Middle Ages, Crema Marfil Marble has been loved by the royal court and has become a symbol of noble stone. The warm texture and soft color make it the best match for an elegant space.
-From the Bathroom, Living Room, and other commercial buildings, floors and walls are perfect for having Crema Marfil Tiles, a warm and cozy feel.
Crema Marfil marble's more uniform and lighter tones are valued as a durable and resilient stone for use in modern buildings. Primarily used indoors, such as on main floors, bathrooms, building foyers, dressing tables, and countertops, this marble is always in vogue.
Marble Specification | Crema Marfil Marble | ForU Stone
Product Name
Crema Marfil Marble
Common Sizes
Slabs
Size
1800(up) x 600(up)mm
2400(up) x 1200(up)mm
2800(up) x 1500(up)mm etc
Thickness
15mm, 18mm, 20mm, 25mm, 30mm, etc
Tiles
Size
305 x 305mm or 12" x 12"
400 x 400mm or 16" x 16"
457 x 457mm or 18" x 18"
600 x 600mm or 24" x 24" etc
Thickness
10mm, 12mm, 15mm, 18mm, 30mm, etc
Countertops
Size
96″ x 26″, 76″ x 36″, 98" x 26″, 108″ x 26″
Thickness
3/4″, 3/8″, 1/2"
Vanity Tops
Size
25″x22″, 31″x22″, 37"x22″, 49"x22", 60"x22"
Size
3/4″, 3/8″, 1/2"
The composition and structural characteristics of Crema Marfil Beige Marble make it have the following properties:
(1) With good decorative performance, Spanish beige marble does not contain radiation and has a bright color and rich color. It is widely used for the decoration of interior walls and floors. It has excellent processing performance: sawing, cutting, polishing, drilling, carving, etc.
(2) Spanish beige marble has good wear resistance and is not easy to age, and its service life is generally about 50-80 years.
(3) Spanish beige marble is widely used in industry. For example, it is used for raw materials, purifying agents, metallurgical solvents, etc.
(4) Spanish beige marble has the characteristics of a non-conductive-magnetic and stable field.
Interior of application: mainly used for indoor walls, columns, floors, etc.
Cut-to-Size Project Tiles Dry Lay Photos | Crema Marfil Flooring Tiles | ForU Stone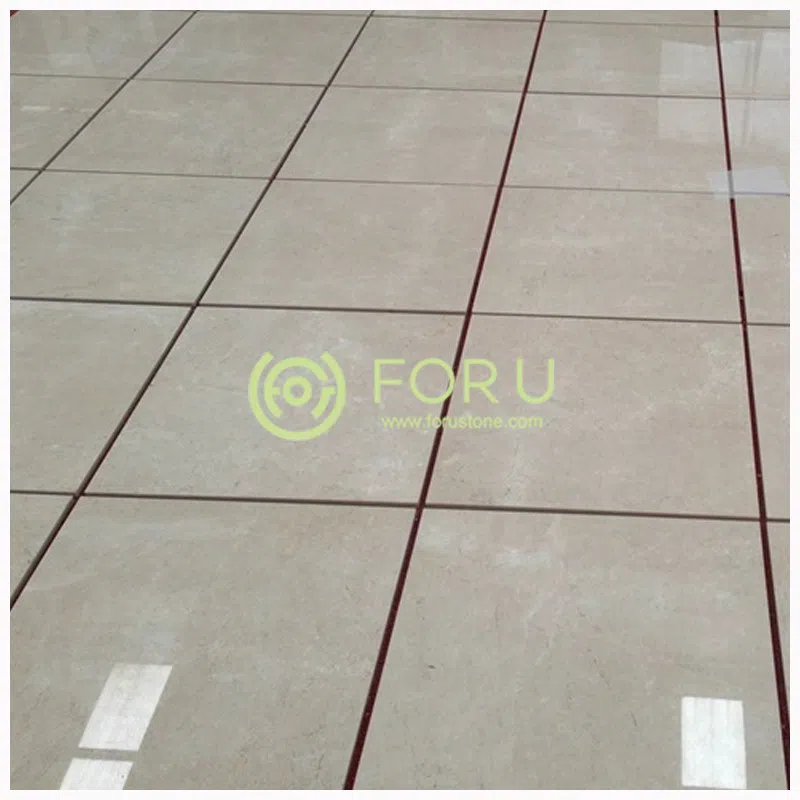 Honed or Polished Crema Marfil Marble Flooring Tile is a textured creamy stone with soft veins of color including tones of yellow, cinnamon, white, and even gold beige. Crema Marfil Indoor Marble Tiles are also appropriate for many commercial applications such as light traffic, interior flooring, exterior, and interior vertical applications.
Crema Marfil Classico Marble Tiles are products of nature, and no two pieces are exactly alike. These codes are intended as a general guide to how much variation in color, movement, and veining can be expected.
Natural Beige Marble Tiles Collection | ForU Stone
Besides Crema Marfil Marble, FOR U STONE also provides other beige color marbles for commercial and residential interior projects. As a Chinese Marble Project tile, we are pleased to recommend some cream color marble tiles for your coming projects, and all these beige marbles are popular with our Builders, designers, and wholesale clients.
1-Breccia Sarda/ Daino Reale Marble Tiles | FOR U STONE
Breccia Sarda/Daino Reale Beige Marble Tile is a uniform, compact marble with a characteristic chromatic appearance, with background colors varying from beige to hazelnut cream and brown, characterized by a more "cloudy wild" design, with dark veins and both background masses increasing.
2-Crema Nova Marble Tiles | FOR U STONEMarble Tiles | FOR U STONE
The Crema Nova marble tiles have a uniform beige background and the slabs have a polished finish. The surface may occasionally contain darker or lighter areas, but this is what Crema Nova is all about. This is one of the most famous marbles from Turkey, with very high supply and demand channels in both international and domestic markets.
Beige Marble Tiles Factory | ForU Stone
Quality Control
1) Surface polished 90° up by the auto-polishing machine.
2) Thickness tolerance: -1/+1mm or -2/+2mm.
Package: Fumigated wooden crates.
An experienced QC will inspect all products before the package.
FOR U STONE runs a wide range of products like quartz, granite, marble, basalt, limestone, etc, to offer our customers the best competitive advantage products.
Our Marble Stone series also has a wild range of applications, such as:
Countertops, kitchen tops, bathroom vanity tops,
worktops, laundry, table tops, bench tops, island tops,
bar tops, backsplashes, shower stalls, tub surrounds,
wall tile, wall cladding, and floor tile; and also used for airports,
metro, shopping mall, hotel, etc
If you're interested in our crema Marfil marble tile, you are welcome to buy quality products at an affordable price with us. As one of China's leading Marble Tiles manufacturers and suppliers, we also support wholesale service. For more info, contact us now.