Eramosa Marble Polished Slabs
Eramosa Brown Marble is a classic imported wood grain marble with elegant coffee color and high gloss. The high-end and atmospheric decorative effect applies to any project decoration. Eramosa Brown Marble Slabs For floor or wall application have vein-cut and cross-cut surfaces. The color is like chocolate, fine and smooth, quiet and introverted brown tone, bright color, elegant temperament. It is a good option for high-end stone decoration.
Eramosa Wood Marble is a dark brown marble with veins and I like the wood color and pattern. There are parallel veins. It is an item with a strong sense of fashion that adds movement and depth to the main brown pattern style.
-Eramosa Marble Vein-Cut Surface | FOR U STONE-Also known as Coffee Brown or Tobacco Brown Marble, Obama Wood Marble, Antique Brown Marble, Brown Wood Marble, Wood Brown Marble, Brown Serpeziante Marble, Brown Wood Vein Marble.
Eramosa Marble Slabs' surface is varied, showing a variety of abstract patterns, shapes, and silhouettes on a brown background, created by streaks of dark and light tones. This version of Brown Eramosa Marble Slab, with each surface unique and non-reproducible, is best suited for more specific and unusual uses.
Basic Info of Eramosa Marble/ Tobacco Brown Marble | FOR U STONE
| | | | |
| --- | --- | --- | --- |
| Model NO. | Eramosa Marble Stone/ Tobacco Brown | Slab Color | Brown |
| Size | 600x600mm | Technics | Natural |
| Thickness | 18mm | Slab Thickness | 18-30 mm |
| Density | 2.7(g/cm³) | Slab & Tile Application | Wall & Floor |
| Slab Size | 240up X 120up Cm | Tile Size | 12″X12″, 24″X24″, 18″X18″ |
| Slab & Tile Surface Finish | Polished, Honed, Acid | Package | Strong Wooden Pallets/Crates |
| Loading Port | Xiamen Port | MOQ | 200 M2 |
| Leading Time | 30-45 Days | Transport Package | Strong Wooden Crates |
| Trademark | Xiamen For U Stone Imp. & Exp. Co., Ltd. | Specification | SGS |
| Origin | China | HS Code | 68029190 |
Eramosa Wooden Marble Slab is a fantastic FORU STONE Marble Collection product with lovely wooden brown patterns. Sleeking and sophisticated Eramosa Vein-Cut Marble Slab, also known as Idyllwild Marble and Tobacco Brown, features a dark brown background with multiple darker brown bands. Its modern aesthetic and contemporary feel compliments today's home.
Eramosa Marble Inventory Showroom | FOR U STONE
Vein Cut Eramosa Marble: Highlighting high-quality life, it can be paved in a large area, close to the color and texture of wood, with fine, clear, and regular lines. Therefore, it gives our rooms and buildings a warm atmosphere. Wood is a universal favorite for home use. You can use wood and stone that are durable while being wood itself. Some of these stones have some unwanted white streaks. It is as if an ax has been eaten on the tree. So all kinds of beauty and patterns are natural and incredible.

Cross-Cut Eramosa Marble Slabs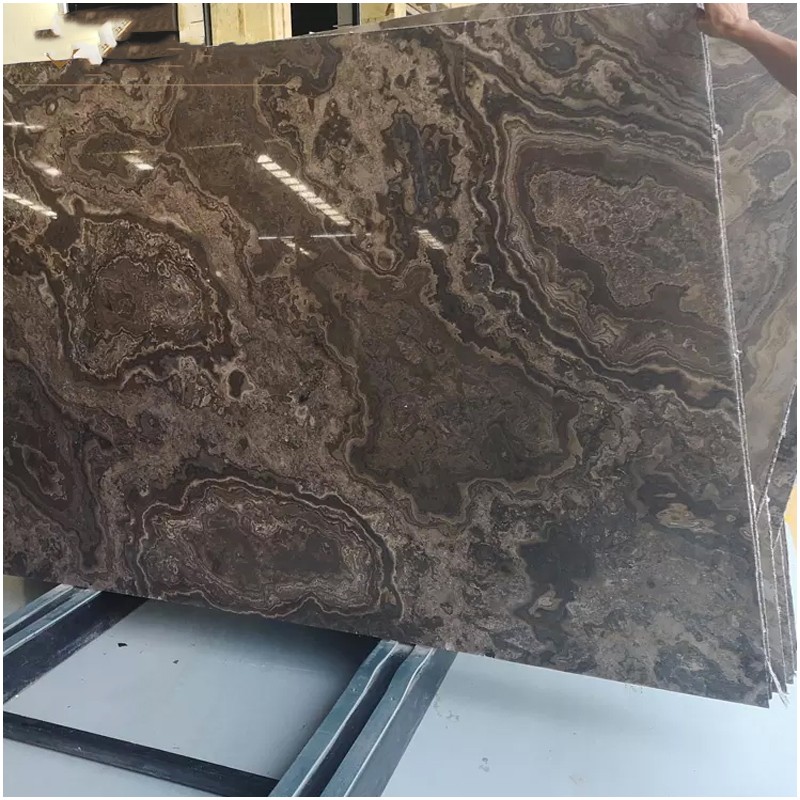 Eramosa Marble Cross Cut Slabs: The overlapping peaks like mountains and the quiet beauty like water present the nimbleness and elegance of the misty mountains and waters, bringing people amazing visual impact. Transverse cutting of Eramosa Brown produces dark brown slabs, characterized by many parallel and longitudinal streaks of a light hue. In the latter case, brown Elamosa marble with characteristic veins or concentric rings resembles wood in many ways. The result is a deep warmth despite being stone.
Eramosa Marble Cut-to-Size Tiles
Eramosa Brown Marble Tile is very precious and elegant with a dark brown background and light brown veins, widely used for bathroom coverings and interior decorations.
Cut-to Size Marble Floor and Wall Tiles:
15x15x1 (6 "x6" x3 / 8 ") – 30.5×30.5×1 (12" x12 "x3 / 8") – 61×30.5×1 (24 "x12" x3 / 8 ") – 40x40x1 (16" x16 "x3 / 8 ") 45.7×45.7×1 (18" x18 "x3 / 8") – 61x61x1 (24 "x24" x3 / 8 ") – 80x40x1 (32" x16 "x3 / 8") – 91×45.7×1 (36 "x18 "x3 / 8") – 121x61x1 (48 "x24" x3 / 8 ")
30x30x2 – 40x40x2 – 45x45x2 – 60x60x2 – 120x60x2
The Specification of Eramosa Marble
Standard Natural Marble Size

Slab: 2800 x 1800mm, 2800 x 1600mm, 2600 x 1600mm, 2500 x 1500mm, 2400 x 1400mm, 2400 x 1200mm.

Tile: 305 x 305mm, 305 x 610mm, 610 x 610mm, etc.

Cut-to-size: 300 x 300mm, 300 x 600mm, 600 x 600mm, etc.

Other sizes as per customized request.

Marble Surface

Polished, Honed, Flamed, WaterJet, Leathered.

Slab: plastic inside + strong seaworthy wooden bundle outside.

Ties: foam inside + strong seaworthy wooden crates with reinforced straps outside.

Countertop: foam inside + strong seaworthy wooden crates with reinforced straps outside.

During the whole production process, from material choosing, and fabrication to package, our quality assurance people will strictly
control each single and every process to ensure quality standards and punctual delivery.

Delivery Time

7 days per container.

Min Order

1 Slab.

Price Item

FOB Xiamen, China. or we can ship as the client requests.
Commercial Or Residence Project With Eramosa Marble
-Luxury Interior Designs with Eramosa Vein Cut Marble Tiles
Classic imported stone, Eramosa Marble belongs to high-end luxury stone, with a quiet and restrained brown tone, close to the color and texture of wood, fine and clear grain, high-end atmosphere, and a strong sense of decoration.
Natural Eramosa Brown Wooden Marble Factory
Quality Control
All of our products comply with European & North American standards.
Those obvious or invisible problems could not be found in our products from fabrication to delivery.
Delivery, Shipping, And Service
Packing and Loading Eramosa Brown Marble Slabs
(1) Slab: Seaworthy wooden bundles;
(2) Tile: Styrofoam boxes and seaworthy wooden pallets;
(3) Vanity tops Seaworthy wooden solid crates;
(4) Available in Customized packing requirements;
All the above packages will be fumigated and stamped for export orders;
2cm slabs: 15-18 pcs / 75 sqm / 4100kgs per bundle
3cm slabs: 10-13 pcs / 50 sqm / 4100kgs per bundle
Delivery time
15 ~25 days after the order was confirmed
FAQ
Can you send me a free sample?
Yes, a free sample can be sent for test quality.
When we place an order, can I visit your factory to inspect the goods?
Yes, you are welcome to come to visit us.
Does FOR U STONE ship worldwide?
At present, we ship container orders worldwide from China. The options for shipping pallet quantities vary from product to product. For more details, please get in touch with us.
If you're interested in our arms brown marble slabs for the floor, welcome to buy quality products at an affordable price with us. As one of China's leading Wood Marble manufacturers and suppliers, we also support wholesale service. For more info, contact us now.