Top Luxury Black Marble Stone-Grand Antique
Grand Antique Black Marble is a luxurious natural stone that is known for its striking contrast of black and white tones. The interweaving of these two colors creates a one-of-a-kind and elegant pattern that has become a design classic. Grand Antique Marble is a popular choice for a variety of applications, from vanity tops and basins to wall tiles, floor tiles, sculptures, and bathtubs, thanks to its versatile color scheme and timeless appeal.
The Most Deluxe and Expensive Black Marble-Nero Antico Marble:
The versatility of Nero Antico Marble(Grand Antique) is one of its most notable characteristics. It can be used for everything from flooring and wall cladding to countertops, fireplaces, and even as a sculptural statement piece.

Its durability and resistance to wear and tear make Grand Antique Marble Tiles an ideal choice for high-traffic areas, while its elegant appearance ensures that it will always look stunning, regardless of where it is used.

Grand Antique Marble Slabs, with black background with white veining, are becoming popular for a wide range of projects, including flooring, walls, countertops, and much more. Our Natural Luxurious Black Marble is on the way to dominating the commercial and residential design industries. It has a distinct design that works well for both interior and exterior applications.

One look at the Noir Grand Anntique Marble tells you everything you need to know about this absolutely stunning marble. This must be a strong contender for anyone looking for a modern, monochrome interior style. Black and white combine in a haphazard manner throughout this stone, giving it a fantastic edge and a striking quality, effective as a one-off decorative piece or as the foundation for room design.
Basic Specification of Luxury Black Marble
Product Name

Napoleon Black Marble, Grand Antique Marble

Common Sizes

1800(up) x 600(up)mm, 2400(up) x 1200(up)mm, 2800(up) x 1500(up)mm etc

Slabs' Thickness

15mm, 18mm, 20mm, 25mm, 30mm, etc (3/4″, 3/8″, 1/2")

Tiles' Size

96″ x 26″, 76″ x 36″, 98" x 26″, 108″ x 26″

Countertops & Vanity top

96″ x 26″, 76″ x 36″, 98" x 26″, 108″ x 26″,
25″x22″, 31″x22″, 37"x22″, 49"x22", 60"x22"

Countertops' Thickness

3/4″, 3/8″, 1/2"
Luxury Natural Marble Wholesales | FOR U STONE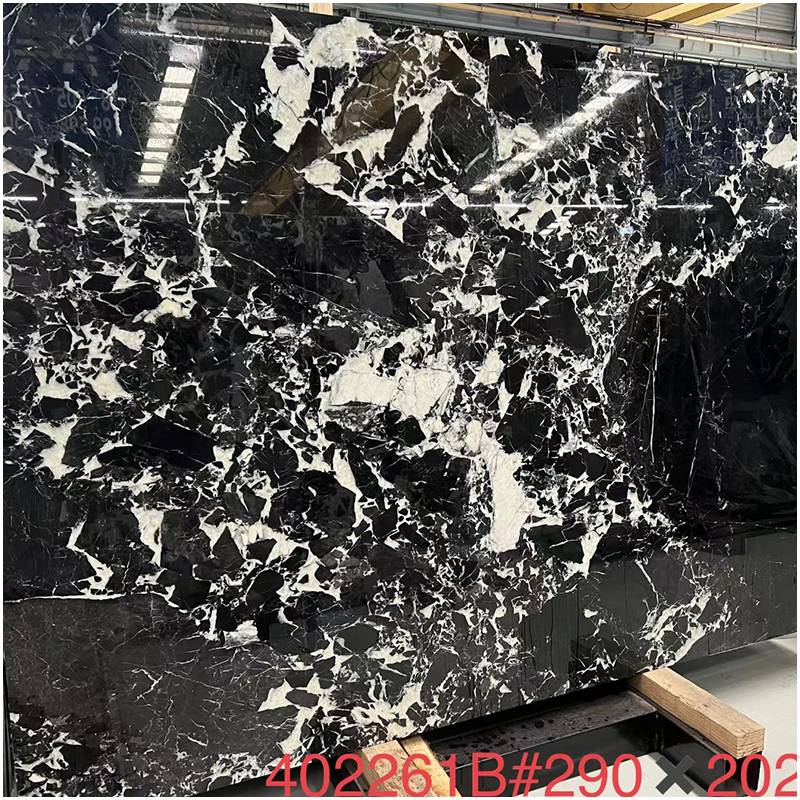 Grand Antique, also referred to as Grand Deuil, is a renowned black and white breccia originating from the French Pyrenees. This marble is renowned for its striking appearance, featuring a combination of large and small angular fragments of jet-black limestone held together by a binding of pure white calcite. The quality of the stone is judged based on the presence of gray or dark brown fragments, which detract from its appearance and are considered impurities. Italian stonecutters refer to this luxurious black and white marble as Bianco e Nero or Marmo di Aquitania.
The Wild Range Applications of Grand Antique Black Marble
-This unique black and white marble is excellent for indoor usage, from floor, wall covering, and table designs, even the countertops.
The timeless combination of black and white creates a visually striking and versatile design element. The simplicity of this achromatic color palette allows for the product's color to stand out and elevate the overall look of the space. The irregular texture of black and white enhances the modern and minimalist atmosphere in any design. The result is a unique and textured space that exudes sophistication and a contemporary vibe.
Grand Antique Black Marble is a high-quality natural stone that is ideal for adding a touch of luxury to their home. This stone will provide you with many years of enjoyment and satisfaction due to its stunning contrast of black and white colors, timeless appeal, and versatility. Grand Antique Black Marble is the ideal choice for those who want the best in both beauty and functionality for their kitchen countertops, bathroom vanities, or any other area of their home.
Luxurious Black Marble Options from FOR U STONE Marble Factory
Luxurious Black and Gold Marble | Italian Nero Portoro
Nero Portoro Marble is an elegant and luxurious natural stone from Italy. Its deep, rich black color is distinguished by distinct golden-yellow veins that add depth and visual interest to the marble. This stunning marble comes from the Portoro region of Italy and is prized for its distinct and dramatic appearance. It's a popular choice for high-end interior and exterior design projects like flooring, walls, countertops, and various architectural elements.
Luxury White and Black Marble-Panda White
Panda White Marble is a stunning and one-of-a-kind natural stone quarried in China. It is distinguished by its distinctive white background with black veins and spots resembling panda bear markings. This marble is widely used in interior and exterior design projects such as kitchen countertops, bathroom vanities, flooring, and wall cladding. Its eye-catching and bright appearance adds a touch of luxury and sophistication to any space.
These natural luxurious marble also welcome in any residential and commercial estate projects. We can provide slabs, tiles, countertops for different indoor projects.
Black Marble Factory in China | FOR U STONE
Consider investing in Grand Antique Nero Marble if you want to add a touch of luxury to your home or office. This premium quality marble is an investment in timeless style and elegance, and its one-of-a-kind beauty will be admired for years to come. Grand Antique Marble is the ideal choice for your next design project, whether you want to make a dramatic statement in your living room or simply add a touch of sophistication to your bathroom.