Product Details
Marble + wood finish, an impressive stunning design
2017-09-24 China Stone Industry Research
Tip: focus on "arrow up arrow and click on the" stone industry
In the design of modern humanistic spirit of Oriental aesthetic interpretation, Oriental flavor and unique era zhemei fusion, by comparing the design techniques, open, flow, mutual space and details in the form, the sparse and scattered the harmony but not sameness spirit space.
COFCO Xiangyun International Exhibition Center
The high ceilinged space, the maximum showed white marble texture, exudes a simple white beauty, designers reject all superfluous decoration, but also makes the evolution as a post office lobby space, is a seamless heavenly robe.
Exhibition area
Ribbon shaped light white floating in the ethereal realm, is the dance floor low willow heart month long sleeved dancing, it was an clouds across the sky Zhanzhan, and accordingly, firmness and flexibility.
Exhibition area
The black circle surrounded by a circle of white sand under the lights, is ingenious and innovative design, make the structure of the original interval becomes heavy light and fantastic, the invisible attracts the viewer's attention.
Elevator hall
Follow the lines leading to the elevator hall. The juxtaposition of white marble with brown logs and ceilings means the changes in the connection, and the parallel and wrong lights reflect the marble on the marble, which also serves as a magic power to simplify and enrich the reality.
Negotiate area
If the front of the oriental charm is silk scent free in the modern space, then came to negotiate, is the air plant. Brown wood floor, wall, lay on the ceiling, the oriental culture temperament and beauty.
Negotiate area
The designers in Chinese traditional elegance of construction space, pay attention to the Oriental philosophy of beauty "in favor of environment Jingning, accessibility, purport of simplicity, harmony, form to fully respect human subtleties and comfort space, allow guests to enjoy their own living room and comfortable and generally relax.
Negotiate area
The modern style furniture with simple style is perfect blend with the whole environment because of the cool tones and ingenious collocation. It also creates the calmness and elegance of the east. And the new Chinese style crystal ornaments, paintings, Enron and quietly at the corner of quiet, exudes a spiritual blend of Chinese and Western philosophy.
The signing area and negotiation area was not only separated by the white slightly stressed that at the same time show the modern fashion district echoed.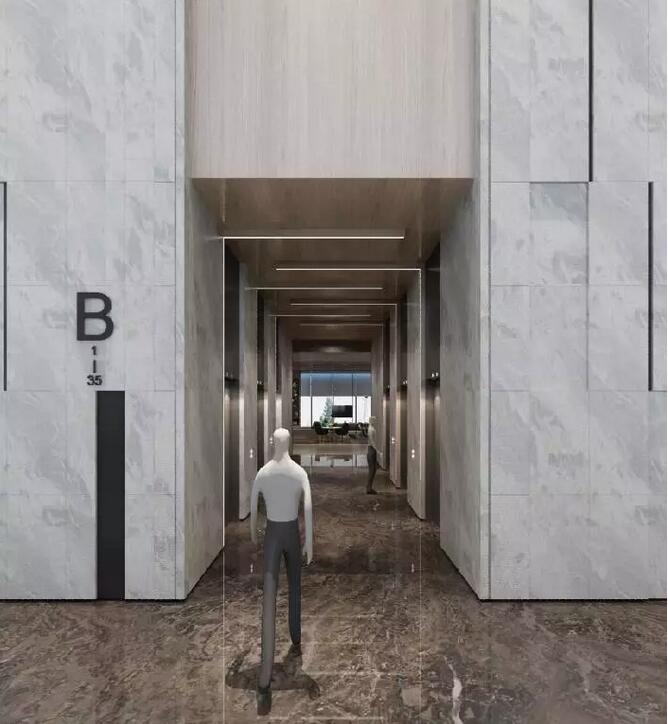 TOILET
The bathroom is a place exceeding all expectations Exhibition Center, brown logs and white marble in the re encounter, and pale rose gold and mirror light gives a new space means, transparent, beautiful and elegant, with a full range of experience.
Design sketch
Plan
A rational philosophy, the party spirit of humanities, mastery is the cultural connotation and the spiritual heritage of space. COFCO Xiangyun International Exhibition Center design reveals the brand itself open, integration, lucky intention, mapping the reality and the future, the East and West blend of new.