Saint Laurent Black Marble Slabs For Project Floor and Wall Tiles
Stable and noble, Saint Laurent Black Gold Marble's incomparable black background is like the dark night sky, quiet and profound. The clear and straight gold and silver threads, like bright meteors, instantly endow the night with flexibility and life, all of which make people feel the miraculous workmanship of nature.
-St. Laurent Black Marble/Noir Sahara Marble/Sahara Noir Aziza Marble | FOR U STONE Luxury Marble Series
Undoubtedly eye-catching, Sahara Noir natural marble slabs provide a distinctive and remarkable look and feel for kitchen splashbacks, countertops, or as wall cladding Gold, brown, and white striped speckles stand out against the jet-black background, creating an overall luxurious material.
Sahara Noir Marble features an attractive jet-black facade featuring an extraordinary crisscross pattern of gold and white stripes. Noir Laurent Black marble exudes sophistication and is perfect for homes that want an instant sense of elegance.
Basic Information of Black Marble
St Laurent Black marble is great not only for covering walls and floors, but also for more elaborate applications such as marble stairs. Extend this elegance to other areas of the home with matching black marble countertops and a marble backsplash, complemented by either a marble coffee table or a marble dining table.
This natural stone has a certain mystical charm that will fill your home with bespoke luxury. Browse our selection of residential and commercial projects to see the many uses for Noir Aziza Black Marble.
| | | | |
| --- | --- | --- | --- |
| Model NO.: | St. Lauren Marble | Size: | Customized |
| Density: | 2.7(g/cm³) | Thickness: | Customized |
| Hardness: | ≥105hsd | Water Asorption: | ≤0.31% |
| Dry Compression Strength: | 128.5MPa up | Dry Bending Strength: | 12.8 MPa |
| Technics: | Natural | Trademark: | For U |
| Product Name: | Gold St. Laurent Marble Slabs | Product Model: | Gold St. Laurent Marble Slabs |
| Transport Package: | Wooden Crate Packing/ Pallet/ Plywood/ Box/Bulk | Specification: | 2500-3000upx1200-1500up |
| Origin: | China | HS Code: | 68029190 |
This material is popular for Slabs and Tiles.
We get the blocks directly from the quarry and produce them in our factory.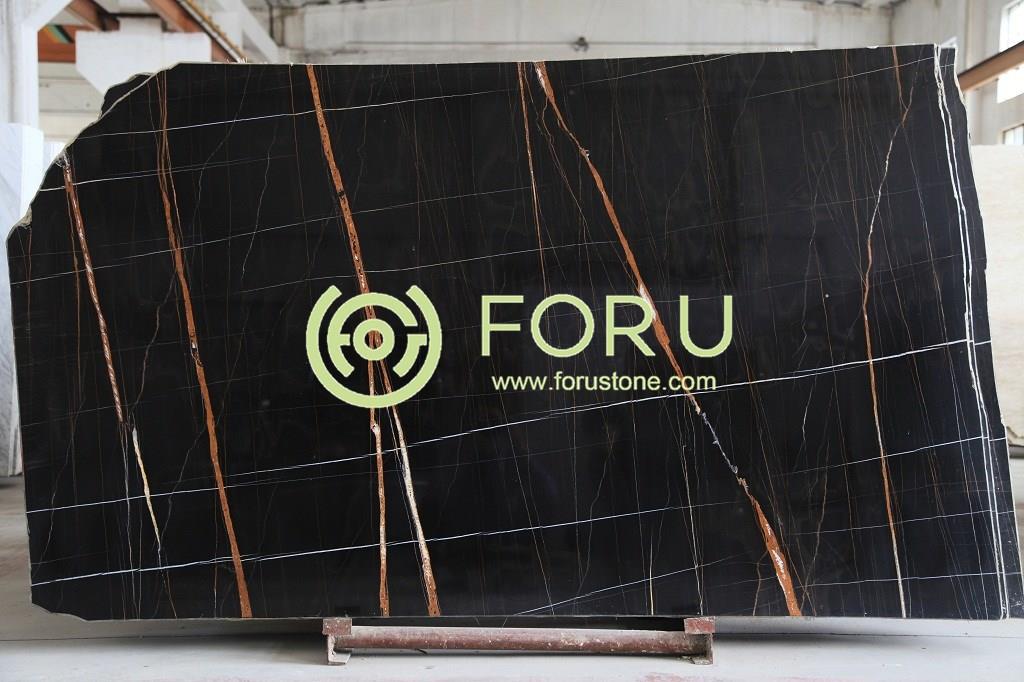 Quality products will be offered at a competitive price.
A Grade Quality Stone Blocks
Skilled Workers and Precise Producing
Strictly Quality Control during the production
Profession Packing by strong wooden crates, well protected for the delivery
Carefully loading and fastening in factories by experienced workers
Lauren black gold marble, with its unique texture, color and delicate lines, is mysterious and sexy, grand and stable, which perfectly demonstrates the luxury and refined taste.
Unique Marble collects 5 of the world's most exclusive marbles and reinterprets them for a modern taste in complete and original projects.
Luxury Black Marble Inventory | FOR U STONE
Sahara Noir Marble is a surprising piece making the delights of various designers. Inside the jewel-shaped structure lies the most comfortable soak that provides unique and relaxing moments that give an extra touch of luxury to any interior space.
Black Marble Collection | FOR U STONE
Black, the deepest color, is also a mysterious and powerful color. It is solemn and elegant. Black still has a fatal appeal, contains an elegant style, and is rich in the implication of simplicity. It interprets the implicit romantic feelings of modern people, making us constantly see that black never disappears in the design field. Compared with pure black, black marble has more amazing changes. It gives up the dreariness, melancholy and depression of black, and endows black with bright, flexible and changeable charm.
Luxury Black Grand Antique Marble

Noir Grand Anntique is a marble characterized by the interweaving of two colors: white and black. Grand Antique Black Marble is breathtaking. Monochromatic, high-contrast boxes create a dramatic feel and add depth and dimension to existing spaces. The ancient Romans cut out a material called "maximum celticum" and exported it to Rome and Constantinople.

Its production is very limited and the blocks can also be large. Grand Antique is used for interiors, for walls, for furnishing accessories or for floors. The finish that most enhances its chromatic qualities is the polished one.
Portoro Gold Black Marble Slabs

The Athenian Portoro marble was one of the most commonly used marbles in villas and temples during Roman times, and has maintained and developed its reputation over the centuries. Its richness, intensity and contrast of its colors and streaks evoke a special feeling. Athens Black Portoro Marble is the material of choice for many architects, builders and designers.

For exterior projects, use this elegant Athenian Portoro Gold Marble to cover the facade of a building, residence or covered terrace. For a decorative project with a better dynamic range of color variations, Portoro gold polished marble tiles with a size of 30×60 cm and a thickness of 1.5 cm with the same elegance and striking look.
Chinese Natural Marble Factory | FOR U STONE
Natural stone is one of the most exclusive materials in architecture and interior design. The most popular grades are marble, travertine, onyx, semi-precious stones, granite and quartz. We also offer carefully selected porcelain, concrete and many of our most popular items are stocked in both lightweight, ultra-thin, and traditional formats, and many other stones are available in limited quantities or by special order.
"FOR U STONE"Label Stands for Quality
1.. With advanced machines ,professional workers and experienced quality inspectors create the first -grade quality.
a. Polished degree up to 90, thickness -1/+2mm. Strictly QC System ensure every piece inspection before packing.
b. Diagonal tolerance: +/-1mm
c. Surface flatness tolerance: +/-0.3mm
2. All the enquiries will be fast replies within 24 hours.
3. During the whole production process, from material choosing, fabrication to package, our quality assurance people will strictly control each single and every process to ensure quality standards and punctual delivery.
4. We are a member of Trade Assuarance, which you can get more benefit from quality & delivery Guarantee.