Factory Sales Ming Green Marble Slabs For Commercial Indoor Projects
Verde Ming marble is a beautiful green marble that is quarried in China. It is made up of limestone, dolomite, and feldspar, and has a green color with veining that ranges from light green to dark green.
This Chinese Dark green marble is a popular choice for a variety of applications, including floors, walls, and countertops. It is a durable and easy-to-clean marble that is perfect for any home.
Verde Ming marble is a natural building decoration stone that has been used in China for centuries. The marble is known for its beauty and durability, and it is often used in high-end homes and businesses.
Ming Green Marble Slab is cut into slabs and tiles. The marble can be used in a variety of ways, including:
Floors: Ming Green marble is a popular choice for floors because it is durable and easy to clean. The marble can be polished to a high shine, and it is resistant to stains and scratches.

Walls: Ming Green Marble is also a popular choice for walls. The marble can be used in a variety of ways, including painting, wallpapering, and tiling. The marble can also be left unfinished, which will give it a natural look.

Countertops: Verde Ming marble is a popular choice for countertops because it is durable and easy to clean. The marble can be polished to a high shine, and it is resistant to stains and scratches. The marble can also be left unfinished, which will give it a natural look.
Formats:
Green Marble Application & Data
Applications: floors, walls, kitchens, tubs, washbasins, tables, stairs, fireplaces, sculptures, waterjet, inlays, carpets, tiles, solid wood, backlit, lightened
Finishes: polished, honed, satin, stepped, striped, bush-hammered, brushed, sandblasted, etched, split, and flamed.
Formats: Blocks, blocks, slabs (thicknesses from 1 cm to 20 cm), calibrated and bevelled tiles: 305x305x10 mm, 305x610x10 mm, 610x610x10 mm and on request. 2 cm tiles cut in a box, 300x300x20 mm, 600x600x20 mm, 900x900x20 mm, 600x1200x20 mm and on request panels of customized thicknesses and dimensions.
Technical info of Chinese Ming Green Marble Stone
Origin: China

Compression breaking load: 1427 kg/cm²

Breaking load after freezing cycles: 1215 kg/cm²

Unitary bending tensile strength: 141 kg/cm²

Coefficient of thermal expansion: 0,0058 mm/m°C

Water imbibition coefficient: 0,004400

Impact strength: 49 cm

Mass by unit of volume: 2680 kg/m³
Durable and Easy to Maintain Chinese Dark Green Marble-Ming Verde Marble
Verde Ming Marble is a highly durable stone that can withstand wear and tear. It is also easy to clean and maintain, making it an ideal choice for high-traffic areas. To clean the marble, a mild soap and water solution is all that is needed. It should not be cleaned with abrasive cleaners or chemicals, as this can damage the surface of the stone.
Green Marble Specification & High Quality Jumbo Slabs
Chinese Green Marble Slabs and Tiles Factory

Name

Ming Green Marble

Size

Big slabs, 300x300mm, 600x600mm, 300x600mm, etc

Surface finished

Polish, honed, sandblasted, tumbled, antiqued, acidwashed, brushed, picked, sawn, split, grooved, bush hammered, Mushroom, etc.

Application

Floor & wall tiles, vanity top, kitchen countertop, stairs & baluster, column & pillar, molding & skirting, window




sill, water-jet mural, mosaic tile, etc.

Popular Size

Big slab

Big slab Size 2400 upx1800up mm, thickness 1.6cm, 1.8cm, 2.0cm

Tile

1) 305 x 305 x 10mm or 12″ x 12″ x 3/8″




2) 406 x 40 6x 10mm or 16″ x 16″ x 3/8″




3) 457 x 457 x 10mm or 18″ x 18″ x 3/8″




4) 300 x 600 x 20mm or 12″ x 24″ x 3/4″




5) 600 x 600 x 20mm or 24″ x 24″ x 3/4″ ect custom sizes

Vanity top

25 "x22", 31 "x22", 37 "x22", 49 "x22", 61 "x22″, etc. Thickness 3/4″, 1/4" Any drawing can be customized.

Countertop

96″x26″, 108″x26″, 96″x36″, 72″x36″, 72″x36″, 96″x16 "ect Thickness 3/4″, 1/4" Any drawing can be made.

Stair

Step 100-150×30-35×2/3cm




riser 100-150×12-17×2/3cm
Verde Ming Green Marble Slabs
Mint Green Marble Slabs
Chinese Mint Green Marble(Verde Ming) is a unique natural stone that is renowned for its distinctive qualities. The marble's green color is both beautiful and unique, ranging from light to dark shades. Its veining pattern adds depth and dimension to the stone, creating a beautiful natural pattern that is unmatched by other stones.
In commercial real estate, The Chinese Green Marble is considered a rare and precious stone. It is a popular choice among foreign merchants who regard it as a unique and valuable product. Its popularity in the international market has made it a highly sought-after stone for export, although it is also available for domestic sales.
Verde Ming Marble is also known for its excellent quality. Its texture is delicate, and its color stripes are clear, beautiful, and elegant. The Beijing Great Hall of the People and the eastern part of the Beijing subway have used Verde Ming Marble tiles for their interior floor and wall applications. This marble is also considered to be the best-quality marble in Dandong and even in the whole country.
Ice Jade Green Marble/ White Beauty Green Marble: It is clear and spiritual, and it resembles jade. The modern and clear temperament is permeated with elegance, making people feel safe and comfortable, and it is a luxurious material that adds elegance and sophistication to any space. It is ideal for use on floors, countertops, and other high-traffic areas where its beauty can be appreciated.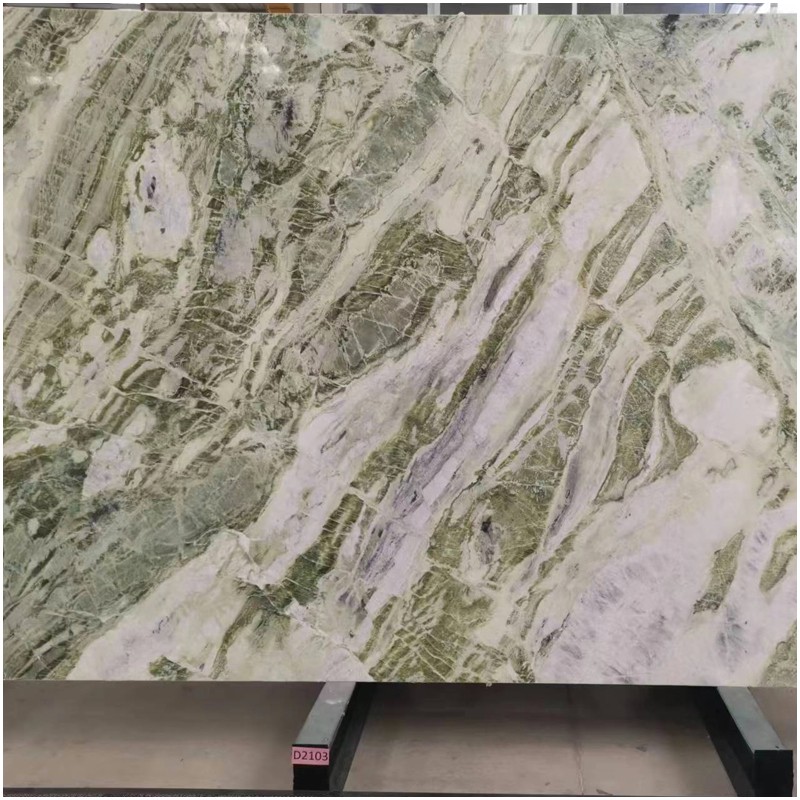 This exquisite natural stone is not only suitable for home decoration, but it is also suitable for use in public places, where it can draw attention and instill a sense of awe and wonder in visitors. The ancient green marble decorative background wall has a linear, modern shape that is ideal for use as a facade, attracting the attention of passers-by.
Professional Green Marble Slabs | Tiles Factory
Quality
For different products, we have different packing methods. Wooden or plywood, crating or pallet, etc.
We do careful packing and detailed shipping marks on each package, ensuring all goods reach you safely and are completed.
We control every single processing strictly with computers and manpower.
After shipment, we will send documents to you according to your requirements, and keep you updated about the container status.

If you're interested in our verde ming marble, welcome to buy the quality products at an affordable price with us. As one of the leading Marble Slabs manufacturers and suppliers in China, we also support wholesale service. For more info, contact us now.