Product Details
Carrara White Marble Flooring Tiles with Grey Vein
White And Grey Marble Floor Tiles make the designers think of Italy natural marble, like Bianco Carrara White Marble, Calacatta White Marble, or Statuario White Marble. Bianco Carrara White Marble Floor Tiles are a traditional material for interior decoration projects.
Carrara White Marble Flooring Tile adds a touch of refinement to any room. An alluringly refreshed look is achieved with full White Carrara Marble Flooring in the main living room, adding an enchanting luminance to the entire living area.
Bianco Carrara Marble Floor Tiles collection of natural solide marble surfaces that expresses all the beauty and appeal of the natural stone. This White and Grey Marble Flooring range is timeless, beautiful and elegant. A marble tile and a textured feature décor are ideal for a bathroom, lobby floor and wall.
Marble is one of the most opulent floor coverings available for your home. It's a material that's been used to adorn the homes of kings and queens for centuries, and it's still a symbol of grandeur and richness today. Despite this, marble isn't nearly as pricey as many people imagine. Some of the more widely accessible marble selections can be obtained for less than the cost of other natural stone options.
| | |
| --- | --- |
| Product Name | White Marble Flooring Tiles |
| Materials | Bianco Carrara White Marble |
| Colors | White and Grey Vein |
| Popular Big Slab Size | 240up x 120up cm, 240up x 130up cm, 250up x 120up cm, 250up x 130up cm, 260up x 140up cm, 260up x 150up cm, Or other size according to the customer request |
| Popular Small (Half) Slab Size | 240up x 60cm/70cm/80cm, 250up x 60cm/70cm/80cm, 250up x 60cm/70cm/80cm, 250up x 60cm/70cm/80cm, other sizes according to the customer request |
| Popular Tile Size | 305x305mm, 300x600mm, 305x610mm, 400x400mm, 457x457mm, 400x800mm, 600x600mm, 900x900mm, 1200x500mm, 600x600mm, 900x900mm, 1200x500mm, 1200x600mm, etc |
| Usual Thickness | 10mm, 12mm, 15mm, 18mm, 20mm, 25mm, 30mm, etc |
| Finished | Polished, Honed, Acid Washed, Grooved Lines, etc.. |
| More Products | Slabs, Cut-To-Size, Wall & Floor Tiles, Countertops, Mosaic, Stone Sinks, Bath Tubs, Shower Pans, Wall Cladding, Ledge Stone, Loose Stone, Mushroom Stone, Paving Stone, Swimming Pool Coping and Pavers, Stepper Stones, Bench, Pebble Stone, Water Fountain, Sculpture and other Garden Stones, etc. |
| Package | Strong fumigated wooden crates, wooden pallets, wooden bundles etc. |
For a luxurious new look in your home introduce these Natural Carrara White Marble 60×30 Tiles. With their polished finish, they are perfect for refreshing a bathroom, kitchen, living area, or hallway, and they can be used on both walls and floors.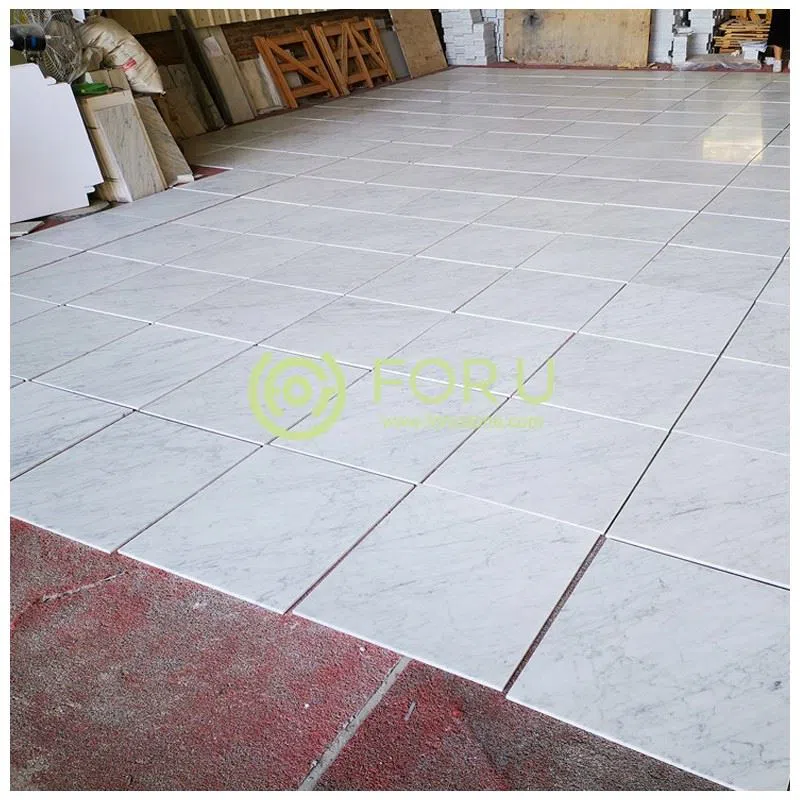 If you're interested in our white and grey marble floor tiles, welcome to buy the quality products at an affordable price with us. As one of the leading Marble Tiles manufacturers and suppliers in China, we also support wholesale service. For more info, contact us now.