Agate Countertops or tables are an artwork example of handmade craftsmanship made with a lot of effort and patience made of luxury and backlit agate stone. Since the countertop slab of agate is carefully made with all your heart, it is the perfect gift for your loved ones. This kitchen top or dinner top is sure to brighten up your room. For U Stone Agate Gemstone Slab can also be used for eating and drinking. It can be used indoors or outdoors and is sure to be a conversation piece. This agate semiprecious stone can be used as a kitchen top, console table, dining table, living room table, etc. Agate Slabs Countertops feature a luxurious and beautiful style, suitable for indoor decoration, such as tabletop, bathtubs, bar tops, reception tops, kitchen counters, etc.
Material: Semi-precious Agate Stone Slabs
Colors: Blue, Yellow, Red, Green, Back, Yellow

Kitchen Countertops: 112" × 26" , 112" × 25.5", 108″ × 26″, 108″ × 25.5″, 96″ × 26″, 96″ × 25.5″

Kitchen Island Tops: 108″ × 36″, 108″ × 40″, 98" × 36", 98" × 40", 96″ × 36″, 96″ × 40″
Thickness: 20mm, 30mm, 20+20mm
Surface: Polished
MOQ: 1 pcs
Countertop Slabs Factory: FOR U STONE
Usages: Kitchen Countertop, Bathroom Vanity, Worktop, Bar Top.
Advantages of

agate slabs countertops
Unique and attractive appearance
One of the main advantages of agate slabs countertops is their unique and attractive appearance. Agate is a natural stone that is formed from volcanic lava and is characterized by its banded patterns and vibrant colors. This makes it a popular choice for countertops, as it adds a touch of natural beauty and elegance to any room.
Durable and hard
Another advantage of agate slabs countertops is that they are extremely durable and hard. Agate is a type of quartz, which means it is one of the hardest minerals on earth. This makes it a great choice for high-traffic areas, such as kitchens and bathrooms, as it is resistant to scratches, chips, and stains.
Low maintenance
agate slabs countertops are also relatively low maintenance. They are easy to clean and don't require any special sealers or treatments to keep them looking their best. This makes them a great choice for busy households or for those who don't want to spend a lot of time and money maintaining their countertops.
Heat resistant
agate slabs countertops are also heat resistant, making them a great choice for areas where hot pots and pans are used. This is an important feature in a kitchen, where heat resistance is a must have.
Versatile
agate slabs countertops are also versatile and can be used in a wide range of applications. They are suitable for both indoor and outdoor use and can be used in any room of the house, including kitchens, bathrooms, living rooms, and bedrooms. They can also be used in commercial spaces such as hotels, offices, and restaurants.
Cost-effective
agate slabs countertops are also cost-effective. They are relatively less expensive than other natural stones, and their durability and low maintenance make them a cost-effective choice over time.
Eco-friendly
Finally, agate slabs countertops are environmentally friendly. They are a natural product that is not harmful to the environment, and they can be recycled or repurposed at the endof their life. This makes them a great choice for those who are looking for an eco-friendly option for their countertops.
gate slabs offer many advantages over traditional materials and are becoming an increasingly popular choice for countertops. They are unique, durable, low maintenance, heat resistant, versatile, cost-effective and eco-friendly. They can add a touch of natural beauty and elegance to any room and are a great choice for both residential and commercial spaces. If you are considering agate slabs countertops for your countertops, it's important to work with a reputable and experienced supplier to ensure you get the best quality product.
Semi-precious Agate Gemstone Kitchen Countertop and Island Top Slabs
Agate Slabs Countertops feature a luxurious and beautiful style, suitable for indoor decoration, such as instability, bathtubs, bar tops, reception tops, kitchen counters, etc. An Agate Countertop Slab achieves good strength and rigidity, is wear-resistant, compact, and can withstand all kinds of daily scraping. It also has strong stain resistance, is easy to clean, easy to take care of, and can be brightly cleaned with a towel. More importantly, this Deluxe Agate Countertop Slab has ultra-low water absorption, is efficient, and is functional for home use, especially when wiping the surface or near the bathroom or kitchen, you don't have to worry about water stains.
-Yellow Agate Backlit Countertop in Kitchen | FOR U STONE
What Is Agate Real Be?
Agate is a translucent variety of microcrystalline quartz. It is used as a semi-precious stone if it has the desired quality and color. Agate is generally formed by the deposition of silicic acid from groundwater within cavities of igneous rocks.
Agate is deposited in concentric layers around the walls of the cavity or in horizontal layers that build up from the bottom of the cavity. These structures create the characteristic striped pattern of many agates. Some of these cavities are lined with crystals and these are called geodes. Agate comes in various colors, including brown, white, red, gray, pink, black, and yellow.
Why is Agate Countertop Slab famous for interior designs?
Agate slabs for kitchen or bathroom worktops are today's most demanding gemstone surfaces, due to their incredibly beautiful appearance and backlighting ambiance. Agate has been said to be a healing stone since ancient times.
These semi-precious stone agate slabs are ideal for countertops, tabletops, backsplashes, living room decor, shower screens, bar tops, countertops, kitchen tops, bathtub surrounds, and many other luxurious interior decorations.
How many Agate Colors can FOR U STONE provide?
FOR U STONE manufactures agate slabs and kitchen, and bathroom countertop surfaces in various colors.
Our limited collection includes Black, Brazilian Black, Botswana Black, Brazilian Blue, Indian Blue, Blue Gold, Blue Crystal, Blue Gabba, Blue Lace, Carchi, Purple Crystal, Yellow, Green Onyx, Gray, Gray Golden, Gray Wild, Jacuzzi, Multicolor.
Agate Kitchen Countertop Slab is a beautiful color that becomes even more vibrant when backlit. Agate Gemstone Countertops add instant luxury to any room in your home as a countertop, backsplash, vanity top, bar top, or simply a work of art. If you're looking for a natural stone that is a truly unique addition to any home, a prefab agate backlit kitchen countertop may be just what you're looking for.
Basic Information of Agate Stone | FOR U STONE
| | | | | | |
| --- | --- | --- | --- | --- | --- |
| Stone Form: | Big Slab, Cut-to-Size | usage: | wall, floor, hotel lobby, aisle, | Port: | XIAMEN or Shenzhen Port |
| Material: | 5mm Agate+15mm Glass | MOQ: | 20m2 | Color: | Pink, Green, Yellow, White, Black, Tiger Eye, etc. |
| Marble Type: | Agate | Surface Finishing: | Polished | Place of origin: | China |
| Brand Name: | Xiamen For U Stone Imp. & Exp. Co., Ltd. | Model Number: | Gemstone Countertops | Whatsapp: | 0086-13655955495 |
The Specification of Agate Countertop | FOR U STONE
Agate Gemstone Kitchen Tops add an artistic and romantic atmosphere to the room, and it is available in various color patterns for you to choose from. It has good cutting performance with an outstanding elastic limit, which can well match the shape of your table or counter. If you're looking for a reliable and cost-effective surface decoration for your house or office, these Agate Slabs Countertops can be your never-wrong choice!
Classified as a semi-precious stone, Agate Semi-precious stone slab is a bold and attractive choice for rooms throughout the home, from kitchens to bathrooms to living rooms. Set on agate kitchen countertops with backlit effect designs is a tribute to nature and a nod to the amazing power of our factory, but looks aren't everything. If you are interested in luxury backlit agate countertops, it is important to understand their properties and care needs. FOR U STONE is here to detail these whimsical, durable, one-of-a-kind premium stone slabs for countertop applications and more.
Standard Kitchen and Bathroom Countertops with Agate Gemstone
| | |
| --- | --- |
| Product Name: | Agate Kitchen and Bathroom Countertops |
| Agate Common sizes for vanity tops: | Countertops, the size often 25″×19″/22″, 31″×19″/22″, 37″×19″/22″, 49″×19″/22″, and 61″×19″/22″(single or double sinks), etc. |
| Agate Countertop Snack Bar: | 12″×78″, 16″×78″, 18″×96″ Island (snack bar), etc. |
| Agate Countertop Island: | 36″×72″, 36″×78″ 42″×72″, 42″×78″etc. |
| Agate Kitchen Countertop Sizes: | 26″×78″, 26″×96″, 26″×108″, etc. |
| Agate Countertop Round Table: | 36″, 42″, 48″, etc. |
| Agate Side splash: | 2″, 3″, 4″, 5″, 6″ height |
| AgateBacksplashh: | 2″, 3″, 4″, 5″, 6″ height |
| Thickness: | 1/2″, 3/4″, etc. |
| Edge processing: | Machine cutting, round edge, etc |
Agate Gemstone Countertop | FOR U STONE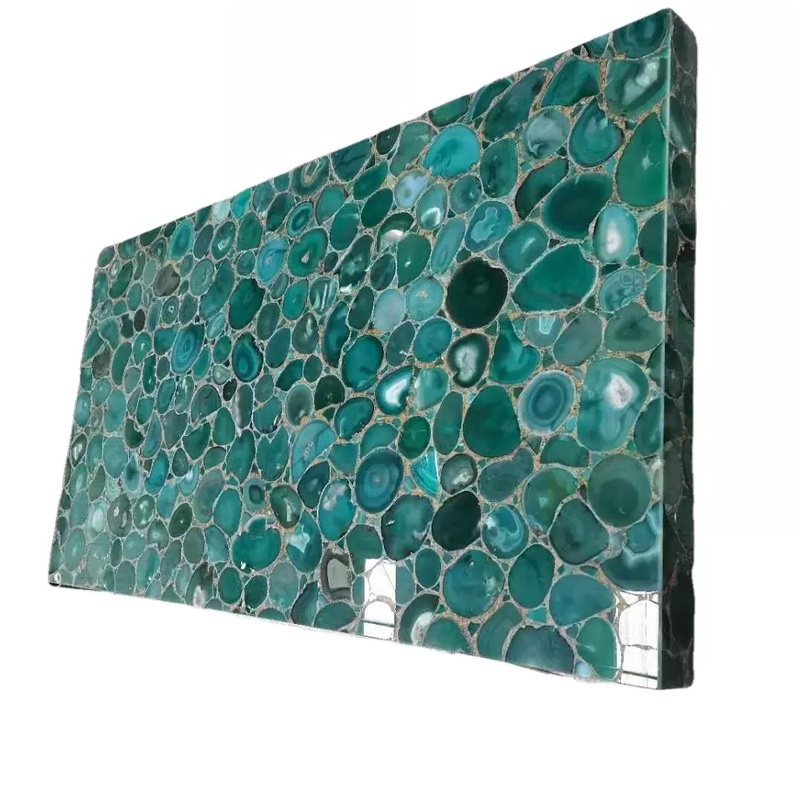 Using gemstones like agate for countertops in the kitchen or bathroom grabs attention and deserves attention.
A product of groundwater silica deposited in igneous rock cavities, agate's broad color spectrum occurs in a distinctive banding pattern reminiscent of the annual rings of tree trunks. Similarly, the agate lines tell the story of its past and the changing composition of the groundwater during its formation.
Deluxe Kitchen and Bathroom Countertops in Luxury Agate Stone | Project Show
Unique, top-class products that are handcrafted one by one with plenty of natural gemstones. The unique colors and incredible designs of the mineral world add quality and charm to these semi-precious stones. Inspire a new understanding of luxury and bring to life an ever-changing vision of beauty that draws strength from the earth An extraordinary object that inspires.
Luxury Agate Gemstone Kitchen and Bathroom Factory
FOR U STONE's Premium Stone Collection includes semi-precious stones, quartzite, natural jasper, and rare enchanted stones. Premium Stone is the pinnacle of stone design and a stunning example of natural beauty. Individual stones such as agates, gemstones, and crystals are hand-selected for beauty, purity, and uniformity, carefully placed, and hand-assembled by skilled craftsmen. Luxurious Stone is highly resistant to tarnishing and fading from impact, heat, and UV exposure, making him one of the most durable worktops. semi-precious stone accents are a great way to create magic and beauty in a space that is as rare and wonderful as the stone itself.
Quality Control
Quality control strictly checks it

QC.

Surface flatness: +/-0.5mm Cut and fabricated accurately

Control color variation
Packing and Loading
| | |
| --- | --- |
| Packaging | (1) Slab: Seaworthy wooden bundles; |
| | (2) Tile: Styrofoam boxes and seaworthy wooden crates; |
| | (3) Countertops & Vanity top: Seaworthy wooden crates; |
| | (4) Available in customized packing requirements. |
| Shipping | 15 days after receiving the prepayment. |