Product Details
Luxury marble Green Semi Gemstone Marble Slabs For Decoration
Products Specification
With luxurious textures and rich colors, Agate Stone Slab makes the spacing effect more malleable and pushes the beauty of the high-end space to the extreme, thus highlighting the elegance and luxury of the high-end decoration. The extremely preciousness and uniqueness of gems have also become a rare stone product in modern interior decoration.
Gems are noble and agile, shining with their own spirituality and dynamics. The beauty of gemstones can be noble and dazzling. It can be carried and displayed at any time when entering the lobby, as the value of human architectural space aesthetics.
Natural, harmless and colorful gemstones combined with extraordinary craftsmanship and design are favored in various mid-to-high-end and personalized decorations.
Basic Info
| | | | |
| --- | --- | --- | --- |
| Stone Name: | Agate Stone Slab | Brand Name: | Xiamen For U Stone Imp. & Exp. Co., Ltd. |
| Place of Origin: | China | Model Number: | Green Gemstone Agate Marble Slabs |
| Stone Form: | Big Slab,Cut-to-Size | Surface Finishing: | Polished |
| Marble Type: | Onyx | Type: | Agate slab |
| Size: | Customized | Application: | Interior wall application, luxury decoration stone |
| Usage: | Gorgeous villa, hotel decoration, Wall and flooring, Countertops, any tops | Colors: | Green |
| Keywords: | Green Gemstone Agate Marble Slabs | Material: | Natural Green Gemstone Agate Marble Slabs |
Product Details
Blue Agate Slab
Blue Agate Stone Wall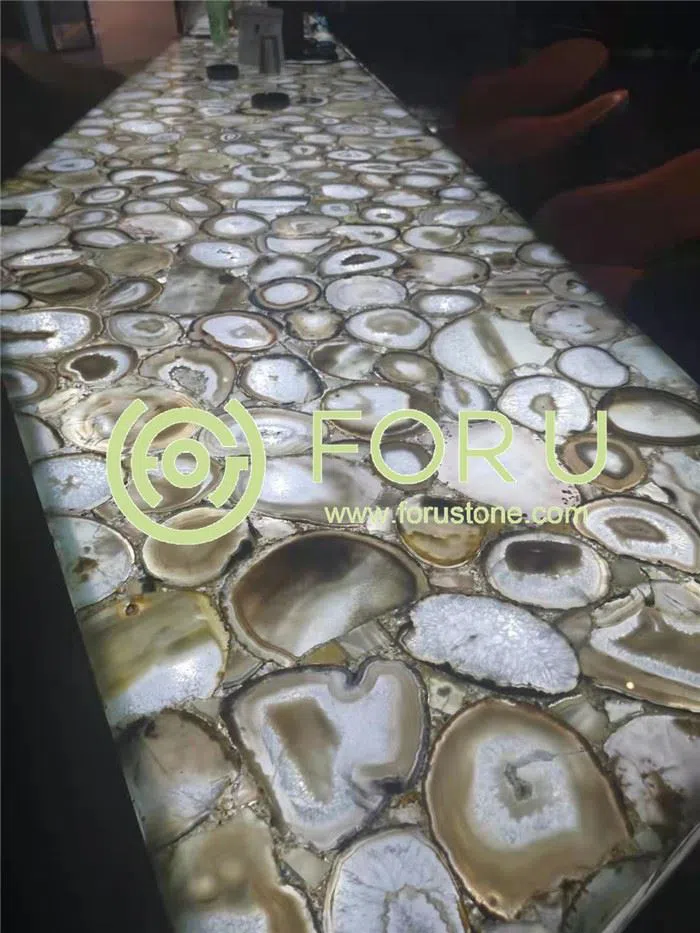 Yellow Agate Stone Countertop
Sample Provided
5MM Agate +15MM GLASS
Green Agate Slab
Agate Stairs
Agate Countertop
Agate Pillars
Blue Agate Wall
Red Agate Wall
Purple+Orange Agate Wall
Quality Control
We are committed to being positive & aggressive in our attitude towards quality and customer service. We will not allow quality to take second place behind cost or schedule as this is our basic strategy for growth.
* Inclusions:
No more than two (2) pits, inclusions, contaminants, voids, or bubbles at a maximum diameter of 1.5 mm are allowed on a 1220mm X 2440mm sheet.
* All sheets are to be covered with protective masking.
* Surface:
No more than two (2) scratches, scuffs, streaks, irregularity, or texture flaws at a maximum length of 3 mm are allowed on a 1220mm X 2440mm sheet. Surface damage will be evidenced by damages in protective masking.
* Top material surface is to be planed and smooth with no evidence of machine lines.
* Bottom material surface is permitted to be course with machine patterns.
* Aesthetics:
Bubbles or white spots:
Must be limited to 50mm in diameter to any single area on a sheet
Only two (2) bubble or white spot areas are permitted per sheet.
No single color within a shipped order may contain more than 10% of sheets with bubbles or white spots – even if the above specifications per sheet are maintained.
* Flatness: No more than 3 mm of bowing from the center of the panel to any exterior edge.
* Chips/Cracks: No chips or cracks on the corners or edges of the panel are tolerable.
Packing and Loading about Green Gemstone Agate Marble Slabs
1) Slabs with wooden bundles;
2) Tiles and other cut to size products with wooden crates or pallets;
3) Pebble stones and stone chips should be packed with PVC or woven bags;
4) All the wooden packaging should be Treated and Marked in compliance with ISPM 15;
5) We can load 18-27tons of goods in one 20 feet container, the cargo weight depends on different countries raw;
6) We can ship the cargos by vessel, truck, train, or airplane.
FAQ
Q1:Sample delivery
A1:Samples are usually for free, but the freight would be charged. After the order is confirmed, we would pay back the express cost.
Q2:What is your MOQ?
A2:Our MOQ is usually 50 square meters, depending on different kinds of material.
Q3:How long is the lead time?
A3:The time of delivery is about 10~30 after the deposit arrival, also depending on quantity.
Q4:Are you a manufacturer?
A4:Yes, we have our own factories located in Fujian.
Q5:Do you also make customized designs?
A5:Yes. We can do as per the client's requirements.
Q6: When we place an order, can I visit u factory to inspect goods?
A6: Yes, we are welcome to u come to visit us
Contact Me
For more specific information about natural marble, please feel free to contact me.
Name: Eric Hong
TEL:+86 136 5595 5495 Whatsapp/ Wechat: +86 136 5595 5495
Email: foru@forustone.com
Click marble to see more natural marble. Click artificial stone to see more artificial marble
Home Page: www.forustone.com/www.chinaartificialmarble.com
ADD:Binhai Road Shuitou Town ,Quanzhou Fujian,China.