Translucent Blue Stone Agate Slabs Countertops for Table Top and Wall Panels
Blue Stone Agate Slabs Countertops is polycrystalline, with a glassy and oily luster on the surface, a natural texture, and smooth gradation of color, giving it a strong sense of character, and a unique band. The backlit blue agate gemstone slab is made of natural agate slices, and the surface adopts high-strength polishing technology, which is smooth and delicate. Since each piece of raw material is genuine, the entire gemstone slab is unique. The unique texture and backlit effects of Blue Agate Stone Slabs have been favored by many designers, and it is an unusual artwork.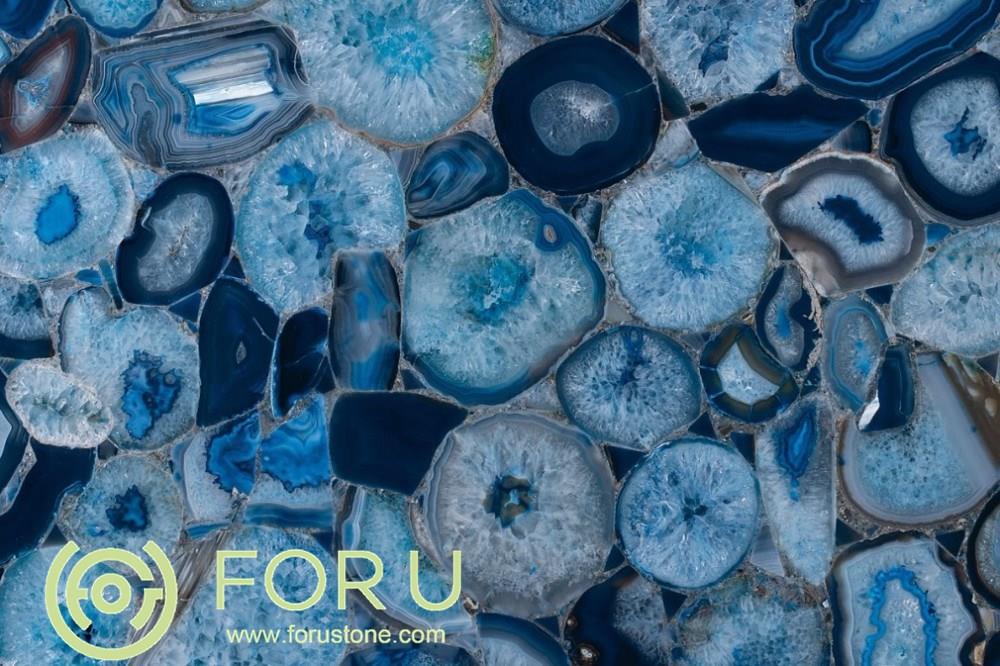 Our Blue Stone Agate Slabs Countertops is a famous crystal that allows you to express yourself freely. The meaning of this blue gemstone slab is calmness and strength. Semi-precious Agate Slabs cater to all types of designs from classic to contemporary. It is very effective in instilling contentment and peace. Available in an attractive color palette of agate slabs that give your interior a sophisticated and timeless look.
Blue Stone Agate Slabs Countertops's attraction goes beyond its visual beauty. It adds warmth and style to any home or office. Blue Agate slabs are known as talismans with excellent healing properties.
A slab of semi-precious blue agate stone adds charm and luxury to the room in which it is placed. FOR U STONE is one of the leading suppliers of a wide range of high-quality blue agate stone collections in China. The agate slabs countertops we offer are high-quality Blue agate slabs. In the Semiprecious stone, slabs are used in various applications, including countertops, fireplaces, exterior walls, chairs, and kitchen and bar counters. Blue is considered a pair of peace and anger flames. The agate slabs countertops are blind with many movements and colors.
Basic Info of Blue Stone Agate Slabs Countertops
Model NO.:

Blue 

Agate Gemstone



Size:

120cm up*200 cm up

Density:

2.7(g/cm³)

Thickness:

18mm

Technics:

Natural

Stone:

Natural Semi-precious Stone

Service 1:

 

Welcome Specified Size and Surface Finish



Service 2:

Supply The Photo of Products and Container Loading

Trademark:


FOR U

Transport Package:

Wooden Crates

Specification:

A quality

Origin:


China.

HS Code:

6802211000


This Blue Stone Agate Slabs Countertops is a type of chalcedony with bright blue streaks running through it (sometimes it appears white). There is no denying that blue agate is a beautiful stone.
Products Specification of Blue Stone Agate Slabs Countertops
Thin Backlit Tile

300x300x10mm, 305x305x10mm, 400x400x10mm, etc.

 Cut-to-size Tile

400x400x15/20/30mm, 500x300x20/30mm, 600x300x20/30mm

600x600x20/30mm etc.

Skirting

600~1000×80/100x10mm etc.

Stair

1000~1500×300~330×20/30mm, 1000~1500×130~170x20mm, etc.

Slab

1220*2440mm or customized

3000*1500mm

Countertop

1800x560x20/30mm, 2100x560x20/30mm, 2400x560x20/30mm, etc.

Size Tolerance

±1mm

Usage

Indoor & outdoor walls, stairs, countertops

Finish

Polished is the best option

Edge Finish

Polished, round, bevel, chamfer, honed, full bull-nose, half bull-nose, ogee, laminated, irregular, etc.

Certificate

CE

Quality Assurance

During the whole production process, from material choosing, and fabrication to package, our quality assurance people will strictly control each single
and every process to ensure quality standards and punctual delivery
Blue Stone Agate Slabs Countertops has long been said to aid stability and balance. It promotes the release of negative emotions and promotes positive energy. Our Blue Agate surface offers another color option for introducing this fascinating stone into your environment. Warm and cold tones with a unique blue agate circular pattern add elegance to both traditional and contemporary designs.
FOR U STONE manufactures and exports resin-bonded aqua blue agate stone slabs in various shades and sizes. A blue agate plate made from natural agate is an unusual idea for a modern kitchen.
Semi-precious Blue Stone Agate Slabs Countertops | Photos 
Agate Slabs Countertops feature a luxurious and beautiful style, suitable for indoor decoration, such as instability, bathtubs, bar tops, reception tops, kitchen counters, etc. An Agate Countertop Slab achieves good strength and rigidity, is wear-resistant, compact, and can withstand all kinds of daily scraping. It also has strong stain resistance, is easy to clean, easy to take care of, and can be brightly cleaned with a towel. More importantly, this Deluxe Agate Countertop Slab has ultra-low water absorption, is efficient, and is functional for home use, especially when wiping the surface or near the bathroom or kitchen, you don't have to worry about water stains.
Why is Agate Countertop Slab famous for interior designs?
Agate slabs for kitchen or bathroom worktops are today's most demanding gemstone surfaces, due to their incredibly beautiful appearance and backlighting ambiance. Agate has been said to be a healing stone since ancient times.
These semi-precious stone agate slabs are ideal for countertops, tabletops, backsplashes, living room decor, shower screens, bar tops, countertops, kitchen tops, bathtub surrounds, and many other luxurious interior decorations.
How many Agate Colors can FOR U STONE provide?
FOR U STONE manufactures agate slabs and kitchen, and bathroom countertop surfaces in various colors.
Our limited collection includes Black, Brazilian Black, Botswana Black, Brazilian Blue, Indian Blue, Blue Gold, Blue Crystal, Blue Gabba, Blue Lace, Carchi, Purple Crystal, Yellow, Green Onyx, Gray, Gray Golden, Gray Wild, Jacuzzi, Multicolor.
Agate Kitchen Countertop Slab is a beautiful color that becomes even more vibrant when backlit. Agate Gemstone Countertops add instant luxury to any room in your home as a countertop, backsplash, vanity top, bar top, or simply a work of art. If you're looking for a natural stone that is a truly unique addition to any home, a prefab agate backlit kitchen countertop may be just what you're looking for.
What Is Agate Real Be?
Agate is a translucent variety of microcrystalline quartz. It is used as a semi-precious stone if it has the desired quality and color. Agate is generally formed by the deposition of silicic acid from groundwater within cavities of igneous rocks. Agate is deposited in concentric layers around the walls of the cavity or in horizontal layers that build up from the bottom of the cavity. These structures create the characteristic striped pattern of many agates. Some of these cavities are lined with crystals and these are called geodes. Agate comes in various colors, including brown, white, red, gray, pink, black, and yellow.
Our bold blue agate and geode stone slabs are crafted using the best semiprecious stones and come with a guarantee for the finest craftsmanship and quality. Our Blue Agate Slabs For Kitchen or Bathroom Countertops Surfaces offer another color option to introduce this intriguing stone to your environment.
Standard size in centimeters and Feet-240×90 centimeters | 8×3 feet
Customization Possible – Yes
Thickness – 8mm, 12mm, 20mm
Edge – Standard, Bevel (1/4″, 3/8″, 1/2″), Bullnose (Radius), Full Bullnose, Demi Bullnose (waterfall), Reverse Bevel, Double Bullnose, Ogee
Surface Finish – Glossy
Form – Slab, Tile, and customs
Material – Agate and geode
Application – backsplashes, benchtops, kitchen islands, wall panels, kitchen countertops, backlit countertops, accent
Color – Aqua Blue, Bold Blue, and other shades of blue
Blue Stone Agate Slabs Countertops for Kitchen and Bathroom

-Blue Stone Agate Slabs Countertops for Office and Home from FOR U STONE.
The latest entry into the interior designing industry is the Natural Agate Stone Slab. The Agate Slabs Countertops are made of natural agate stone that is cut into thin slices and then polished to create a smooth surface. The natural agate stone is known for its beauty and durability, making it a perfect choice for use in interior design. These multi-story, semi-precious, natural blue agate kitchen countertop slabs are beautiful and homeowners, architects, and current designers of interior designers all love them. Blue Semi-precious Agate is a popular gemstone because of the wide range of patterns and colors available. The translucency of agate makes it unique and desirable.
Blue Agate Gemstone Project Gallery | FOR U Stone
-A Wild Range of Blue Stone Agate Slabs Countertops For Interior decoration projects, from wall, table, floor, and countertop designs.
Semi-Precious Blue Agate Slabs are used in various applications such as countertops, fireplaces, exterior walls, chairs, kitchens, bar counters, etc. Blue is considered as a pair of peaceful and furious flames opposite. The blue agate stone slab is blind with lots of movement and color.
The Quality and Package by FOR U STONE
The quality of all products is strictly under our control, so we could ensure that what we offer you is a superior and quality product. From the beginning of production to the examination of finished goods, we all try our best to avoid any mistakes carefully.
We are a manufacturer and exporter of beautiful gemstone products such as slabs, tabletops, flooring, wash basin, and more. Our products are perfect for adding a touch of luxury and elegance to your home. With our wide range of products, you are sure to find the perfect one for your needs. We strive to meet the needs and expectations of our customers by providing them with high-quality products they will enjoy. We always follow moral business policies and maintain complete transparency in all our transactions to keep healthy relations with our customers.
Delivery, Shipping, And Service
Packing and Loading of Blue Stone Agate Slabs Countertops
Packing & Delivery

♦ Packing Detail

1) Inner packing: Cartons or foamed plastics (polystyrene).

2) Out-packing: Seaworthy wooden crates with fumigation.

♦ Delivery Detail

1) Delivery Time: 25~40 days after the order is confirmed.

2) Shipping Port: Foshan Port, China
Basic FAQs of Our Agate Slabs Countertops
Q1. Where should the Agate Slabs Countertops be used?
A: All Agate Slabs Countertops stones must be used indoors, such as in kitchen worktops, bathrooms, vanity tops, and floor tiles, which are not exposed to direct sunshine.
Q2. Why should we use Agate Slabs Countertops other than natural stone?
A: Compared with natural stone, Agate Slabs Countertops has higher density and hardness, less water absorption, is more durable and less maintenance and has a better consistent color tone.
Q3. How should the Agate Polished Slabs be stocked temporarily?
A: The luxury Agate Slabs Countertops must not be exposed to the sunshine directly, and slabs must be erected.
If you're interested in our blue Agate Slabs Countertops, you are welcome to buy quality products at an affordable price with us. As one of the leading Semi Precious Stone manufacturers and suppliers in China, we also support wholesale service. For more info, contact us now.