The Brilliance of Faux Onyx Slabs: The Pinnacle of Sophistication and Practicality
Artificial Onyx Marble: the epitome of luxury, versatility, and innovative design, is redefining modern interior aesthetics. It presents an enchanting harmony between the allure of natural stone and advanced manufacturing technologies. Artificial onyx, with its captivating visual appeal and outstanding performance characteristics, is becoming a leading choice for interior decorators and designers worldwide.
The journey from natural jade to artificial onyx marble signifies a significant step forward in interior decor, offering a new palette of possibilities for residential and commercial spaces. Combining aesthetics, functionality, and durability, these Cultured Onyx Marble elements bring sophistication and elegance to various settings. They mimic the subtle hues, intricate patterns, and mesmerizing translucency of natural onyx, and yet, they surpass the latter with superior strength, wear resistance, and adaptability.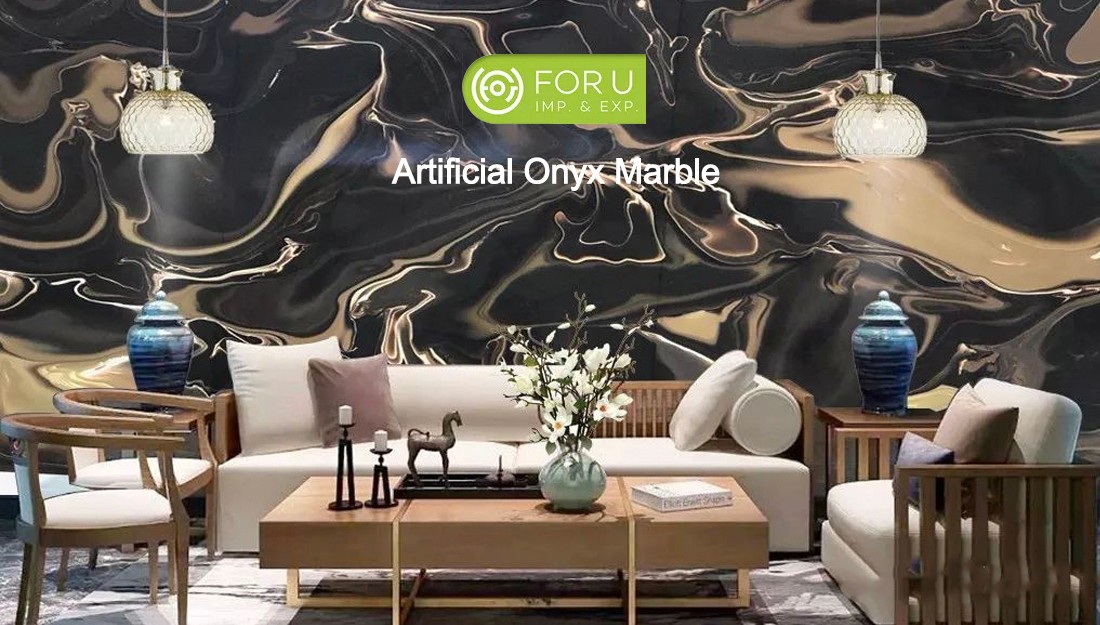 From the ice-cool glacier white to the mysterious ice purple, the striking colors of artificial onyx marble allow you to create distinctive environments. The color palette, derived from natural jade, is expansive and versatile, offering a choice for every preference and style. By choosing Resin Onyx Kitchen Countertops or Resin Onyx Stone Countertops, you can breathe life into your space, echoing your personality and taste in each corner.
The Cultured Onyx Marble Revolution
Cultured Onyx Marble, an engineered onyx stone, is making waves in the world of home decoration. This unique material has a unique allure that allows it to hold its own against traditional natural stone, making it a preferred choice for modern, design-savvy homeowners. As an artificial stone, Faux Onyx carries a host of practical benefits, making it a versatile addition to any décor project.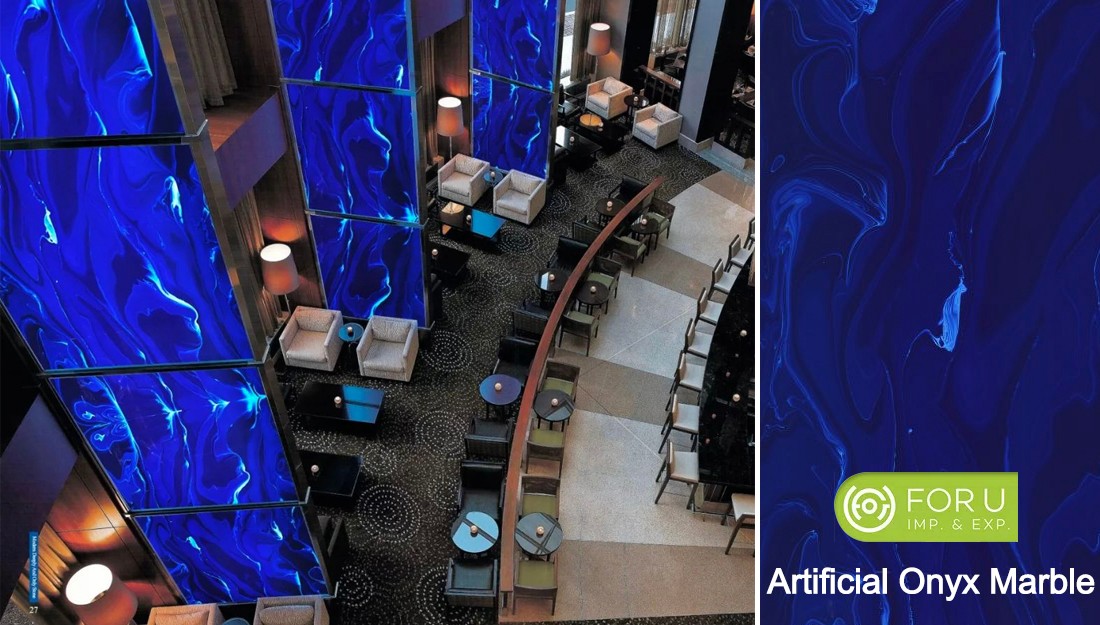 The Art of Versatility: Resin Onyx Stone Countertops
Resin Onyx Stone Countertops are as beautiful as they are practical. Available in a variety of visually striking colours, from jade green to deep sea blue and ice purple, these countertops offer a dazzling focal point in any kitchen or bathroom. With their high adaptability, Resin Onyx countertops can be customised to suit any personal preference or space requirement. Thanks to their wear resistance and corrosion resistance, they retain their pristine beauty, even under the most demanding usage.
Breathtaking Beauty: Man-made Onyx Marble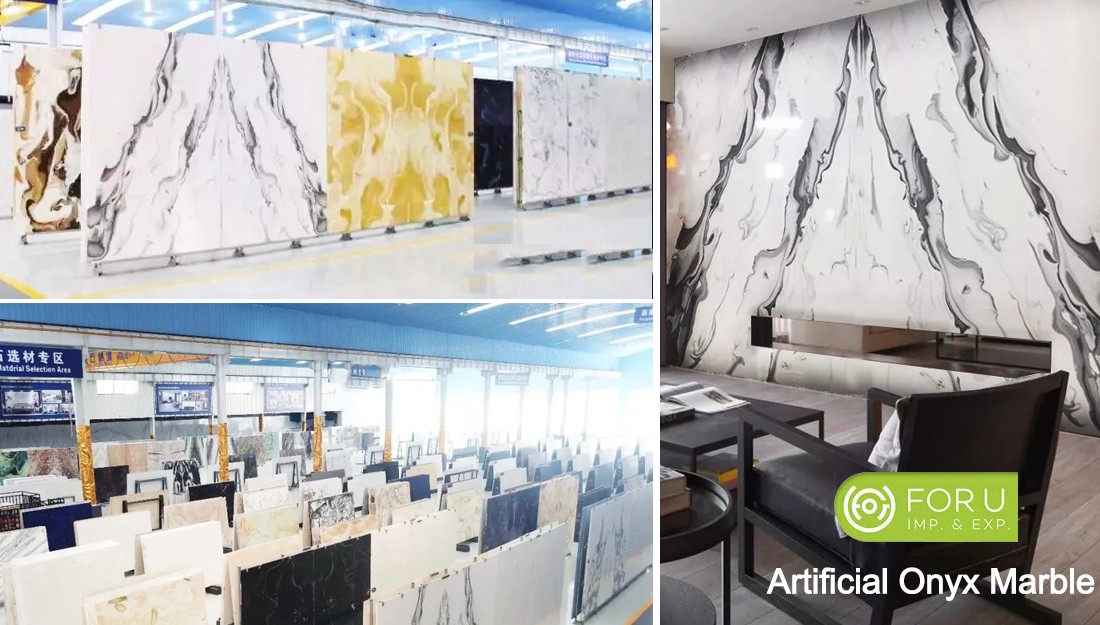 With its lush aesthetics and versatile application, Man-made Onyx Marble is transforming ordinary spaces into stunning works of art. From hotel lobbies to luxury villas, from sleek office buildings to sophisticated apartments, its application breathes life into any space, creating an aura of luxury and refinement. Available in a variety of shades and patterns, each slab is as unique as a piece of art.
A Harmony of Form and Function: Resin Onyx Kitchen Countertops
Kitchen counters designed with Resin Onyx Kitchen Countertops bring the grandeur of art galleries right into your home. Its dazzling aesthetics, combined with its high functionality, makes it an ideal choice for the culinary space. Besides, it's easily customizable to suit the specific dimensions of your kitchen, allowing for a perfect fit and a seamless integration into your design scheme.
The revolutionary artificial and cultured onyx bathroom countertops offer numerous advantages, taking interior design to new heights.
7 Advantages of Faux Onyx Marble:
Aesthetics: These countertops imbue any bathroom with a luxurious and elegant feel. The translucent properties of artificial onyx, in particular, produce a mesmerizing glow when backlit, adding depth and sophistication to the bathroom. The diverse color palette also allows for a seamless match with the existing bathroom decor, creating a cohesive and harmonious visual experience.

Durability: Artificial and cultured onyx countertops are not only beautiful but also extremely resilient. They boast high wear and impact resistance, meaning they withstand everyday use exceptionally well. Unlike natural stone, they are less prone to chipping, cracking, or staining, ensuring a prolonged lifespan.

Maintenance: These surfaces require minimal maintenance. A simple wipe-down with a non-abrasive cleaner is sufficient to keep them in excellent condition. They are also non-porous, limiting the growth of bacteria and mold, a crucial factor in bathrooms.

Customizability: Artificial and cultured onyx countertops offer unparalleled flexibility. They can be tailored to suit any bathroom layout, including complex designs with unique shapes or sizes. This flexibility makes them an excellent choice for both renovation projects and new builds.

Cost-effective: Despite their high-end look, artificial and cultured onyx countertops are relatively affordable, especially compared to their natural counterparts. They offer the perfect blend of luxury and practicality without breaking the bank.

Eco-friendly: These countertops also have an eco-friendly edge. The manufacturing process uses less energy compared to mining and transporting natural stone. In addition, their longevity means less frequent replacements, leading to less waste.

Temperature Resilience: Unlike natural stone, artificial onyx does not feel cold to the touch, contributing to a more comfortable user experience, particularly in cooler climates.
With all these attributes, it's easy to see why artificial and cultured onyx countertops are becoming a go-to choice for bathroom designs that aim for style, function, and innovation.
Faux Onyx Slabs from FOR U STONE Factory have managed to captivate the world of interior design with their unique aesthetics and practical benefits. Whether you're designing a hotel, planning a villa, or simply redecorating your kitchen or bathroom, these slabs offer the perfect blend of beauty, durability, and versatility to elevate your space to new heights of luxury.

Related Products