Unveiling an Oasis of Luxurious Tranquility: Italian Silver Grey Travertine Defines Opulence in Beijing's Duplex Penthouse
Top Luxury Duplex Marble Application: Italian Silver Grey Travertine in the Eyes of Luxury Brands
Project address: No. 1 Tongying Sanlitun, Beijing
Building area: 550 square metres
Natural Stone Material: Silver Travertine Tiles, Brown Marble Floor Tiles, Marble Fireplaces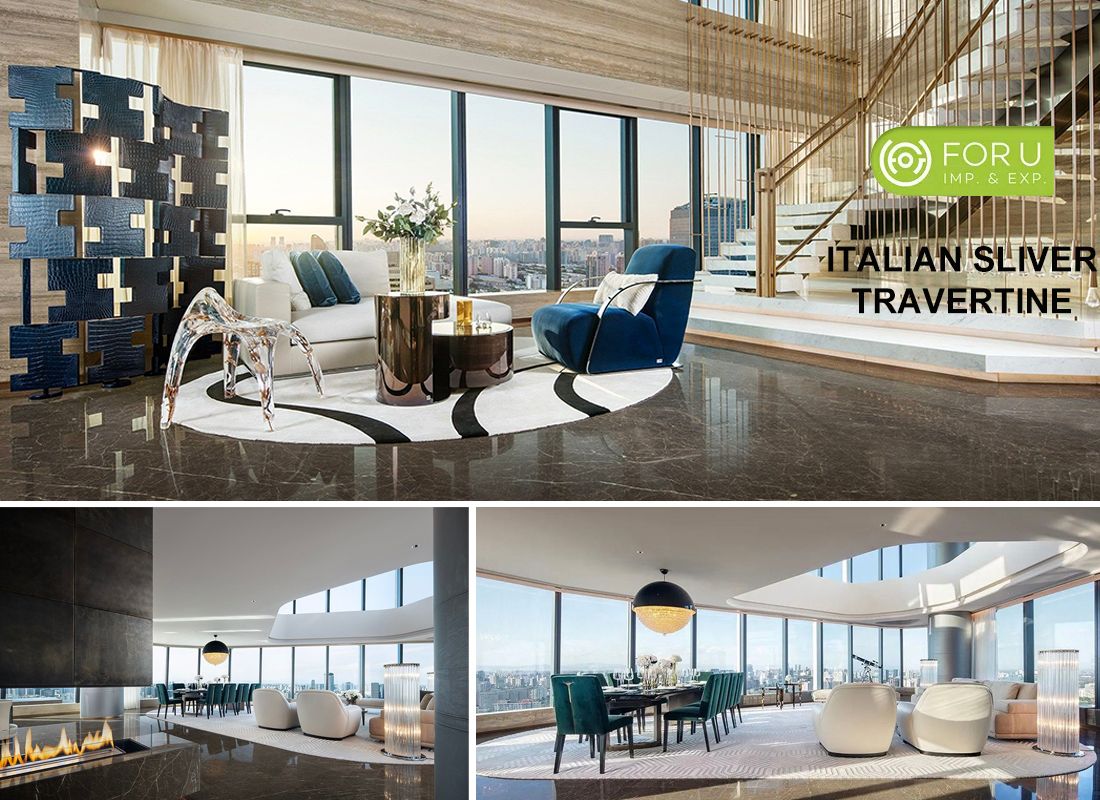 The Grandeur of Arrival: A Majestic Gateway Design
Stepping into this majestic penthouse greets you with a soaring 6.2-metre-high foyer, led by a striking marble staircase sculpted to perfection. A resplendent sky visible through vast windows appears to bridge the gap between the earth and heavens. The presence of a water-based resin single chair, a signature of FENDI's beloved "water" element, offers a playful twist to this entryway.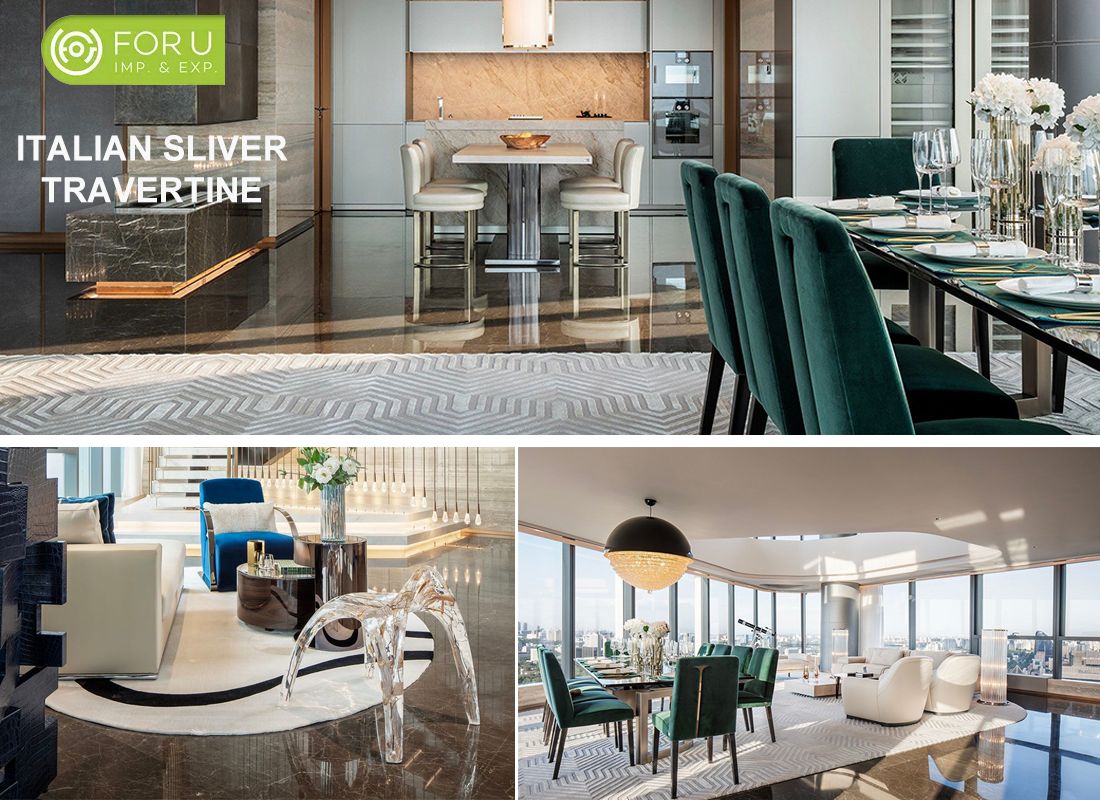 The Hearth of Elegance: Luxury Personified in Living Room Design
Experience luxury like never before in a large living room, where the velvet armchairs, fireplaces, and marble niches echo opulence. The extensive use of brass elements meticulously intertwines classical and modern aesthetics, showcasing FENDI's iconic style. An artfully designed hollow ceiling and circular glass present a breathtaking panorama of vibrant Sanlitun, transforming the space into a celestial abode by night.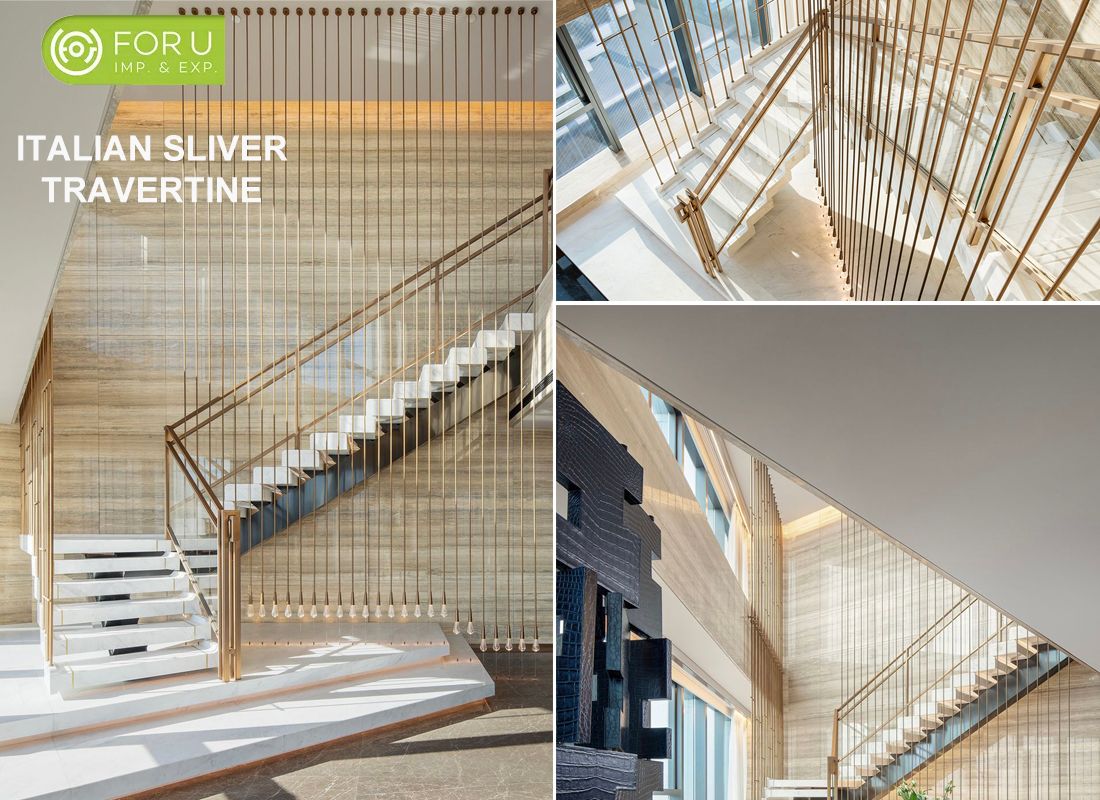 The Staircase of Inspiration: A Fusion of Tradition and Modernity with Sliver Travertine Wall Tiles
The city of Rome, the "Fountain City," signifies an eternal wellspring of vitality, which is echoed in the exquisite chandelier design adorning the staircase – an abstract evolution of a fountain. Paired with shiny metal handrails, the staircase exudes a modern elegance. Taking inspiration from Rome's renowned Spanish square, the white marble staircase akin to piano keys seems to produce melodious music as you ascend into the private sanctuary – the bedroom.
This luxurious duplex project exemplifies the exquisite application of Italian Silver Grey Travertine, blending a high-end Italian luxury brand's design aesthetics with Beijing's penthouse space. It exhibits a harmony of timeless elegance and contemporary sophistication, creating a space that both inspires and impresses. A prime example of luxury interior design, this project not only showcases the beauty of natural stone but also elevates it to a whole new level of grandeur.

Related Products