Reimagining Home Interiors with FOR U STONE Sintered Stone
When it comes to interior applications, sintered stone is increasingly chosen for its sheer aesthetic versatility. With a multitude of colors and finishes available, ranging from pristine whites to striking blues, from muted greys to sleek blacks, and even marble-like surfaces, there is a sintered stone to suit any design scheme. The sophisticated palette offered by FOR U STONE Sintered Stone ensures an ideal blend of trend and tradition, catering to a wide spectrum of personal styles and tastes.
At the heart of every home, furniture is not just a utility but also a style statement. With the evolving market dynamics, the demand for custom-made furniture, capable of catering to individual tastes and needs, has increased exponentially. The choice of material used in crafting these custom pieces is a critical determinant of their quality. Among the various options available, sintered stone stands out as an ideal choice, perfectly aligning with market expectations of dustproof, waterproof, and fireproof characteristics.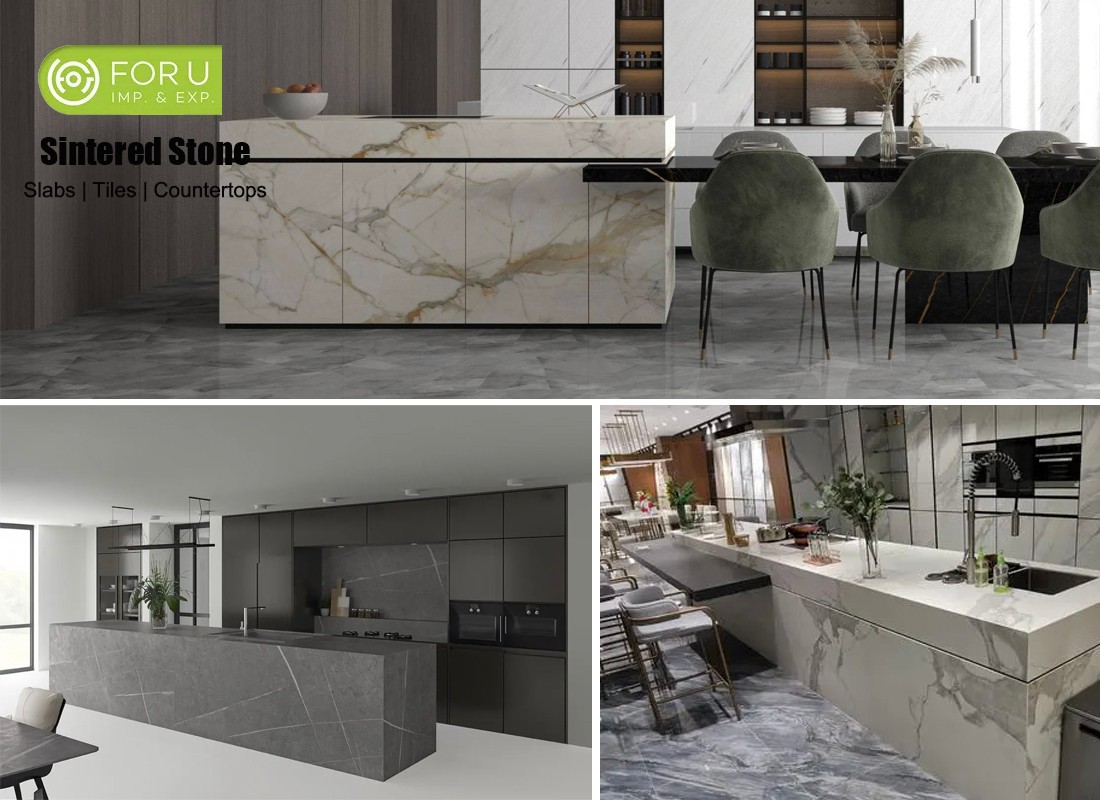 Transform Your Countertops with Sintered Stone
Whether it's the kitchen, dining area, or bathroom, sintered stone countertops are making a mark everywhere. With their large format, these slabs ensure seamless integration of cleaning and cooking spaces, reducing grooves and making them easier to clean. As a countertop for dining tables, the lightweight and thin sintered stone slabs introduce a modern minimalist aesthetic that is rapidly gaining popularity. From kitchens to bathrooms, the generous selection of hues and styles of these slabs can satisfy the most discerning of tastes.
Reinvent Your Doors with Sintered Stone Panels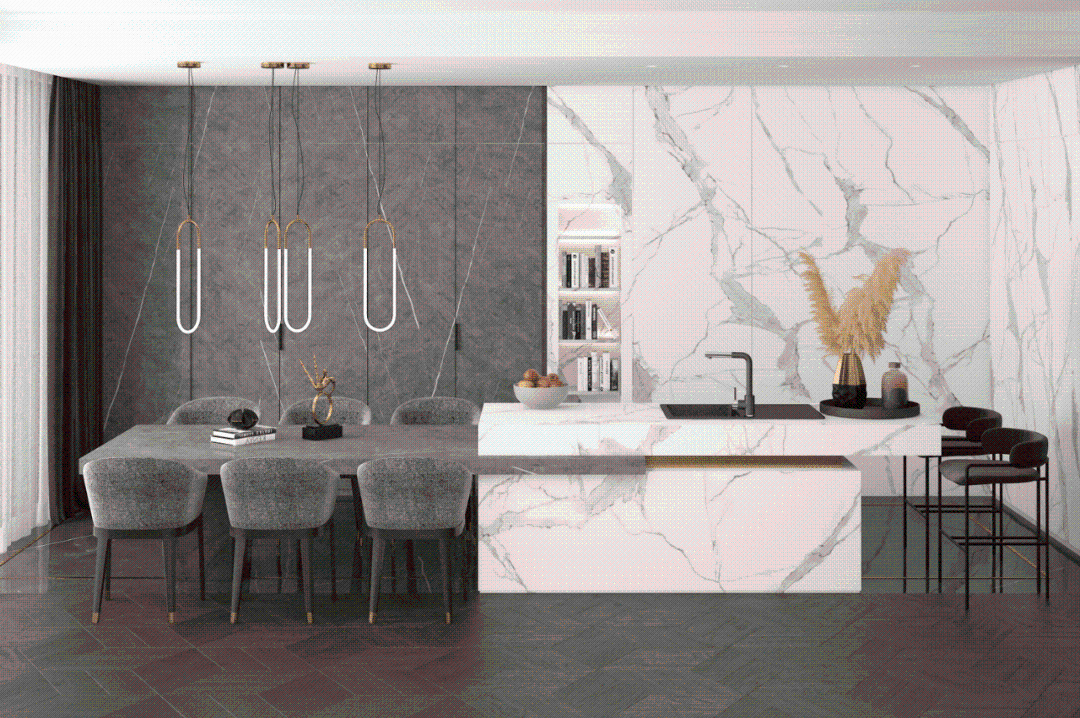 Sintered stone's applications extend beyond countertops to the realm of door panels. Custom home products, particularly wardrobes, can greatly benefit from the large format of sintered stone panels. Their realistic 3D texture and smooth feel create an ambiance of light luxury. Compared to solid wood and artificial boards, sintered stone panels are resilient, warp-resistant, and non-fading, making them the ideal choice for closet doors.
Bring Your Walls to Life with Sintered Stone
Home spaces, including walls and floors, require large-scale coverage. Large sintered stone panels, with their complete and highly customizable textures, offer an excellent solution. These panels reduce the risk of visible seams, creating a cohesive and harmonious look. Sintered stone feature walls or sintered stone wall tiles can enhance the design and tone of any space, creating a powerful visual effect that exudes luxury.
The Revolution of Sintered Stone in Home Furnishing
In conclusion, sintered stone is a game-changer in the world of custom home products. From sintered stone kitchen countertops to closet panels, from feature walls to stairs, its applications are as varied as they are impressive. FOR U STONE Sintered Stone promises unmatched quality, ensuring your home interiors are not just beautiful, but also durable and environmentally friendly. So, whether you're considering sintered stone tiles for your kitchen or contemplating a sintered stone panel for your wardrobe, remember, with this material, you're investing in a timeless solution that perfectly fuses form and function.
Elevate Your Living Spaces with Sintered Stone
In living areas, sintered stone panels offer an extraordinary design opportunity. A sintered stone feature wall in your living room, for example, can serve as an arresting focal point, commanding attention with its stunning texture and finish. Furthermore, due to its remarkable durability and low-maintenance requirements, sintered stone is an excellent choice for high-traffic areas such as hallways or entrance spaces. Sintered stone floor tiles are not just stylish but also highly resilient, making them a practical choice for busy homes.
Embrace Luxury in Bathrooms with Sintered Stone
For bathrooms, Sintered stone vanity tops provide a luxuriously sleek and modern look while ensuring long-lasting durability. Being resistant to water, heat, and stains, sintered stone is a perfect material for bathroom spaces, where hygiene is of paramount importance. Beyond countertops, sintered stone can be used to craft elegant shower enclosures, bathtubs, and even wall coverings, providing a spa-like feel right in the comfort of your own home.
Sintered Stone in Modern Kitchen Design
In kitchens, sintered stone countertops provide a seamless and clean aesthetic. Being resistant to high temperatures and scratches, they can handle hot pots and pans as well as knife cuts without losing their lustre. Additionally, sintered stone kitchen top and backsplash create a visually appealing continuity, enhancing the overall look of the kitchen while also offering practical benefits.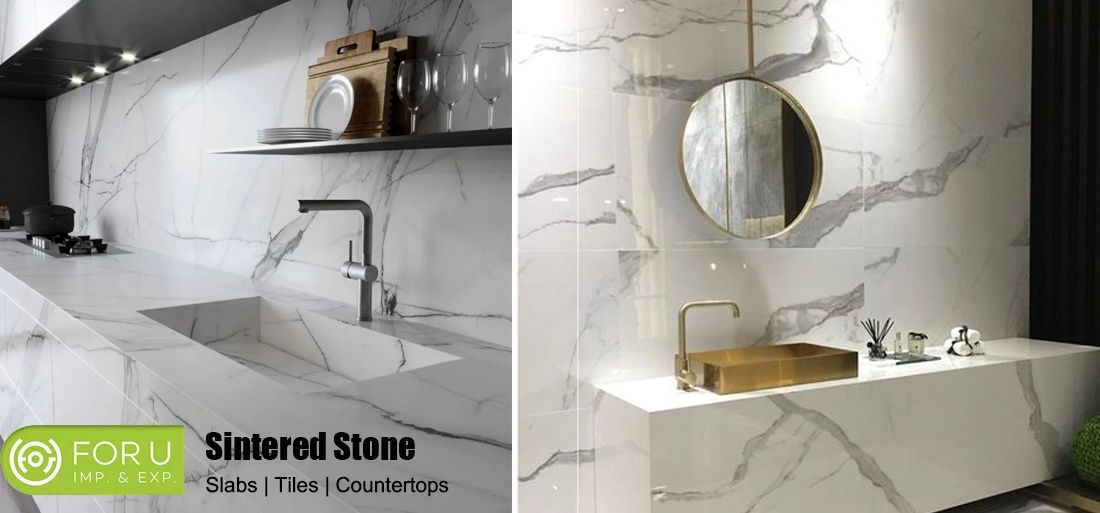 Innovative, durable, and incredibly versatile, sintered stone is revolutionizing the way we approach interior design. Its superior performance characteristics coupled with its stunning aesthetic possibilities make it the ideal material for custom home products and interior applications. Whether you're looking to create a minimalist chic space or an opulent sanctuary, sintered stone is a perfect choice. Transform your home with FOR USTONE Sintered Stone and explore the remarkable possibilities this material offers for creating luxurious, sustainable, and enduring interior spaces.

Related Products