The Crown Jewels of Italy: Discover the Premium Quality of Italian White Marble
Italy, the country known for its remarkable contribution to art, architecture, and fashion, also holds a prestigious position in the world of natural stones. With the world's best marble reserves, Italy houses several marble varieties, but among them, the Italian White Marble stands unchallenged as the most sought after. Within this category, Bianco Carrara, Calacatta, and Statuario emerge as the triumvirate of excellence, adorning a myriad of architectural and interior design projects around the globe.
The allure and popularity of the top three Italian white marble materials – Bianco Carrara, Calacatta, and Statuario – lie in their innate characteristics, historical connotations, and versatile application in interior design. These luxurious materials are celebrated by designers worldwide, gaining recognition as high-quality, aesthetically pleasing choices for various commercial building projects.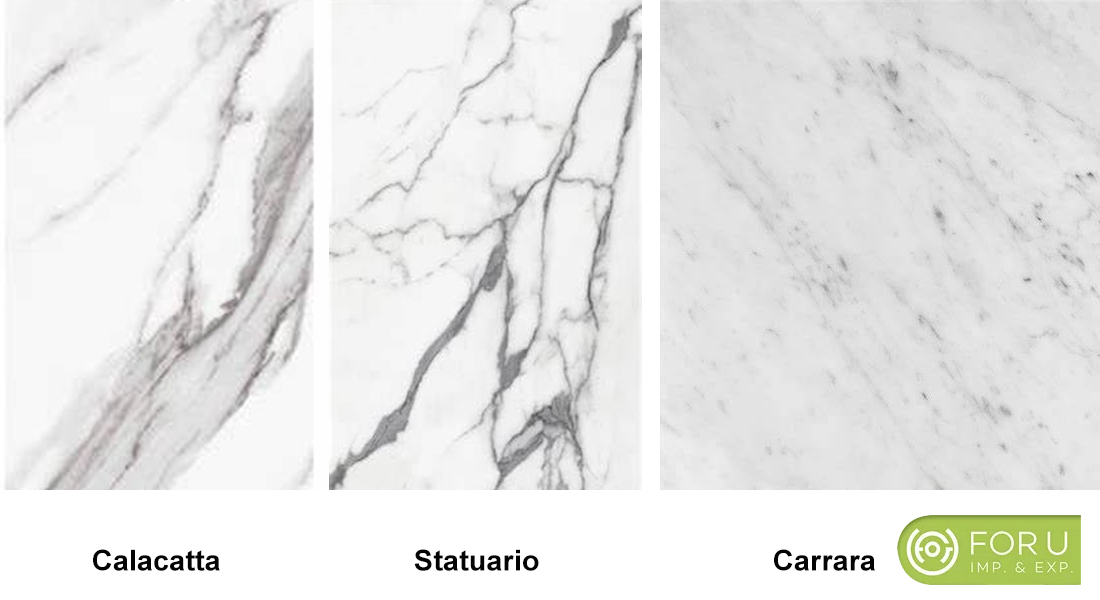 Bianco Carrara White Marble: Originating from the city of Carrara in Tuscany, Bianco Carrara is a hallmark of Italian marble craftsmanship. This marble type, characterized by its white or blue-grey hues, adorned with soft grey veins, is synonymous with classic Italian artistry. Whether transformed into white marble slabs, tiles, or used in white marble floor and wall tiles, Bianco Carrara adds a refined touch to every space it graces. Its relatively higher porosity necessitates chemical treatment, making it ideal for spaces like bathrooms, where it encounters water frequently.

Calacatta White Marble: A rarer and more expensive variety of Italian white marble, Calacatta, hails from Carrara as well. Its signature characteristic lies in its bold, thick, dark grey veins contrasted against a pure white base, often accompanied by golden and brown undertones. Its distinctive contrast and unique appeal make Calacatta a luxury symbol, frequently seen as white marble slabs and tiles in designer homes. Due to its moderate porosity, this marble also requires a chemical treatment for its usage in kitchens or bathrooms.

Statuario White Marble: Known for its unique soft and shiny appearance, Statuario is a rare and exclusive marble variant. This marble is pure white with characteristic gray and gold veining in a striking, bold pattern. Originating from the mountains above Carrara, this stone offers the versatility of applications ranging from polished, glossy wall claddings and countertop backgrounds to slightly rough finished flooring. It also serves as a perfect material for luxury bathroom designs with its evergreen lustre.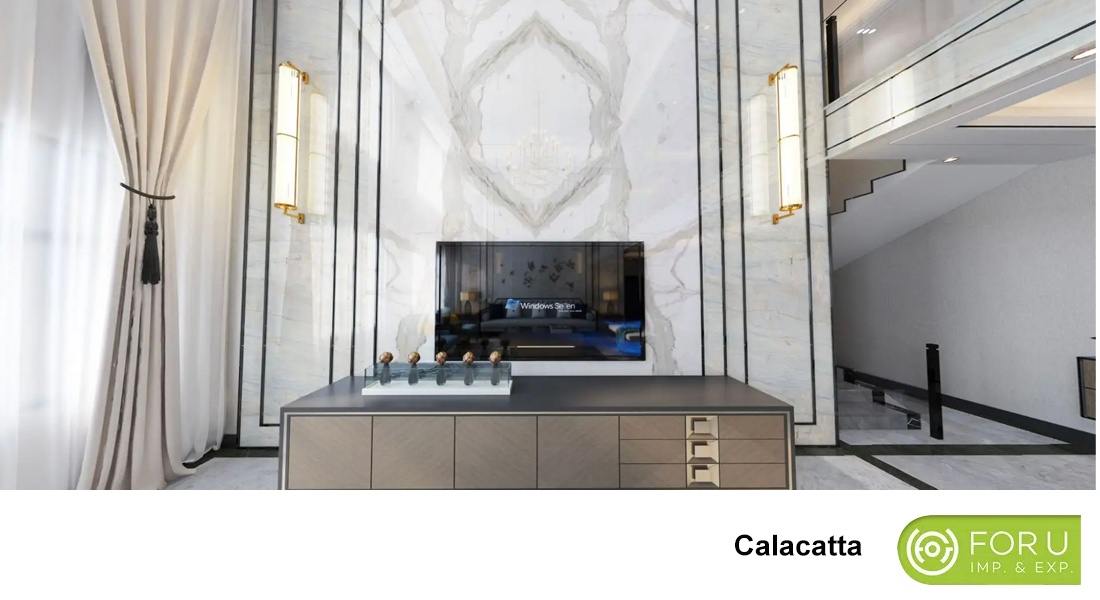 Firstly, their timeless beauty and elegance are paramount. The natural patterns and veins found in these marbles result in an endless array of designs, which ensures that no two pieces are alike. This uniqueness is highly valued in design, offering a bespoke finish to any space. The Carrara marble, for example, is distinguished by its white or light grey base color accentuated by striking veins of blue-grey or grey, creating an elegant and sophisticated aesthetic.
In addition, the appeal of these marble materials transcends time and trends. They are a representation of timeless style, which never goes out of fashion, resulting in attractive, enduring spaces that require little refurbishment over the years. The 2023 interior design trend also confirms a significant preference for the maximalist approach, emphasizing bold designs, color, and print. This dynamic approach aligns perfectly with the robust visual statement made by Italian white marble, underscoring its relevance and popularity.
Italian white marble materials are also associated with luxury, class, and premium quality. The application of these materials in design schemes is often indicative of high standards and exclusivity. For instance, Statuario marble, renowned for its white or grey color with veins of grey or gold, is one of the most expensive types of Italian marble, often used in high-end commercial projects like hotels and luxury yachts.
These marbles also display an exceptional versatility in design, fitting seamlessly into various decorative styles. From classic to modern and minimalist designs, these marbles can be incorporated into all types of projects, proving their wide-ranging appeal.
Lastly, the use of these materials in interior spaces can promote well-being. The clean, white aesthetic of these marbles can convey calm and tranquillity, making them a perfect choice for creating serene, comforting spaces. Designers are leaning towards creating environments that evoke emotion, and the natural beauty of these Italian white marbles significantly contributes to this cause.
In conclusion, the top three Italian white marbles – Bianco Carrara, Calacatta, and Statuario – are greatly admired for their unique beauty, timeless elegance, luxurious connotations, design versatility, and their ability to promote well-being. Their continued popularity in 2023 and beyond can be expected as designers and architects around the globe recognize their unique value in creating spaces that are not just visually stunning, but also evoke a profound emotional response.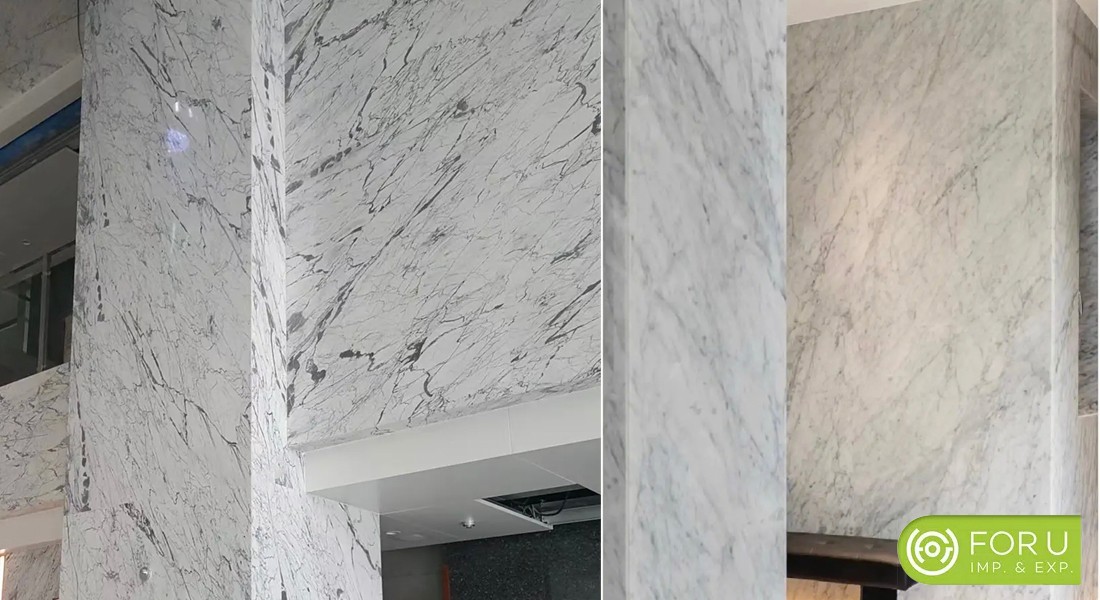 With their distinguished attributes, Bianco Carrara, Calacatta, and Statuario stand as the epitome of opulence and luxury, adding aesthetic value to any architectural or interior design. Whether you are considering white marble bathroom tiles or envisioning a luxurious marble-floored living space, these Italian white marbles promise unmatched elegance and timeless beauty.
No matter the application, from white marble floor tiles to grand white marble wall tiles, these three Italian white marbles command a prestige that transcends trends and fads. Representing the apex of luxury, these marbles transform any space into a testament of timeless elegance and sophistication. Choose the Italian White Marble to make a resounding statement of unrivaled aesthetic and enduring grandeur.

Related Products