Classic Top 5 Natural White Marble For Luxury Interior Deco
For U Stone is a prominent maker of white marble slabs, marble countertops, white marble tiles, White Marble Columns, White Marble Wall Facade and staircases in China.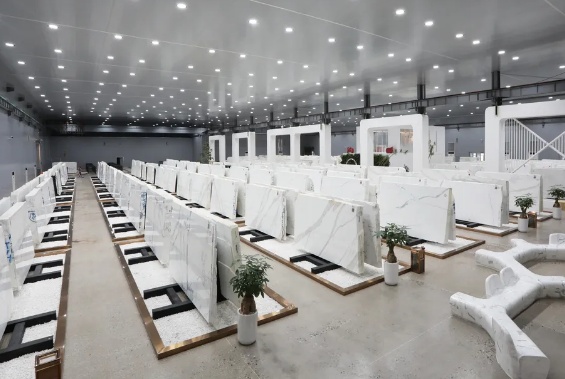 White marble is a five-star natural stone used in numerous interior décor. White marble has a warm disposition, and its natural texture is pure and flawless.
Natural Marble may be the way to go if you want to adorn your home with magnificent stones. It's long-lasting, stylish, and appropriate for any setting. However, deciding on a color for a marble slab or flooring might be difficult. When it comes to marble, there are several possibilities available on the market. In this blog article, we will discuss the most popular white marble trends for 2023, as well as useful hints for selecting the best white marble for your space.
It appeals to young people since it is simple and beautiful while yet having a casually refreshing feel. Then check out the top five White Marbles listed below.
What do you consider to be the most traditional white marble?
Top 1-The Most Luxurious White Marble From Italy- Calacatta White Marble
Calacatta White Marble is an Italian white marble quarry. Pure white and sophisticated gray create elegance between gray and white. There appears to be something else between the square inches, giving individuals endless possibilities. Designers and owners adore it.
Calacatta marble is a white marble mined in Italy. It is pure white with an attractive gray streak pattern that demonstrates elegance.
It appears to be one-of-a-kind and leaves individuals with boundless imagination. Many designers and constructors adore it.
This sophisticated natural stone is ideal for gorgeous Calacatta marble slabs, marble countertops, eye-catching kitchen islands, and marble tile flooring.
Calacatta marble backsplash or shower surround A large selection of complementing wall tiles for design and installation versatility.
There are floor tiles and mosaic tiles available.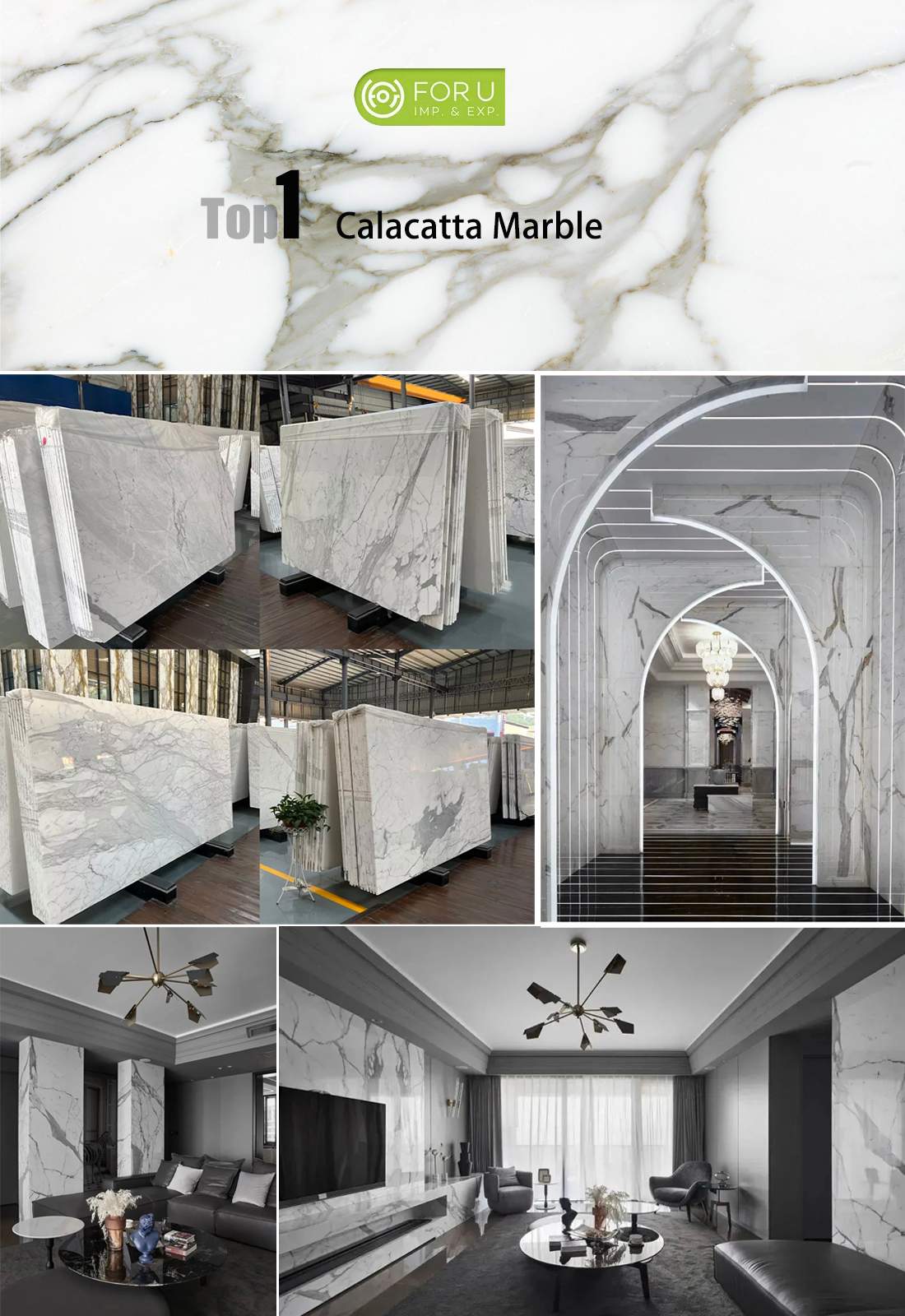 -Luxurious Interior Designs with Calacatta White Marble Tiles | FOR U Stone as Calacatta White Marble Suppliers and Producer in China
White Calacatta marble is elegant and lends a touch of sophistication to any decor. Consider utilizing white marble in your design to bring a sense of sophistication to your house.
The golden pattern Calacatta marble, with its pure white surface and faint gold veining throughout the stone, is ideal for adding glamor and appeal to houses and luxury hotels. The golden Calacatta white marble, found in Italy and marketed worldwide, is commonly used for flooring, stairs, dressers, and other ornamental things.
Top 2- Classico White Marble From Greek-Volakas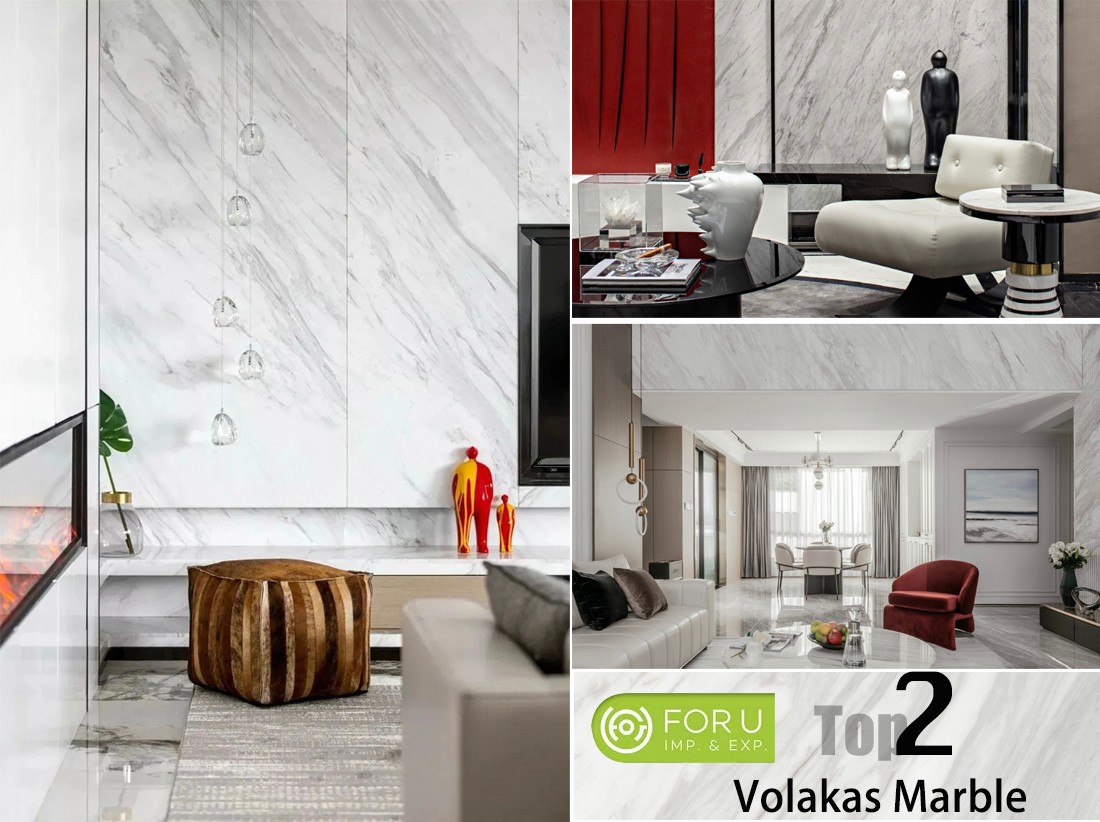 -Traditional White Marble Volakas is one of the most hot selling marble colors in FOR U STONE
Volakas White marble has been used in design for years, but it has only just made a huge reappearance. White Volakas Marble is now being used in design projects ranging from home décor/commercial real estate interior space to fashion items due to its elegant and timeless appearance.
Marble Volakas white was created in ancient Greece and is considered the most exquisite stone. The creamy white series features distinct stripes, rich texture, dignity, natural and unique texture, and embodies not only the historical vintage feeling of décor, but also the current sense of fashion. conveys and emphasizes the ornamental style.
Top 3- The most white marble color in the world-Ariston White Marble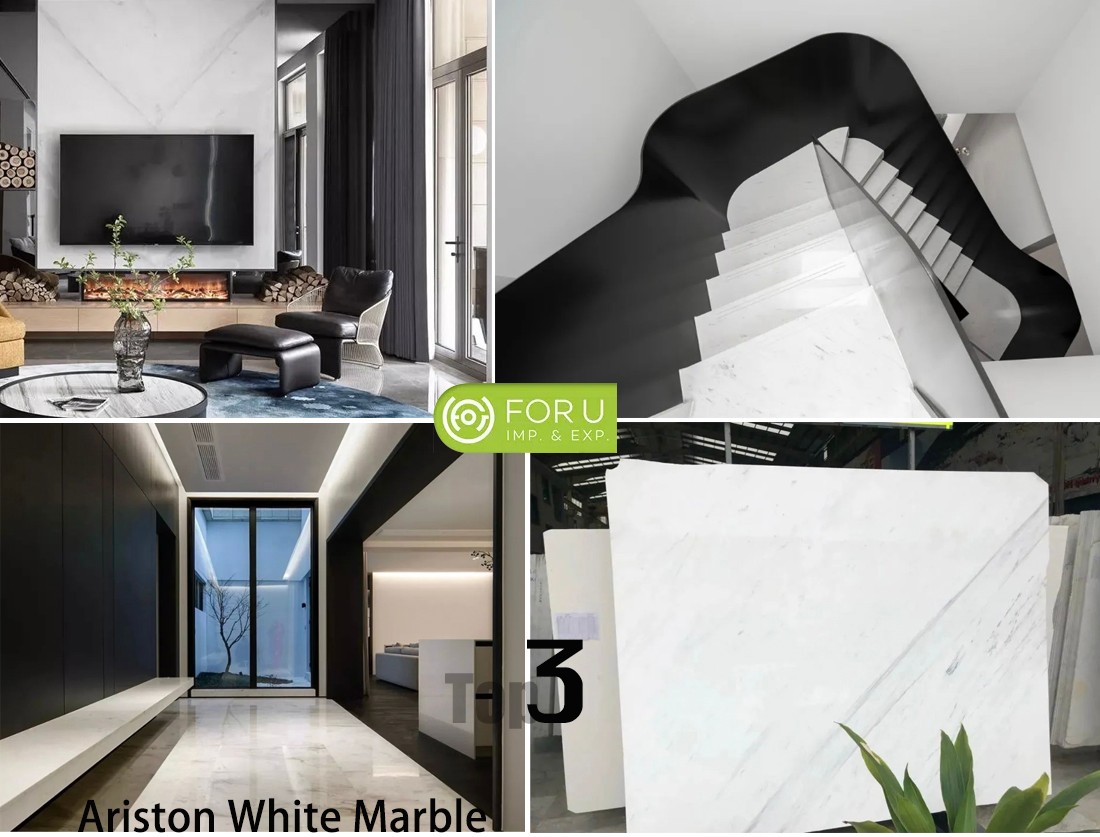 The sight and feel of well polished white marble has traditionally imparted an air of sophistication to rooms and settings. Quarrying marble was a time-consuming and difficult operation, but the ancient Romans and Greeks believed in the power of stone. It was used to make a variety of sculptures and constructions.
Luxurious and Elegant Ariston White Marble is a lovely House Owners, Designers, and Marble Retailers in the same way as Volakas Marble is an attractive goddess.
Ariston Marble is from Greece and has its roots there. The backdrop is milky white and glossy, with a distinctive texture and natural landscape design. It is a type of marble that has a somber and majestic hue, is noble and exquisite, and has a more modern and opulent style.
Top 4- Polaris White / Bianco Sivec Marble Ordered from FOR U Stone Marble Collections
Elegant Sivec Marble is an Italian white marble that appears sophisticated while remaining inexpensive for all budgets. These tiles, also known as Bianco Sivec, White Sivec, or White Sivec Marble, are appropriate for commercial and residential buildings with traditional interiors.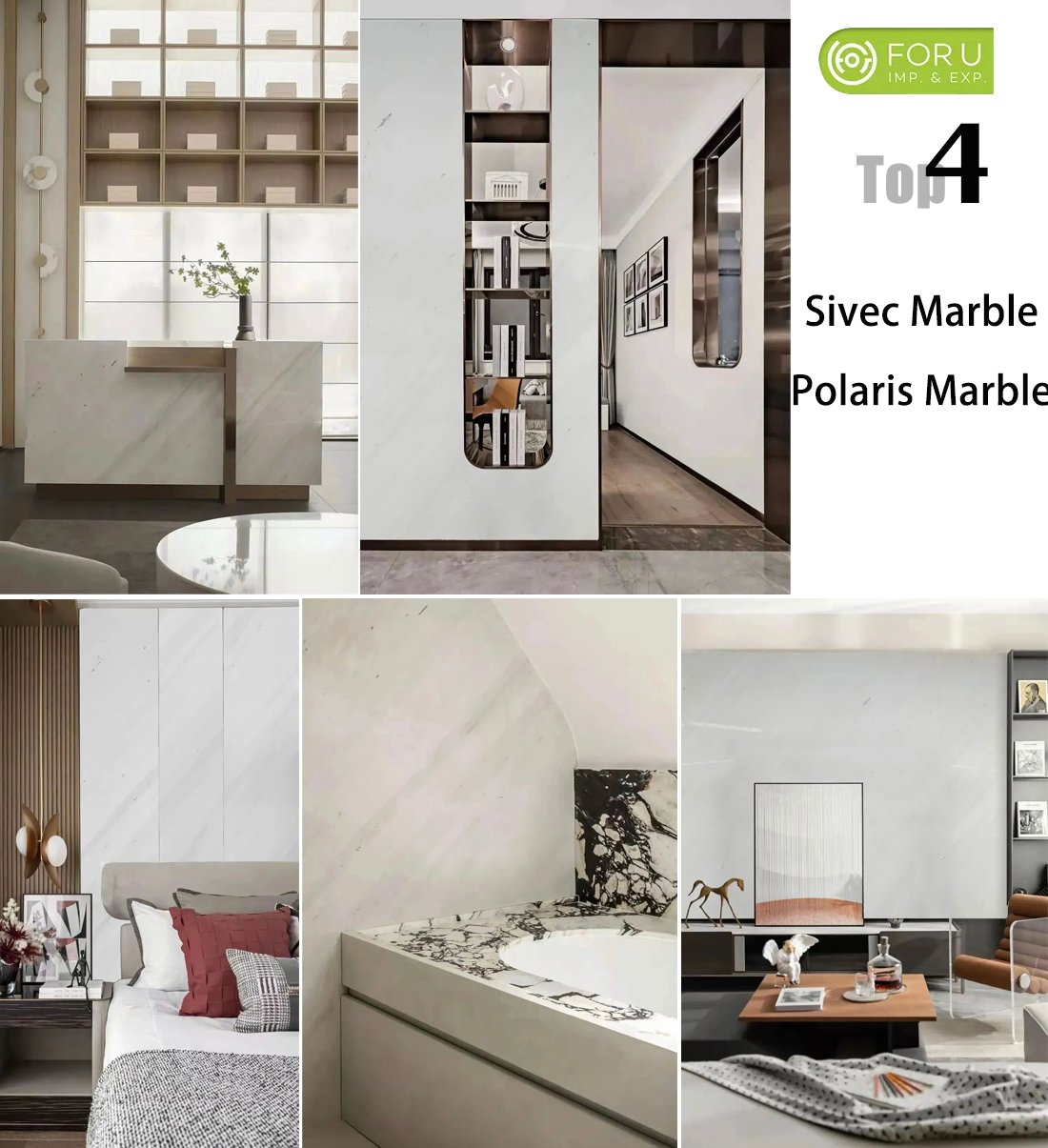 Yugoslavia White/ Bianco Sivec Marble's backdrop is milky and taupe in color. Exceptional marbles among white natural stones. It has a jade-white tint with tiny grains and crystals that shimmer in the light. The room is basic, beautiful, and subtle due to the clean white background and exquisite look. The Abu Dhabi Grand Mosque in the capital of the United Arab Emirates is made of white Polaris marble. This White Marble stone may also be used to embellish modern things in certain locations, such as bathrooms, kitchen countertops, backsplashes, and fountains are examples of outdoor water features. Sivec polished marble tiles, which are brilliant and reflecting, may make a space look larger than it was before. It may be fitted on either an indoor or outdoor stairway and still look expensive and exquisite. These marble tiles, like all other marble tiles, are durable and require little care after the sealer is placed. They last for years, if not decades.
Top 5- The Most Luxurious White Marble-Italian Statuario White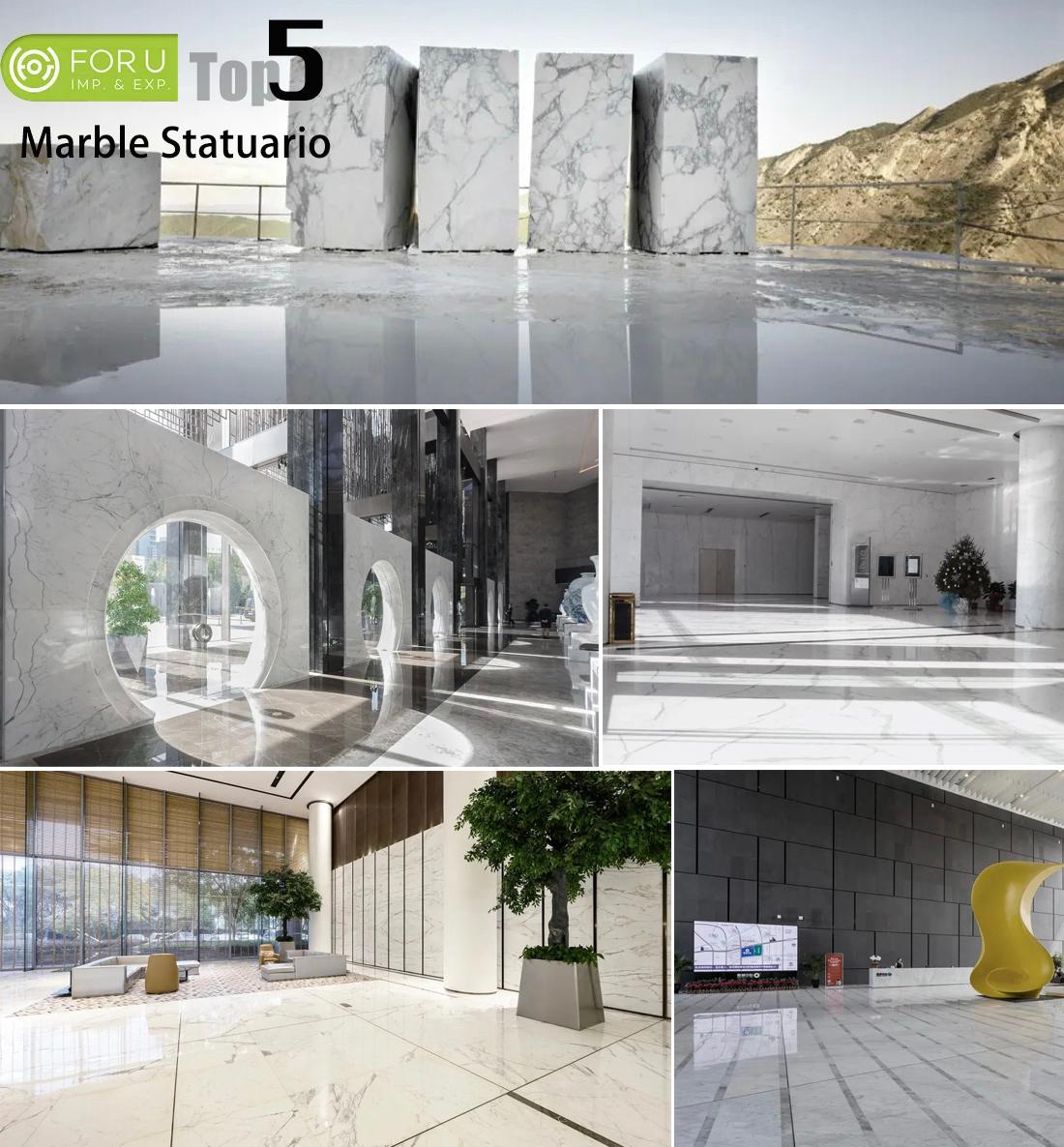 The Statuario White Marble appears to be surrounded by a soft and warm coating of jade, whether on the walls, floor, or tabletop. Pure white snow and pure white are strongly portrayed. Alternatively, the harmony of natural or soft light may make a place appear graceful and distant, beautiful and warm. Absorbing cultural influences in a jade-like environment is an unrivaled ease and natural emancipation of mind and body.
Characteristic description: The stone's surface is white, snow-white, and pristine in texture, with crystals, snowflakes, and transparency.
Physical Characteristics:
Dry Compressive Strength 140.1 MPa,
Dry Flexural Strength 70.1 MPa,
Bulk Density 2.72 g/cm3,
Water Absorption 0.13%
Application scope: mostly used for interior walls, columns, and flooring.
Marble Statuario output is around 800 tons per month.
Examples include the Beijing Nuojin Hotel, the Canton Fair Westin Hotel, and the CBRC Office Building.
For U Stone is a renowned manufacturer of white marble in China. It is a leading name among white marble suppliers. We offer a wide range of white marble with assured quality and the best price in the market.

Related Products