2023 High-End Decoration Marble-Nero Portoro Italian Marble
Nero Portoro marble is a luxurious natural stone with a black background and striking golden yellow patterns that create a sense of elegance and nobility. Its fine lines and good luminosity give it a gorgeous decorative effect that has made it a favorite among designers and architects.
The evenly distributed golden yellow markings on the black surface create a sense of stability and magnificence, making it a rare and highly sought-after black and gold marble stone material. When used in interior design, it can reflect its unique beauty, adding a touch of sophistication and glamour to any space.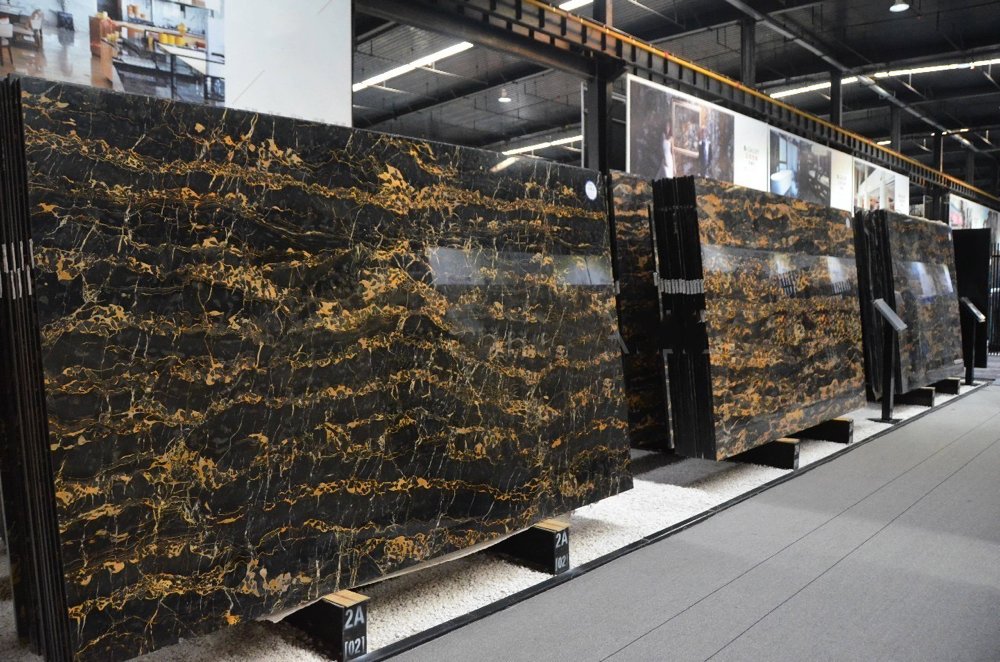 -16mm-30mm Premium Quality of Nero Portoro Marble Jumbo Slabs stocks in our large warehouses, over 1000 SQM polished slabs waiting for clients to choose for their coming interior decor projects.
How to Choose A Quality Nero Portoro Italian Marble Slabs and Tiles?
When selecting and using high-quality Black Gold Flower blocks, it is essential to pay attention to the following points:
1: The background color should be black, with golden yellow patterns and fine lines that have good luminosity.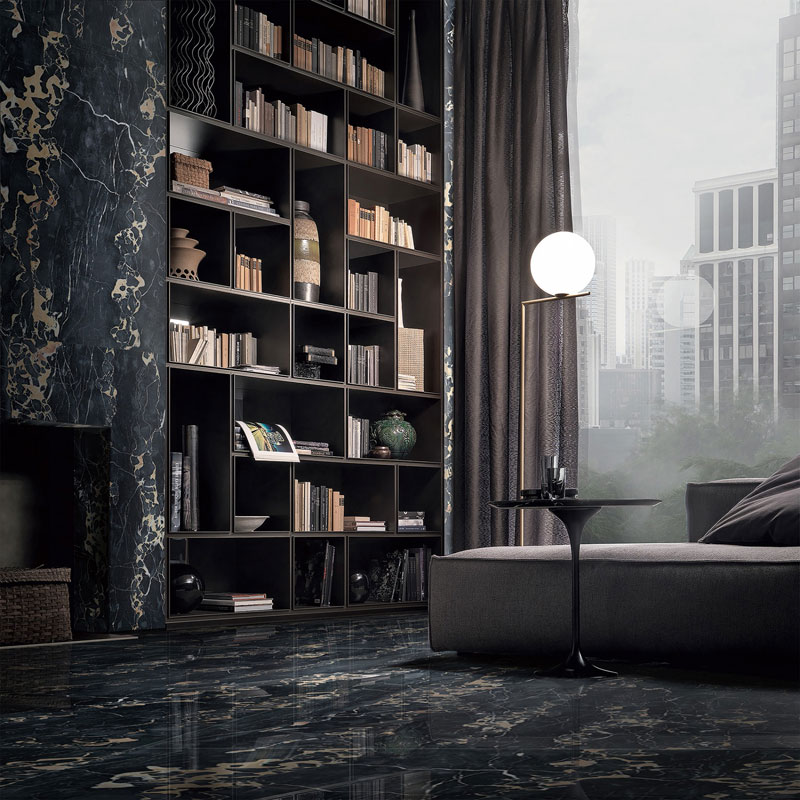 2: If there are variations in color and pattern (such as fine-grained golden yellow or banded grayish-white), it is important to pay attention to the natural transition to maintain a cohesive look.
3: Blocks with patterns that are too thick or too dense, or with stains, should be avoided.
4: It is crucial to inspect the blocks for any hidden cracks that could affect the overall quality and durability of the material.
Incorporating Black Gold Flower marble into your interior design can elevate the overall aesthetic of your space and create a timeless, sophisticated look.
Wide Range Applications of Nero Portoro Marble Slabs:
Portoro Nero marble is a highly prized natural stone variety, renowned for its striking black background and intricate golden-yellow pattern. It is commonly used in indoor wall and floor decoration, as well as in the production of various architectural elements such as TV tabletops, window sills, door pockets, stone pillars, and fireplaces. This luxurious marble is usually processed into different shapes and plates, and used to create walls, floors, platforms, and columns in buildings. Additionally, it is often selected for use in monumental structures such as monuments, towers, and statues due to its beauty and durability.
Beyond its architectural uses, Nero Portoro Marble Tiles can also be carved into exquisite works of art, including sculptures, crafts, stationery, lamps, and other functional pieces. Its soft and elegant texture makes it an ideal choice for luxurious building decoration, while its traditional use in artistic sculpture adds to its cultural significance. Whether used for architectural or artistic purposes, Nero Portoro Black Marble is a stunning natural material that adds unparalleled beauty and sophistication to any space.
Commercial and Residential Project Case of Nero Portoro Marble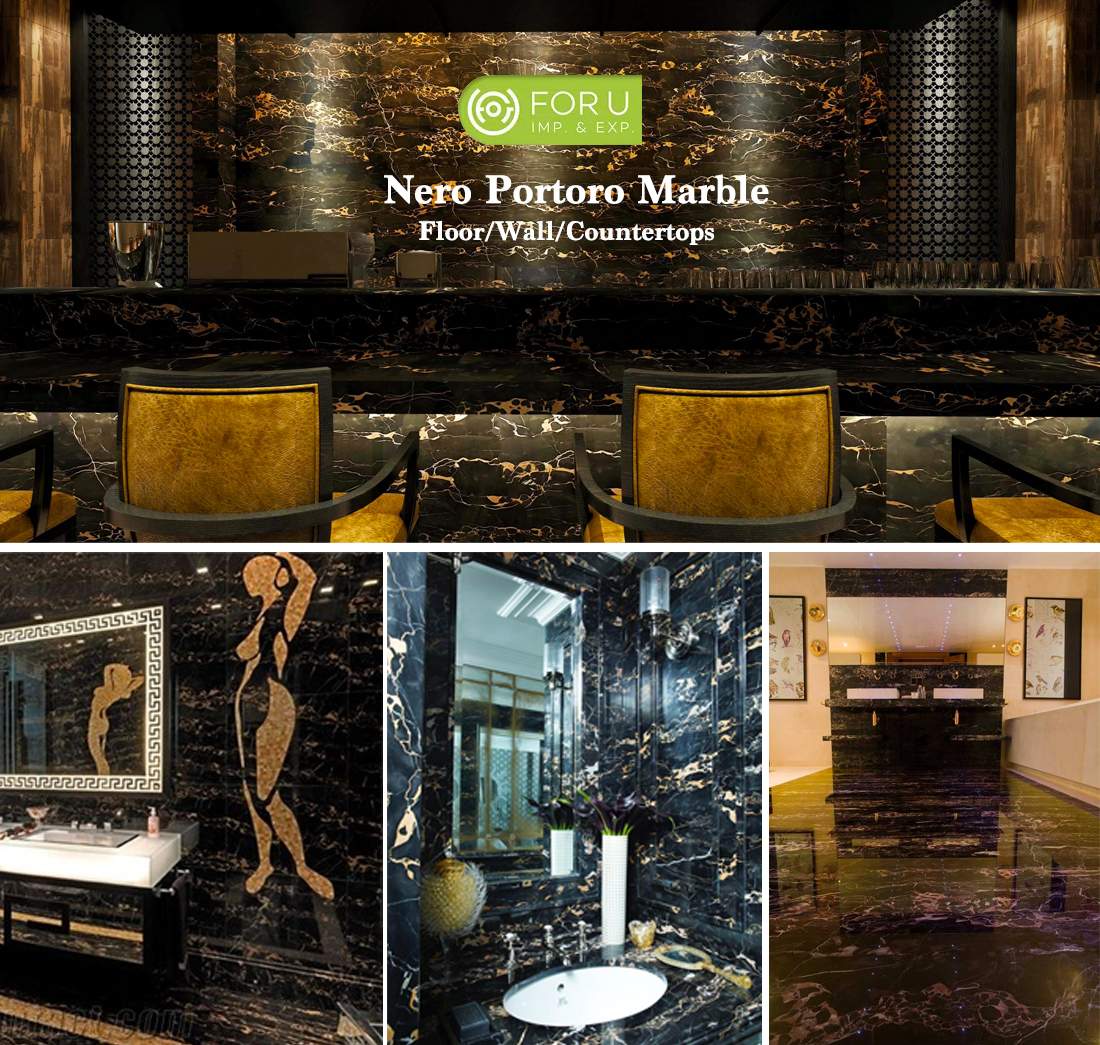 -Timeless classic Marble Stone-Italian Nero Portoro Marble for premium interior decor, from Hotels, Mansions, Villas and other commercial buildings. The luxury of Nero Portoro Italian Marble shines in the interior design, and you will be deeply attracted by the unique golden texture of this natural stone. This dark Italian marble is worthy of use in any interior project.
Nero Portoro Marble Tiles exude luxury and sophistication, making them an ideal choice for high-end interior décor. The deep black color with striking golden veins creates a dramatic and elegant effect, giving any space a sense of grandeur and opulence. These tiles are perfect for creating statement walls, flooring, countertops, and other decorative accents. The natural variations in the marble patterns make each tile unique and add to the overall luxury aesthetic. Nero Portoro Marble Tiles have been used in the most prestigious architectural and interior design projects worldwide, from luxurious hotels to high-end residential properties. They are a timeless material that will elevate any interior design to a new level of luxury and refinement.
Other Luxury Black and Gold Marble Recomendation
Pure natural black gold marble is always the best choice for luxury interior decoration. In addition to Italian black gold, we also provide Athens Portoro Marble, Afghanistan Nero Portoro, Sahara Noir black gold marble, etc., whether it is home decoration or large hotels, exclusive villages, mansion projects, etc., we can provide high-quality black and gold marble products. Contact us for detailed price and size information.