Are you curious about the rising popularity of travertine stone in interior and exterior design for floor paving and wall facade projects? Discover the beauty and benefits of this stunning material and learn why it may be the perfect choice for your next project.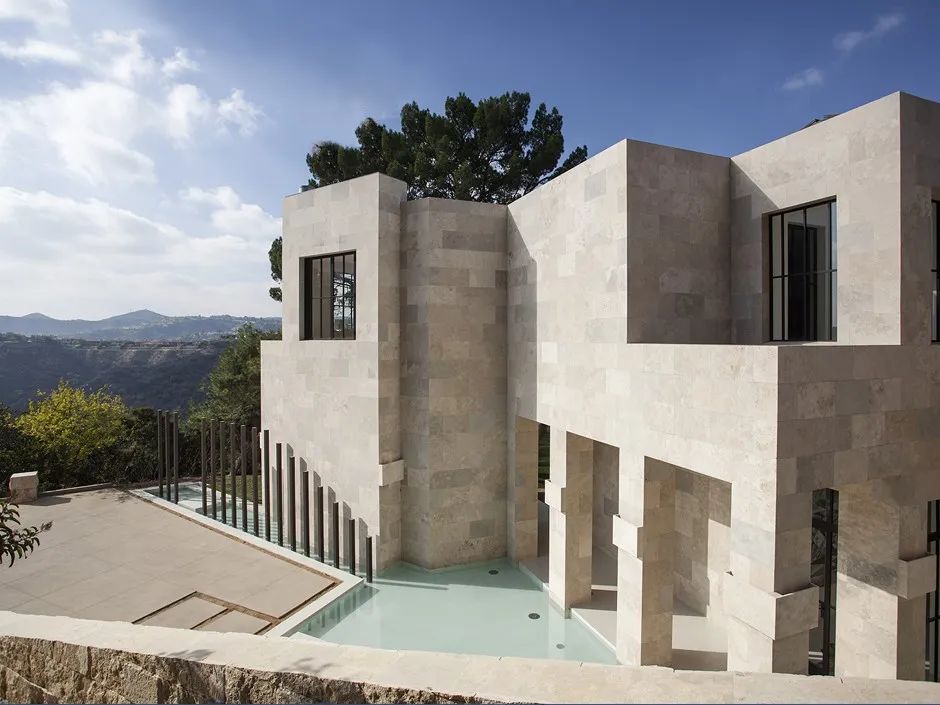 Travertine is a material that has a rich history and has been used in architecture for thousands of years. The Roman Colosseum is one of the most notable examples of travertine used in construction. Today, travertine is still widely used in modern design projects due to its timeless elegance and durability.
Travertine is also a sustainable choice for construction projects. Because it is a natural stone, it does not require any energy-intensive manufacturing processes.
Another advantage of using travertine is its versatility. It can be used in a variety of settings and applications. For example, travertine tiles are commonly used for flooring and wall cladding of building interior and external projects, while large slabs can be used for countertops and tabletops. It can also be used for exterior applications such as pool coping and patio pavers.
In addition to its versatility, travertine is also low maintenance. With proper sealing and regular cleaning, it can remain to look beautiful for decades. This makes it a practical choice for homeowners and designers who are looking for a material that is both beautiful and easy to care for.
Overall, travertine is a stunning natural stone that offers both aesthetic and practical benefits. Its versatility, durability, and sustainability make it an excellent choice for interior and exterior design projects. Whether you are renovating a home or building a new commercial space, travertine is a material that is sure to impress.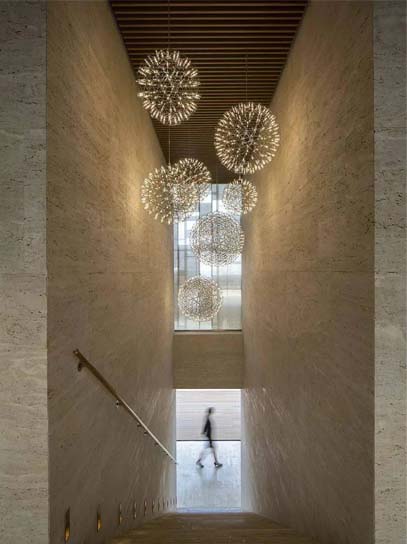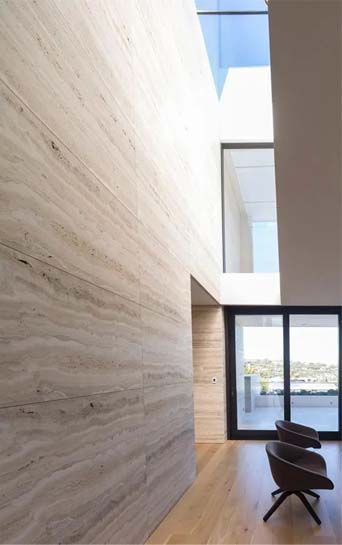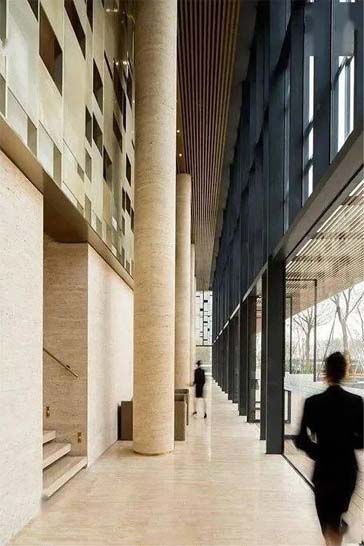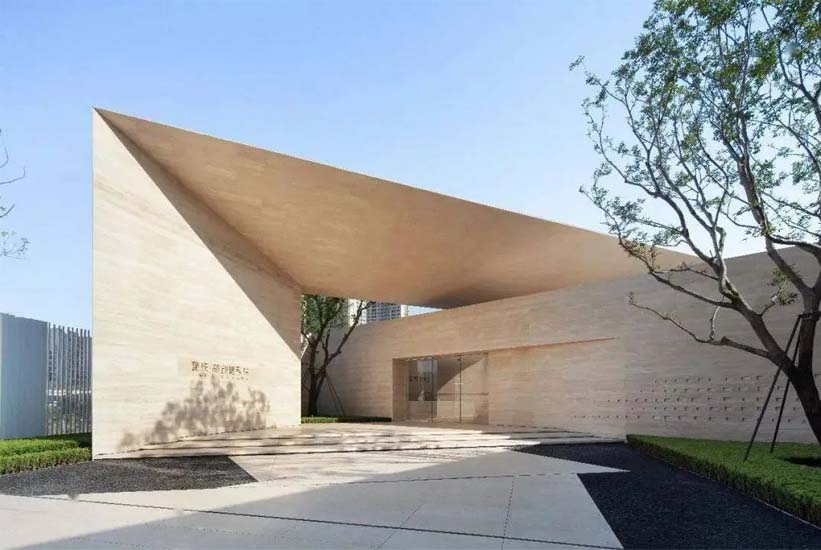 Travertine is a stunning and unique natural stone that is highly sought after in the world of interior design. Known for its distinct appearance, travertine is characterized by its numerous holes and pits on its surface, which lend a natural and earthy feel to any space.
Travertine is a type of limestone that is formed by the precipitation of calcium carbonate from mineral springs or underground water sources. Over time, these deposits build up and create sedimentary rock layers rich in organic matter and other minerals. The result is a stunning natural stone that is durable and visually appealing.
Travertine is a highly versatile material that can be used in a variety of applications, from flooring and countertops to wall cladding and decorative accents. Its durability and natural beauty make it an excellent choice for both residential and commercial spaces.
Travertine is a unique natural stone that is highly sought after for its distinctive texture and appearance. The stone is characterized by its many holes and irregular patterns, which give it a natural and organic feel. This unique texture is derived from nature, but it goes beyond the ordinary, creating a truly exceptional look. The finished product is well-balanced and harmonious as if it has just emerged from the earth.
Travertine is also rich in history, with deep traces of prehistoric civilization embedded in its pattern and texture. Despite its ancient origins, its overall shape can be described as "modern fashion", which is why it has become popular among architects and designers. Its master-level design style fully expresses honor, elegance, and top-level product characteristics.
Travertine is a versatile stone that can be used for both indoor and outdoor applications. Many buildings, villas, and private homes prefer soft travertine for its timeless and sophisticated aesthetic. With its natural beauty and unique character, travertine is sure to add value and elegance to any project.
Excellent Advantages of Travertine?
Travertine offers a multitude of advantages, making it a popular choice for a range of building and decorative applications. Firstly, its uniform lithology and soft, yet hard texture make it easy to mine and process, while its low specific gravity and lightweight nature make it a practical choice for a variety of building projects.
1: Travertine is a homogeneous lithology with a soft and hard texture that can be easily mined and processed. With a low specific gravity, it is a lightweight building stone with a wide range of applications in various construction projects.
2: In addition to being easy to process, travertine boasts excellent sound and heat insulation properties, making it an exceptional material for building decoration. It can also be further processed and applied to meet specific design requirements.
3: The fine texture of travertine, coupled with its superior processing adaptability and low hardness, make it suitable for carving and creating special-shaped materials to enhance the aesthetic appeal of any space.
4: With its vivid colors, distinct texture, and unique hole structure, travertine is highly versatile and well-suited for decorative applications. It is also an ideal choice for garden stones such as bonsai and rockery, owing to its natural hole characteristics and visually appealing texture.
5: Travertine is an excellent material for interior and exterior wall and floor projects, thanks to its durability and resistance to wear and tear. Its natural beauty adds a touch of elegance and sophistication to any space, making it a popular choice among designers and architects alike.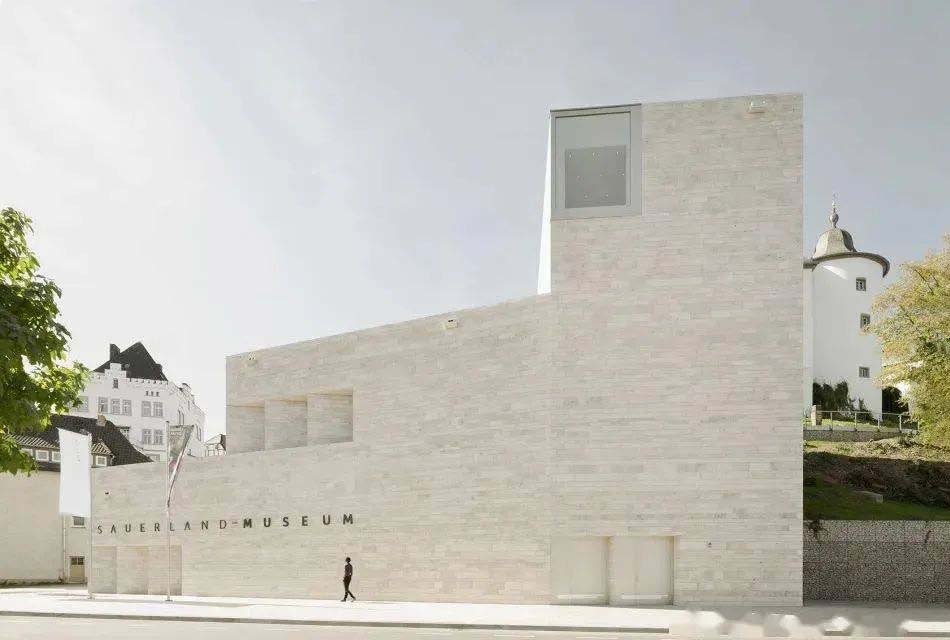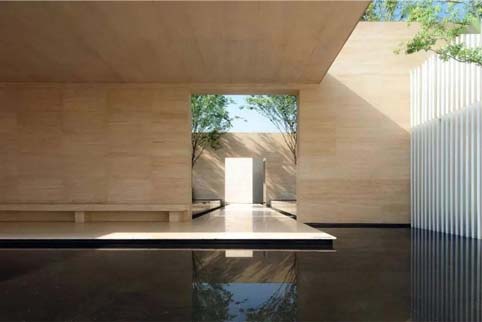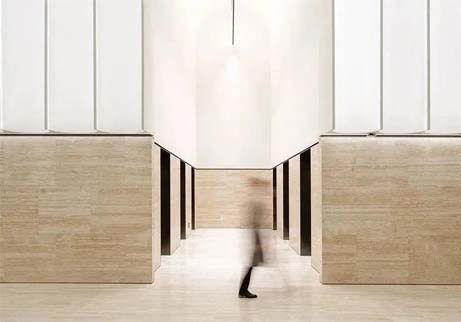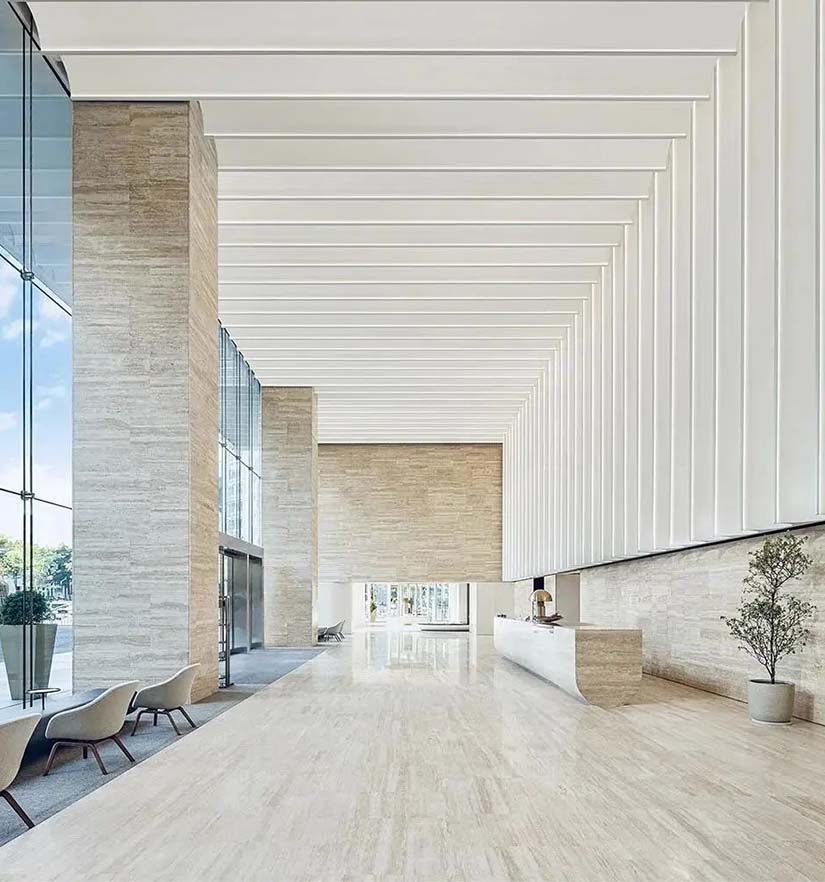 The Growing Popularity of Travertine Stone in Interior and Exterior Decoration
Travertine stone has become a popular choice in interior and exterior decoration projects due to its numerous benefits. Its earthy palette complements a wide range of textures and colors, making it a versatile material for designers to work with.
The light and natural appearance of travertine stone creates a pure and warm atmosphere in any space, whether used on sinks, walls, or floors. For optimal results, unfilled travertine is often used on vertical walls, while filled travertine is recommended for horizontal surfaces.
With its natural texture and soothing properties, travertine stone has a calming effect that promotes relaxation and tranquility in any setting. It adds a peaceful element without weighing down the space with heavy materials.
Travertine tile has been increasingly used by renowned interior designers in high-end luxury projects. Its elegance and durability make it a top choice for homeowners and designers alike seeking a timeless and sophisticated look for their spaces.
travertino romano classico
High Quality & Good Prices Supplier
At FOR U Stone, we pride ourselves in sourcing only the finest quality raw travertine stone blocks directly from reputable quarries worldwide. Through our close and longstanding relationships with quarry owners in Italy, Turkey, Iran, Mexico, and other countries, we can secure reliable access to this exquisite natural stone.
Our inventory includes a range of thicknesses for travertine slabs, including 18mm, 20mm, and 30mm, all of which are carefully selected and inspected to ensure exceptional quality. We offer a variety of surface finishes for our travertine slabs, including polished, honed, and filled or unfilled holes, to meet the unique needs and preferences of our clients.
At FOR U Stone, we are committed to delivering professional-grade products that exceed industry standards, and we strive to provide our customers with the highest level of service and satisfaction.

Travertine Tiles are a natural stone product that has been used for centuries in construction and architectural design. The durability and versatility of travertine make it a popular choice for a wide range of building materials, including indoor and outdoor flooring, walls, steps, and columns.
In addition to its aesthetic appeal, travertine tile is also a practical choice for building materials. Its density and resistance to wear make it an ideal choice for high-traffic areas, and its ability to withstand extreme temperatures and weather conditions makes it suitable for use in outdoor applications.
Overall, Travertine Tiles are a versatile and beautiful material that can add value and style to any project, whether it be a commercial building, private residence, or public space.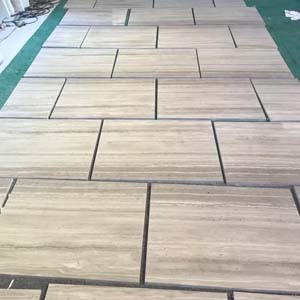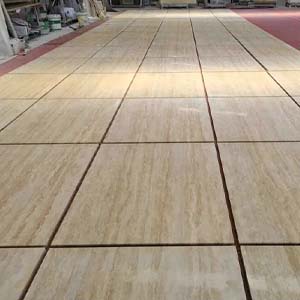 Ivory Beige Travertine Tiles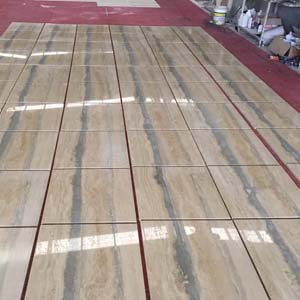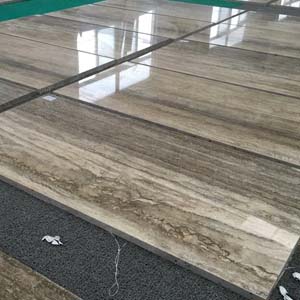 Silver Gray Travertine Tiles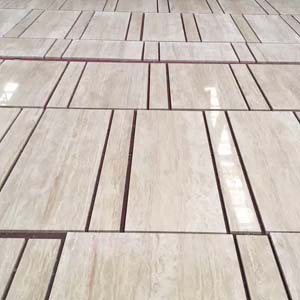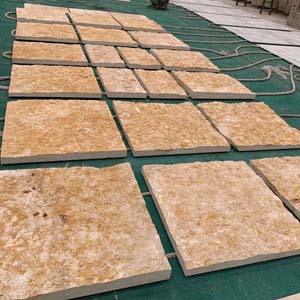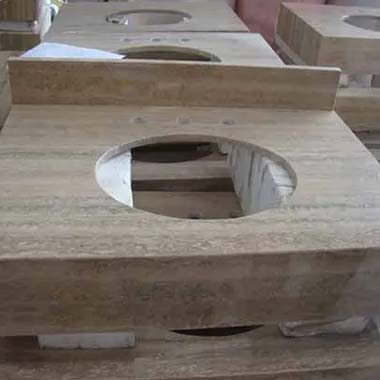 Blue Travertine Vanity Tops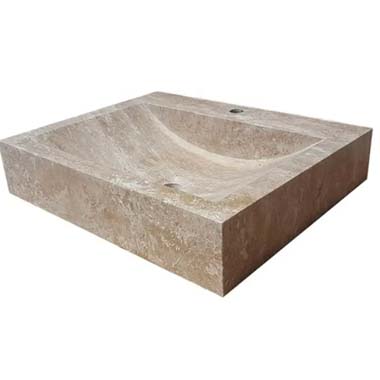 Rectangular Travertine Vessel Sink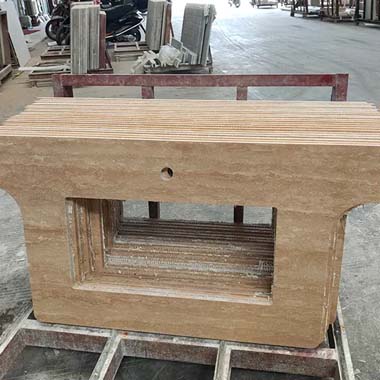 Beige Travertine Bathroom Countertops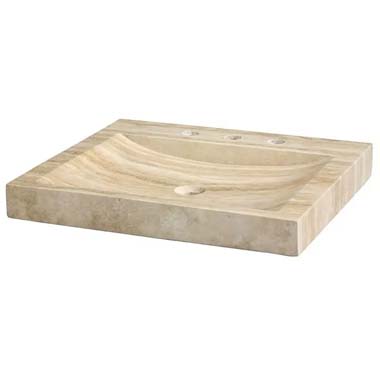 Beige Travertine Washbsin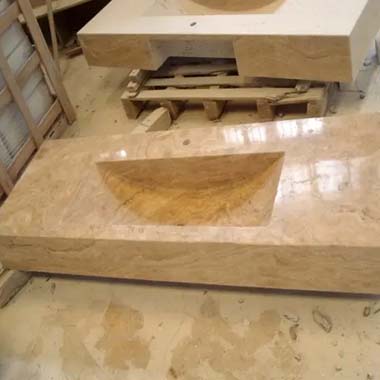 Integrated Travertine Countertops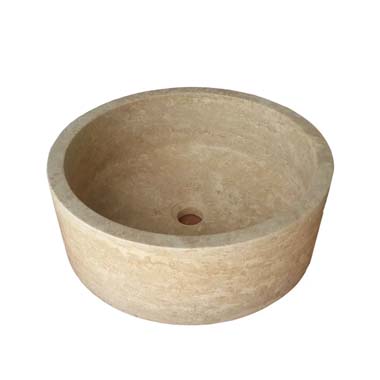 Beige Travertine Round Basin
Travertine countertops are an excellent choice for homeowners or businesses who seek a high-quality and aesthetically pleasing option for their kitchen or bathroom. The range of colors available, from light beige to coffee, super white, red, and gray, provides ample selection for homeowners to choose from. The natural variation in color and texture of the travertine adds depth and character to any space, elevating the overall design.
At FOR U STONE, we take pride in sourcing only the highest quality travertine to create our countertops. Our team of experts carefully selects the finest raw materials from quarries around the world, ensuring that each slab is of the highest quality. We offer a range of finishes, including polished and honed, and our countertops can be customized to fit any space. Choose our travertine countertops for a luxurious and durable addition to your kitchen or bathroom.



Travertine Surface Options
Travertine is a versatile and durable natural stone that can be used in a variety of indoor and outdoor applications. The different surface treatment options available for travertine tiles allow for a wide range of design possibilities, with each option providing a distinct look and feel.
For a polished, high-shine finish, polished travertine tiles are a popular choice. They give a sophisticated and elegant look to any space, making them ideal for high-end residential or commercial projects.
Honed travertine tiles, on the other hand, have a matte finish and are more understated in appearance. This surface treatment is ideal for creating a sleek and modern look and is often used in contemporary residential or commercial spaces.
Tumbled or brushed travertine tiles have a more natural, textured appearance that adds character and warmth to a space. This surface treatment is perfect for creating a cozy and inviting atmosphere in any indoor or outdoor area.
For those looking for a more rustic and textured finish, chiseled travertine tiles are a great choice. This surface treatment creates a rough and uneven look that is perfect for creating a natural, organic feel in any space.
Travertine Slabs & Project Tiles Factory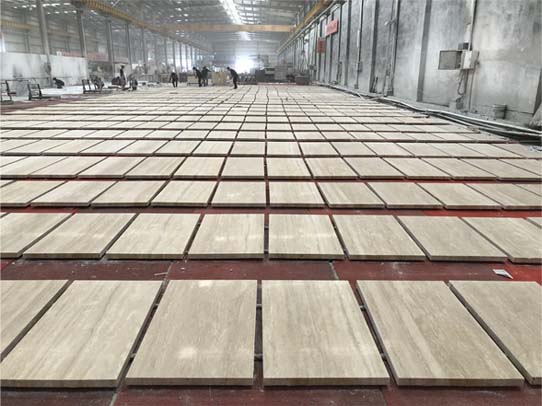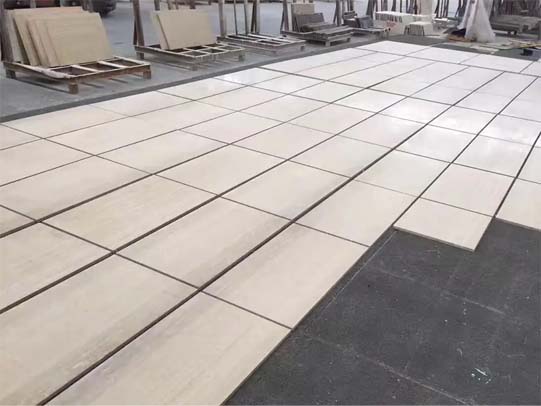 FOR U STONE is a leading supplier of high-quality travertine slabs and cut-to-size tiles for indoor and outdoor decoration projects. Our products are sourced directly from wild quarries around the world, ensuring the finest quality and natural beauty of the stone.
We are committed to providing our clients with professional services and top-notch products. Our strict quality control procedures and attention to detail ensure that all orders are completed to the highest standards, giving you peace of mind that you are receiving the best products available.
At FOR U STONE, we understand the importance of timely delivery and efficient logistics. That's why our experienced logistics team ensures that your orders are shipped and delivered on time and in perfect condition.
Travertine stone is a natural and durable material that adds a touch of luxury and elegance to any building. With proper surface treatment, it can offer a range of textures, colors, and patterns, making it suitable for different design styles. It is widely used for interior decoration, wall cladding, flooring, and stair railings.
Using natural stone materials like travertine not only enhances the aesthetic appeal of a building but also adds value to it. With FOR U STONE as your supplier, you can be confident that you are getting the best products and services in the industry. Choose FOR U STONE for your travertine needs and elevate the beauty and value of your projects.