The Sublime Elegance of Pietra Grey Marble: A Versatile Canvas for Interior Excellence
The Pietra Grey marble, renowned for its deep, muted grey base, embellished by intricate white, gold, and brown vein patterns, is a staple for interior enthusiasts seeking to make a statement. It emanates a sense of modern chicness, yet its roots are firmly anchored in timeless aesthetics, making it an apt choice for both contemporary and traditional spaces.
Pietra Grey marble tiles, in their polished or honed finishes, can radically transform spaces. Pietra Grey polished tiles mirror an upscale elegance, enhancing the overall aura of a room through their lustrous appeal. On the other hand, Pietra Grey honed marble exudes a rustic charm, offering a more understood look and feeling that elegantly ages over time, and is more resistant to scratches and etching.
Incorporating Pietra Grey marble floor tiles into your living spaces brings a depth of character. The tranquillity of grey marble flooring tiles against natural light creates an inviting ambiance. Pietra Grey marble wall tiles, with their unique patterns, make a statement of refinement and sophistication. The beauty of these wall tiles lies in the fact that each piece is a unique, artistic creation by nature, making every installation a one-of-a-kind masterpiece.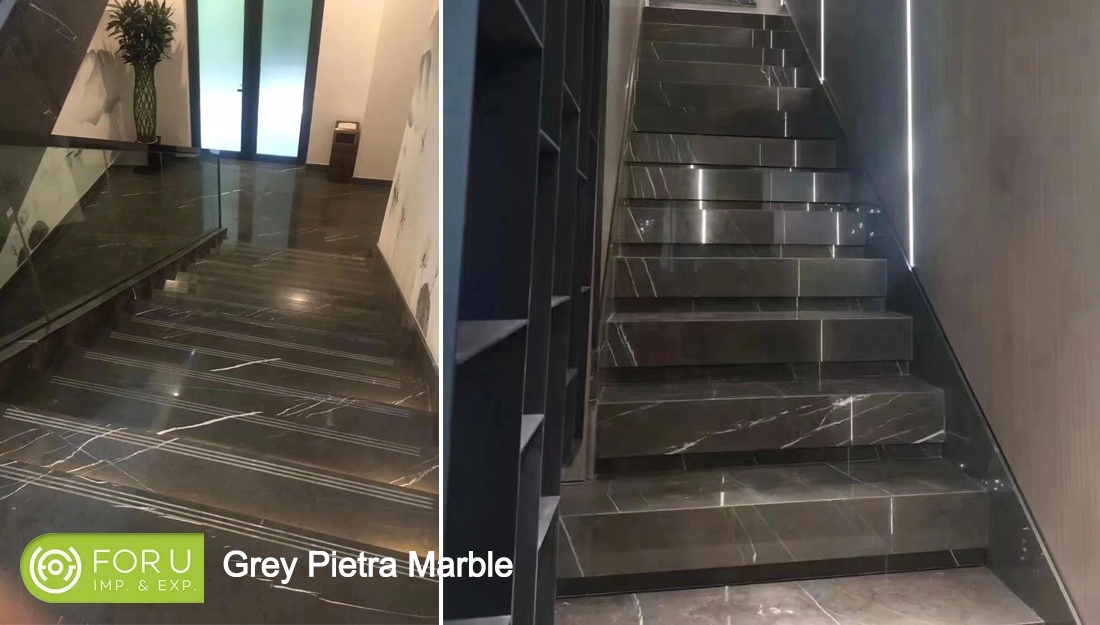 -Villas Stair Projects with Pietra Gray Marble Honed Stair Suitcase
Pietra Grey Marble, with its deep grey backdrop intertwined with brilliant white veining, is a breathtaking spectacle of natural stone. This marble is not just visually stunning but also offers exceptional versatility and durability, making it an ideal choice for numerous interior design applications.
The Pietra Grey Marble is a testament to the transformative power of nature, and it truly shines when used in diverse spaces. Be it the flooring of an upscale hotel lobby or a statement staircase in a luxury villa, its chameleon-like ability to adapt and enhance its surroundings is noteworthy. And let's not forget the luxurious Pietra Grey marble countertops that are a designer's delight. Whether used in a modern loft or a traditional kitchen, these countertops provide both functionality and a refined aesthetic.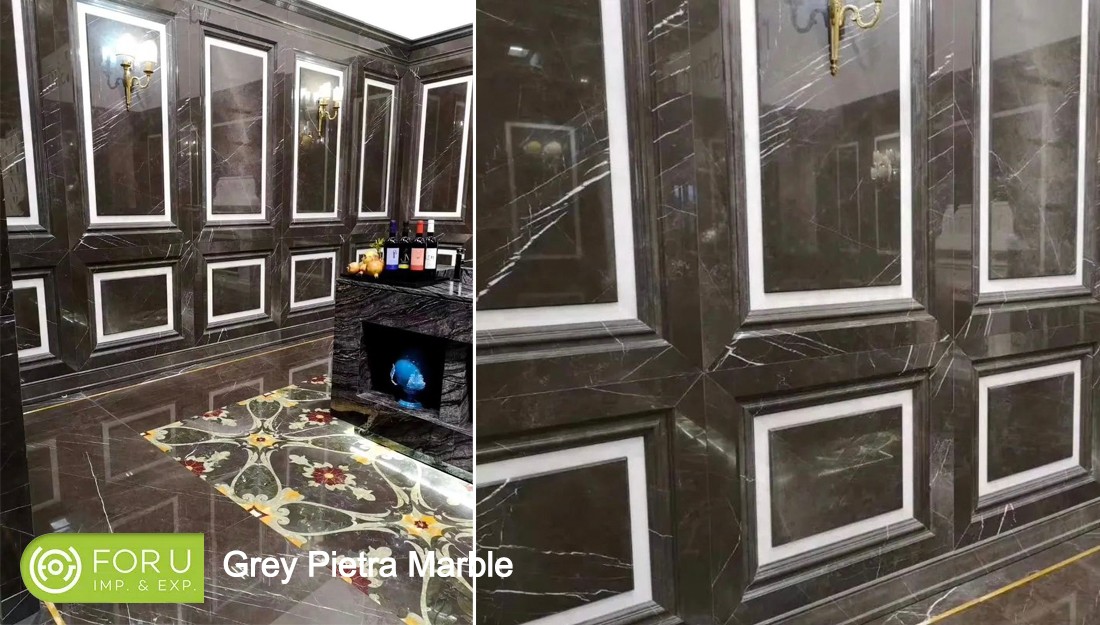 When we delve into finishes, Pietra Grey marble takes on a new dimension. In its polished form, it presents a smooth, reflective surface that amplifies its innate elegance, making it a sought-after choice for interiors aiming for a luxurious touch. Conversely, the honed finish of Pietra Grey marble, which offers a more matte and natural look, lends a grounded feel to the design, perfect for spaces desiring a rustic or minimalist touch.
One striking feature of this marble variant is its ability to craft stunning staircases. Pietra Grey marble stairs introduce a sense of grandeur, transforming a functional element into an artistic centerpiece. The seemingly random yet harmonious patterns in the marble echo the complex beauty of nature, rendering an aura of tranquility in the space they adorn.
Its versatility extends to the sizes available, ranging from smaller tiles for intimate spaces to larger slabs perfect for expansive areas. It caters to a broad spectrum of project requirements, making it a favorite among architects and designers.
Beyond flooring and wall cladding, Pietra Grey marble can be used to create elegant, functional staircases. Pietra Grey marble stairs, with their organic vein patterns, can turn a mundane passageway into a spectacular architectural feature, adding grandeur to your spaces. Whether used for sweeping, grand staircases or compact, urban steps, this marble variant adds an air of sophistication.
Notably, the Pietra Grey marble, available in varying sizes, caters to diverse interior design projects. Tiles sizes range from smaller formats like 12×12, 18×18, and 24×24 inches, suitable for bathrooms, kitchens, and entryways, to larger slabs that cater to expansive floor spaces in living rooms or commercial spaces. Meanwhile, bespoke sizes can also be fabricated to cater to unique project requirements, from expansive wall claddings to intricate vanity tops.
One of the most distinct features of Pietra Grey marble is its versatility. It can be integrated into a wide range of interior settings – be it a minimalist modern apartment, a traditional villa, a bustling office building, or a serene hospital environment. With Pietra Grey, it's possible to create a seamless aesthetic flow, from living rooms to bathrooms, across floors, walls, and stairs. The marble's neutrality and adaptability make it an ideal choice for architects and designers alike.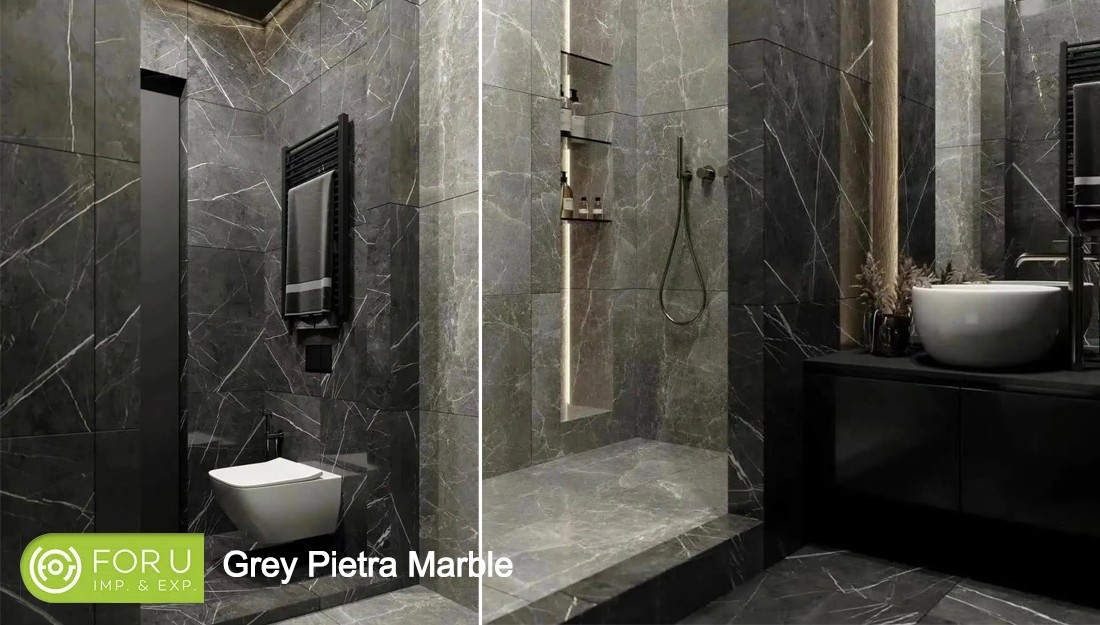 -Villas Bathroom Projects in Pietra Grey Marble Honed Tiles
The charm of Pietra Grey marble lies in its ability to evoke a sense of calmness and serenity. Its cool tones and organic patterns echo the tranquil beauty of nature, providing a visual retreat in the midst of bustling life. The gentle interplay of grey and white hues brings about a soothing atmosphere, making your interior spaces not just visually appealing, but also emotionally comforting.
The transformative power of Pietra Grey marble is uncontestable. Its soothing palette, the textural interplay of veins, and a range of finishes and sizes offer an endless canvas to create bespoke interiors. Whether you're envisioning a luxe, polished aesthetic or a subtler, honed look, Pietra Grey marble offers an unparalleled fusion of style, functionality, and tranquility.

Related Products