Beautiful Colorful Artificial Backlit Resin Onyx For Countertops and Feature Wall
Man-made Onyx Marble emanates an exquisite charm that mirrors the elegance of natural onyx but surpasses it in terms of design flexibility, functionality, and affordability. It is crafted with meticulous attention to detail, capturing the intricate patterns and warmth of natural onyx. The brilliance of this faux onxy stone isn't confined to its radiant beauty but extends to its admirable durability, heat and scratch resistance, making artificial backlit resin onyx the ideal choice for numerous commercial and functional applications.
Artificial Onyx Slab – The Canvas of Creativity:
The availability of artificial onyx slabs grants designers the freedom to exercise their creativity. These Resin Onyx slabs, through high-tech processing, offer a canvas for an array of decorative solutions while eliminating the radiation elements present in natural stones. Backlit Resin Onyx Slabs come in a variety of sizes suitable for wall panels, floor tiles, stairs, and paving, ensuring an impressive contribution to any interior decoration project.
The Revolution of Decorative Stone: Exploring the Rich Elegance of Artificial Resin Onyx Marble
Reshaping Countertops – Faux Resin Onyx Countertops:
When it comes to countertops, Backlit Resin Onyx Countertops set a new standard. This innovative offering redefines the luxury and sophistication of kitchen spaces, adding a touch of resplendence. They offer a surprisingly affordable way to transform your kitchen or bathroom, combining perdurable properties with a non-porous and food-safe surface.

Model Number:

Artificial Backlit Resin Onyx Slab

Place of Origin:

China

Brand Name:

Xiamen For U Stone Imp. & Exp. Co., Ltd.

Stone Form:

Artificial Onyx Big Slab

Warranty:

5 years

Stone Name:

Translucent resin panel

Type:

Artificial Onyx Stone

Product Name:

solid surface translucent panel

After-sale Service:

Online Technical Support

Project Solution Capability:

Graphic design, 3D model design, total solution for projects

Artificial Onyx Thickness:

6mm ~ 30mm available

Certificates:

CE, SGS

Artificial Onyx Application:

Lighting decoration panels, countertops, wall panels, etc.

Artificial Stone Slab Size:

3050x760mm, 3050x900mm,

3660x760mm, 2440x1220mm

Material:

artificial stone

Artificial Onyx Color:

Customized

Features:

Seamless Joint
Specification of Faux Onyx Marble
| | |
| --- | --- |
| Product name | Beautiful Colorful Artificial Backlit Resin Onyx stone slab |
| Color | Colorful |
| Material | Artificial Backlit Resin Onyx stone |
| Style | Luxury |
| Finish | Polished |
| Certificate | Yes |
| Usage | indoor/outdoor wall, floor, counter tops, basin, stairs, column etc. |
| Slabs Size | (2400-3000) X (1200-1600) X (12-30) mm |
| Tiles Size | 300X300, 300X600, 600X600, 600X900, 400X800, 800X800, 1000X1000, 1200X600, 2000X1200 – (12-30) mm |
| Application | Office buildings, public buildings, government projects, hotels, restaurants, airports, residential projects, KTV, clubs, laboratories, mobile terminals, wireless charging equipment, ultra-high voltage facilities etc. |
Cultured Resin Onyx Marble
.
For External Decor and Construction:
Beyond the confines of indoor spaces, artificial onyx marble also lends its elegance to external decoration and construction. Its unique aesthetic appeal, coupled with its hard texture and wear resistance, makes it a versatile building material. Whether it is used for hotel facades, villa exteriors, office building cladding, or school flooring, the resilience and durability of artificial onyx stone are unquestionable.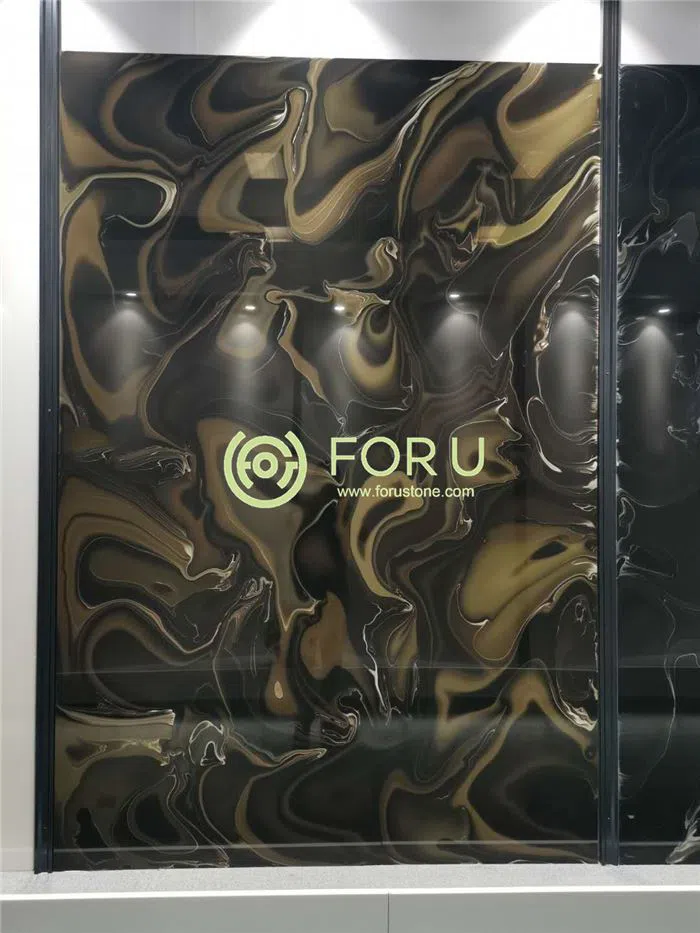 The Purity and Health Benefits:
One of the unique selling points of artificial resin onyx marble is the pure and healthy space it brings. Its strict high-tech processing ensures the elimination of radiation elements inherent in natural stones. This brings an added layer of safety, allowing you to enjoy the beauty and elegance of onyx without worrying about potential health hazards.
Products Description
Quality Control
Surface Finishes:
Polished, Honed, Antiqued
Quality Standard:
1) Surface Polished 80°up by auto-polishing machine;
2)Thickness tolerance: -1/+1mm;
3)Adjacent edge verticality tolerance: +/-1mm, Precise Cutting by infraredray-cut machine;
4)Diagonal tolerance: +/-1mm;
5)Surface flatness tolerance: +/-0.3mm;
*All products will be inspected by experienced QC before packing;
Delivery, Shipping And Service
Packing and Loading about Artificial Onyx
Packing & Loding:
For different products, we have different packing methods. Wooden or plywood, crating or pallet, etc.
We do careful packing and detailed shipping marks on each package, ensure all goods reach you safely and complete.
We control every single processing strictly with computer and manpower.
After shipment, we will send documents to you according to your requirements, and keep you updated about container status.
For items that require professional installation guide, we would offer them detailed drawing in accordance with packages.
FAQ
1. Are you a manufacturer or a trading company?
We are a manufacturer factory in produces artificial marbles, artificial onyx, quartz and stone moldings.
2. What are the payment terms?
Our regular payment terms are 30~50% advance payment and the balance should be paid before shipping. We also accept other major payment methods.

3. There's a price range for each product. What makes the difference in the price?
Prices may differ subject to different thickness, quality requirement, FOB cost per unit, quantity, detail requirement, etc. So to give you the best suitable price, please inquire about your detailed requirement including the information below:
A. Item description, material names, color, etc.
B. Specification, slabs or cut to sizes, thickness, edge type, surface treatment, etc.
C. Quantity
D. Container Weight Limit.

4. I don't want to make an order for one whole container. What can I do?
A) If you want slabs, it's not safe to send by LCL(less than one container load), so we have to book one whole container. In this case, shipping without full container load will result in high freight in FOB part as well as ocean freight part. So we also recommend choosing other stone products to make it a full container load.
B) If you want tiles, cut to sizes or other finished products, we can pack in wooden crates. In this case shipping by LCL (less than one container load) is possible.
Artificial onyx marble presents a fascinating fusion of technology and aesthetics, promising the visual appeal of natural stones with enhanced durability, flexibility, and safety. It's not just a building material, but a testament to the advancement of technology in interior and exterior design. With the beauty of artificial jade, a variety of categories, and the warm texture of onyx, you can purify your space, decorating it with the peace of mind that health and quality of life are within reach.
The future of decoration and construction lies in sustainable alternatives like Man-made Onyx Marble. It's high time we embrace this revolution for a safer, healthier, and more beautiful world.
If you're interested in our artificial backlit resin onyx, welcome to buy the quality products at an affordable price with us. As one of the leading Artificial Onyx manufacturers and suppliers in China, we also support wholesale service. For more info, contact us now.