Product Details
Jura Beige Limestone For Exterior Cladding Projects
Jura Beige Limestone Slab is numbered in a wide range of interior and outdoor applications. The Jura Beige from Germany is one of the most adaptable limestones on the market, and thanks to its technical features, makes this beige limestone so appealing is the variety of surface finishes available for all of these uses in various climates. Like, Polished, Honed, Flamed, Bushhammered.
Small shells and fossils embedded in Jura Beige Limestone Slab. It has a natural texture and unique beauty. Popular in contemporary gardens, the soft beige base color of this smooth Jura limestone Slab also suits traditional styles. This low-maintenance Jura beige Honed limestone paving from Germany offers a timeless quality.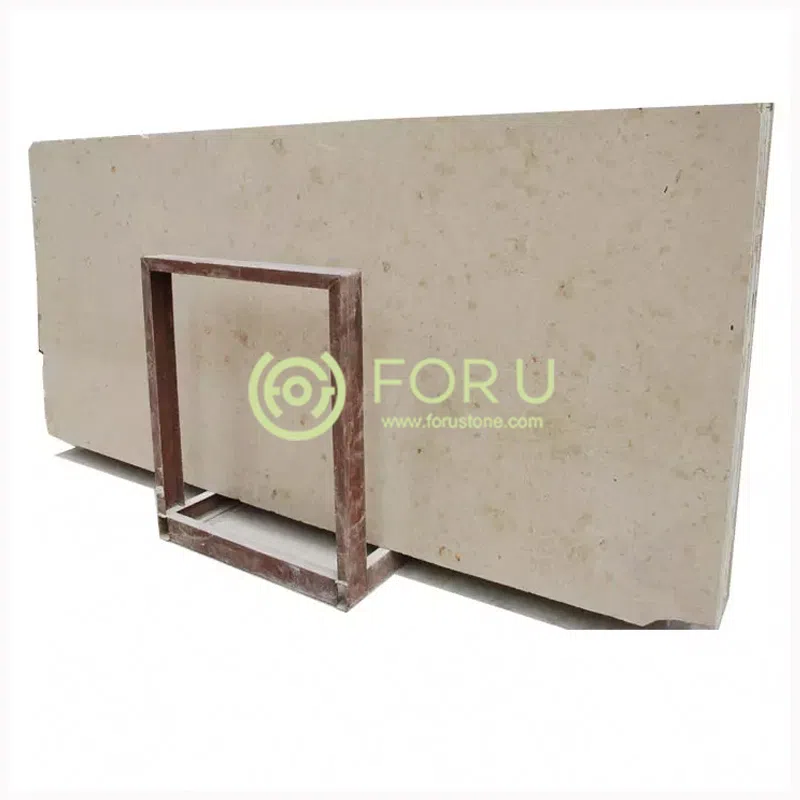 These durable beige limestone slabs are perfect for use outside thanks to their durability. Each limestone tile has individual fossil and shell detailing which makes up the character of natural stone tiles.
Basic Information | Jura Beige Limestone | ForU Stone
| | |
| --- | --- |
| Warranty: 3 years | Name: Germany Limestone Slabs |
| After-sale Service: Online technical support | Stone Form: Limestone Slabs and Cut-to-Size Project Tiles |
| Project Solution Capability: total solution for projects | Limestone Name: Jura Beige Limestone |
| Application: Floor, Wall, Countertops, Stairs, Columns | Surface processing: Polished |
| Design Style: Modern | Grade: Grade AAA |
| Place of Origin: China | Usage: Villas, Private Houses, Hotels, and Office |
| Brand Name: FORU STONE | Size: Customised Size |
| Limestone Floor Thickness: 10, 12, 16, 18, 20 mm | Material: Jura Beige |
| Marble Type: Limestone Slabs, beige Limestone, Limestone floor | Marble Tiles Size: To Be Advised |
Beige Limestone | Sizes Details | ForU Stone
Product Name:
Jura Beige Limestone Honed Slabs For Floor and Wall Projects
Limestone Popular Size:
1)Big slab:2400 upx1200up mm,thickness 1.6cm,1.8cm,2.0cm.
2)Vanity top:25"x22",31"x22",37"x22",49"x22",61"x22",ect. Thickness 3/4",1 1/4" Any drawing can be customize made.
3)Countertop:96"x26",108"x26",96"x36",72"x36",72"x36",96"x16 "ect Thickness 3/4",1 1/4" Any drawing can be made.
4)Stair Step:100-150×30-35×2/3cm Riser100-150×12-17×2/3cm
Tile:
1) 305 x 305 x 10mm or 12" x 12" x 3/8"
2) 406 x 406 x 10mm or 16" x 16" x 3/8"
3) 457 x 457 x 10mm or 18" x 18" x 3/8"
4) 300 x 600 x 20mm or 12" x 24" x 3/4"
5) 600 x 600 x 20mm or 24" x 24" x 3/4" ect custom sizes.
Quality details:
1) Polished degree: 95 degree or up.
2) Thickness tolerance: +/-0.5mm.
3) Diagonal tolerance : +/-1mm.
4) Surface flatness tolerance: +/-0.3mm.
5) Adjacent edge verticality tolerance: +/-0.5mm,
Precise Cutting by infrared-ray-cut machine.
Surface Finish:
Polished,flamed,honed,bush hammeredsandblast,chisselled.
Edgeing:
Full Bullnose, Half bullnose, Flat eased (eased edge), Bevel top, Radius Top, Laminated Countertop, Ogee Edge, DuPont, Edge, Beveled, or others.
Usage:
For internal & external decoration and construction, Walling or flooring tile, or slab, top or kitchen countertops are available.
Photos | Limestone Slabs | ForU Stone
Quality Control | Limestone Slabs and Tiles | ForU Stone
Quality Control
1) Surface Polished 90° up by the auto-polishing machine.
2) Thickness tolerance: -1/+1mm or -2/+2mm.
Package: Fumigated wooden crates.
Experienced QC will inspect all products before the package.
Packages | Limestone Slabs & Tiles | ForU Stone Factory
1. Are you a trading company or factory?
A: We're a trading company with a factory. We manufacture products ourselves and we source from other collaborative factories too which guarantees a competitive price and product variety.
2. How do I know your quality?
A: High solution detailed photos and free sample will be able to verify our quality.
3. I'm a homeowner and I need a small quantity, what do I do?
A: Pls check with our sales team if it's in stock or if we have a distributor locally.
4. Can I get door-to-door service? or can I get the tiles delivered to my door?
A: Yes, we offer delivery to your door service, which makes your work easy.
If you're interested in our jura beige limestone slab, welcome to buy the quality products at an affordable price with us. As one of the leading Limestone manufacturers and suppliers in China, we also support wholesale service. For more info, contact us now.