Brazilian Exotic Backlit Quartzite Slabs | Macaubas Fantasy
Fantasy Macaubas Quartzite is a metamorphic rock that originates from Brazil. Its soft grey-white background is accentuated by charcoal veins, creating a visually stunning surface. The horizontal veining hints at subtle earthy gold or grey tones, enhancing its overall aesthetic appeal. This material combines the elegance of marble with the durability and strength of granite, making it an excellent choice for various applications.
The neutral color palette and unique veining of quartzite fantasy macaubas make it suitable for a wide range of interior and exterior design projects. It is an ideal material for kitchen countertops, bathroom vanities, bar tops, fireplace surrounds, and flooring. In addition, its durability allows it to be used for exterior cladding, pavers, and poolside walls.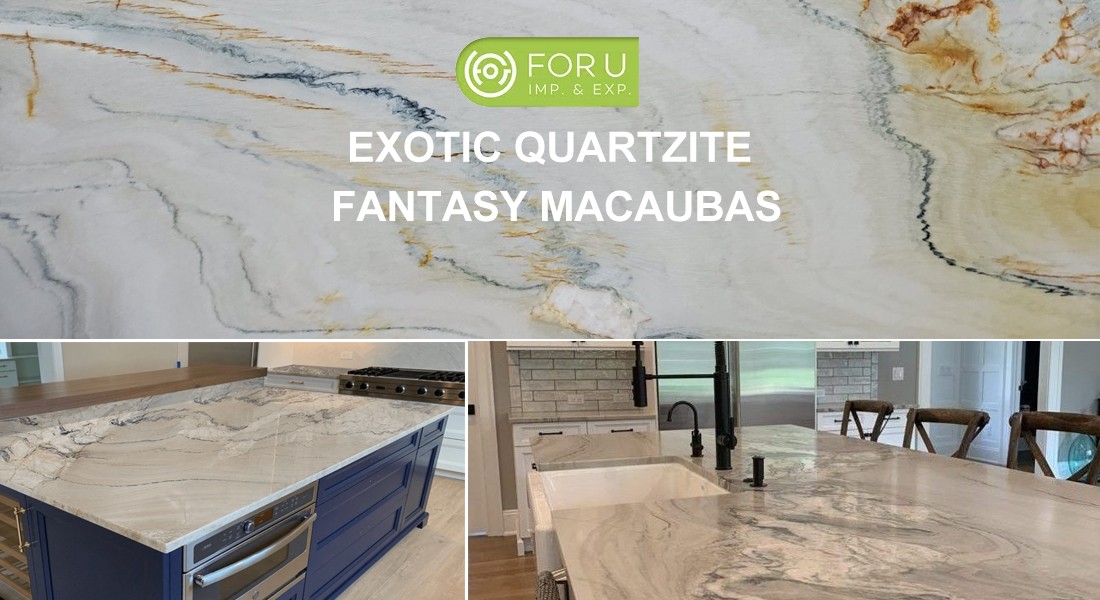 -Luxury and Open Kitchen Space Designs with Fantasy Macaubas Quartzite Countertops, is one of the most villas, mansions, and private house owners choose in the USA and Canada.
Common Sizes of Luxury Exotic Quartzite Slabs and Tiles
Products

Blue Quartzite Stone

Color

Blue

Items

Slabs, Tiles, Skirting, Countertops, Vanity tops, Tread, Riser, Bar tops, Dining Table, Mosaic, Borders, etc.

Dimension

1. Gangsaw slabs: 240up x 120up cm in thickness of 2cm, 3cm, 4cm, 5cm etc

2. Half Slabs: 180~240×60/70/80/90cm in thickness of 2cm, 3cm, 4cm, 5cm etc

3. Cut to size: 30x30cm, 40x40cm, 30x60cm, 60x6cm, 120x60cm etc

4. Tiles: 30.5×30.5x1cm, 40x40x1cm, 45.7×45.7x1cm

5. Countertops: 96″x26″, 108″x26″, 96″x36″, 108″x36″ or custom size

6. Vanity Tops: 25″x19″/22″, 31″x19″/22″, 37″x19″/22″, 43″x22″, 49″x22″, 61″x22″, 73″x22″

Edge Process

Flat Polished, Half Bullnose, Full Bullnose, 1/4″ bevel, 3/8″ Round, Ogee, Dupont, Waterfall, Pencil, Miter edge, Chiseled Edge, etc

Surface

Polished, Honed, Flamed, Sandblasted, Chiseled, Bush Hammered, Pineapple, Water Jet.

Package

Wooden Crate, Plywood Pallet, Carton, subject to materials.
Exotic Quartzite Slabs in Warehouse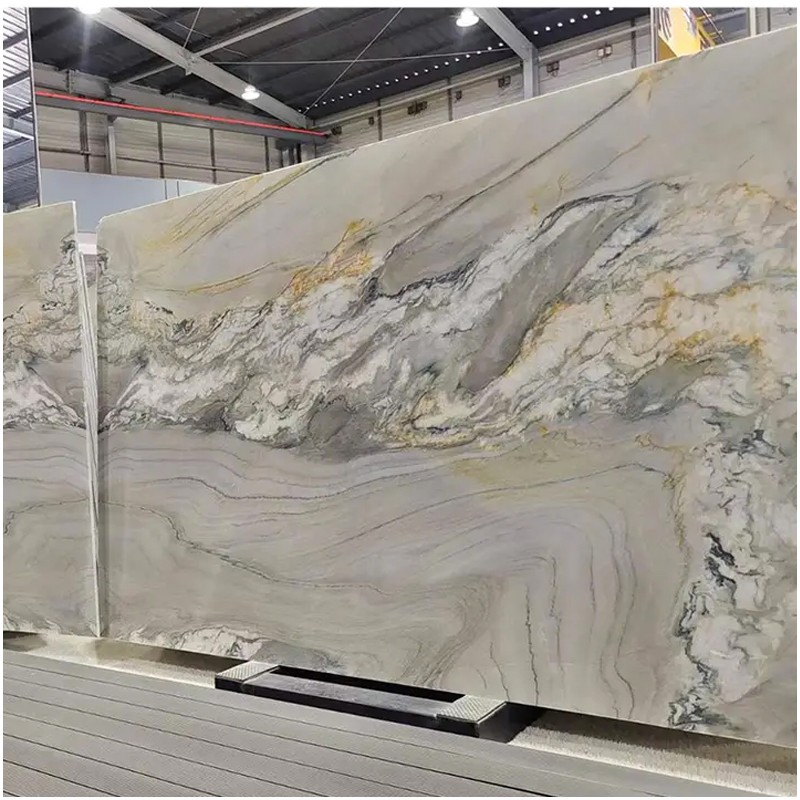 Sizes and Finishes of Exotic Quartzite In FOR U STONE Factory
Fantasy Macaubas Quartzite slabs are available in jumbo sizes, such as 77″x131″, 75″x118″, 79″x127″, and 78″x126″. The material comes in 2 cm and 3 cm thicknesses, offering flexibility for different applications. The most popular finish for this quartzite is polished, highlighting its natural beauty and shine. However, other finishes may be available upon request.
Quartzite Macaubas fantasy renowned for its durability and low-maintenance qualities. It is resistant to stains, heat, and scratches, making it perfect for high-traffic areas and outdoor applications. To maintain its pristine appearance, regular sealing is recommended, along with using mild soap and water for cleaning.
Why Choose Fantasy Macaubas Quartzite?
There are several reasons to consider Fantasy Macaubas Polished Quartzite for your next design project:
Unique beauty: The distinctive patterns and colors of this exotic quartzite make it a statement piece in any setting.

Versatility: Its neutral color palette and stunning veining complement various design styles, from traditional to modern.

Durability: This quartzite is even stronger than granite, ensuring a long-lasting and low-maintenance surface.

Range of applications: Its suitability for both interior and exterior projects offers numerous design possibilities.
Fantasy Macaubas White Quartzite Slabs
Fantasy Macaubas Quartzite Backlit Slabs
Macaubas Fantasy Exotic Quartzite Slabs
Fantasy Macaubas Brazilian Quartzite Slab is a luxurious and unique material that brings elegance and durability to any space. Its versatility in design, application, and maintenance makes it an ideal choice for homeowners, designers, and builders alike. Invest in the timeless beauty of Brazilian Fantasy Macaubas Quartzite for your next design project and enjoy its unmatched charm and sophistication.
Macaubas Quartzite Stone Factory
Quality Control
1/ Gloss degree 45 or up
2/ Thickness tolerance: ( ±1mm)
3/ Diagonal tolerance: ( ±1mm)
4/ Surface flatness tolerance: ( ±0.3mm)
Quality Assurance: During the whole production process, from material choosing, fabrication to package, our quality assurance people will strictly control each single and every process to ensure quality standards and punctual delivery.
All our products are fully inspected one piece by one piece.
Delivery, Shipping And Service
Packing and Loading about gray quartzite countertops
| | |
| --- | --- |
| Package | (1) Slab: Seaworthy wooden bundles; |
| | (2) Tile: Styrofoam boxes and seaworthy wooden pallets; |
| | (3) Vanity tops: Seaworthy strong wooden crates; |
| | (4) Available in Customized packing requirements; |
| | All the above packages will be fumigated stamped for export order; |
| | 2cm slabs: 15-18 pcs / 75 sqm / 4100kgs per bundle |
| | 3cm slabs: 10-13 pcs / 50 sqm / 4100kgs per bun |
FAQ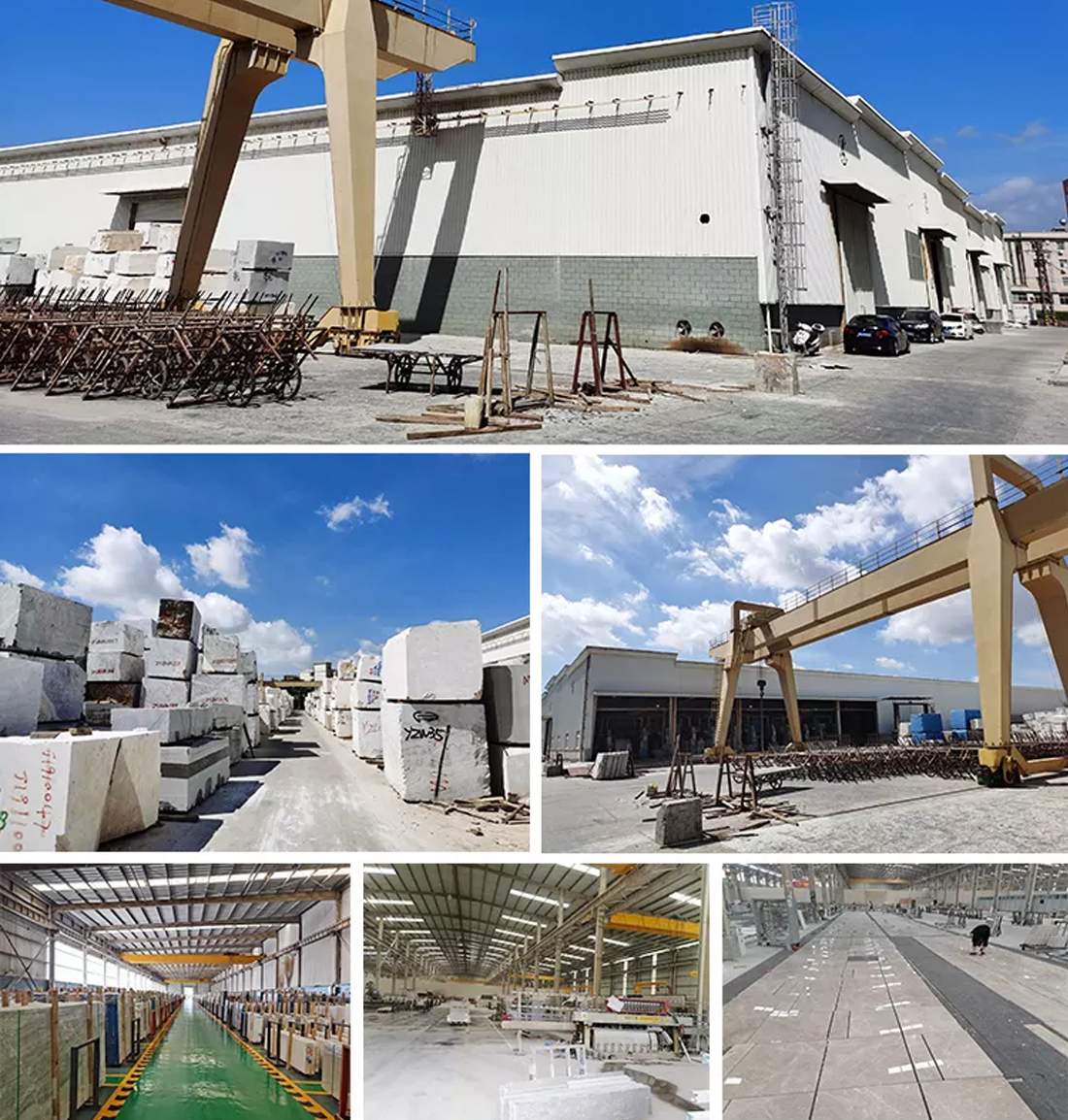 01. How to get a sample?
Sample will be provided in condition that:
* Sample requests less than 200*200mm can be sent for quality tests free of charge.
* Sample delivery cost will be at the buyer's account.
02. When to start production?
* Right after our bank confirms the arrival of the L/C or the advance payment.
03. Delivery Leadtime
* Leadtime is around 2-3 weeks per container.
04. Packaging
* Packing in export standard quality wooden crates hardboard carton box or pallet based on request.
05. Guarantee & Claim?
* Replacement or repair will be done when any manufacturing defect is found in production or packaging.
At present, FOR U STONE has three holding factories, one joint-stock decoration company, and one joint-stock quarry resource, thus realizing high-end space achievements from creative design to stone customization to the overall construction. The company has been adhering to the integrity-based, superior service concept and has been recognized by the industry and customers. It is a collection of building materials products, covering marble plate wholesale and engineering processing for large stone manufacturers. The factory has three production workshops: an engineering processing workshop, a marble and granite production workshop, and a water knife mosaic workshop, covering an area of more than 10000 square meters.

If you're interested in our al cielo quartzite, welcome to buy the quality products at an affordable price with us. As one of the leading Quartzite Slab manufacturers and suppliers in China, we also support wholesale service. For more info, contact us now.