Full Ranges of Bianco Carrara White Marble Mosaic Tiles
Famous for its beautiful grain and color, Carrara marble provides a stylish and luxurious look for any application. This relatively soft stone is easy to carve, shape, and cut, making it one of the most versatile stones on the market. Often associated with works of art and traditional architecture, Carrara Marble Mosaic Tile has become increasingly popular in recent years. Thanks to technological advances, it is more accessible, with different sizes and shapes.
Stunning! Carrara White Marble Mosaic is a perfect depiction of the lot to be expected, which, as designers, homeowners, or deco shop owners with natural white marble in general! It's a timeless piece truly with Bianco Carrara Marble Mosaic Collection from FOR U Stone!
The Bianco Carrara Marble Mosaic Collection has over 10 kinds of patterns for indoor floor, and wall covering. You will get one shape of white marble mosaic which you dream of in the Bianco Carrara Marble. For the normal, or standard one-marble kind mosaic designs, available in a variety of formats from tiles and geometric shapes, you should know before you purchase the marble mosaic from our factory.
1-Square Pattern | Carrara Marble
Square Honed Marble Mosaic Tile is part of an exclusive natural stone marble collection from FOR U Stone. Bianco Carrara is a matching collection of premium marble mosaics, floor tiles, and accessories.
2-Subway/Bricks Pattern Mosaic | Carrara White
The mosaic in Carrara marble subway tile is an offset of the classic Bianco Carrara Marble. In this variation, the marble mosaic tile is produced into a subway variation which has become a mainstay in the modern household as a Splash-back or for the contemporary bathroom wall.
3-Fish Scale Pattern Mosaic | Bianco Carrara
The Carrara marble fish scale tile has a unique appearance. In addition to the fantastic quality of this material, Carrara marble has been famous for its beauty for centuries. It has a striking semi-circular cutout and resembles a fish, making it ideal for wet rooms.
4-Hexagon Pattern Mosaic | Carrara White Marble
Surround the beauty of Carrara hexagon mosaic marble! Luxurious and sophisticated, Carrara is timeless and distinctive in its color, variation, veining, and natural movement.
5-Herringbone Pattern Mosaic | Italian Carrara Marble
The stunning Carrara herringbone shapes are finely cut and beautifully finished from genuine stone factories in FOR U STONE. Polishing changes the natural shape and surfaces and the real natural Carrara marble stone.
6-Arabesque Pattern Mosaic | Carrara Marble
With a very uniform color palette with gentle veining, Bianco Carrara Italian Marble adds an attractive visual eye-catcher. Polished White Carrara Marble Lantern Arabesque Carrara Mosaic is ideal for interior and exterior projects used in kitchens and bathrooms. The above 6 designs of Carrara white marble mosaic are the most common and the most classic designs, which are liked by customers at home and abroad.
Of course, marble mosaic has a variety of possibilities, hundreds of design models, with different materials, such as other natural stones, glass, metal, etc. can be made into another style of mosaic. Carrara white marble is the most common mosaic material, usually with pure white marble, such as Thassos white marble, black marble, such as Nero Marquina Marble, gray marble, such as Tundra Grey Marble, and other colors of natural stone can be perfectly integrated with this Italian marble, and even metal, glass, shells are good with the choice.
FOR U Stone does not provide the above 6 patterns of mosaic only, other special patterns are also available in our factory, such as Penny Round Mosaic; Diamond Mosaic; Mixed Pattern; Flower Mosaic; Quatrefoil Decorative Mosaic; Rhombus Mosaic; Octagon Dot Mosaic; Basketweave Mosaic, etc. Our collection of marble mosaic tile patterns in various stylish colors and finishes. Get the best quality Marble Mosaic tiles for walls, bathrooms, kitchens, and floors plus white marble mosaic tile, marble mosaic medallions, and marble mosaic borders at FOR U STONE.
Choose your decor boldly with our Marble Tile Mosaic. Soft blues, earthy tans, and clean grays help set the mood you want in your kitchen or bathroom. Use these stone tile mosaics for large areas or use them as accent pieces to draw attention. Our mosaic tiles give you the look you want: subway tiles, hexagonal patterns, organic cobblestones, and timeless herringbone.
Natural marble mosaics, like Bianco Carrara Marble Mosaics, come in a honed and polished finish, available in a variety of colors and sizes for your liking. Premium and natural marbles, onyx, and precious stones are selected and cut with avant-garde techniques and enriched with artistic mosaic inserts in vitreous paste, metals, gold leaf and platinum mosaic, and other materials, such as mother of pearl, Vetrite, and wood.
Basic Sizes Of Bianco Carrara Marble Mosaic Indoor Tiles
Item Name

Natural White Marble Mosaic Tile

Material

Bianco Carrara Marble

Water Absorption Rate

<0.5%

Surface

Polished, Honed, Flamed, Split faced, Picked, Bush hammered, Chiseled,
Sawn cut, Mushroom, Tumbled, Acid washing surface.

Chip Size

3.5*3.5mm 5x5mm, 30x98mm, 60X95mm, 23X23mm, 23x18mm, 23x12x8mm, 23x6mm, 15x15mm, 23x23mm; 25x25mm; 23x48mm;
48x48mm, 100x100mm, and so on

Thickness

4/5/6/8/10/15mm(0.16″/0.2″/0.24″/0.32″/0.4″/0.6″)

Sheet Size

standard is 12″*12″(300x300mm), other sizes like 350x200mm, 298x298mm, 306x298xmm, 305x305mm, 300x290mm and so on

Color

Carrara White, China White, Indonesia Beige, Ming Green, etc. We can produce all kinds of colors according to your requirements.

Shape

Round, Square Basketweave, Mini brick Modern brick, Herringbone, Subway, Hexagon, Octagon, Mixed, Grand fan, Penny round, Hand clipped,
Tesserae, Random strip, River rocks, 3D cambered, Pinwheel, Rhomboid, Bubble round, Circle bubble, Stacked, etc.

Mounted On

Fiber Mesh

Net Weight/Sheet

1.5kg

Gap

2mm
Specialist in Quality Marble or Stone Mosaic Tiles by FOR U STONE which is committed to supplying a huge selection of high-quality mosaic tiles. We have a variety of colors, styles, materials, shapes, and sizes to meet all your possible needs. Stone mosaic tiles are constructed from natural marble, granite, and other beautiful natural stones to complete your home or commercial project.
4 Tops Basic Pattern of Carrara Marble Mosaic | FOR U STONE
Bathroom classic Bianco Carrara marble offered in a smooth polished finish in a Hexagon pattern, an excellent choice for interior walls and floors. The tumbled finish offers great traction for the floor and offers a stylish smooth look on the walls.
These fish-scale Bianco Carrara White Marble mosaics are a sophisticated selection of all-stone shapes. Suitable for residential low-traffic floor use.
Arabesque marble mosaic tiles are perfect for homeowners and business owners who want to make a bold statement on their surfaces in a wide range of designs and color schemes. White marble mosaic is a proven material that has been used for centuries in the buildings of the most prestigious places around the world.
Carrara Herringbone Marble Mosaic is a luxurious white marble with contrasting grey veins, shaped in rectangles of 25×75 & assembled as herringbone mosaic sheets finished in polished or honed.
Bianco Carrara Mosaic Floor and Wall Project Gallery
The Premium quality of Bianco Carrara White Marble Mosaic in any pattern design is suitably suitable for walls, floors, bathrooms, wet rooms, and underfloor heating. Including but not limited to clubs/bars, restaurants, lobbies, hotels, shops, plus many more. Please note that colors may differ in natural/artificial lighting. Sealing is recommended for all our natural stone products.
Customized Marble Mosaic Tiles Factory In China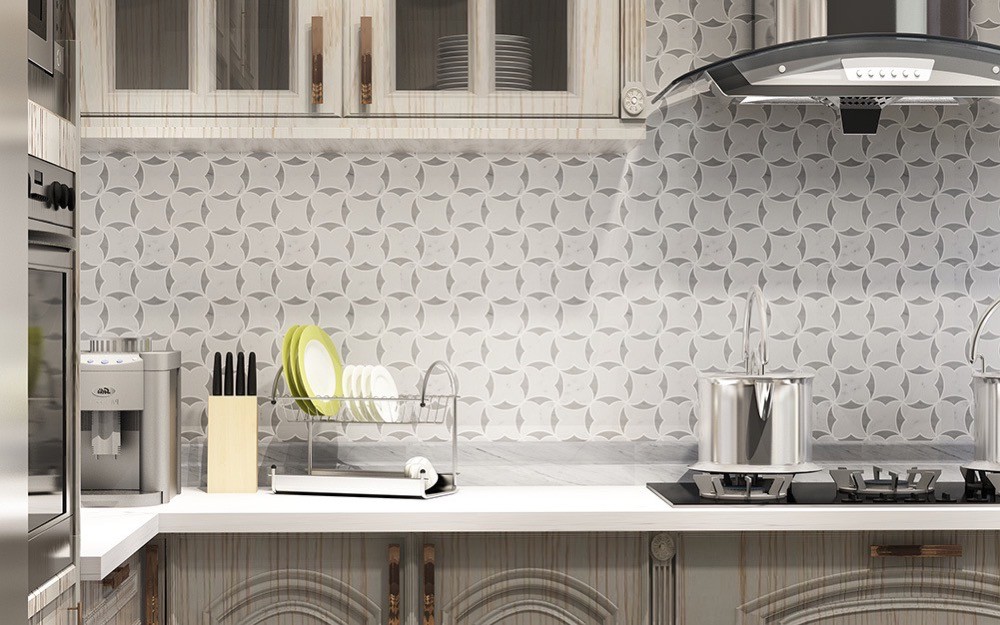 FOR U Stone has specialized in manufacturing and exporting stone products for over 15 years. The company is located in Quanzhou and Xiamen, one of the largest, most famous, and prosperous stone industry bases in China. We provide our customers with professional service and competitive stone products. For these regular customers, we offer incredible discounts, free sample shipping, custom-designed free samples, custom packaging, and QC for custom requirements.
As a processing plant, Bianco Carrara marble produces table tops, stove tops, wall and floor tiles, mosaics, window frames, stairs and steps, shirts and trim, paneling, and upholstery for bathrooms, kitchens, and all kinds of widely used buildings. hotels, shopping malls, etc. With a strong technical force, advanced technical equipment, and multiple production lines, we have many experts and technicians in various fields of design and research. This product has an attractive appearance, smooth lines, and elegant style.