Unique Marble Pattern Calacatta Laza White Quartz Jumbo Slabs For Countertops Projects
Quartz is a man-made engineered stone composed of natural quartz crystals, pigments, and resins. Quartz Calacatta Laza is a type of quartz that mimics the natural beauty of Calacatta marble. The soft, warm tones of the brown veining on a white background give it a timeless elegance that is hard to resist.
One of the standout features of Calacatta Laza Quartz is its durability. It is highly resistant to scratches, chips, and stains, making it an excellent choice for both residential and commercial applications. It is also incredibly easy to clean and maintain and never needs sealing, polishing, or reconditioning.
-White Kitchen Designs always prefer to use a white marble look countertops for islands, benchtops, and worktops. Calacatta Laza Quartz is one of the best options for any residential kitchen and hotel bathroom vanity tops projects.
If you are looking to create a show-stopping kitchen, Calacatta Laza Quartz Slab is an excellent choice for countertops, kitchen islands, floors, backsplashes, and accent walls. Its versatility allows you to use it in a variety of settings, from traditional to contemporary, and it complements a range of styles and color palettes.
One of the most impressive qualities of Calacatta Laza Quartz Countertop is its ability to create a dramatic movement in the space of kitchen and bathroom for any residential and hotel projects. The soft brown veining on the milky white background creates a sense of movement that draws the eye and adds depth to a room. This makes White marble Quartz an ideal choice for creating a focal point in a space, such as a waterfall island or an accent wall.
Quartz Sizes of Slabs and Countertops
Slabs Sizes

3200x1600mm/126"x63"

3000x1400mm/118"x55"

Customized, wide range of size, length is 2.5~3.2m, width is 1.2~1.6m

There is an extra 20-40mm length on width and length, it is free of charge.

Cut To Size(mm)

300×300 300×600 400×400 600×600 800×800

Countertop

110″x26″ 110″x36″ 110×42″ 110″x52″ 110″x4″ 110″x6″

Finish

Polished, Honed(Customized)

Edge

Ease, Bullnose, OGEE, Bevel, Flat, Laminated

Thickness

12mm, 15mm, 18mm, 20mm, 25mm, 30mm

Usage

Countertop, Vanity Top, Table Top, Bench Top, Wall Cladding & Flooring

Quality control

The 20 quality inspection procedures of Wayon Stone

Certificate

NSF, Greenguard, Greenguard Gold, CE, ISO9001,
Quartz Jumbo Slabs Photos
White Marble Look Quartz-Calacatta Laza:
To truly appreciate the beauty of Calacatta Laza White Quartz, it is best to see it in person. The photo above shows a countertop made from Calacatta Laza Quartz installed on a kitchen island. The almost complete slab of Calacatta Laza Quartz highlights the thickness and movements of the light veins in the material. This type of quartz is a natural choice for those who want to add a touch of luxury to their home or commercial space.

At our company, we pride ourselves on providing our clients with thorough, precise information about the best ways to maximise their budget, space, and overall aesthetic appeal of their project. We personally import stone from around the world, ensuring that the custom countertops you envision can become a reality.

In addition to its aesthetic appeal and durability, Calacatta Marble Quartz Series is also a hygienic choice for kitchens. It is a non-porous material, which means that it is resistant to bacteria and other microorganisms. This makes it an ideal choice for those who prioritize cleanliness and hygiene in their homes and commercial spaces.
Calacatta Laza White Quartz
Calacatta Laza Jumbo Slabs
Calacatta Laza Quartz For Countertops
Marble Look Engineered Stone Calacatta Laza Quartz is a stunning material that can elevate the aesthetic appeal of any space. Its soft brown veining on a milky white background creates a dramatic movement that draws the eye and adds depth to a room. Its durability and hygienic properties make it an excellent choice for both residential and commercial applications.
Products Description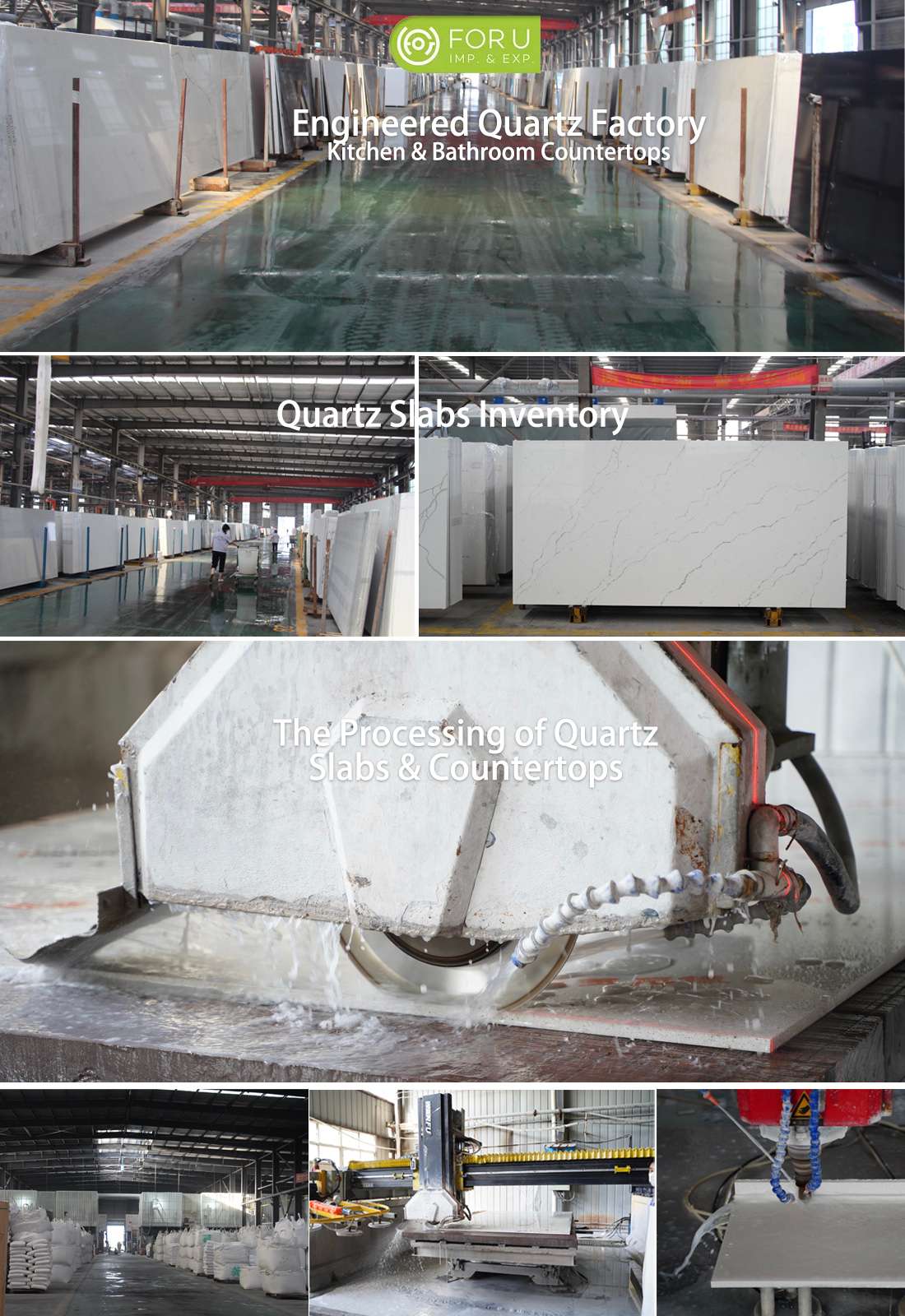 JUMBO SLAB
Customized sizes are acceptable like 2700*1800mm, 3000*1400mm, 3200*1600mm etc.Ourjumbo size is 3200*1900 mm, 3500*2000mm.
More than 100 production lines, with a daily output of 26000 square metersIndependentlydeveloped production equipment, can be delivered quickly. Support customized patterns and sizes.