Super White Natural Quartzite Stone Slabs For Countertops and Tiles Projects
Super White Quartzite stands as a testament to nature's artistry, boasting the alluring sophistication of marble coupled with the robustness of granite. Its durability, maintenance convenience, and the chic, marble-like appearance have propelled it to popularity among homeowners and interior designers.
Despite its popularity, Super White Natural Quartzite Slabs are often subject to misunderstandings and mistakes such as Super White Granite, White Fantasy Quartzite, Super White Marble, American Marble, dolomite, or simply Super White. Contrary to these misnomers, Super White Exotic Quartzite is a unique stone. This misconception may arise from its characteristic to "look like marble but wear like granite", causing it to be pigeonholed inaccurately into these categories.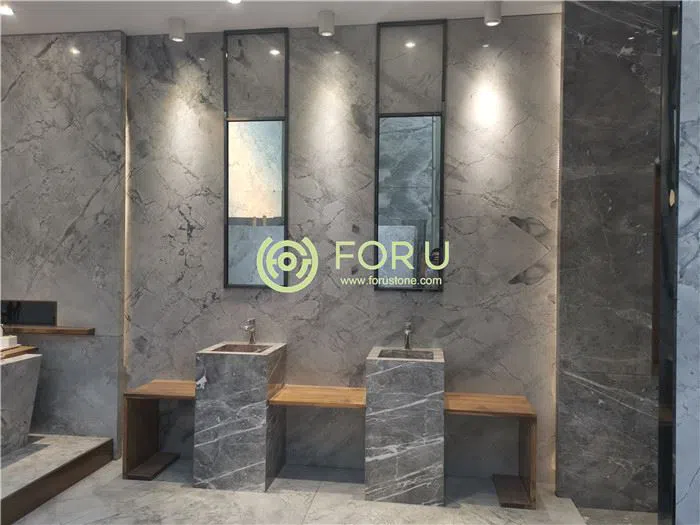 Embracing Elegance and Resilience: The Unveiling of Super White Quartzite Countertops
Geologically speaking, Super White Brazilian Quartzite is a metamorphic rock that was originally pure quartz sandstone. The transformation from sandstone to quartzite occurs under intense heat and tectonic pressure, typically within orogenic belts. The result is a high purity level stone, highly durable and aesthetically striking. Although Super White Quartzite is metamorphic, similar to marble, it surpasses marble in hardness.
In comparison to other materials, Super White Quartzite Slab, quartz, granite, and marble each exhibit unique characteristics. Quartz, unlike Super White, is man-made. Granite, while sharing a similar toughness, is a felsic intrusive igneous rock, contrasting with the metamorphic nature of Super White.
Super white quartzite is a natural quartzite from Earth. It has a durable, exquisite marble look. This quartzite is a beautiful gray vein with a deep white background. Because of quartzite, which is used for kitchen countertops, vanity tops and tank farms of good material.
Basic Info
| | | | |
| --- | --- | --- | --- |
| Model NO.: | Super White Natural Quartzite stone slabs | Moh′s Hardn: | Grade 7 |
| Quartz Usage: | Commercial, Kitchen, Bathroom, School | Delivery Time: | 15-20 Days After Receiving 30% Deposit |
| Customized: | Customized | Quartz Certification: | ISO9001 |
| Quartz Thickness: | 15mm, 18mm, 20mm | Water Absorption: | 0.02% |
| Density: | 2500kg/M3 | Transport Package: | Strong Wooden Crates |
| Origin: | China | HS Code: | 68029390 |
| Trademark: | Xiamen For U Stone Imp. & Exp. Co., Ltd. | Specification: | 2400x1600mm, 2700x1800mm, 3200x1600mm |
Large Quantity Grey Quartzite Slabs
Super White Quartzite Stone
Calacatta Quartzite Slabs
Grey Quartzite Slabs
Brazilian Super White Quartzite
The calacatta super white quartzite, Super White premium quartzite, Super White extra quartzite, Super White leathered quartzite, and leathered Super White quartzite offer a spectrum of choice, each variant with unique textural and aesthetic nuances. The Super White quartzite slab can transform your kitchen countertop, floor, backsplash, bar countertop, or fireplace surround into an object of visual charm and utilitarian advantage.
Super White Grey Quartzite's color spectrum ranges from white to gray, often adorned with different shades of pink and red due to varying amounts of iron oxide. Other colors can emerge from impurities such as green, blue, yellow, and orange. On the Mohs hardness scale, quartzite scores an impressive 8 out of 10, indicating its ability to withstand wear and tear.
Choosing Super White Quartzite countertops for your kitchen remodel ensures you invest in a piece that marries functionality and beauty. Its enduring charm makes it an excellent choice not only for home interiors but also commercial settings like hotels, apartments, villas, restaurants, and spas.
Thus, Super White Quartzite emerges as an elegant, sturdy, and versatile choice for countertops. Its resilience and sophisticated appearance make it an ideal material for a stunning kitchen remodel, guaranteeing a worthwhile investment for years to come.
Super White Quartzite bathroom projects
Super White Quartzite Exotic Slab
Super White Quartzite Stone
Products Description
Quality Control
We classify it as 3 grades:
Grade A: few pink hair lines & 1-3 crystal lines with width less than 2mm per piece;
Grade B: a few pink hair lines & 1-3 crystal lines with width between 2-5mm per piece;
Grade C: a few pink hair lines & some crystal lines with all different widths.
So the qualities will be like these:
1st choice… All grade A pieces, some pieces may not have pink hair lines but normally have crystal lines;
commercial choice… With both grade A & grade B;
Low quality… with different qualities mainly for the Mid-East market, certainly will have some bad pieces not accepted.
Delivery, Shipping And Service
Packing and Loading about Artificial quartz stone slabs
Inner packing:
1. For tiles: every 6~10 pieces are in one foam/paper box
2. For slabs: packed in strong wooden bundles
3. For countertops: pad with foamed plastics, then packed in fumigated wooden crates, reinforced with metal straps outside
Out packing:
Seaworthy wooden crates
FAQ
1) Q: Is your stone real and why is it so inexpensive?
A: All the stone products sold by our company are genuine stones, produced from natural rock and are of first quality. We are able to sell at such low prices because our material gets from quarry directly.

2) Q: How do I obtain samples?
A: For samples we only charge for the courier cost of the samples which can be ordered DHL, UPS, TNT OR Fedex ground or Fedex Expedited. The rate will be calculated based on your address and the number of samples you order. We can return this courier cost if you order the above two containers. Payment can be made by western Union or Wire Transfer(T.T)

3) Q. May I check the quality before the shipping?
A: Yes, welcome. You can come here or you ask some of your friends in China to check the quality, then we ship it.

4) Q: Is it possible to keep cargos the same color as sample?
A: No, stone is a natural material with naturally occurring variations in color, tone, granularity, pattern, etc., be allowed color Tolerance & Pattern.
If you're interested in our super white natural quartzite slabs, welcome to buy the quality products at an affordable price with us. As one of the leading Quartz Slabs manufacturers and suppliers in China, we also support wholesale service. For more info, contact us now.