Natural White Marble Interior Deco Show
The purity and softness of the natural white marble, coupled with the elegant natural vein, is amazing.
Among white stones, marble varieties generally include: Statuario white, Calacatta white, white crystal, Carrara white, Sivec white, Volakas White, Ariston white, oriental white, Arabescato white, etc; You can find different White Marble Colors from FORU STONE, from Jumbo Slabs, Cut-to-Size projects Tiles, Kitchen and Bathroom Countertops, even the stairs, and column items.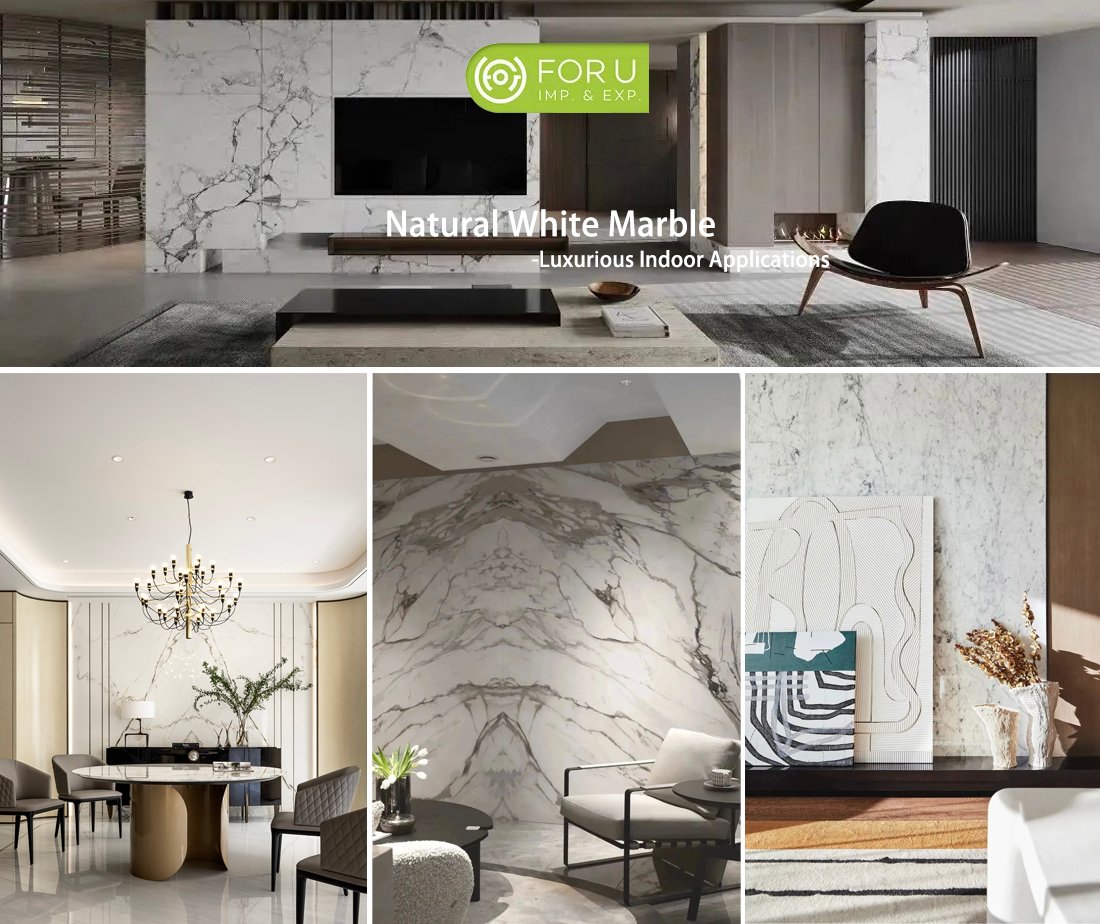 -Bianco Carrara Marble, Statuario Marble and other natural white marble are very popular in Private Houses and commercial building interior space.
Natural white marble in home decoration can be used in various places such as desktop, wall, floor, background wall, bathroom, etc.
Light texture walks in space, and in this elegant and simple modern space, it deduces the charm of fashion art.
White marble is a lovely natural stone that is frequently utilized in repair projects. This stone has also been utilized to construct some of the world's most recognizable statues and monuments. White marble has long been a favorite of homeowners due to its pure beauty and the refined vibe it emits. looks fantastic as a house construction. If you want a stone with a gorgeous, traditional appearance, white marble is the way to go.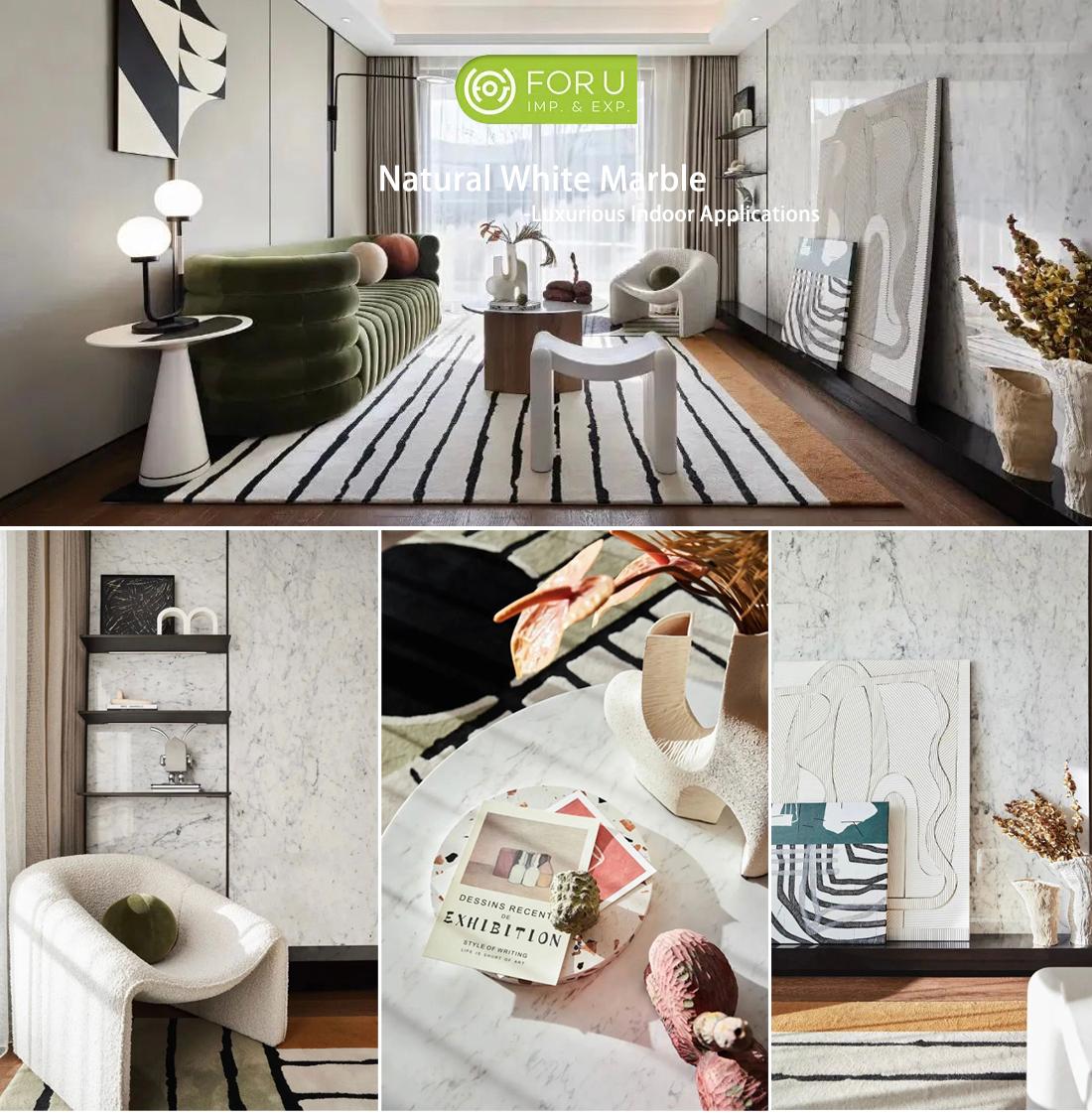 -A Flate Interior space by using Carrara White Marble Tiles From Wall and Tables Designs
Bianco Carrara Honed Marble Tile is used in interior space. The effect is very beautiful. Carrara White Marble Flooring has been the most popular and most popular of all interior natural stones, but it is also the easiest to enhance the entire home temperament and decorative effect. Each pcs of Bianco Carrara Honed Marble Tile cannot be described in words and explain her beauty and uniqueness.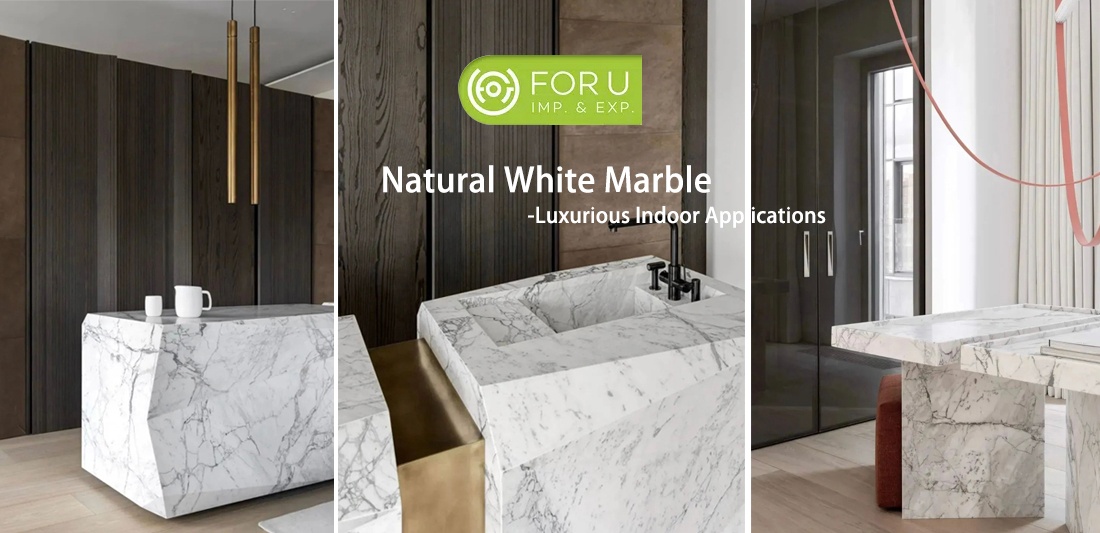 -The Unique Designs of Kitchen Countertops and Tables with natural white marble, which are preferred by most home owners and builders.
This gorgeous natural stone surface fits perfectly into almost any interior design. Marble has been used to create luxurious homes for over 1,000 years. Through the ages, marble has been used for fireplace surrounds, floors, accent walls, and countertops. White marble is really nice. There are different types of white marble countertops. Each type of white marble has its own marks and shades that add interest and drama to your kitchen or bathroom.
5 Tips to Help you to Keep Your Natural White Marble Floor and Countertop last long time Keep acid away from marble.
One of the most serious hazards to marble surfaces is acid. Acid eats away at the surface, revealing the plain-looking marble beneath. Acid-etch stains are often confused for water stains. The etch marks can be removed, but it is a considerably more difficult operation than avoiding contact with the acid in the first place.
Clean up spills as soon as possible.
Dirt is another issue that has to be addressed. It will, however, only manifest if given enough time to penetrate the bottom layer. Cleaning up soon after a spill, on the other hand, will prevent most stains from appearing on the marbles.
Use area rugs and mats to protect marble floors.
In heavy traffic areas, mats, rugs, and runners can be utilized to preserve the marble. Rugs and other floor coverings protect places like doors by removing dirt from shoes and preventing it from clinging to the marble and causing harm.
Marble flooring should be cleaned on a regular basis.
The surface of marble flooring is scratched and dulled by dirt particles. This damage accumulates over time, causing difficulties all around. Clean and mop any marble surfaces to eliminate grime to avoid this. Several times every week, cleaning and mopping are necessary.
Make use of coasters, cutting boards, and coasters.
One of the most challenging locations to clean in the kitchen is the countertops. However, most harm may be avoided by using a protective face mask. A chopping board, for example, prevents food fluids from splashing over your counter. It also protects against knife scratches. Meanwhile, coasters guard against glass, bottles, and can damage. Under hot pots and other hot dishes, place coasters.

Related Products