1. Introduction to Agate Countertops
In recent years, agate countertops have become increasingly popular as a semi-precious stone option. Composed of a hard strain of chalcedony, agate boasts a distinctive banded appearance. Each agate countertop is entirely unique due to the hand-placing technique utilized, resulting in a one-of-a-kind pattern and hue. One of the primary benefits that agate stone countertops offer is their sturdiness. Given that it is a kind of quartz, agate's scrape, heat, and stain-resistant qualities make it a resilient material. Thanks to its thickness and non-porous nature, it is a pragmatic decision for heavily utilized areas like washrooms and cooking spaces.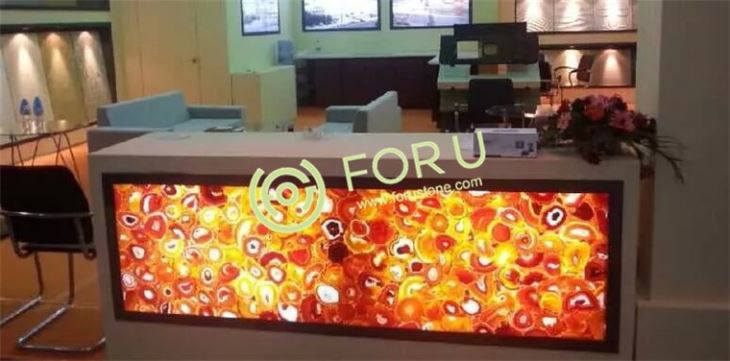 Consider both advantages and disadvantages when deciding on agate countertops. Price is a major factor since it can cost anywhere from $300 to $500 per square foot( or you can just submit a quote to us for more accurate price). As a result, agate is among the most costly countertop materials. Also, finding a trustworthy supplier is hard due to the limited availability of agate compared to other options.
When it comes to comparing popular countertop materials, granite and quartz among them, there are numerous things at play. Known for its commendable durability and resistance against scratching, granite offers a vast array of colors and patterns. Meanwhile Quartz—a non-porous material prized for standing up well under stains as well as scratches—is often the go-to choice in places seeing frequent or high traffic. Agate countertops may bear similarities with granite—strength, durability n' longevity being good examples—but they aren't so readily available plus their price tends to be significantly higher. Yet, there's something truly luxurious and distinctly unique about agate countertops; an aesthetic the other countertop materials just can't imitate. In the end, when it comes to choosing a material for your countertop, it boils down to what you personally prefer—a factor that hinges on your budget as well as the particular requirements of the space.
2. Benefits of Using Agate Countertops
Agate countertops, staring at us with their durability and long life promise make them a superb pick for folks aiming to solidify their homes as long-term commitments. You see, agate tips the Mohs scale scoreboard with its robust 7 rating – quite similar in girth and vigor to granite – ensuring it's sunshine on all resistances against wear and tear down the line. So much so that daily grind of chopping veggies or cooking up storms or wiping clean surfaces won't leave any damage marks behind.
Agate countertops are as tough and life-lasting as they're beautiful, sporting remarkable patterns. You'll find these agate slabs countertops surfaces gushing with vivid shades. They feature refined designs that can instantly transform ordinary areas into spaces filled with class and distinction. Imagine the organic allure of agate becoming the key player in designing picturesque countertops to crown your kitchen or bathroom! And think about this – it's not just a luxurious, one-of-a-kind material we're talking 'bout here. It oozes style so rich that sure thing, your guests won't stop talking for days on end.
Ideal for kitchen use, agate countertops have an exceptional resistance to heat and scratches. They stand up to high temperatures without a hint of damage—a critical feature for surfaces often exposed to significant warmth. Plus, with their hardcore scratch-resistant nature, the onslaught of everyday wear doesn't seem too ferocious on them! Pitting agate against other common countertop substances like quartz and porcelain, it's clear that agate emerges as the victor. Why? Well, for one, it offers a superior level of resistance to heat damage and scratches. It makes agate countertops a smart pick that packs durability – homeowners who are looking for a surface tough enough to handle daily wear-and-tear won't be disappointed.
3. Considerations Before Choosing Agate Countertops
Are you thinking about picking agate countertops for your kitchen? Don't rush! There is an array of things to ponder, with cost and availability being top on the list. Look, Agate isn't any ordinary rock; it's a semi-precious gemstone, y'know! That means it's going to be heavier on the pocket than most other countertop materials out there. Not only that but getting hold of this beauty could lead you down a tough road as it may not grace all local markets. Therefore, homework is needed – scout out local stores before placing your bets on agate[17]. But oh boy! For those ready to shell out for spectacular exclusivity that comes wrapped in agate's magnificence – they'll see results that can dazzle.
It's essential to think about how well agate countertops jibe with various kitchen styles and designs. Agate's multitude of colors and patterns give it a truly adaptable quality, equally at home in modern minimalism as it is amongst traditional grandeur. Take blue agate for example – it can be quite the stand-out when put into use as lit-from-behind counters or even backsplashes. Nevertheless, you gotta mull over how this choice integrates seamlessly into your kitchen's overarching theme before totally committing.
4. Restrictions you should know about agate used on countertops:
The Expense Factor: Let's talk about Agate – it's a precious and uncommon stone, isn't it? As such, it carries quite the price tag if you're considering it for counters, making affordability an issue for those of us pinching pennies. And trust me, that weighty cost can be a formidable obstacle indeed!
Maintenance Matters: Another point with these countertops is their high-maintenance nature – they need regular upkeep to stay in peak condition. Want them looking top-notch all the time? Well then keep 'em sealed now and again to ward off any staining or damage risks – remember agate is porous by design after all! Oh yeah.. one more thing! If anything spills over., get on cleanup duty nigh instantly…to steer clear from potential ugly stains.