Unleashing the Elegance of Chinese Green Marble: An Exposition on Shangri-La Verde
The Verde Prato Green Marble, popularly known as the Shangri-La Jade or Shangri-La Verde marble, is an exquisite Chinese marble adored for its inimitable texture and color palette. This marble variant manifests the incredible artistry of nature and the mystique of the East, carrying an elegant mix of light and dark green, with milky white and dark gray fractured lines.
Its formation, a result of billions of years of natural refinement, results in a unique, irreplicable pattern. The presence of such marble in your space introduces an element of the great outdoors, creating a personal oasis amidst urban living.
-A Hotel Lobby /Mansion Lobby projects with Verde Prato Marble Tiles in Vein Matched Dry Lay Processing in FOR U STONE Factory
Shangri-La Jade: The Quintessential Material for Luxury Designs
Shangri-La Jade is more than just a stone; it's a symbol of sophistication and luxury. Each slab carries the power to transform any setting into a high-end space – be it private residences, hotels, mansions, spas, or restaurants. Owing to its remarkable durability and elegance, it is ideal for kitchen and bathroom countertops, staircases, interior and exterior walls, and ornamental pieces.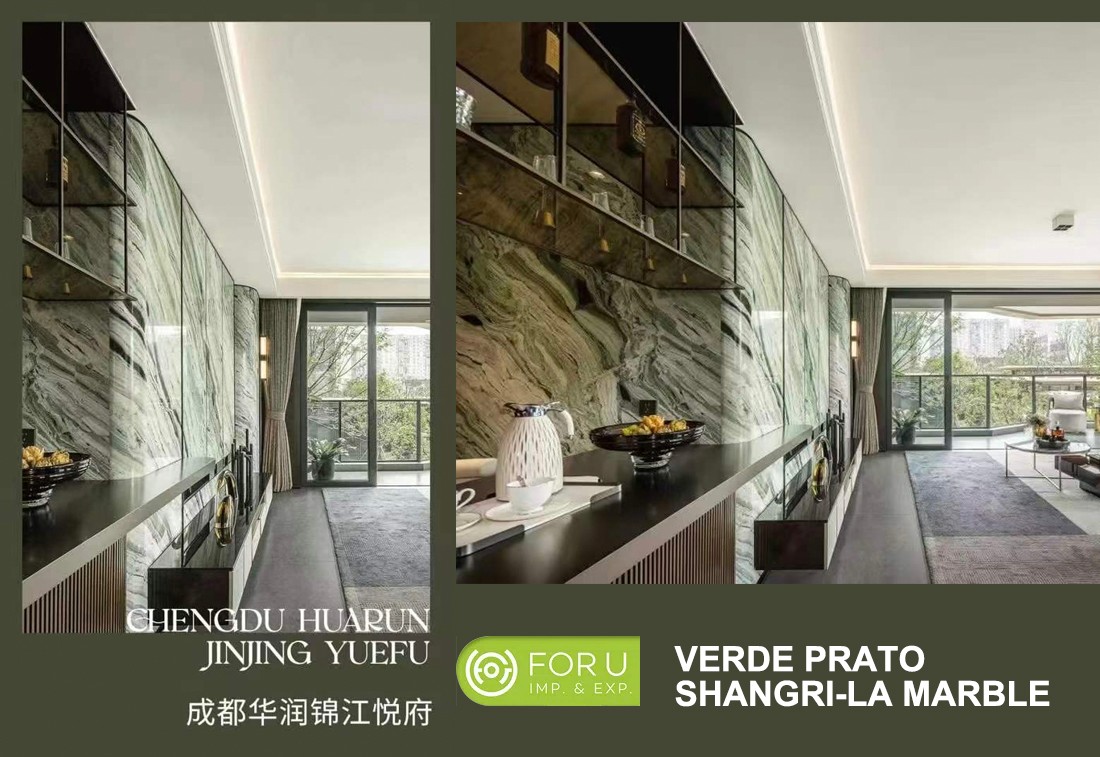 -Natural Green Marble Feature Wall Projects in a Private Apartment Livingroom | Chengdu City
The Art of Incorporating Green Marble Tiles
The Shangri-La Jade's rich, verdant hue provides a unique charm to flooring and wall tiles. The interplay of the marble's varied shades of green on Green Marble Flooring Tiles and Green Marble Wall Tiles lends an organic, calming feel to spaces, soothing the senses. Its distinctive lime green color introduces a fresh, vibrant element to your home, injecting a touch of life and spirit into the environment.
Shaping a Tranquil Sanctuary with Green Marble Bathroom Tiles
The Shangri-La Jade's unique combination of durability and aesthetic appeal makes it an excellent choice for Green Marble Bathroom Tiles. When used in bathroom interiors, the jade-green tiles create a serene, spa-like atmosphere, transforming everyday routines into luxurious rituals.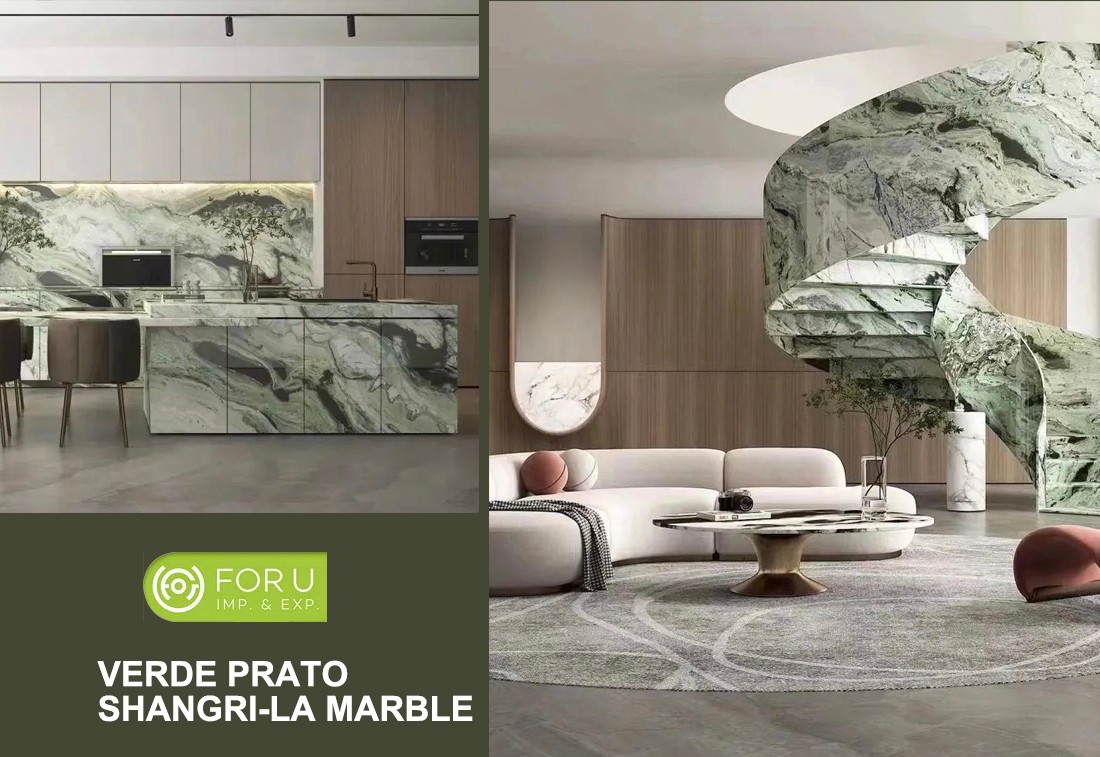 Exploring Raggio Verde Marble Tiles
The Raggio Verde Marble Tiles, a variant of the Shangri-La Jade, captures the essence of a fresh spring morning. The marble's natural texture, reminiscent of a beautiful spring painting, provides a timeless and romantic aesthetic appeal. These tiles offer a subdued and elegant visual delight, taking your aesthetic experience to a higher level.
Natural Marble and Chinese Marble Tiles for Exquisite Projects
Leveraging Natural Marble and Chinese Marble Tiles in your architectural and interior design projects will undoubtedly elevate their aesthetic value. Whether you're aiming for a classic or contemporary look, the versatility of Shangri-La Jade makes it suitable for any style. The marble's lush green shade, combined with its unique texture, adds a layer of depth and character to any room.
Shangri-La Jade, also known as the Verde Prato Green Marble, offers endless design possibilities. This naturally elegant stone allows architects, designers, and homeowners to create spaces that are not only visually appealing but also exude a sense of peace and tranquility. Unearth the magic of Chinese Green Marble and redefine luxury in your living spaces.

Related Products