2023 Luxurious Bathroom Decor Trend of Natural Marble
If you think marble is cold, dull, and unchanging, then you are very wrong. The colors of marble range from classic black and white to other colorful and bright combinations. The solid texture of marble makes the space look more real after five or ten years. It is not afraid of humidity and temperature changes, which is why marble is often used as the main decorative material in bathrooms. So how does marble shine in interior space design? In daily life, natural marble has already been integrated into every aspect of life, and unique marble has many eye-catching performances in bathroom decoration design. This article will share some design ideas of marble in bathroom/public washroom space.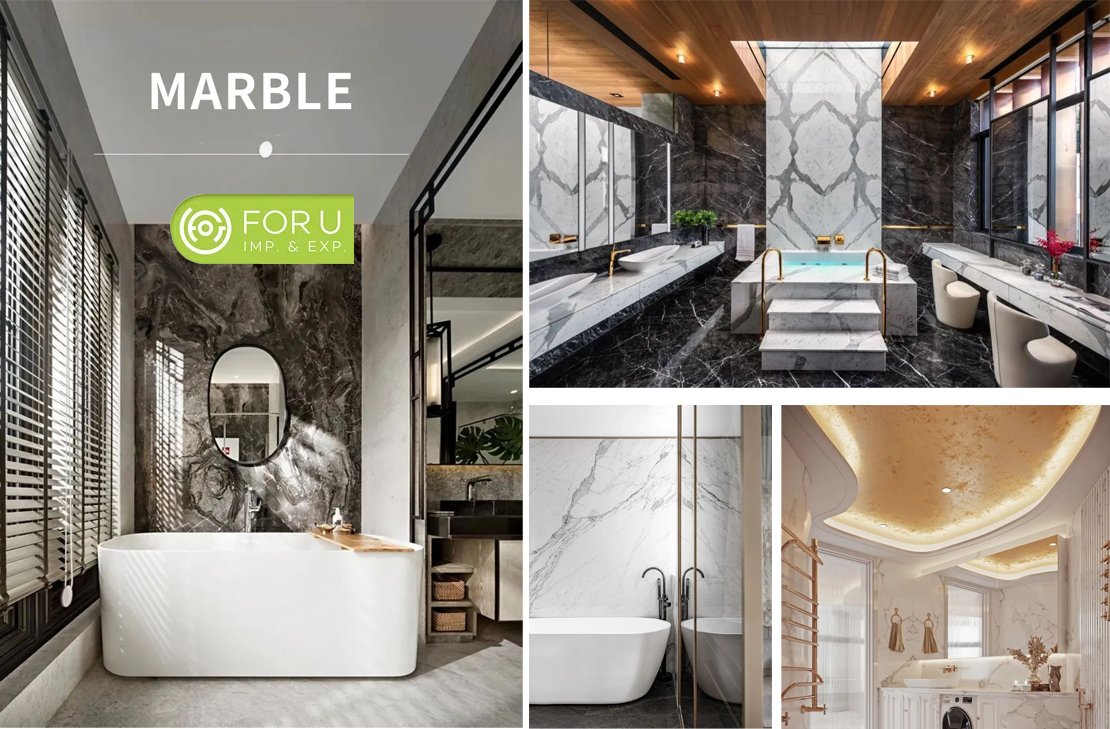 -Luxury Marble Bathroom Decor in Residences and Delxue Hotel
A natural marble bathroom is not only luxurious but also tasteful and stylish. Through perfect texture and color, and meticulous detail processing, it brings a comfortable touch to the family.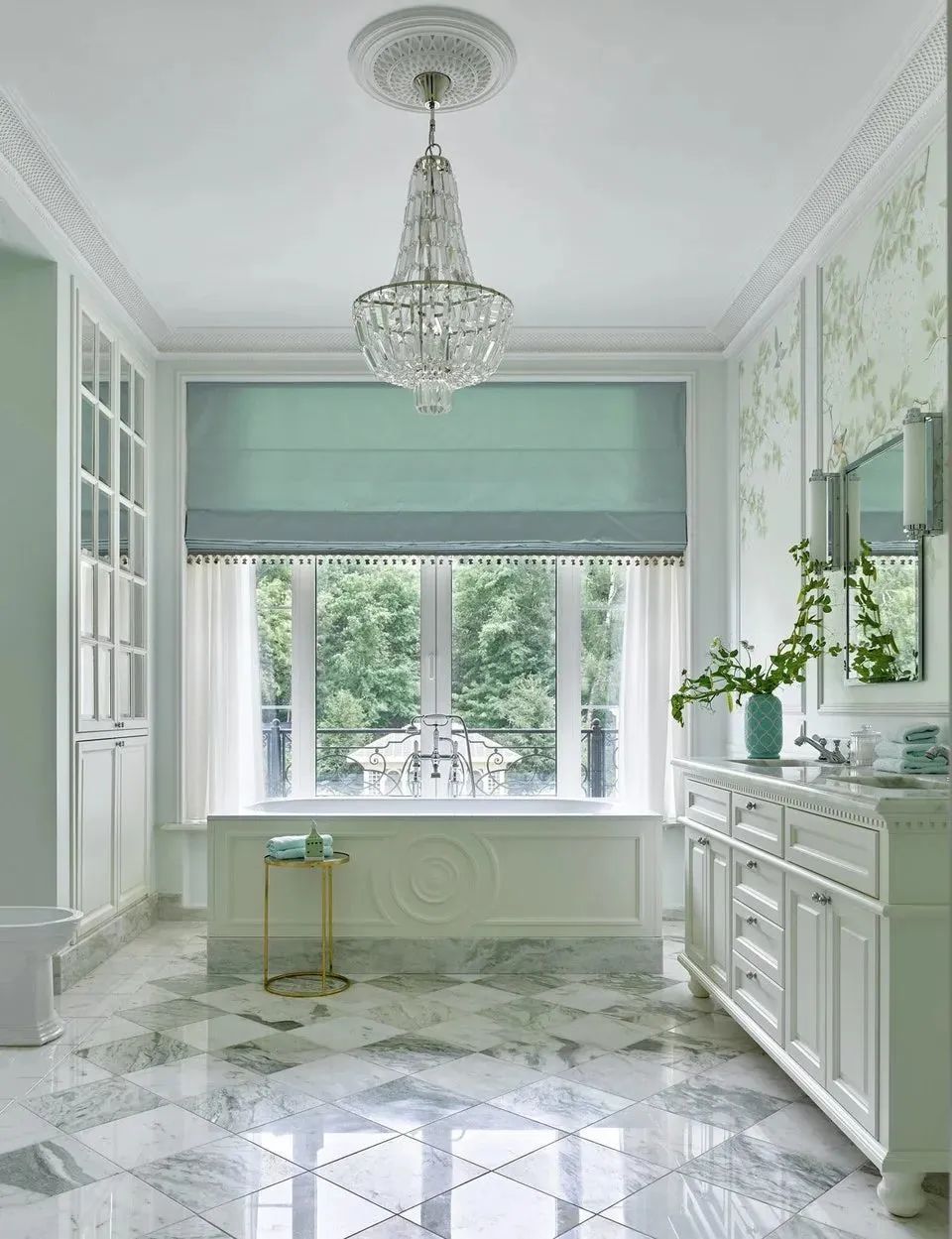 Marble and cement are two active decorative elements that designers also like to cleverly combine with each other. In the following bathroom design, two types of marble are used together and placed on the floor to form a checkerboard pattern. The wall is decorated with wallpaper related to the color and style, and the marble is connected through the drawer cabinet.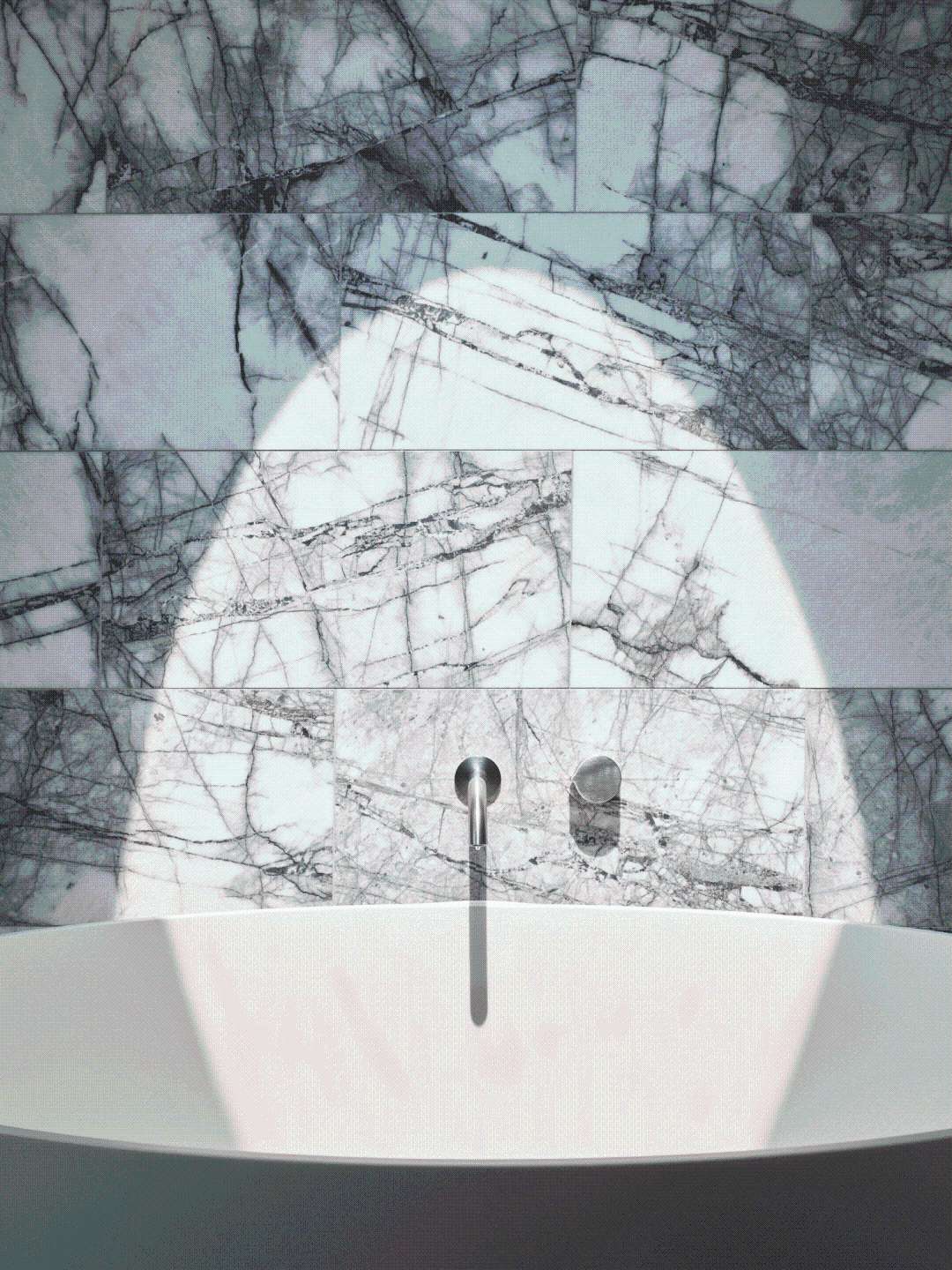 Marble can be a prominent detail even if you don't want to use it on the walls and floors. A single slab of marble, as in this picture, can turn the marble inside the room into a work of art.
| | |
| --- | --- |
| -Luxurious Statuario Marble is one of the most welcome marbles in interior spaces. | An Italian designer used smooth Statuario White Marble for the flooring and marble covering tiles with grooves for the walls. Additionally, a photograph was added to the space, which matches the texture of the marble in terms of its color tones. |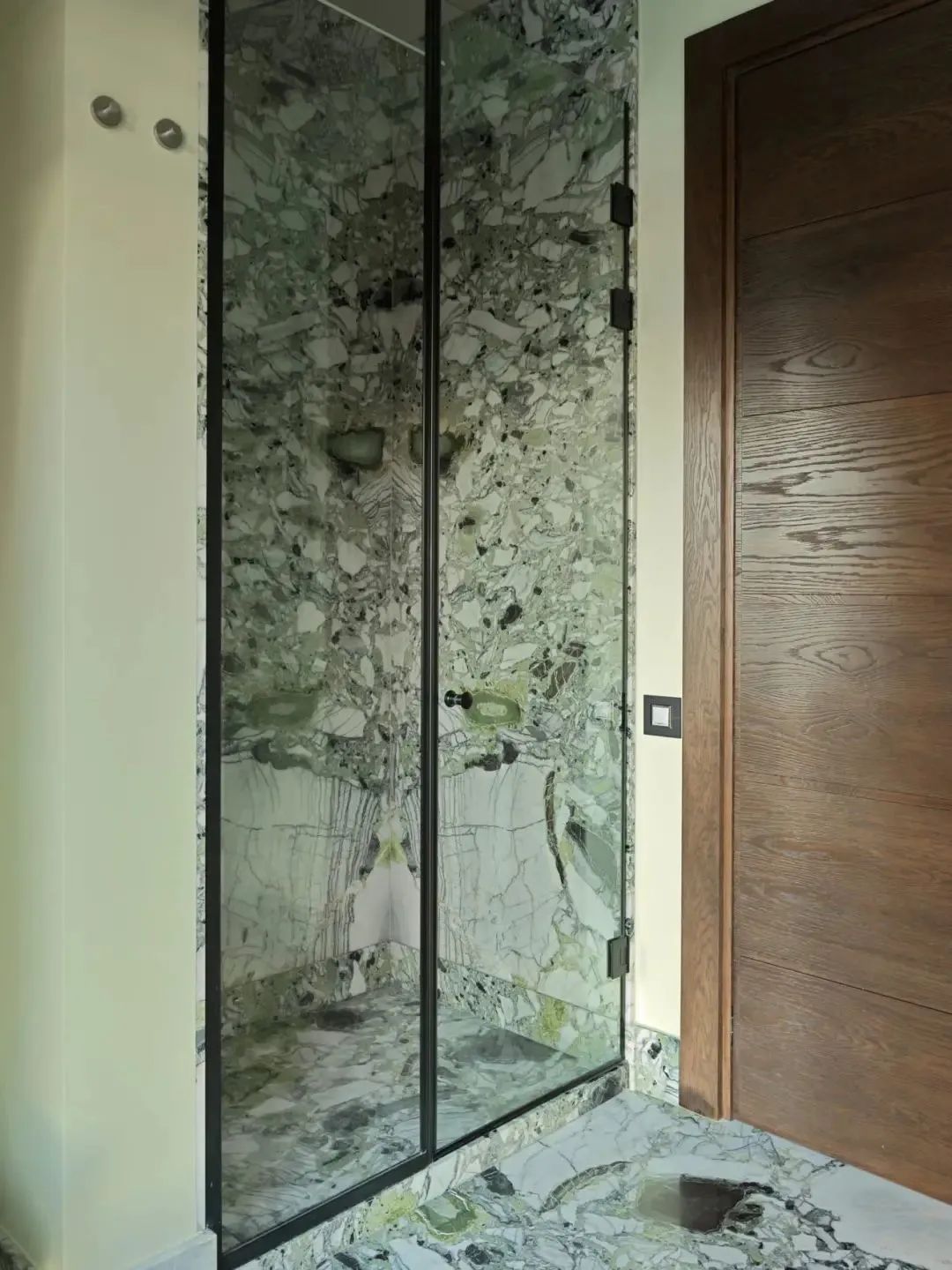 In this bathroom case study of an apartment, combining with wood is one of the ways to match marble.
Designer Anastasia Marchenkova created a wild animal island in an apartment in Moscow. The room is completed with "wild" marble(Chinese White Beauty Marble) with a chaotic gray-green pattern. The corresponding name of this marble is "cold jade". Combining with wood in the room will be full of historical allusions. Therefore, the designer extends the marble from the floor to the walls, windowsills, and washbasins.
Natural marble is a popular and high-quality material for bathroom decor. Here are some reasons why:
Aesthetics: Natural marble is a beautiful and luxurious material that can elevate the look of any bathroom. Its unique veining patterns and colors create a sense of elegance and sophistication.
Durability: Marble is a hard and durable material that can withstand daily wear and tear. It is also resistant to moisture and humidity, making it ideal for use in bathrooms.
Low maintenance: Natural marble is easy to clean and maintain. Regular cleaning with a non-abrasive cleaner and soft cloth is all that is needed to keep it looking great.
Investment: Installing natural marble in your bathroom can increase the value of your home. It is a timeless and classic material that never goes out of style.
However, it's worth noting that natural marble can be more expensive than other materials, and it requires professional installation. It's also important to seal the marble regularly to prevent staining and etching from moisture and acidic substances.
The unique veining and swirling patterns of marble create a distinctive look that cannot be replicated with any other material.
Marble is also highly durable, with a hardness rating that is comparable to granite. It is resistant to heat, scratches, and stains, making it a great choice for high-traffic areas like kitchens and bathrooms. Additionally, natural marble is relatively low-maintenance, requiring only periodic sealing and polishing to maintain its luster and protect it from stains.
In terms of interior decoration, natural marble can be used in a variety of ways. It can be used as flooring, countertops, backsplashes, shower walls, and even as decorative accents like vases or sculptures. Marble can also be paired with other materials like wood, metal, and glass to create a variety of design styles, from traditional to modern.
Overall, natural marble is a versatile and luxurious material that adds both beauty and functionality to any interior space. While it may be more expensive than other materials, its durability and timeless beauty make it a worthwhile investment for those looking to elevate their interior design.

Related Products